You won't believe how effortless this delicious Slow Cooker Pork BBQ Pizza is!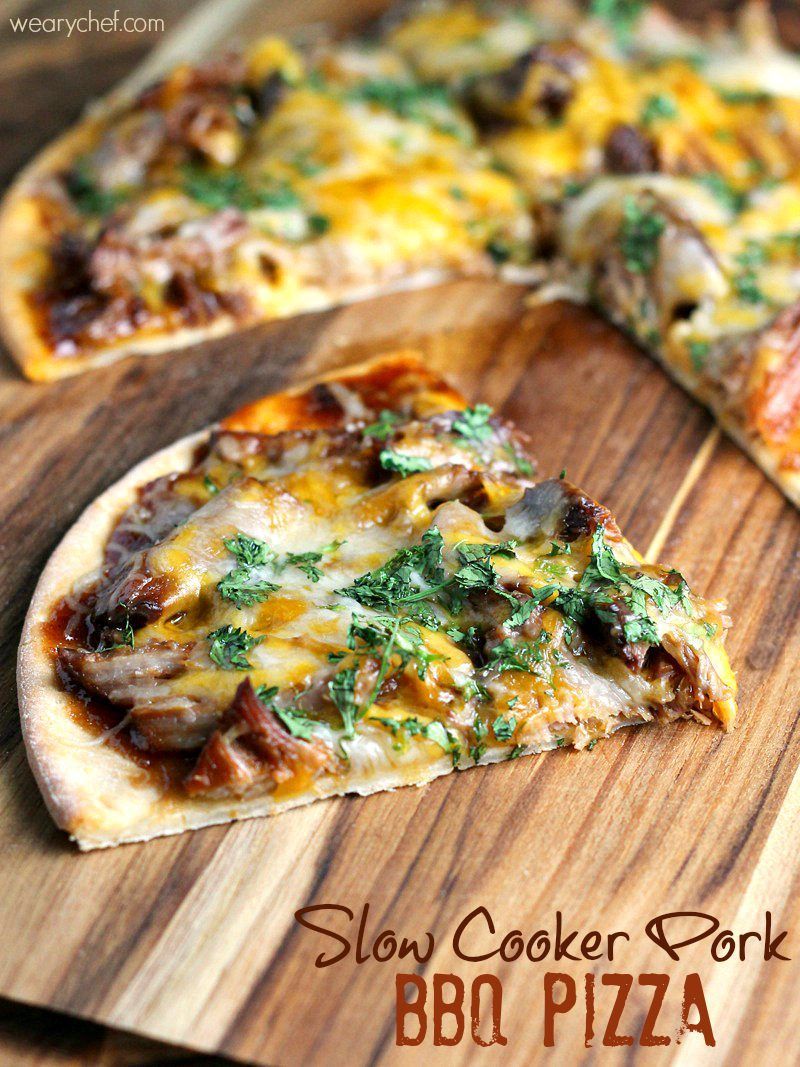 If we're going to keep being friends, I feel like there's something you should know about me. I own this Star Trek Enterprise pizza cutter.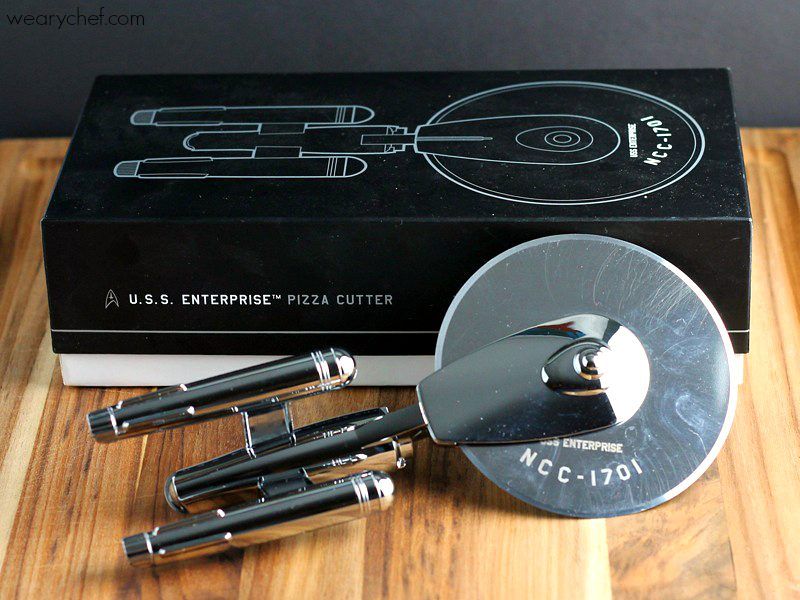 Technically my husband owns it, but I bought it for him, which makes me just as guilty. (Let's not talk about the framed, autographed photo of Princess Leia in the gold bikini that I also bought him. That one was kind of a joke. Kind of.) The good news is that this super nerdy kitchen tool is really good at slicing pizza (even if it is challenging to store).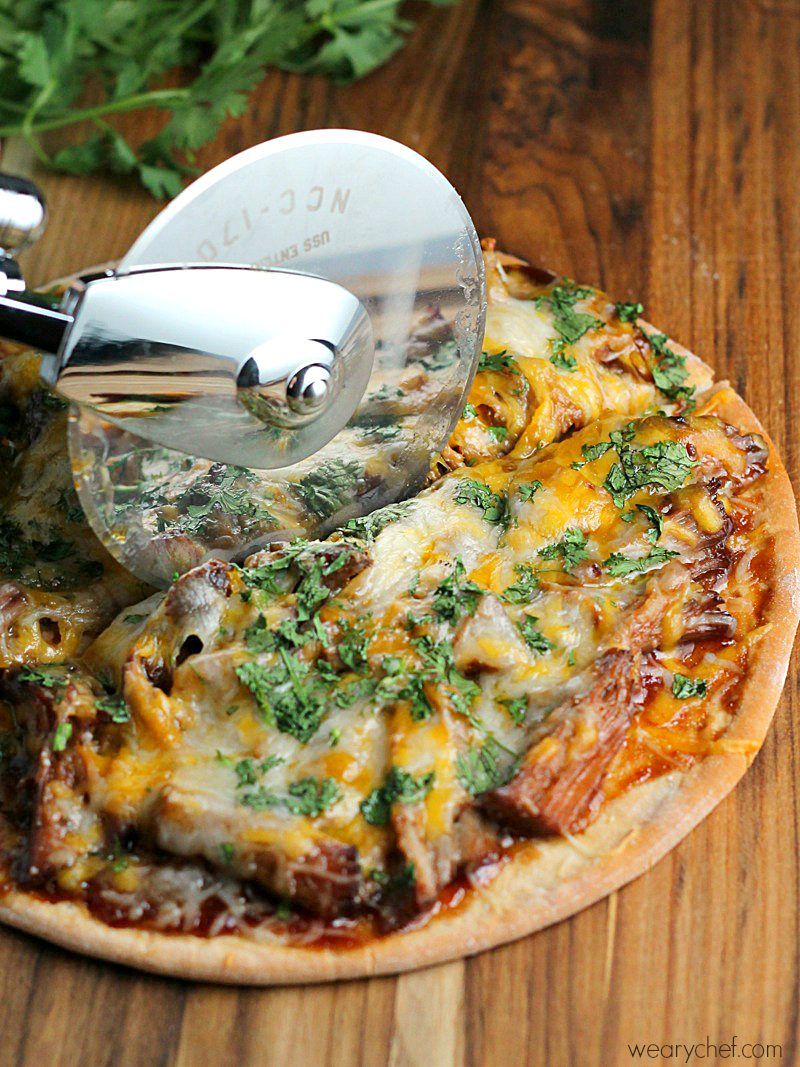 We're nerds, OK? We have played hours and hours of Magic the Gathering and World of Warcraft. Matt even used to go to a weekly D&D game. If you don't know what any of those things are, then you are probably way cooler than we are. Lucky for you, I don't have to be cool to come up with tasty recipes for you like this BBQ pizza.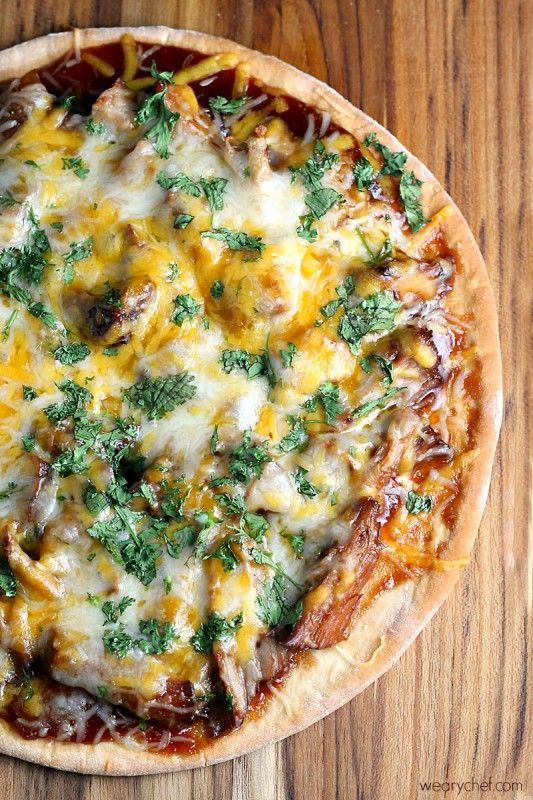 Yesterday's pumpkin muffin post about FODMAP foods was long. Really long. To make up for being so longwinded, I'm going to keep this one short(er). The BBQ pizza recipe is ridiculously easy and crazy good, so not much needs to be said.
Pork roast is cooked all day in your crockpot with BBQ sauce and onions until it's melt-in-your-mouth tender. Put a little more BBQ sauce and a generous helping of that pork on a pizza crust (gluten-free crust in my case, but whatever you like), spread cheese and cilantro on top, and bake. You are about 15 minutes away from devouring incredible BBQ pork pizza!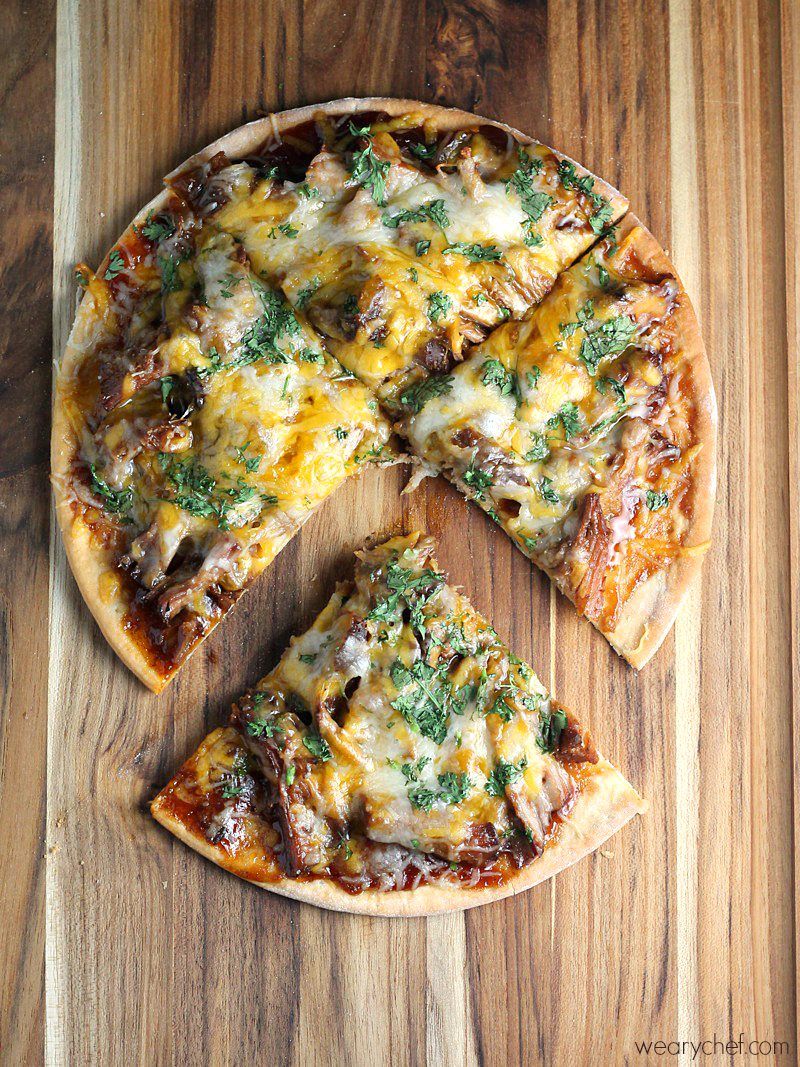 Got leftover BBQ pork? That is not what I would call a problem. Make sandwiches, stir it into Franks and Beans, or even put it in a salad!
Print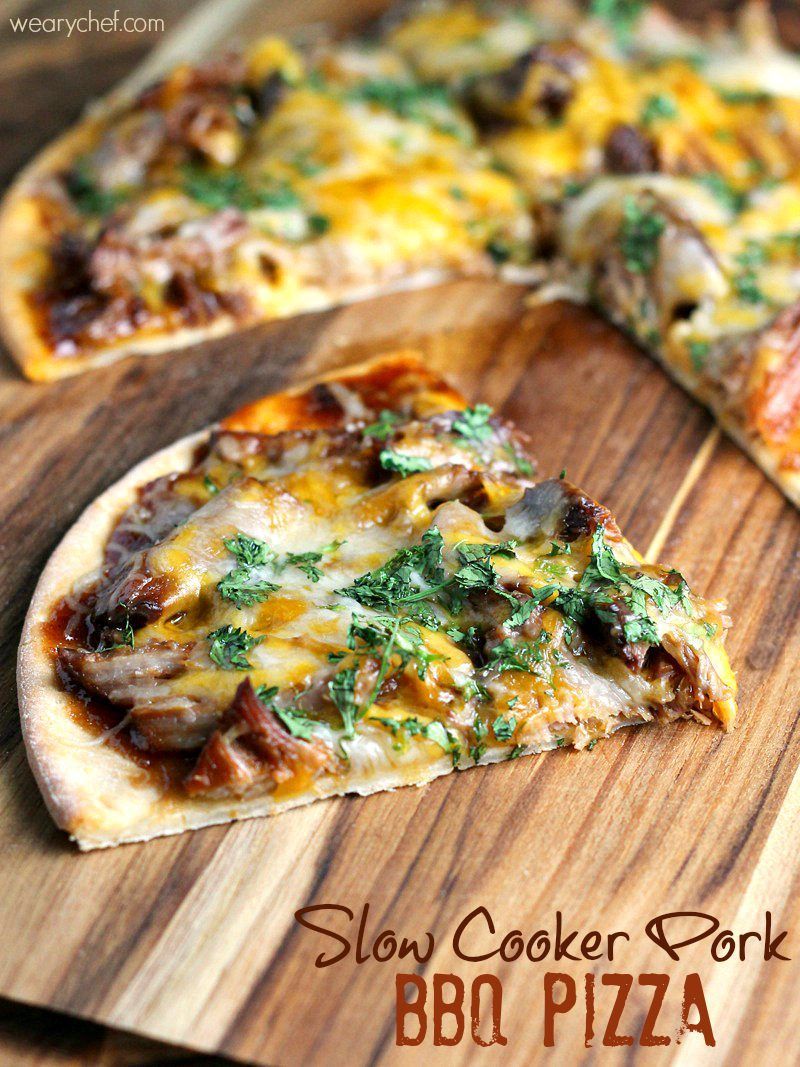 Slow Cooker Pork BBQ Pizza
This easy comfort food recipe is perfect for busy nights.
Total Time:

8 hours 15 minutes

Yield:

4

1

x
Instructions
Add onion to slow cooker, and place pork roast on top. Pour about half the bottle of BBQ sauce over the roast, enough to cover it entirely. Put on the lid, and cook on low for 6-8 hours (10-12 should be fine too). If you are home, flip over the meat once or twice during cooking.

At dinnertime, preheat oven to 400 degrees F. (Temperature may vary based on your chosen crust.) Turn off slow cooker, and shred meat with two forks.

Place two small pizza crusts on a baking sheet, and spread 3-4 tbsp. BBQ sauce evenly over each one, leaving about 1/2″ uncovered around the edges. (You can make one large pizza if you prefer.) Use a slotted spoon to scoop pork and onions out of the cooking liquid in the slow cooker, and spread a generous portion over the pizza.

Sprinkle your desired amount of cheese over the pork, and sprinkle cilantro over the cheese. Bake in preheated oven for 15 minutes, or until cheese is melted and bubbly. (Again, baking time may vary depending on your crust instructions.)

Allow cooked pizza to stand for a few minutes before slicing.
Author:

Prep Time:

15

Cook Time:

480

Category:

Main
I picked out a couple other recipes I think you will like too: