Hello, Fellow Chefs!  How the heck are you?  I am worn a little ragged but good and happy.  Do you know that caring for a 2-year-old is a leading cause of weariness?  It's true!  The Short One is very, very two right now.  I don't want to say he's in the "terrible twos" because that sounds, well, terrible, but he is a handful, that's for sure.  I'm certain that his determination will serve him well later in life, but being determined to get into everything he's not supposed to is wearing this mama out.  All I can say is, it's a good thing he's so flippin' cute.
Now, on to the week's meal planning.  When I say every week that I'm excited to bring you the new menu, I really mean it.  I work hard planning, cooking, photographing, and writing these recipes, so I can hardly wait to share them with you on Saturdays.  I hope you enjoy them as much as I love putting them together for you!  This week has a couple Southern dishes that I think you will like, plus a salad to make up for all the cheese and gravy.
Remember, you can click on the "List" icon in my sidebar to build your grocery list from my recipes thanks to Feastie! I also have another list-building tool coming your way in the next week or two, and you may have noticed that my newer recipes have a "Print" button if you need a hard copy. I hope this makes The Weary Chef easier for you to use.
Let's get to the food!
Shrimp and Grits with Simple Southern Lima Beans – I was born in raised in Mississippi, on the coast even where shrimp are plentiful, yet I only heard about shrimp and grits this week.  I'm very glad I gave it a try because this is a wonderful combination, and it goes great with these lima beans.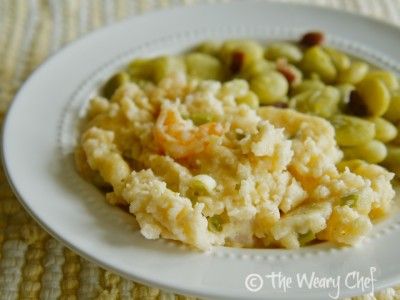 Philly Cheese Steak Pizza – Unless you are a vegetarian, it's hard not to love cheese steak, and it gets even better when it's on pizza.  I think you will love this new take on Philly Cheese Steak.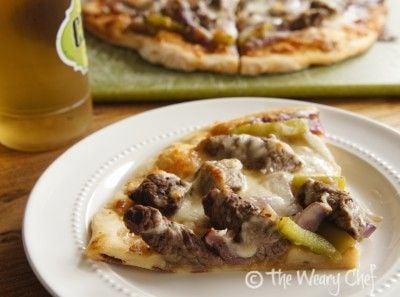 Avocado Salsa Chicken with Easy Black Beans and Rice – We classed it up for Fiesta Night this week.  This chicken is prettier and tastier than this photo.  You have to try it!  I have been meaning to share this beans and rice recipe with you for a while.  It is simple, versatile, and even the kids like it!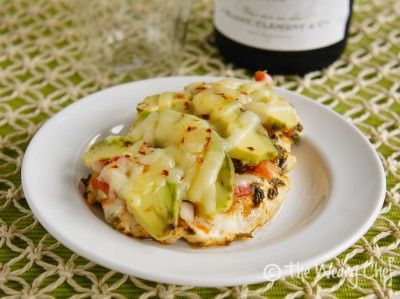 Slow Cooker Turkey and Spinach Lasagna – This is written as a slow cooker recipe, but I also provide instructions for baking it in the oven as a traditional lasagna.  Use whichever method is more convenient for you.  This easy lasagna uses a short list of ingredients but packs lots of flavor!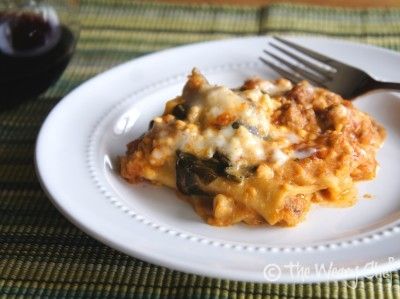 Greek Salad with Chicken – This healthy dinner is big on flavor, and it goes great with Irresistible Cheesy Pesto Bread.
Pork Chops with Milk Gravy over Rice with Brussels Sprouts – I am willing to say that this pork chop recipe is foolproof, even for people who might think gravy is challenging.  Just make sure the meat is cooked through, and you can't go wrong with this one.  There are so many roasted brussels sprouts recipes out there, I'm not going to write my own.  Give this one at Fifteen Spatulas a try!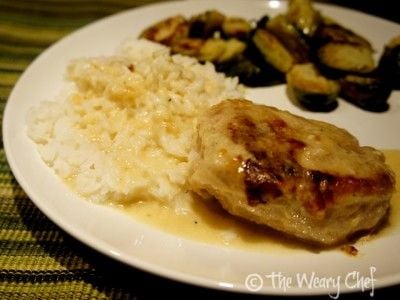 Salmon with Bok Choy over Rice – This meal is on the table in less than 30 minutes and is always tasty.  Perfect weeknight dinner!