In today's menu of easy dinner recipes for the week, you'll find healthy burgers, easy chilaquiles, chicken wraps, meatballs and gravy, and lots more!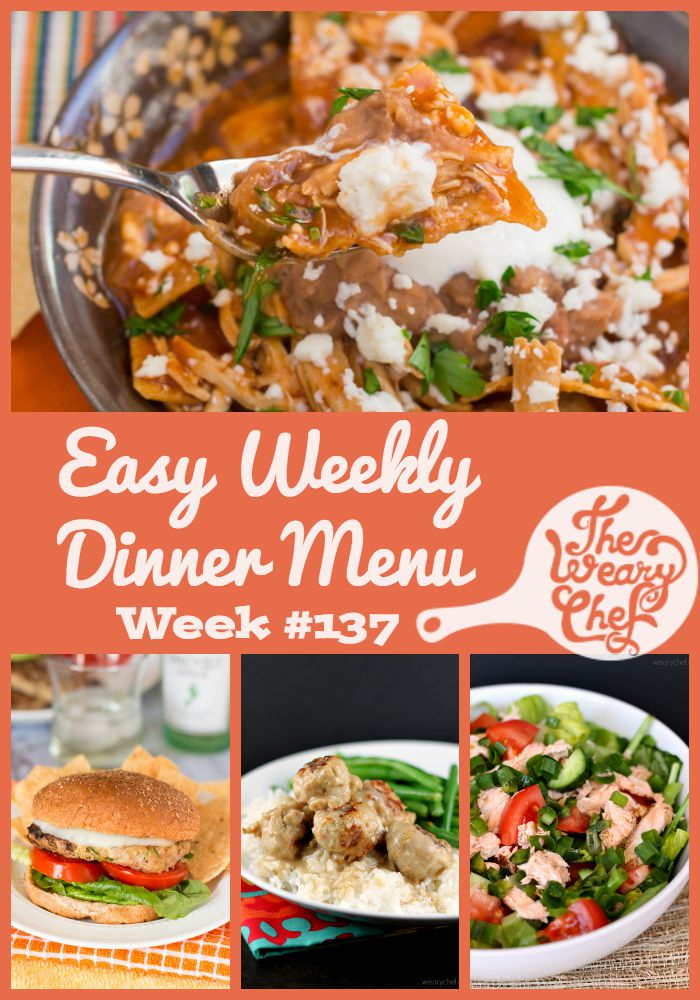 Yesterday I went to a shoe store where the employees call the customers "shoe lovers." Have you experienced this? So when you're waiting to pay, they say, "I can take the next shoe lover here." During my transaction, the cashier said to the people still in line, "Thanks for waiting shoe lovers! We'll be right with you." I was embarrassed for the staff to have to say that, and I felt ridiculous answering to "shoe lover." Maybe I should have said, "Um, I'm just buying a couple pairs of shoes because they are on clearance. I actually don't even love them." Next time I'll just order shoes online like usual.
What are you doing this holiday weekend? Shoe shopping perhaps? Are you planning to have a Labor Day cookout? I'm sure we will once or twice. This week's menu features a new burger recipe you could put on the grill or brown in a skillet, and there are some other fun weekend dishes in there too. There are also some extra easy recipes thrown in for when you're feeling droopy after the long weekend. I hope you see lots of easy dinners you want to try!
Did you catch these roundups from earlier this week? You're sure to find more great recipes you want to try!