This very easy Mexican Pinto Beans and Rice topped with tender pork carnitas is delicious dinner the whole family will love! Thanks so much to Smithfield for sponsoring today's recipe.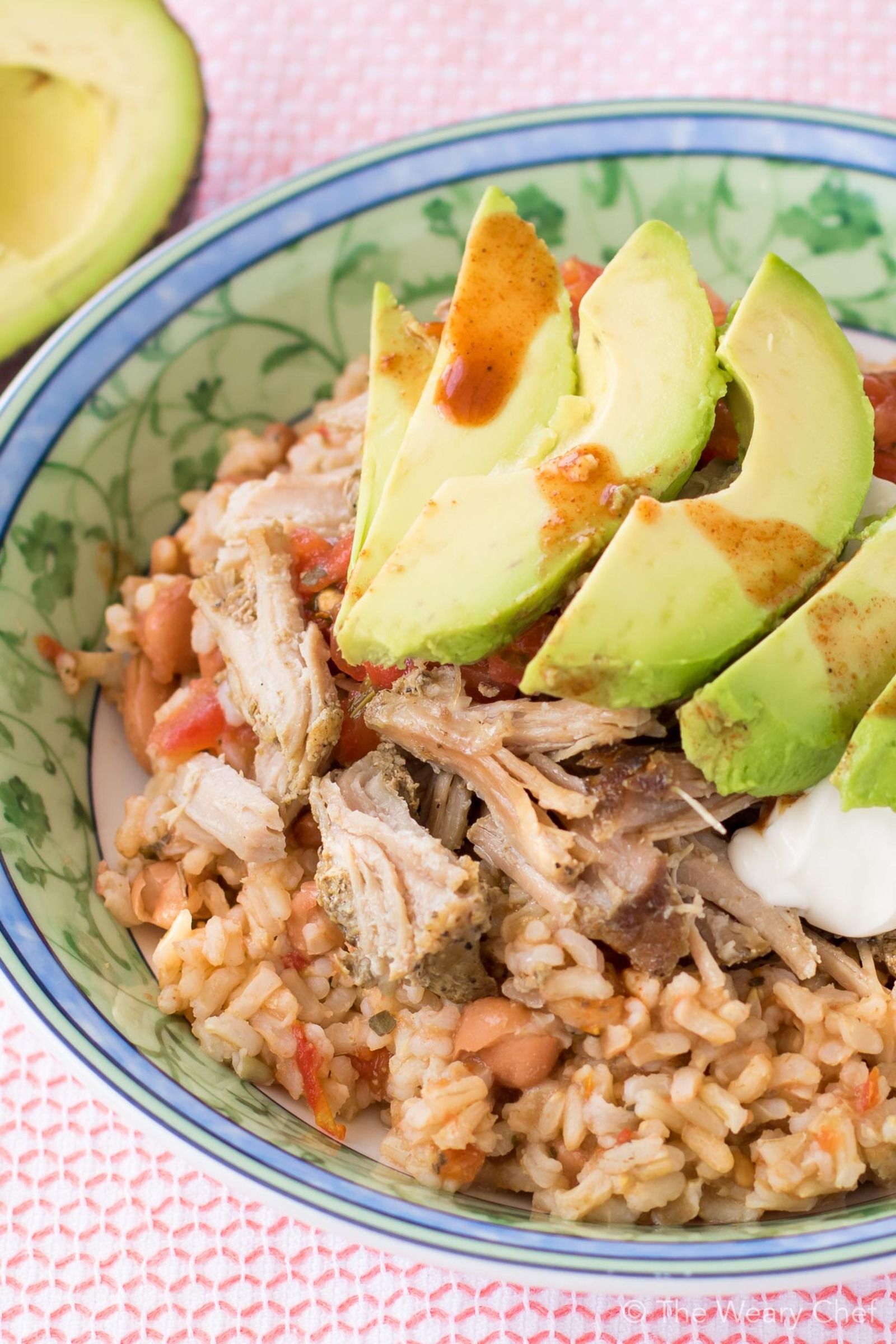 We're in Palm Springs this week! It is our first time here, and it is a really beautiful part of the country. There are mountains everywhere! You know what else there is? Lots and lots of Mexican food, so it's basically paradise.
Of course you don't have to come to Palm Springs to get a great Mexican meal. You can make it right in your own kitchen! These Mexican pork bowls are a great place to start. I made them with Smithfield preseasoned carnitas, so the recipe is super easy! (If you prefer to start with unseasoned meat, you can follow my instructions for homemade slow cooker carnitas.)
Smithfield carnitas are cubes of fresh pork shoulder perfectly seasoned and ready to cook. You can make the meat in the slow cooker or oven, and then it only takes about 15 minutes to make the beans and rice to go with it. This is a perfect weeknight meal because you can cook the meat all day and then put it together in less than a half hour at dinner time!
These carnitas are a really good value because one package provides enough meat for at least two family meals. You could make enough rice and beans to enjoy these carnitas bowls twice, or you could use the leftover meat for queso loaded potatoes, taco salad, or even mac and cheese another night!
This recipe calls for instant brown rice because it cooks up so quickly, but if you'd prefer using regular rice, you can definitely do that. You'll just need to adjust the amount of rice and follow the cook time on the rice package. Generally speaking, you'll need one cup of white or brown rice for two cups of broth. White rice will cook for 20 minutes or brown rice 40 minutes. I like this 15-minute version with instant brown rice though, and I think you will too!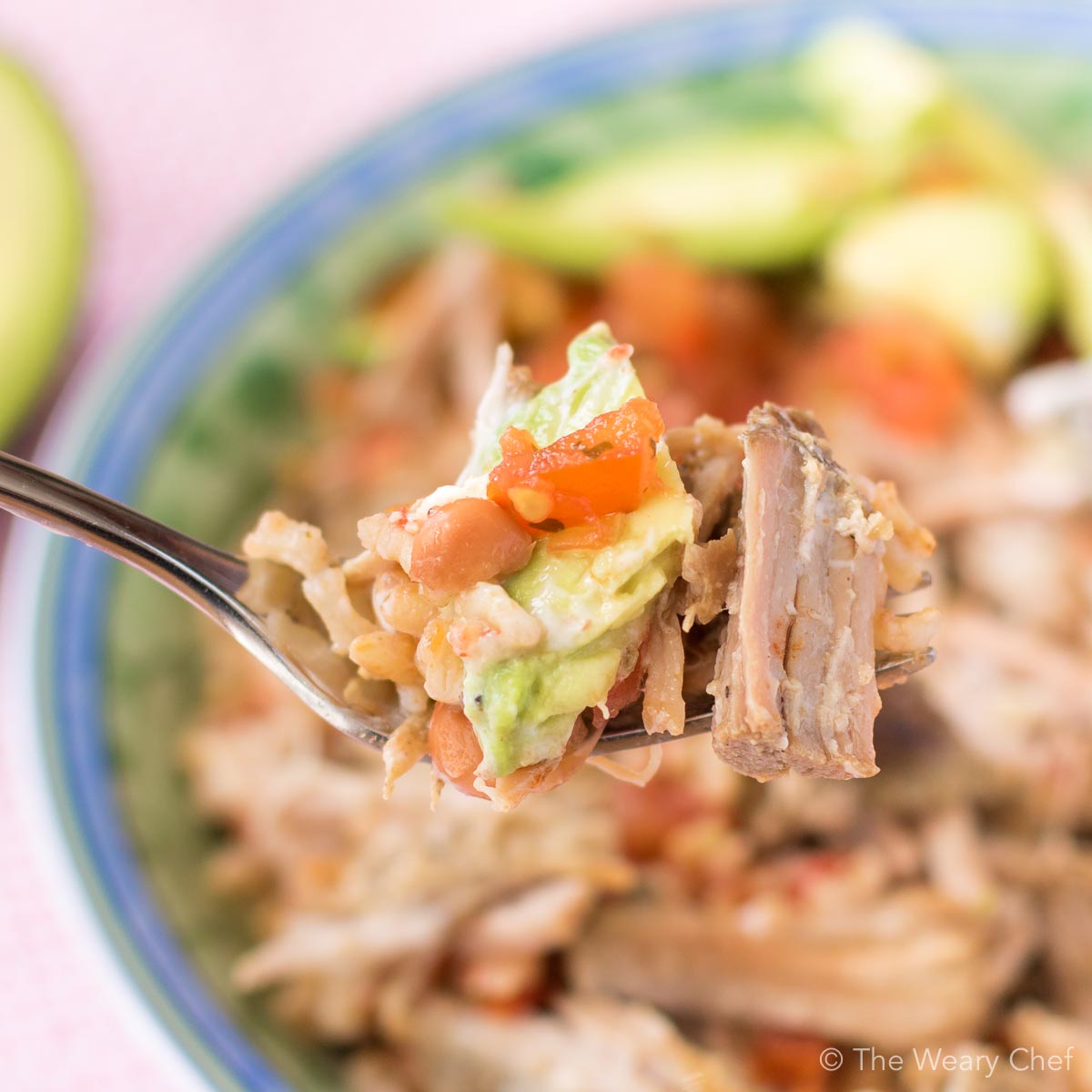 Of course the toppings on these Mexican pinto bean and rice bowls are completely up to you! I went with sour cream, salsa, avocado, and a generous shake of hot sauce. Cheese, shredded lettuce, or diced tomatoes would be welcome guests too. What are some of your favorite toppings on Mexican food? Let me know in the comments how you make YOUR version of this recipe at home!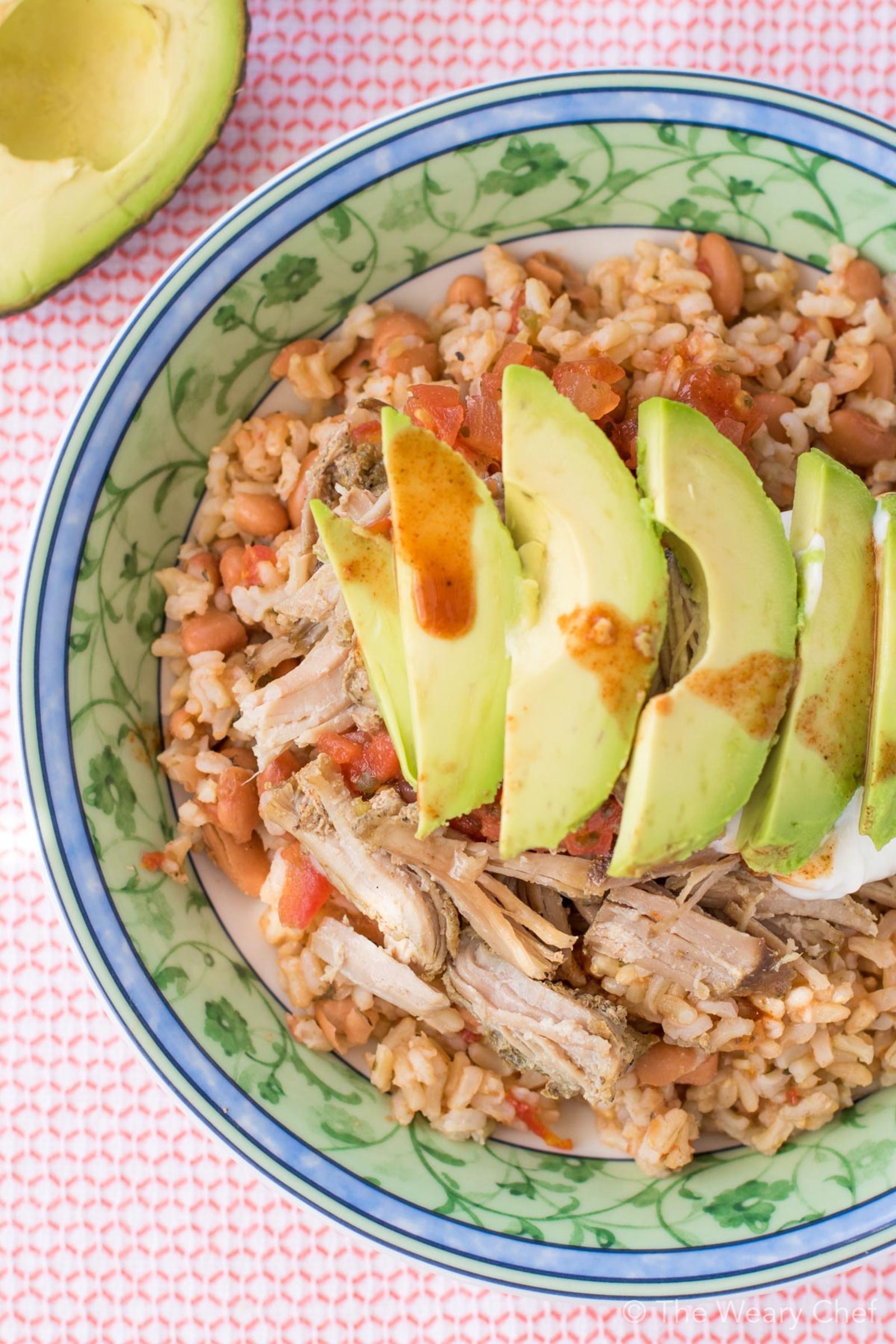 Print
Skillet Rice and Beans with Carnitas
This very easy Mexican Pinto Beans and Rice topped with tender pork carnitas is delicious dinner the whole family will love!
Instructions
Prepare carnitas according to package directions. (I added mine to the slow cooker with 1/2 cup water and cooked on high for 4 hours.)

In a 12″ skillet, add pinto beans, salsa, broth, oregano, and cumin. Bring to a low boil over medium-high heat.

Stir in instant rice, and return to a boil. Reduce heat to low, and cover. Simmer 10 minutes or until most liquid is absorbed.

While rice cooks, shred cooked pork with two forks.

To assemble final dish, scoop beans and rice into bowls. Add shredded pork, and top with any desired toppings. Dig in!
Notes
If you are unable to find the Smithfield carnitas, you could use another flavor of their pork roasts and sprinkle some taco seasoning over the meat when you start it cooking.
You'll also enjoy these Mexican dinner recipes!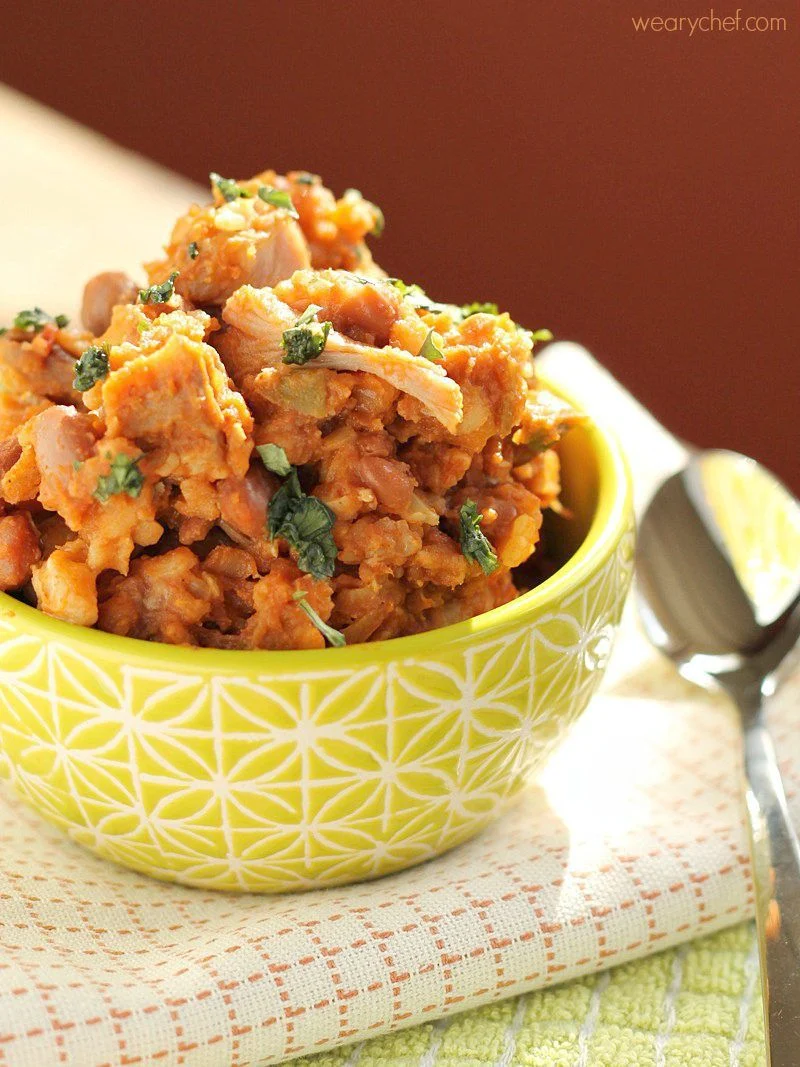 Thank you again to Smithfield for sponsoring today's recipe!