These Crockpot Carnitas are the best thing to ever come out of my slow cooker! There's fiesta night, and then there's FIESTA NIGHT! Crockpot carnitas are about as good as it gets at our house. This easy recipe is mostly hands off because you put it in the slow cooker and forget about it (except that your house smells like delicious pork all day). However, there is a little detail about baking it for 45 minutes before serving. I know 45 minutes is a long time, and you could skip this step. However, allow me to show you the deliciousness that 45 minutes brings you: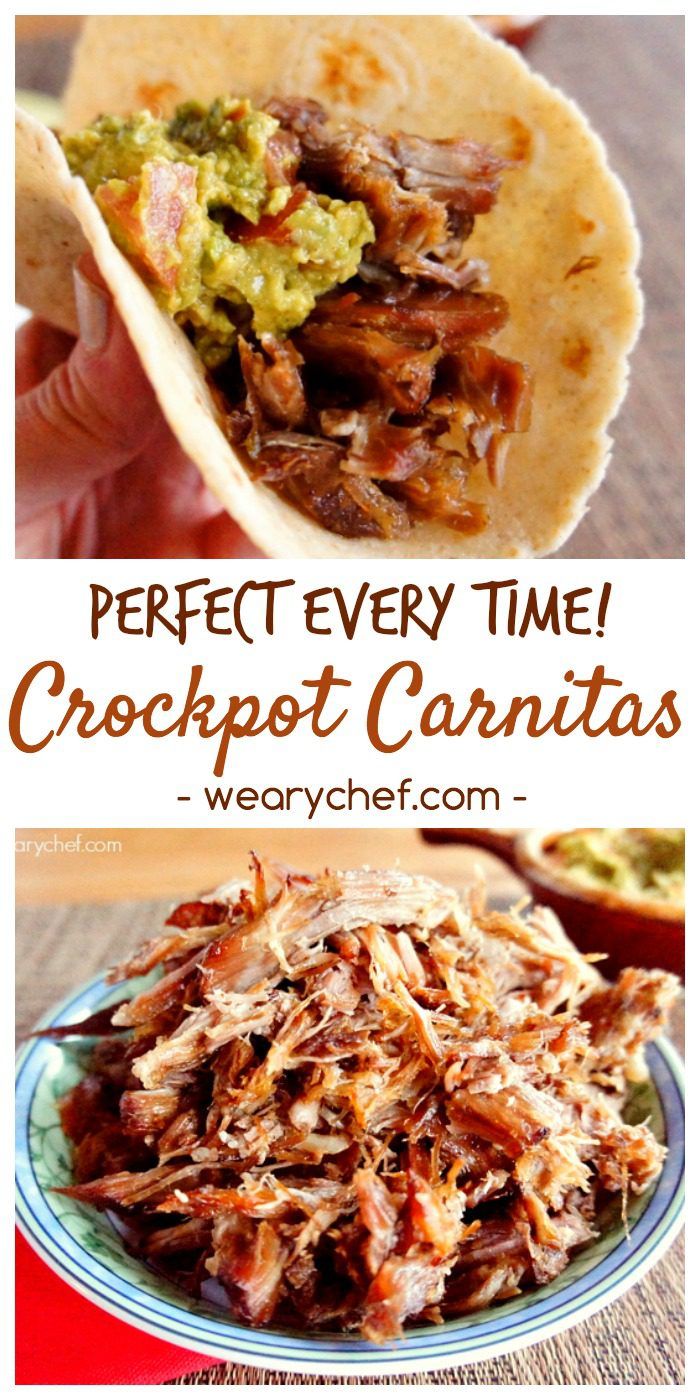 God bless America, that baked version looks brown and crispy and beautiful. Try to make time for the slow-baking step if possible. It gives the taste and texture of authentic fried carnitas without doing any actual frying.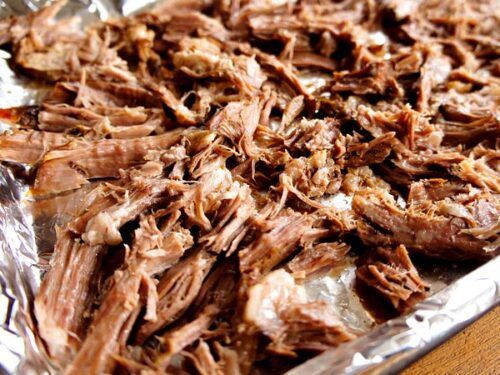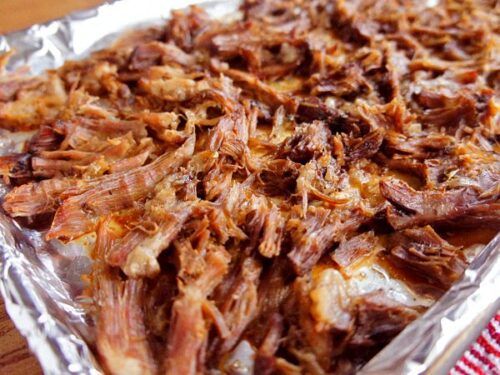 Enjoy your leftover carnitas on their own or in taco salad, quesadillas, or on buns with BBQ sauce. You could also try them as Queso Carnitas Loaded Potatoes!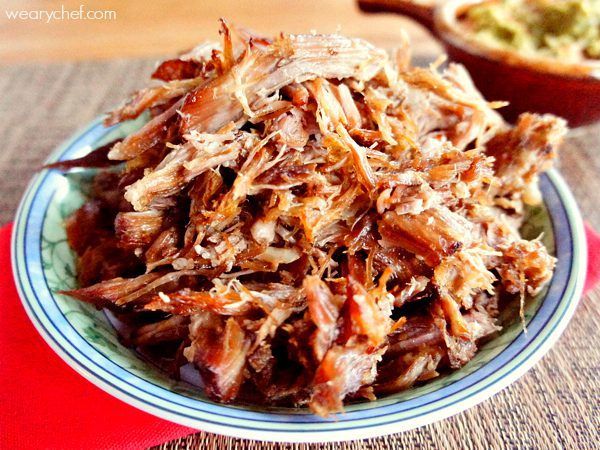 This week I revamped this crockpot carnitas recipe. Many of you loved the old version (as did I!), but a few of you commented that it was too bland. I always appreciate your feedback, and while carnitas aren't supposed to be particularly spicy or saucy, I certainly want you to be happy with the recipe. This new awesome(er) version has a few changes to make it even better:
Cut the roast into chunks and pierce it to allow more flavor to penetrate the meat
Eliminate the beef broth and reduce the water content to make the sauce more concentrated
Use taco sauce instead of salsa and increase the spices to boost the flavor
I feel sure that you are going to love this new version even more, and I can't wait to hear what you think!
Print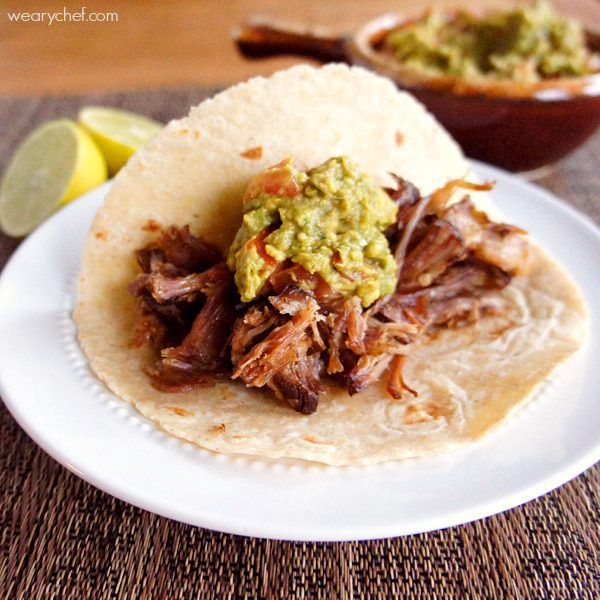 Perfect Crockpot Carnitas
You can't beat this easy recipe for homemade carnitas, perfect for tacos!
Total Time:

8 hours 10 minutes

Yield:

6

1

x
Instructions
Cut roast into 3-4 large pieces. Pierce meat all over with a knife.

Stir together taco sauce, garlic, onion, chili powder, oregano, cumin, salt, cayenne, and water. Add pork pieces, and spoon liquid over the meat to coat all sides.
Cover crockpot and cook on high 6-8 hours or low 8-10 hours, until meat shreds easily.
When meat is done, preheat oven to 275 degrees. Take pork out of the slow cooker and shred on a large-rimmed baking sheet lined with foil or a baking mat to make cleanup easier. Discard any large pieces of fat. (Leave most of the onion behind, but it's OK if some is incorporated with the meat.)
Pour ½ cup of cooking liquid and ½ cup of milk over shredded pork. Bake in preheated oven for 45 minutes until brown and crispy. Remove meat for serving with tongs to leave excess fat behind.
Serve with tortillas, finely shredded cabbage, guacamole or avocado, and green salsa.
Notes
Suggested condiments: Finely shredded cabbage, guacamole or sliced avocado, and green salsa.
Are you a fan of the old version? Just make these simple changes:
Substitute a 16 oz. jar of green salsa for the taco sauce and a 15 oz. can of beef broth for the water.
Substitute 1 tbsp. of onion powder for the fresh onion and 1 tsp. garlic powder for the fresh garlic.
Adapted from Carnitas by Honey Pickles.
Author:

Prep Time:

10

Cook Time:

480

Category:

Main Course

Cuisine:

Mexican
Carnitas go great with…