Microwave Mexican Queso Dip is easy to make and PERFECT drizzled over carnitas loaded baked potatoes! Thanks to Smithfield for sponsoring today's recipe.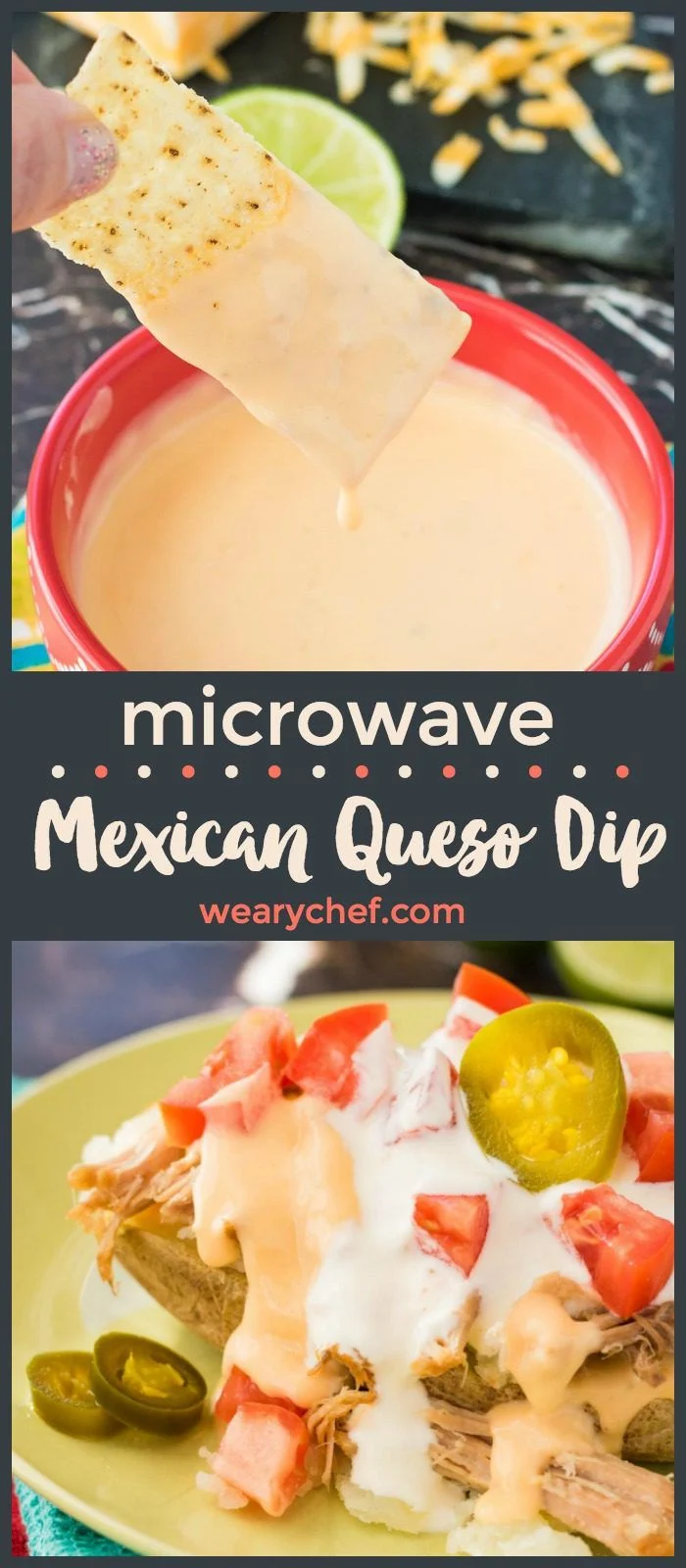 You GUYS! Look at these loaded potatoes! I don't know when I've wanted to urge you more to try a recipe for dinner than today. First of all, can we talk about that microwave Mexican queso dip? It only takes about five minutes to make!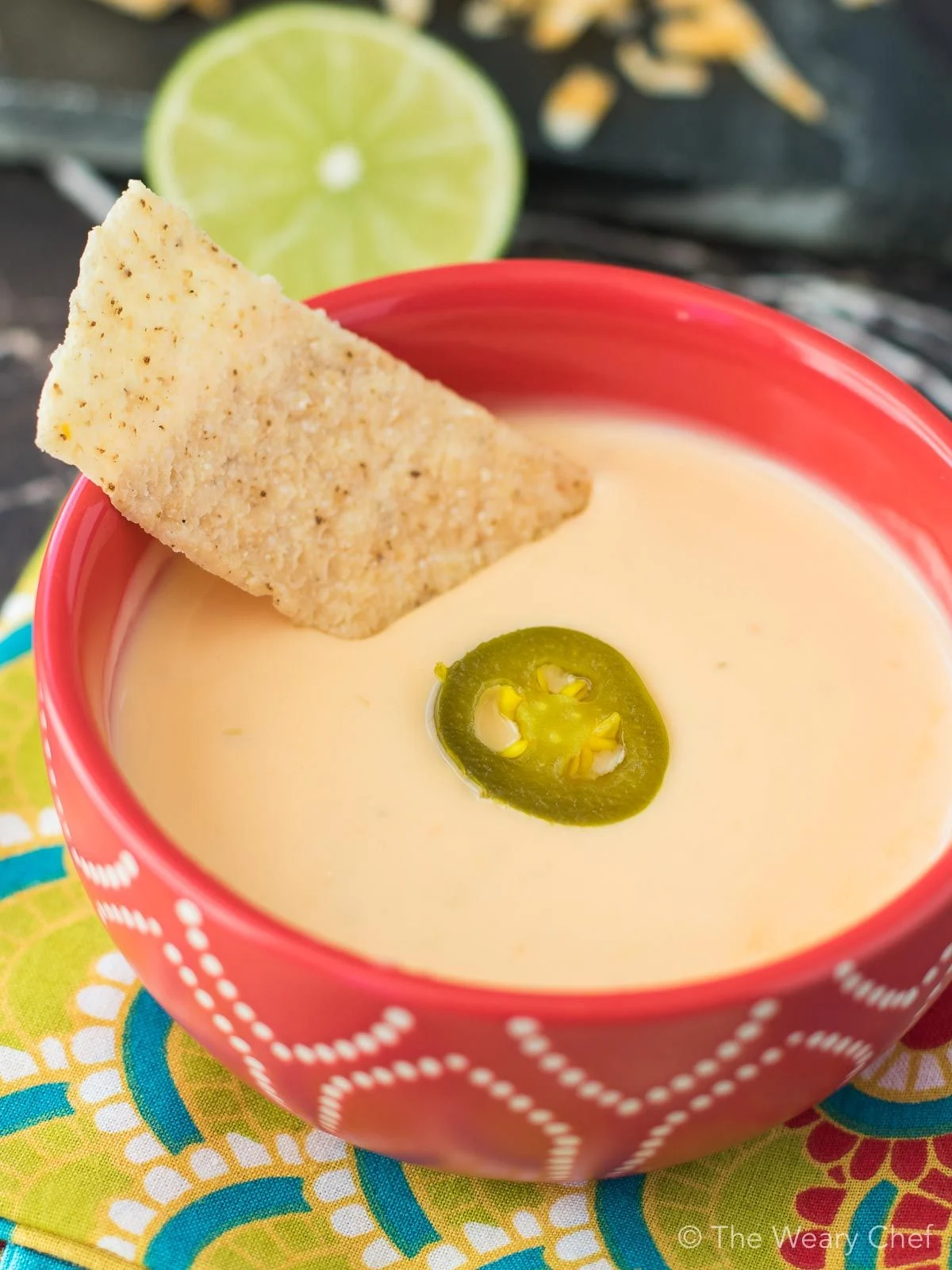 If you ask me, you can't beat smooth, creamy queso dip. I thought queso could only be made at home with processed cheese or else it would be a grainy mess, but I was wrong. I wanted to make loaded carnitas baked potatoes and read all the recipes I could find for homemade queso. It turns out, you don't need any magic ingredients or a restaurant kitchen to make perfect queso dip. In fact, all you need is a few minutes and a microwave!
This dip only calls for shredded cheese, half and half, cream cheese, and a bit of salsa. That's it, my friend. The only hard part is keeping it at the right temperature when you serve it. It kind of goes from hot, liquidy lava to cold, thick cheese paste in a matter of a 15 minutes. There's a reason restaurant queso comes in those hot skillets. It needs to stay warm, people!
If you want to serve this perfect Mexican queso at a party, you should either (a) serve it in a little crockpot set to warm or (b) whisk it away to re-microwave it for 15 seconds every 15 minutes. The good news about option (b) is that it means you are never too far from the queso, and you can can sample it extensively before and after heating it each time. This is good news for an introvert like me who would rather be eating cheese dip than actually talking to people, but all you normal people might want to take option (a).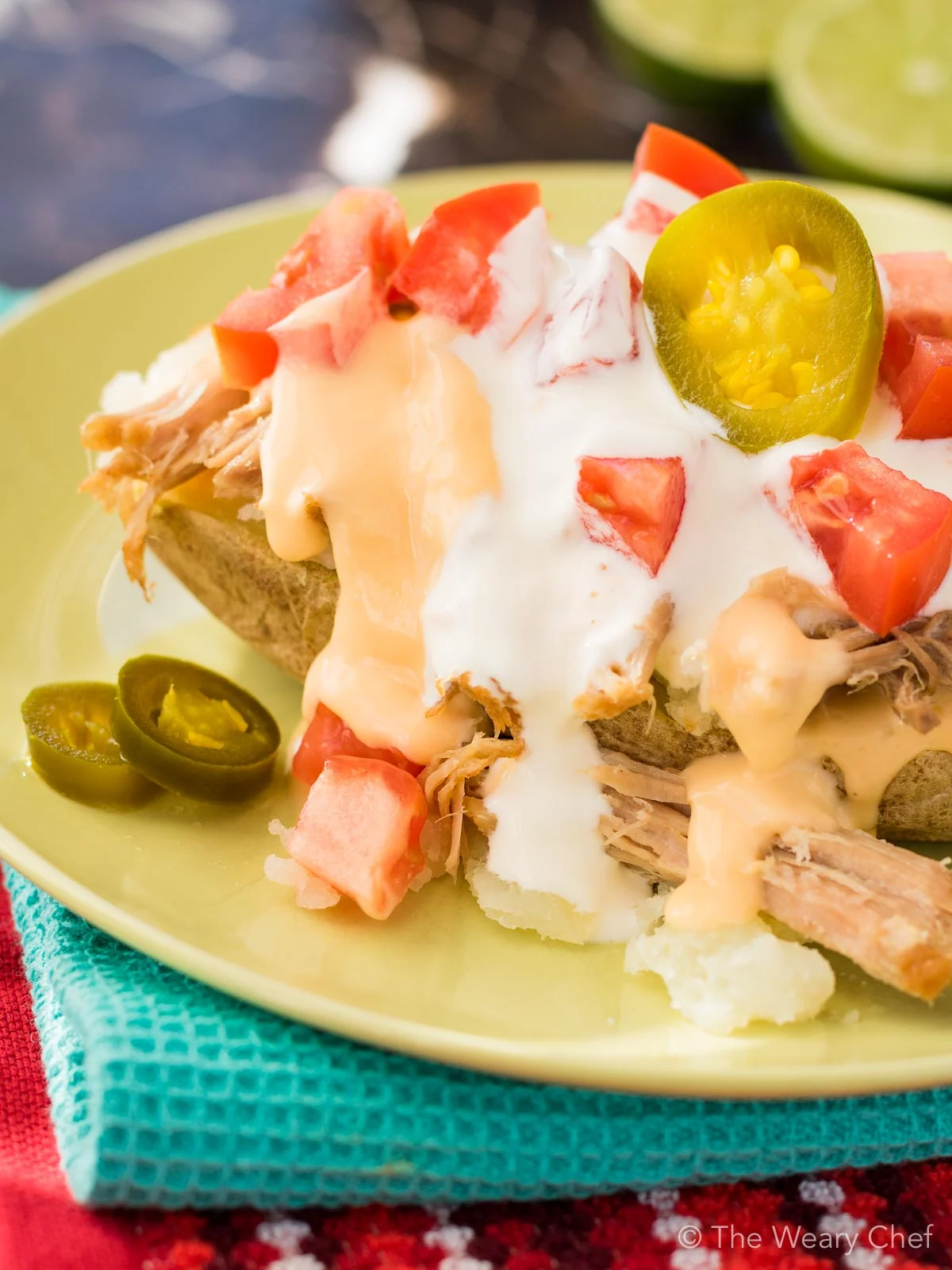 But wait! There is another option for this awesomely easy queso dip, and that is to serve it for dinner as a Loaded Pork Potato! There are so many reasons you should totally, definitely do this. Let's review them:
The pork is pretty much effortless because it's Smithfield Carnitas! Perfectly seasoned chunks of tender, fresh pork are packaged and ready to go right into your slow cooker. You can cook the pork during the day and then whip up your loaded potatoes for dinner in no time!
Putting queso onto a baked potato does magical things. The rich, creamy cheese sauce makes the potato melt in your mouth with every bite. It is SO GOOD.
You don't have to worry at all about the queso getting cold like if you were serving it as a dip. The pork, potato, cheese dip, and other toppings just turn into one big, happy party on your plate (and in our mouth).
You know I'm pretty crazy about nachos, but these loaded carnitas potatoes might have stolen the show. Wherever you stand on the carb front, I think we can all agree that half a potato is better for you than a mountain of corn chips. Thanks to the deliriously good carnitas and queso piled on top, half a potato is plenty for a full meal.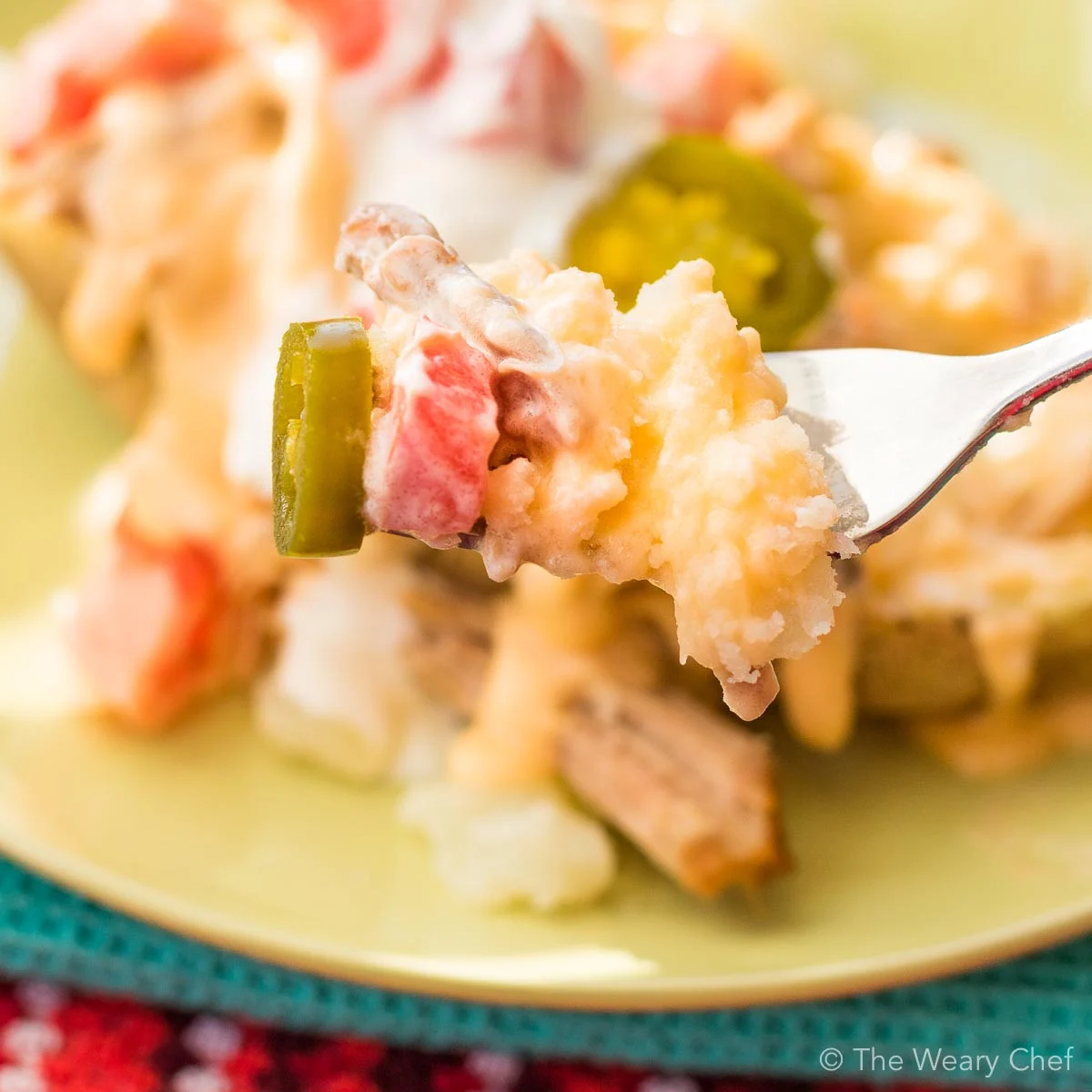 I, of course, highly recommend a fresh original margarita or blue margarita with this meal if you are so inclined. If you don't eat all your carnitas for dinner the first night, enjoy them as tacos or taco salad the second night. Smithfield marinated fresh pork is so versatile and always the best for leftover meals the next day!!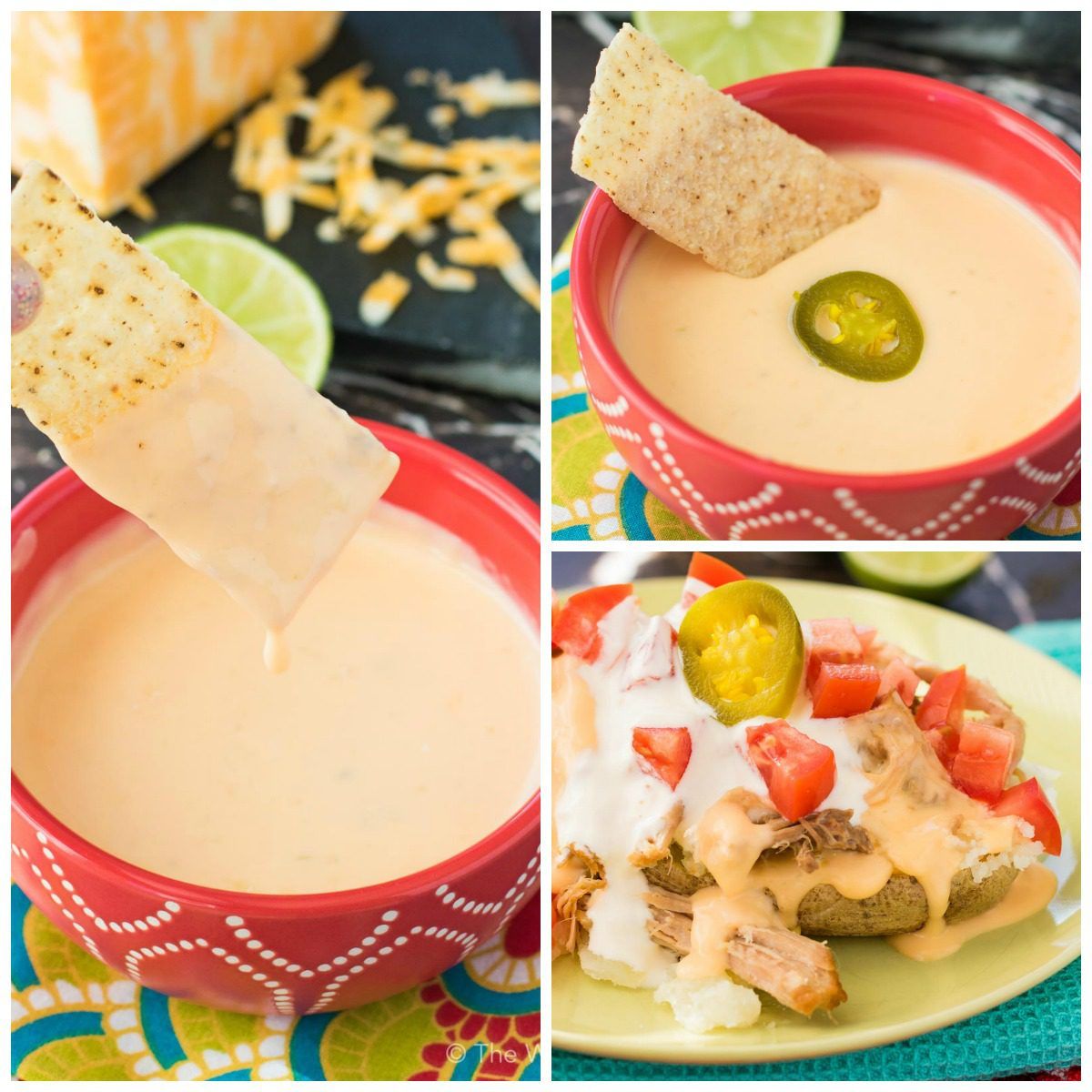 Print
Microwave Mexican Queso Dip
Try this microwave queso dip on its own or drizzled over carnitas loaded backed potatoes!
Total Time:

15 minutes

Yield:

4

1

x
Instructions
In a microwave-safe bowl, heat half and half for one minute. Stir in shredded cheese, cream cheese, and salsa.

Heat for 30 seconds, and stir. Heat another 30 seconds, and stir again. Heat for 30 seconds one more, and whisk mixture until smooth, making sure all cheese is melted in.

Queso dip will be thin at first, but it will quickly thicken up as it cools. If it gets too cool and thick, simply microwave for 10-15 seconds and stir well again.
Carnitas Loaded Baked Potatoes
Prepare carnitas in the slow cooker according to the package instructions. (Cook on low with a half cup of water for approximately 8 hours.) Remove meat from slow cooker (leaving juices behind), and shred with two forks.

Pierce potatoes several times on all sides with a fork. Microwave for eight minutes, flipping over once, or until a knife glides easily into the center of each potato.

Slice potatoes in half lengthwise. Fluff potato flesh with a fork, leaving skin intact. Sprinkle a little salt and pepper over the potato.

Drizzle queso over the potato. Top with shredded pork, and drizzle more queso over the meat. Top with diced tomatoes, sour cream, and any other desired toppings.

Take a bite, and go to baked potato heaven!
Notes
Kitchen Tools You Might Need (affiliate links):
Passive time : 360 minutes
Author:

Prep Time:

5

Cook Time:

10
Thank you so much to Smithfield for sponsoring today's post. I am proud and grateful to have been a 2015 and 2016 ambassador for the brand!
More Pork Recipes You'll Love: