Start your day off right with these moist and healthy Pumpkin Muffins. Plus, find out what FODMAP foods are and why you should care if you have gluten intolerance.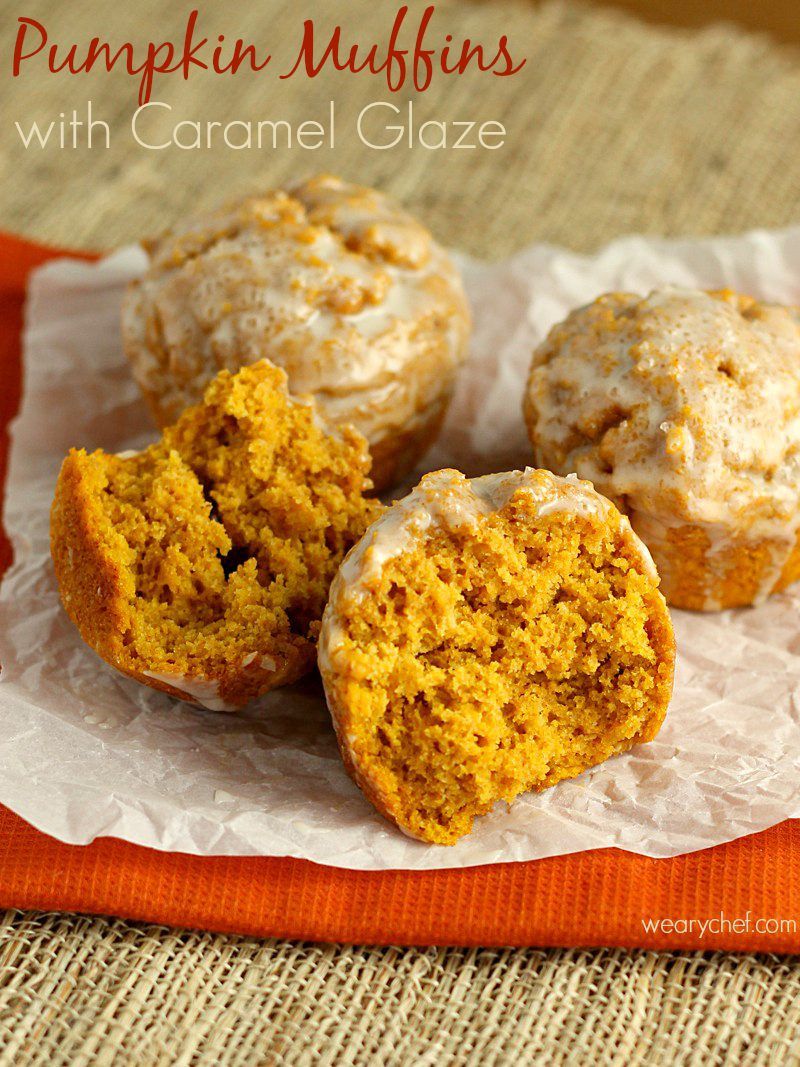 I'm so excited fall is approaching. So excited that I couldn't wait to get started with a new pumpkin recipe! As I told you in the Chocolate Marbled Pumpkin Pound Cake recipe, I love pumpkin any time of year, but pumpkin and caramel definitely give me a warm, fall feeling.
Before I get to these tasty muffins, I need to talk to you about something super important if you or someone you love is dealing with gluten intolerance. (If you don't fall into that category, just click here to go straight to the recipe!)
Last weekend a friend casually mentioned that she read an article about FODMAP foods and thought I might be interested since I'm on a gluten-free diet now. She said that doctors are now saying that gluten sensitivity may not exist and it's actually a carbohydrate found in wheat and other foods that may cause people GI issues. (FODMAP is an acronym for fermentable oligo-di-monosaccharides and polyols, which is the name of the carbohydrate in question.)
We were at the zoo when she told me this, and I immediately found a seat and started searching my phone for info on this FODMAP business. Going gluten free hasn't really been that bad, and it's a heck of a lot better than the daily nausea I felt for months. Still, it's not awesome to have to avoid wheat in all forms, so if I could eat like a more normal person again, that would be nice. When I pulled up a list of FODMAP foods, I wasn't overjoyed. There was a lot of bad news in there.
First order of bad news: You still have to avoid wheat. I guess I already knew that because I am feeling better since going gluten free. However, if my problem is gluten intolerance and I'm sticking to a GF diet, why do I feel still sick sometimes? That brings us to the next bad news: There are A LOT of FODMAP foods to avoid beyond wheat! A lot of them. Garlic, onions, stone fruits, watermelon, more than one glass of wine (shoot me), milk and soft cheeses… The list goes on.
People, those are a lot of the foods I like and consume all the time! When I saw that list, I felt a moment of relief because I felt like I understood why I still felt sick sometimes, but the next moment made me want to throw my phone. There is no freaking way I'm giving up all those foods. NO WAY! I instantly decided that I was feeling good enough just going gluten free and that we would never speak of this again.
Over the next few days, I couldn't stop thinking about that damn list. Maybe it wouldn't be so bad to avoid garlic. Do I really need to drink more than a glass of wine in an evening? At least I could still have aged cheeses… What really made me look into FODMAP foods more (and how this story relates to pumpkin muffins) is that I remembered seeing a mention of spelt flour being OK on a low-FODMAP diet. That could be life-changing information.
Let me briefly tell you what little I know about spelt flour. It's wheat but a super old kind of wheat. It has gluten, but it's supposed to be somehow easier to digest. It's not OK for people with celiac disease, or a true allergy to wheat, but it's a low-FODMAP flour and might be OK for people on a gluten-free diet (you know, if gluten's not really the problem). The important thing is it has gluten. YOU CAN BAKE WITH IT LIKE A NORMAL PERSON.
I decided to give it a try and excitedly but nervously made a batch of cookies with 1/2 rice flour and 1/2 spelt flour. (I say I was nervous because when I decided to try out eating half a hamburger bun on July 4th to see if this gluten intolerance thing was for real, I felt sick for a few days after that.) Since it was for science, I wanted to eat a good amount of the test food to really see how my body reacted, so I ate like five cookies in one day. You know what happened? NOTHING. I didn't get sick! I ate gluten, and I feel totally fine!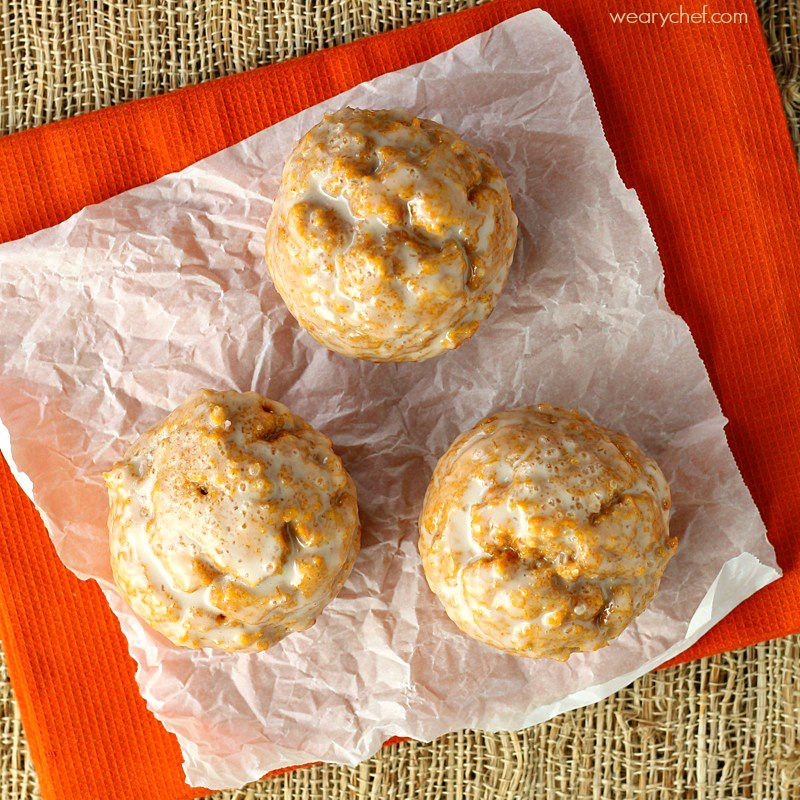 The exciting news I want to tell you – the point of this whole article – is that if you are dealing with gluten intolerance, you might actually be able to eat gluten again! Sure, you have to go to Whole Foods or some other special store to buy spelt flour because it's weird and who has even ever heard of it. It's worth it! I made these gorgeously moist muffins, and I'll be trying bread and pizza dough and cakes and all sorts of other spelt goodness very soon. Since going gluten free, I felt like I had to learn to bake all over again, and frankly, it wasn't going that well. Although baking isn't my wheelhouse around The Weary Chef, a food blogger who doesn't know how to bake is pretty lame. Learning about FODMAP foods and spelt flour has been a very, very good thing.
I hope this information is beneficial to you too. Even if you don't end up trying spelt flour, if you are GF and still have gluten intolerance symptoms, maybe you'll find another food on the list that is your trigger. We should all know about FODMAP foods and adjust our diets as needed. I wish you good health and happy baking!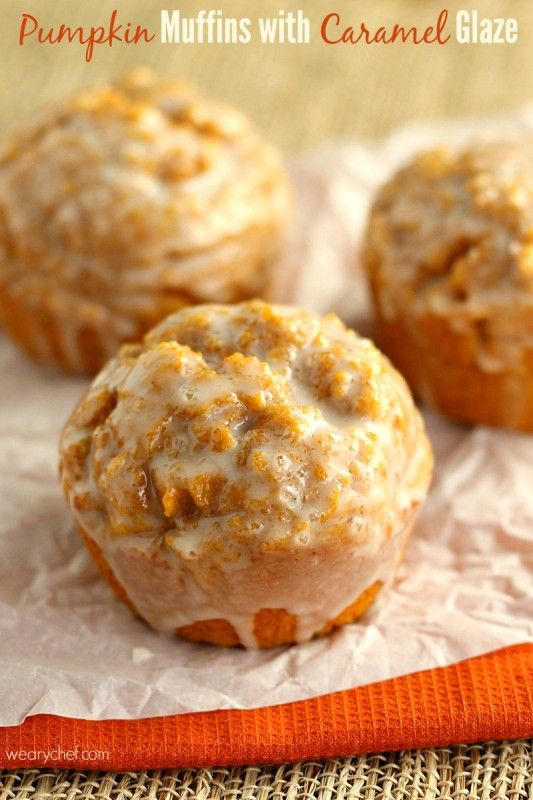 I've talked way too long, so now it's time to get right to the pumpkin muffins. I just want to say a couple quick things about the glaze. I used premade caramel sauce to add the caramel flavor. I would love to tell you about how I caramelized sugar on the stove, but it was 6 am. I just wanted to eat some muffins. You don't come here for complicated recipes anyway, right? We love easy, and this is it. Another thing about the glaze: You should only glaze as many as you plan to eat that day because it will soak into the muffins after a few hours. The muffins will still taste great, but they won't have that pretty white coating. Now let's get to the recipe!
Print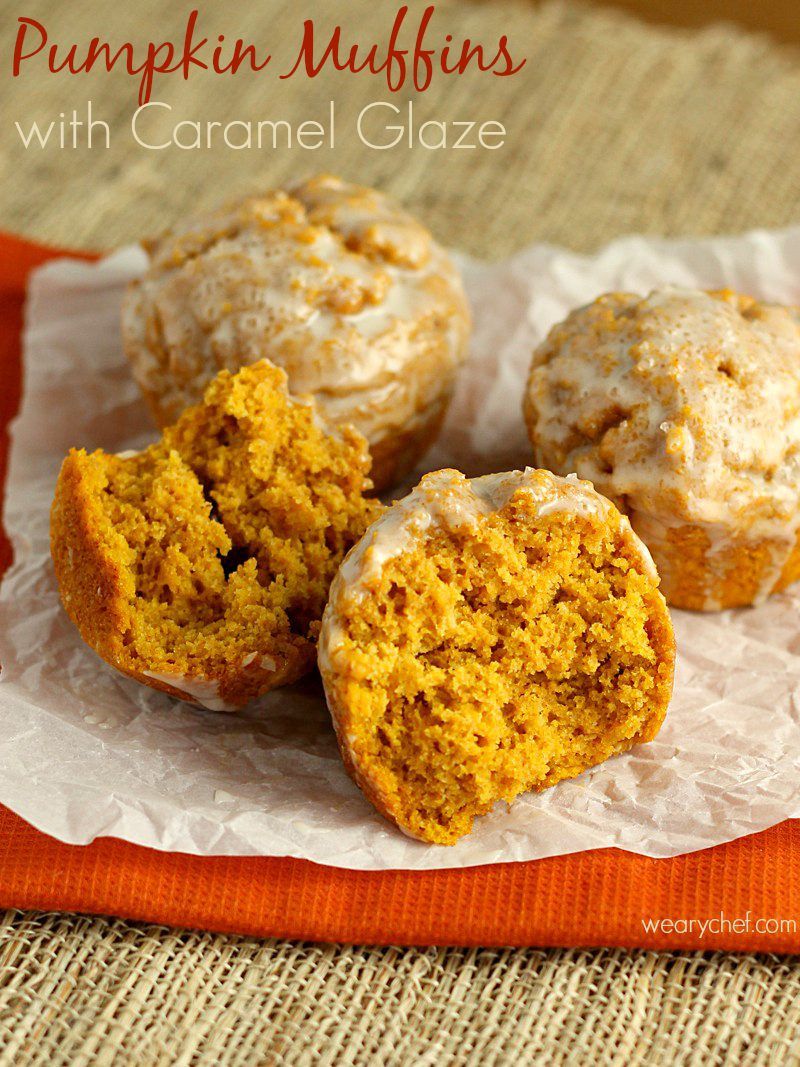 Pumpkin Muffins with Caramel Glaze
These moist pumpkin muffins dipped in an easy caramel glaze are a perfect start to your morning!
Total Time:

30 minutes

Yield:

1

2

1

x
Instructions
Preheat oven to 400 degrees F. Spray a muffin tin with cooking spray and set aside.

In a large mixing bowl, whisk together egg, oil, cinnamon, ginger, and cloves. Whisk in pumpkin and sugar until smooth. Add flour, baking powder, and salt. Stir just until dry ingredients are incorporated.

Using a spring-loaded disher or a 1/3 c. measuring cup, evenly divide the muffin dough into the muffin pan. Bake in preheated oven for 15-18 minutes, or until toothpick inserted into the largest muffin comes out mostly clean. Transfer from muffin tin to wire rack to cool immediately.

When muffins are cool, you are ready to prepare the glaze. In a small, deep bowl, whisk together powdered sugar, 1 1/2 tbsp. milk, and caramel sauce until very smooth. Glaze should be just thick but just thin enough to drizzle off a spoon. Add up to 1/2 tbsp. more of milk if needed.

Dunk the top of each muffin into the glaze, allowing the excess to drip off before placing muffins on parchment or wax paper. If desired, sprinkle a small amount of coarse salt over the glaze for a salted caramel flavor. Glaze will set in 10-15 minutes (but there's no harm in eating them immediately except messy fingers).
Author:

Prep Time:

15

Cook Time:

15

Category:

Breakfast
Here are more pumpkin recipes you'll love to try!