You need a batch of Pumpkin Pie Thumbprint Cookies in your life. These lightly sweet shortbread cookies filled with spiced pumpkin were inspired by Pop Tarts. Pull up a chair, and I'll tell you why.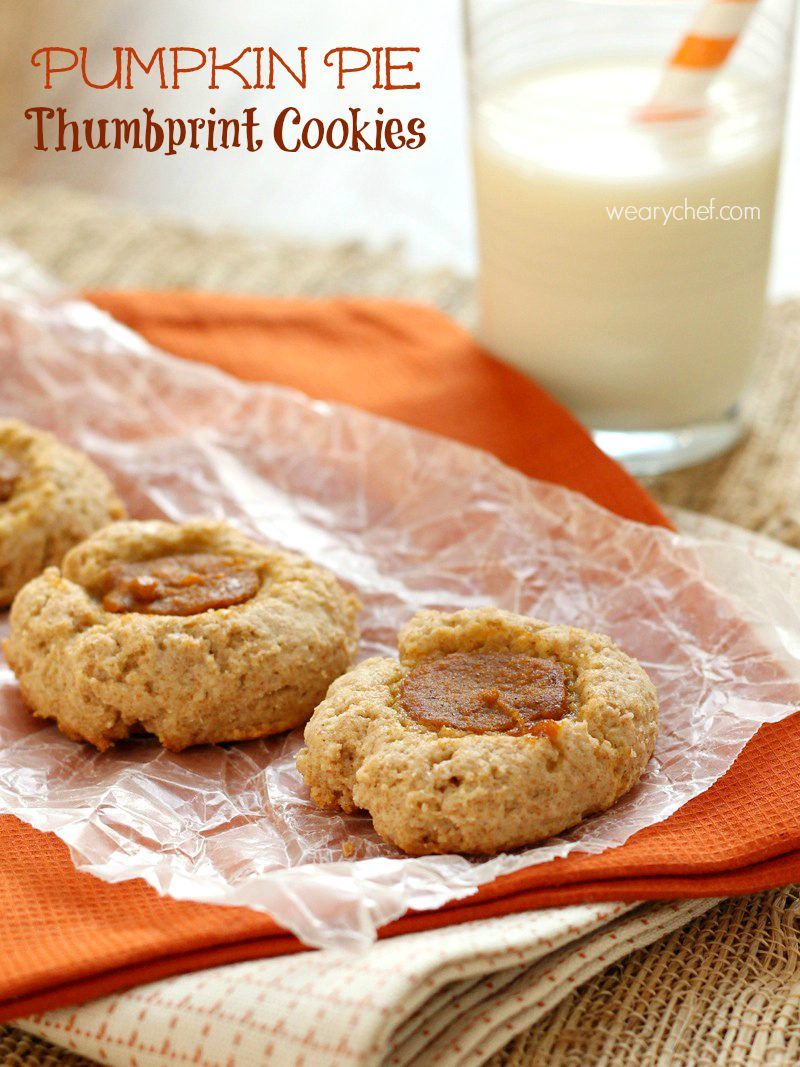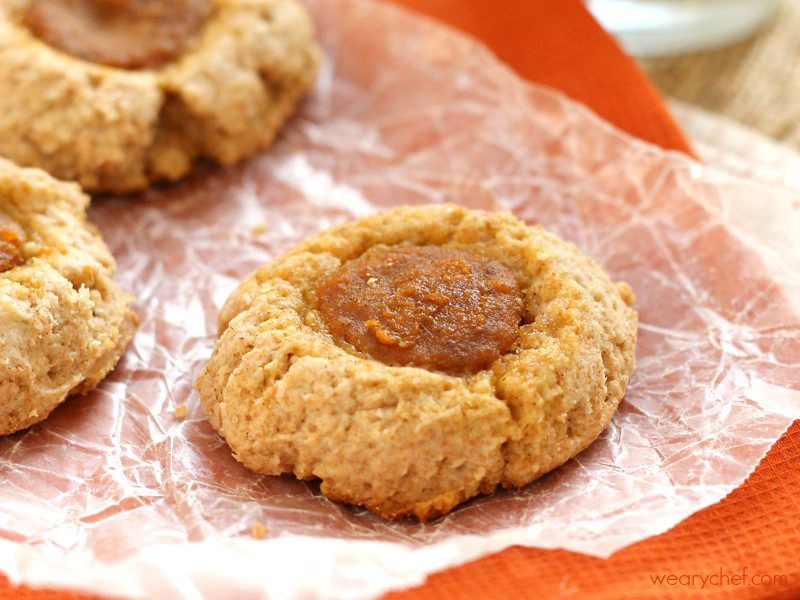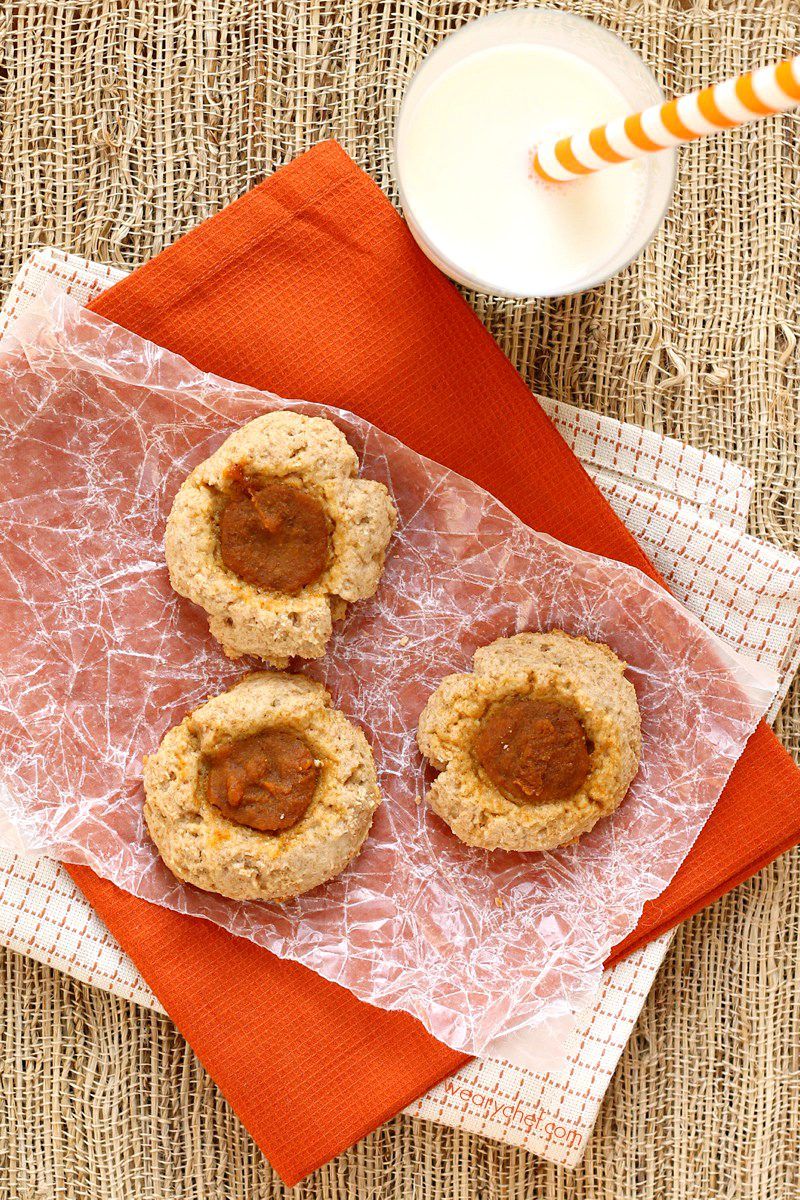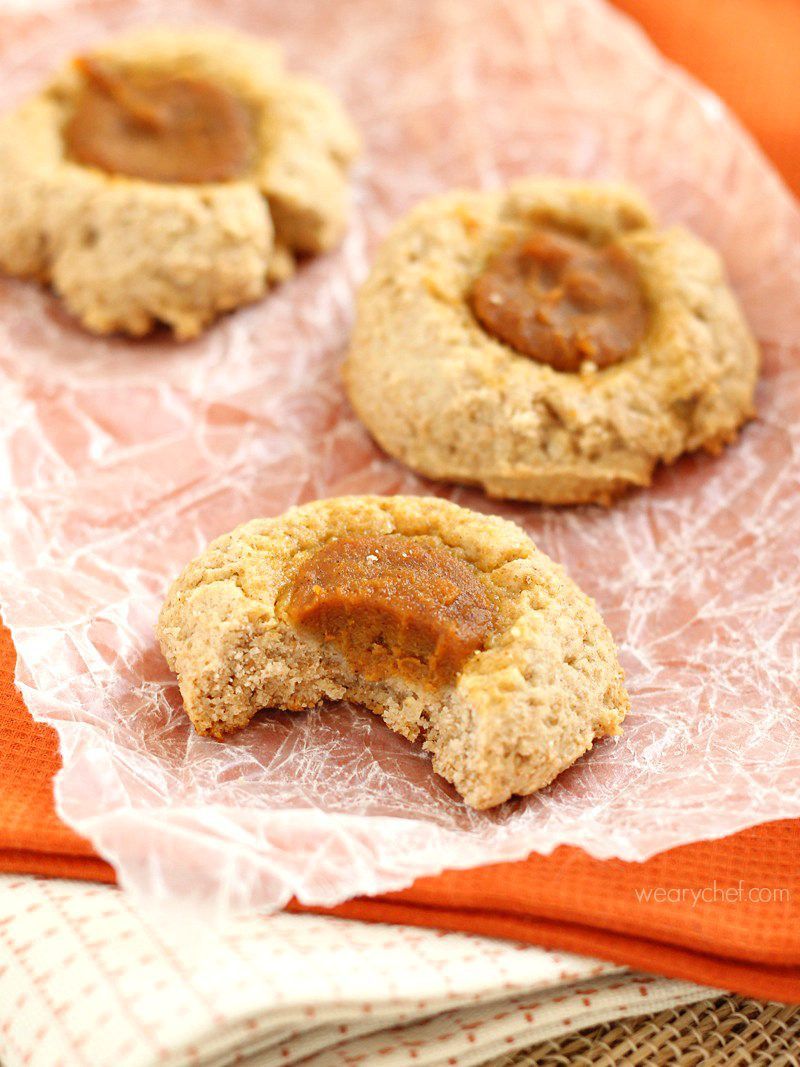 I know I've told you a whole bunch of times that my kids (and now my cat!) wake up early. Really early. Lately it has been taking its toll on me. I can get by on 5 or 6 hours of sleep for a day or two, but when it's interrupted sleep and goes on for several days, I turn into a mess. I feel grumpy, teary, and sleepy all at the same time and am desperate for a nap all day. The trouble is, I have too much to do to nap, so I keep pushing on through the sleep deprivation as best I can. By Friday of last week, I knew I needed to catch up on sleep a bit. Sleeping in on Saturday sounded dreamy, and by sleeping in, I mean staying in bed past 7 am. My boys are 7 and 3, so I decided they could fend for themselves one morning. I wanted to make it as easy as possible for them to be self sufficient for a couple hours, so I bought a rare treat: Pop Tarts. These weren't just any old Pop Tarts mind you but Limited Edition Pumpkin Pie Pop Tarts! On Friday night, I coached my oldest about getting his little brother to the bathroom, feeding the cat, distributing Pop Tarts, and watching cartoons the next morning. I asked them to let me sleep until the decadent hour of 7:30am. It worked! Mostly. There were some unfortunate cat interruptions, but the kids didn't come get me until 7:05, surely a record at our house. Once I got up, I looked at that box of pumpkin Pop Tarts enviously. I wanted one of those "breakfast pastries" (that aren't at all like cookies) so badly I could taste it, except I couldn't actually taste it, which was the sad part. Since they are made with wheat and wheat and I broke up a few months ago, all I could do was stare at that colorful box while eating some gluten-free cereal. Then I got the idea that I could make my own pumpkin Pop Tarts! Then I felt a little baffled about how to easily make them wheat free, and my friend Paula from Call Me PMc already did Homemade Pumpkin Pop Tarts last fall. After some day dreaming about pumpkin, I came up with this thumbprint cookie idea. I made mine with spelt flour, which is my baking BFF, but you could use regular flour if you can eat wheat like a normal person. I hope you enjoy these pumpkin cookies as much as we did. I dare say they are even better than Pop Tarts!
Print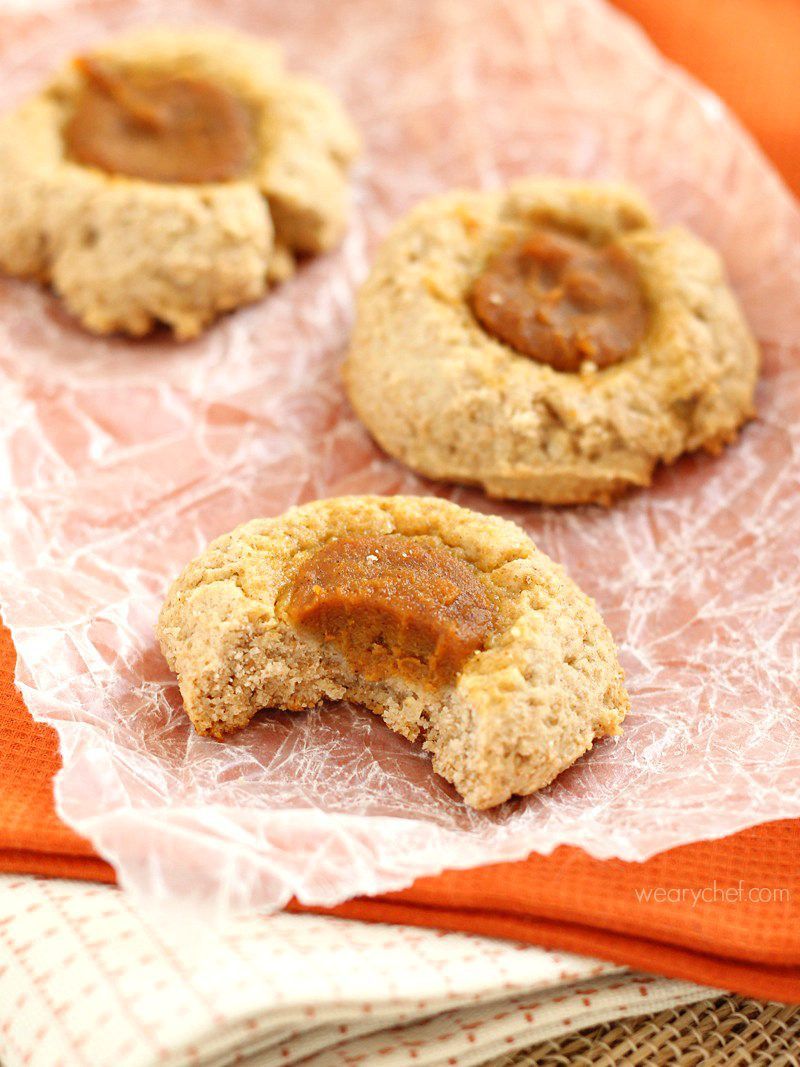 Pumpkin Pie Thumbprint Cookies
You need a batch of Pumpkin Pie Thumbprint Cookies in your life. These lightly sweet shortbread cookies filled with spiced pumpkin taste like Fall!
Total Time:

30 minutes

Yield:

1

6

1

x
Instructions
Preheat oven to 350 degrees F. Line baking sheets with parchment paper or silicone mats.

With an electric mixer or vigorously by hand, cream together the butter, cream cheese, and 1/3 c. sugar until fluffy. Blend in egg and vanilla until smooth. Stir in flour and baking powder until dough forms.

In a medium bowl, whisk together all pumpkin filling ingredients until well combined.

Using a medium disher or heaping tablespoon, place balls of dough about 2″ apart on prepared baking sheets. Press the back of a round teaspoon measuring spoon into each ball to flatten the cookie a bit and leave an indentation. (You can spray the measuring spoon with cooking spray a couple times during this process if the spoon sticks to the dough.)

Fill the indentations with pumpkin filling. (You will probably have some filling leftover, which you could stir into pancake or waffle batter within a day or so if you like.)

Bake cookies in preheated oven for 15-18 minutes, until bottoms are a little brown and filling has set. The pumpkin will remain soft, but a toothpick inserted in the filling will come out mostly clean.

Cool on a wire rack before enjoying.
Notes
I prep the second sheet of cookies while the first one bakes, but if you choose to bake both baking sheets at once, rotate them halfway through to ensure even baking.
Author:

Prep Time:

15

Cook Time:

15

Category:

Dessert
Here are a few tools I love for this recipe:
(These are affiliate links, so I make a small commission on any purchases at no additional cost to you. Thanks for supporting The Weary Chef!)
Here's even more pumpkin goodness for you: