This week's dinner menu features easy sandwich recipes and more!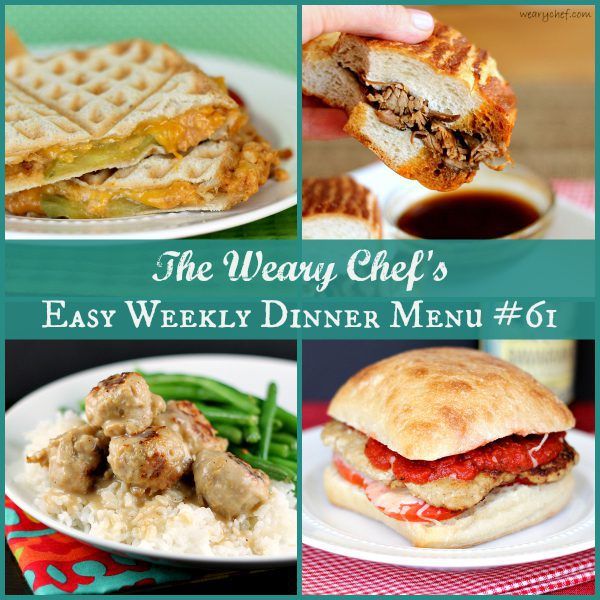 I usually stick to talking about food and my family around here, but there is something that I need to get off my chest that really has nothing to do with either. Lately, I keep seeing people doing really disrespectful, antisocial things, and I can not understand it! For example:
The other day I saw some young men walking very slowly across the street long after the light had changed, causing a line of drivers to miss their chance at the green light, with a "What are you going to do about it?" look on their faces.
More times than I can count, I have walked down our front steps in the morning only to find a gigantic, ugly graffiti tag painted on our front retaining wall. It honestly brings tears to my eyes when it happens, not because I am sad about the property damage, but because it is such a rude, mean thing to do to someone's home.
Normally I avoid gas station bathrooms at all cost, but the other day I drank a lot of coffee at breakfast and had a bit of a drive ahead of me. I figured going into the women's bathroom wouldn't be too bad, but I was so wrong. I walked in to see a toilet full of pee with more ALL OVER the seat. It was repulsive, and I quickly turned around and decided I could make it home.
Our car has been broken into numerous times, and while that is unfortunate, I at least see the motivation to steal. Intentionally inconveniencing others for no apparent reason I simply can not understand. What happened to those people? Did their parents not teach them any better? Are they angry at society for some reason and want to punish total strangers? Are they just mean?
If you can't tell me why some people are so rude, maybe you can tell me something good you've seen a stranger do lately to restore my faith in humanity. I'll go first: This week I went to Costco, and on the way to the car a man came running behind me carrying a box of macaroni that fell out of my cart at some point. Chasing me down to return my pasta was so sweet!
In the end, I guess I have to accept that most people in this world are kind and follow the rules, and there will always be those who don't. I just have to enjoy all the good people around me and do my best to raise my boys right!
Now, let's get to this week's dinner recipes! I'm bringing you two new sandwiches, a couple new photos, and a few old favorites.