You won't believe this moist, delicious Chocolate Marbled Pumpkin Pound Cake is made with a vegetable!
Who doesn't love pound cake, seriously? A POUND of butter?! I just can't bring myself to stir a pound of butter into my dessert especially when I could stir in a pound of a vegetable instead. I love baking and cooking with pumpkin. It adds moisture to baked goods, thickens up sauces, and adds fiber and vitamin A to any recipe.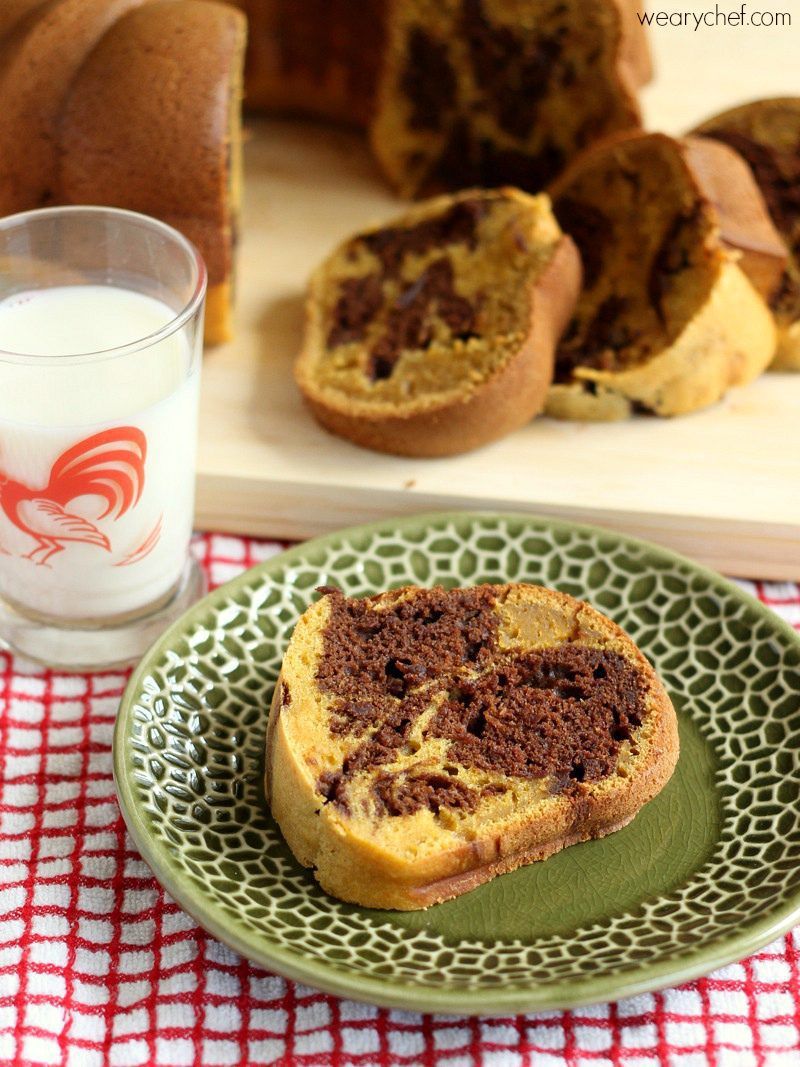 Pumpkin Pound Cake
Why is that pumpkin is usually reserved for October and November and forgotten about the rest of the year? Libby's Pumpkin is sold in cans and available year-round! Sure, pumpkins abound at Halloween, and pumpkin spice recipes are everywhere around Thanksgiving. However, you don't need cinnamon and ginger to enjoy cooking with this superfood.
Don't wait for fall to try this pumpkin pound cake, and keep a can on hand to stir it into sauces, mac, and cheese, or smoothies for a vitamin and fiber boost! You can make this pound cake in two loaf pans, but I wanted to put my bundt pan to use. I don't bake that many cakes, and this pretty pan doesn't earn its keep in the cabinet. I think that will be changing now that I have this easy and healthier recipe! I'm always worried when it comes time to get the cake out of the bundt pan, thinking it will stick and break in half or something. Fortunately, there was no need to worry. #nailedit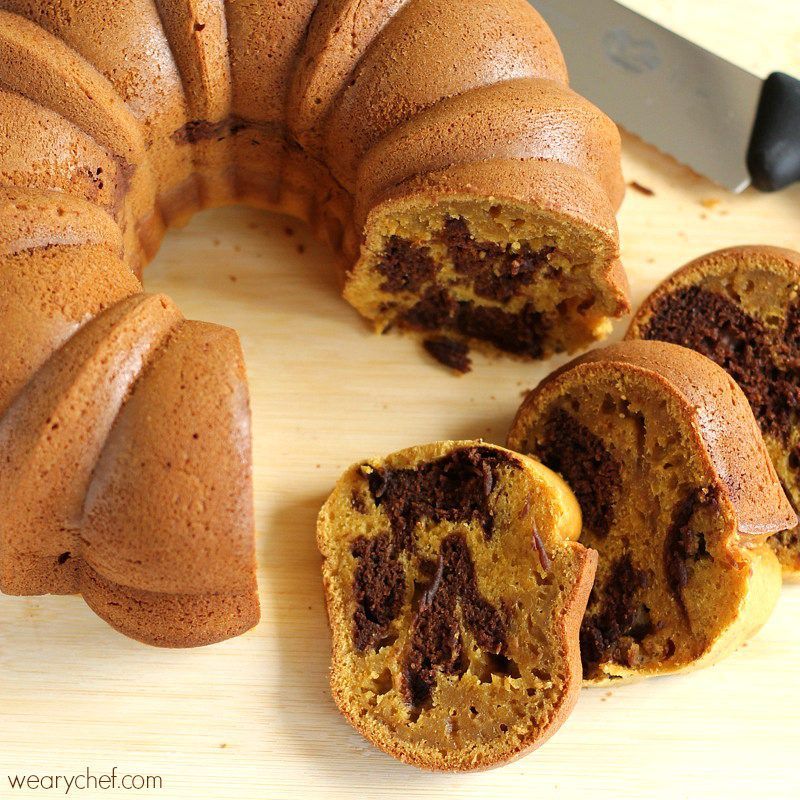 We enjoyed eating this cake on its own, but you could also dress it up with a glaze or icing. If you have vegetable-phobic kids (or spouses) in the house, hide the can, and no one will know there is pumpkin in there. This luscious pound cake is lightly sweet, loaded with chocolate flavor, and a crowd-pleaser for sure! Before I get to the recipe, I wanted to let you know that you can visit the Pumpkin Can site for more great pumpkin recipes AND a chance to win a Vitamix blender! Just think of the pumpkin smoothies you could make! You can follow Libby's on Pinterest – Libby's on Facebook – Libby's on Twitter too!
Chocolate Marbled Pumpkin Pound Cake

Recipe
What You Need to Make a

Chocolate Marbled Pumpkin Pound Cake

:
3.5 oz. dark chocolate bar (I used 70% cacao)

4 eggs

1 c. milk (I used 1%)

1/4 c. vegetable oil

1 tsp. vanilla

15 oz. can of Libby's pumpkin
1 1/2 c. sugar
3 c. flour
1/4 tsp. salt
1 tsp. baking soda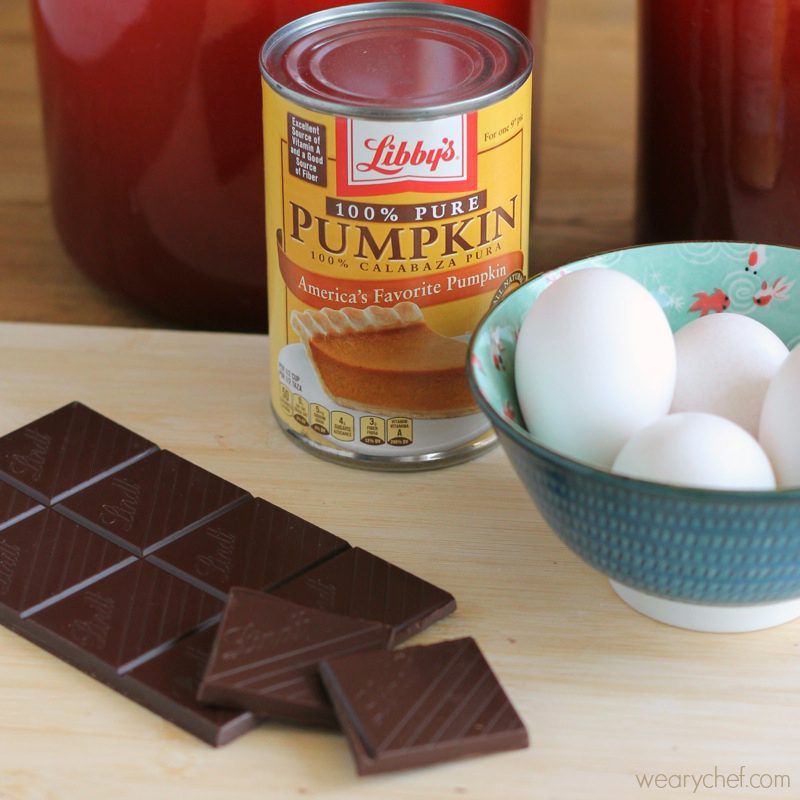 How to Make the
Chocolate Marbled Pumpkin Pound Cake

: Step-by-Step Instructions
Preheat the oven to 350 degrees F. Spray a bundt pan with cooking spray and set aside.
Break the chocolate bar into 1″ pieces, and place in a large microwave-safe bowl. Heat for 30 seconds, remove and stir. Heat another 30 seconds, and stir the chocolate until completely melted, which may take at least 30 seconds of stirring. (You may need to heat an additional 30 seconds because microwaves vary.) Set aside to cool slightly while you prepare the cake batter.
In a large mixing bowl, whisk together eggs, vanilla, and oil. Then, stir in pumpkin, milk, and sugar.
Add flour, salt, and baking soda. Stir to combine, then beat on medium speed with an electric mixer for 3 minutes.
Stir about 2 cups of the pumpkin batter into the melted chocolate. (Chocolate will begin to harden when mixed with the batter, so be ready to move immediately to the next step.)
Pour about 1/3 of the plain pumpkin batter into the bundt pan, and jiggle the pan to make it level. Scoop about half of the chocolate batter evenly over the pumpkin batter. Repeat these layers again, and finally pour the remaining 1/3 of the pumpkin batter on the top.
Swirl a butter knife through the cake batter to create a marbled pattern of chocolate. Reach the knife near the bottom and sides of the pan, but don't overmix. You just want to swirl gently to avoid a uniform chocolate cake.
Jiggle the pan once more to make the battery level, and bake in preheated oven for 50-60 minutes, or until a wooden skewer inserted into the cake comes out clean. Allow cake to cool in pan for 10 minutes, then carefully transfer to a wire rack to cool completely. You may serve warm if desired. (I couldn't wait for it to cool before digging in!)