Homemade pumpkin waffles are filled with brown sugar-cinnamon cream cheese for a treat just right for breakfast, snack, or dessert!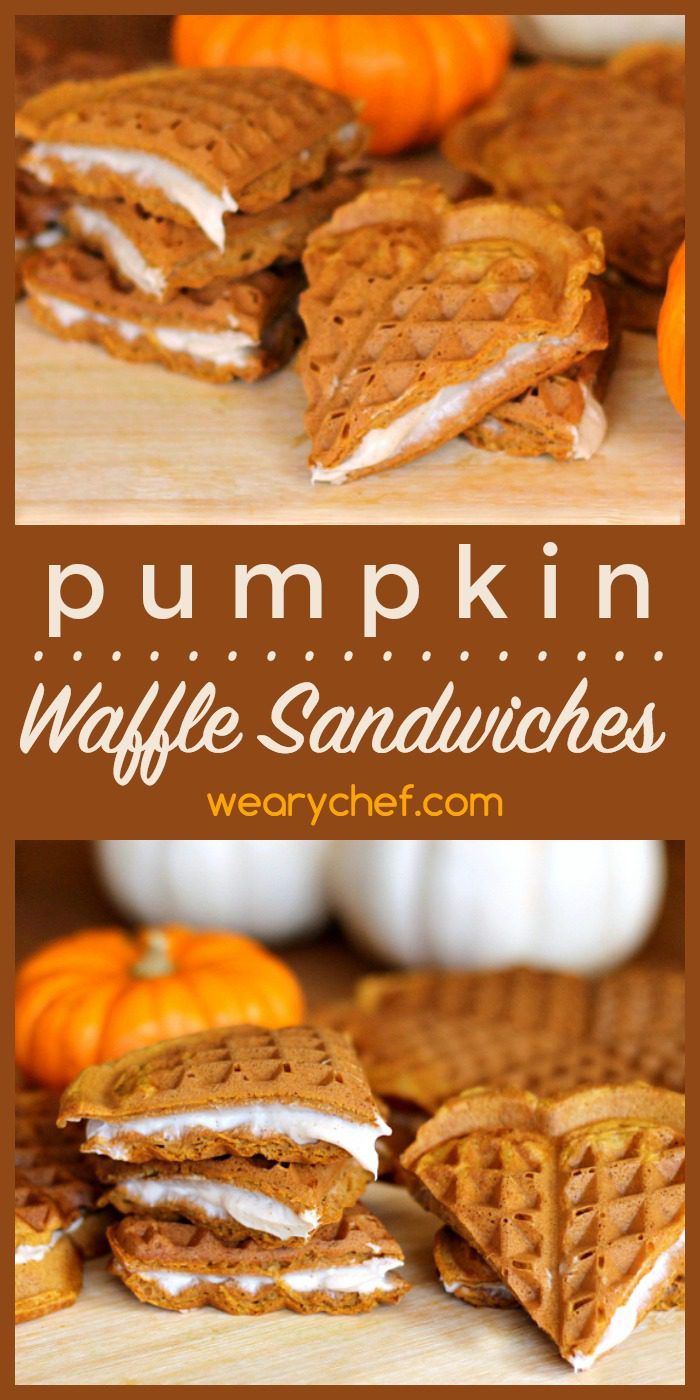 Wait, did you get that? Pumpkin. Waffles. Cream Cheese. Be still my beating heart! We got a waffle iron a while ago, and I think I've used it maybe four times total. I imagined myself making waffles for the family every weekend and thought it would be easier than pancakes. I guess it's kind of easier because there's no flipping, but making one waffle at a time doesn't really make it easy to have breakfast as a family. The waffles only stay crisp for a few minutes, so if you wait until they are all done to eat, you have soft waffles. There's nothing wrong with soft waffles, but I like them best when they are a little crisp on the outside.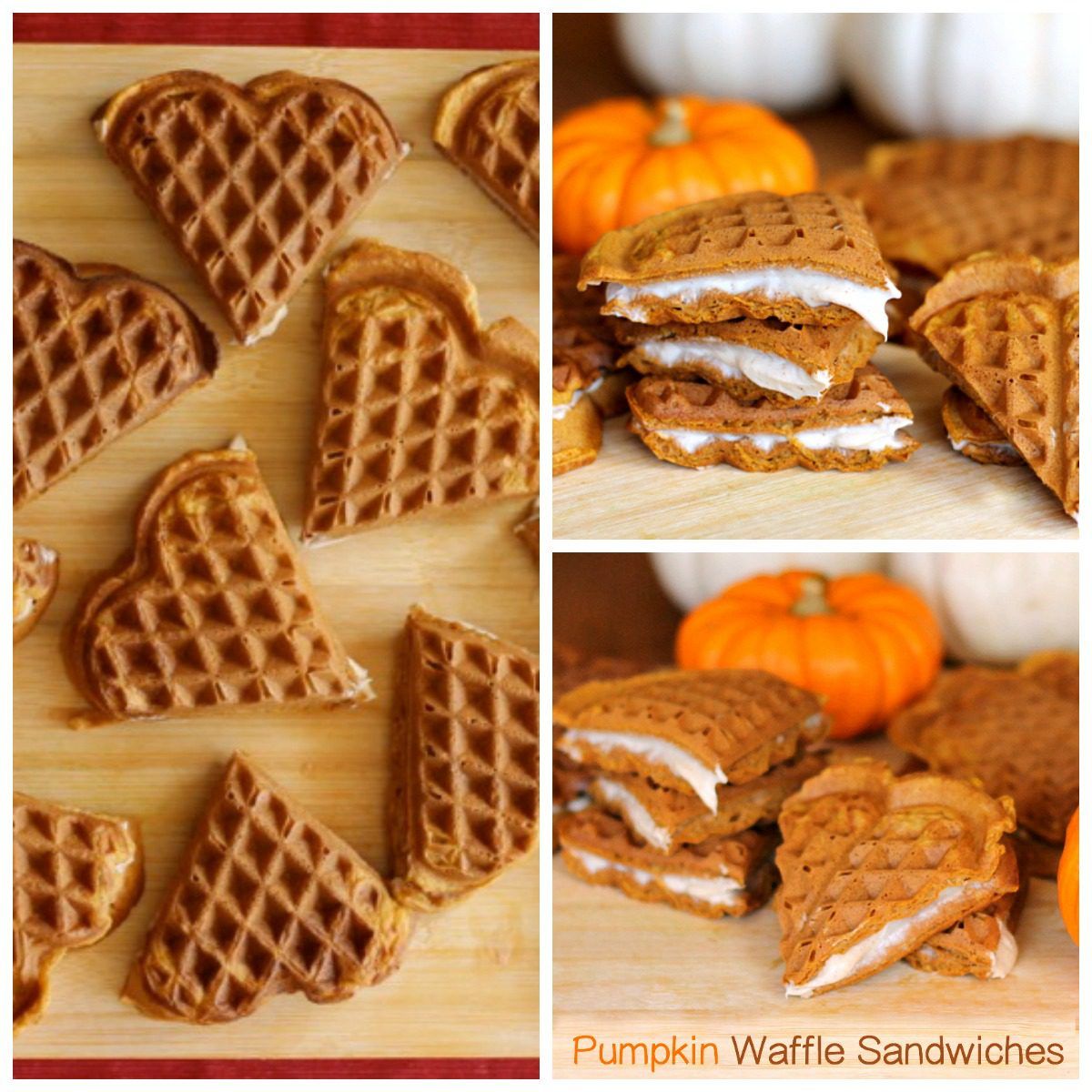 I was long overdue to make something with my waffle iron! I actually made these the same day as the biscuit panini sandwiches last week, so the waffle iron definitely got a workout! This recipe is easy, but it does take a while to make all the waffles. That's time well spent if you ask me because I loved these things! We ate them like little sandwiches out of the refrigerator, but I suppose you could serve them warm with syrup on top. I'm going to try that next time for sure.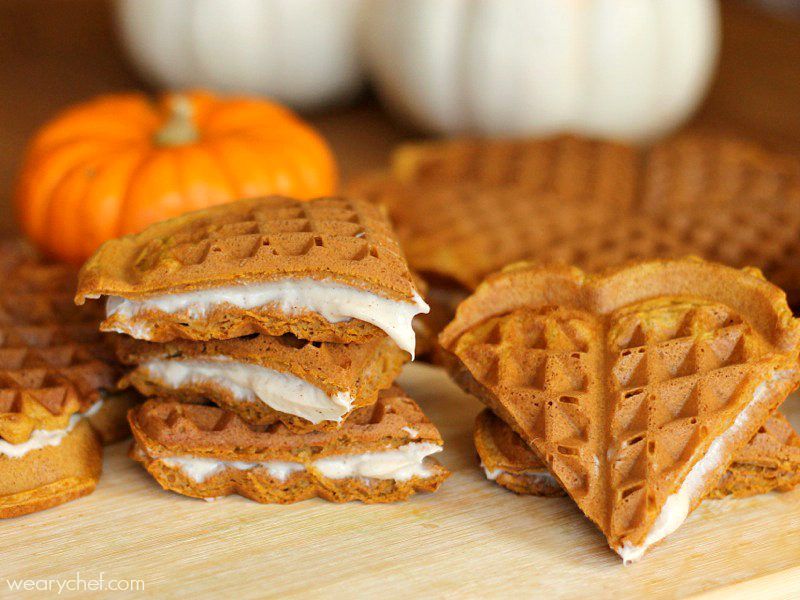 If you are looking for a good pumpkin waffle recipe, you should definitely add this one to your list to try. Just skip the cream cheese part and enjoy the waffles on their own!
Print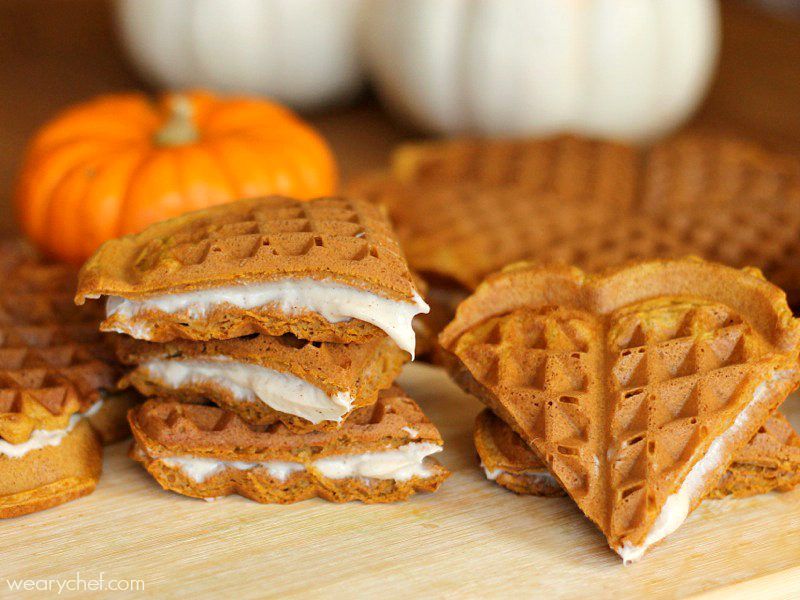 Pumpkin Waffles with Cream Cheese Filling
These pumpkin waffles are good on their own, but sandwich them with a brown sugar and cream cheese filling, and you have something very special!
Total Time:

30 minutes

Yield:

8

1

x
Instructions
With an electric mixer, beat together cream cheese, brown sugar, and cinnamon on medium speed until smooth and fluffy, about 3 minutes.

Preheat your waffle iron.

Meanwhile, in a large bowl whisk together egg, brown sugar, pumpkin, milk, and vegetable oil. Add in flour, baking powder, baking soda, cinnamon, ginger, and salt, and whisk until smooth.

Cook waffles according to your waffle iron instructions. For me, that was using about 1/3 c. of batter for each waffle and cooking it to the "uniform texture" setting on high. Expect to maybe have one or two waffles to taste test while you adjust the settings as needed.

Lay waffles in a single layer on a cutting board or wax paper to cool. Then, evenly spread the cream cheese mixture over one side of half of the waffles. Place a plain waffle on top of the cream cheese, carefully aligning the edges, creating a sandwich.

Slice your sandwiches sent from heaven into wedges and serve immediately or store in the refrigerator. Enjoy!
Author:

Prep Time:

10

Cook Time:

20

Category:

Dessert
Looking for more pumpkin goodness? You'll love these recipes!