Summer meets fall in this quick bread recipe! You'll want to enjoy Pumpkin Zucchini Bread all year round :)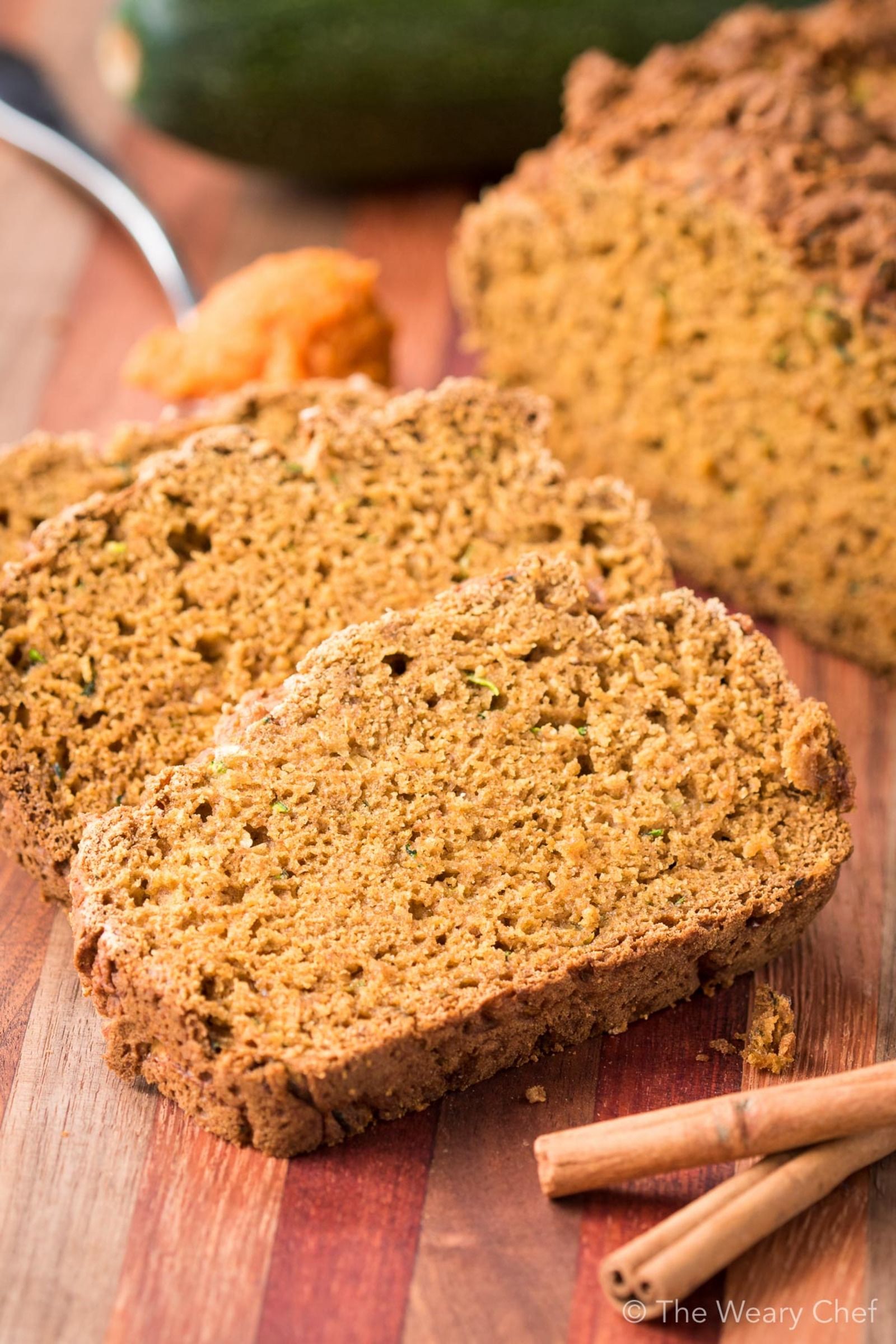 September is a weird kind of summer-meets-fall time. Pumpkin spice starts showing up all over the place, but we still have the warmer, longer days of summer. If you're having trouble deciding if you want to wear your flip flops or tall boots this month, I have a recipe that I think you'll love. This Pumpkin Zucchini Bread features summer squash and fall pumpkin together in harmony!
You don't have to thank me, but I want you to know that I worked really hard on this recipe for you. Baking doesn't come naturally for me, and this one took a few tries to get just right. The first batch had waaaaaaay too much pumpkin, and I literally had to throw it in the trashcan. That was all kinds of upsetting. The second version, which is actually pictured here, was almost there. I tried making that one oil-free, and it was just too dense and dry.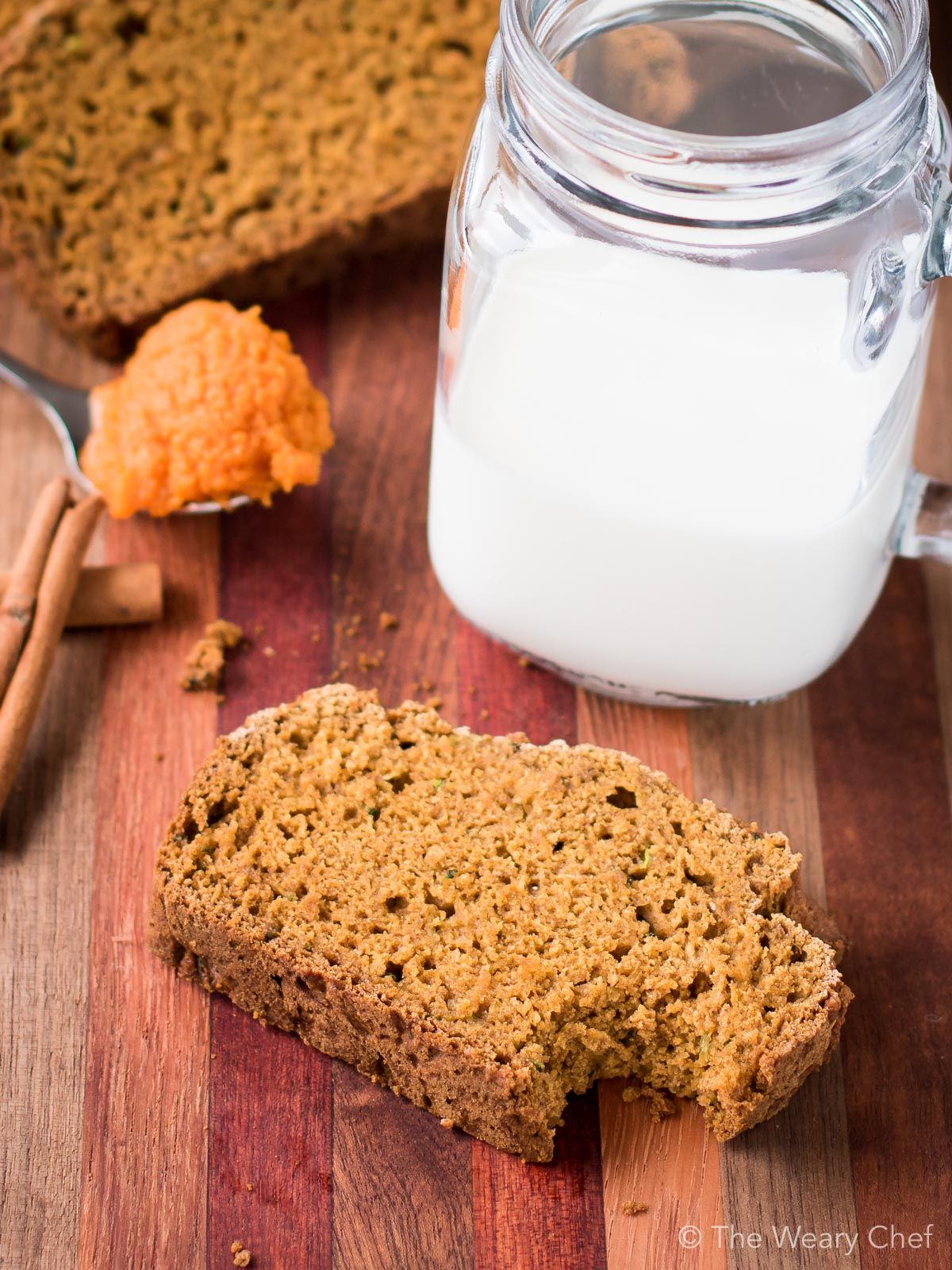 The final recipe I'm sharing with you now is just right. If Goldilocks had to choose a loaf of pumpkin zucchini bread, it would be this one for sure. This bread is tender, loaded with vitamins and fiber, and not too sweet. It's great for breakfast, an after school snack, an edible gift – you name it!
This recipe only uses a half cup of pumpkin, so you'll still have some of the can leftover. Lucky for you, I have a couple recipes to help you use up what's left! Please try Pumpkin Pie Thumbprint Cookies, Baked Pumpkin Rice with Chicken, or Pumpkin Waffle Cream Cheese Sandwiches. Or, you probably have a list of pumpkin recipes from Pinterest that you are waiting to try. If you're like me, you'll have no trouble putting the rest of that pumpkin to good use. Now, go get cooking!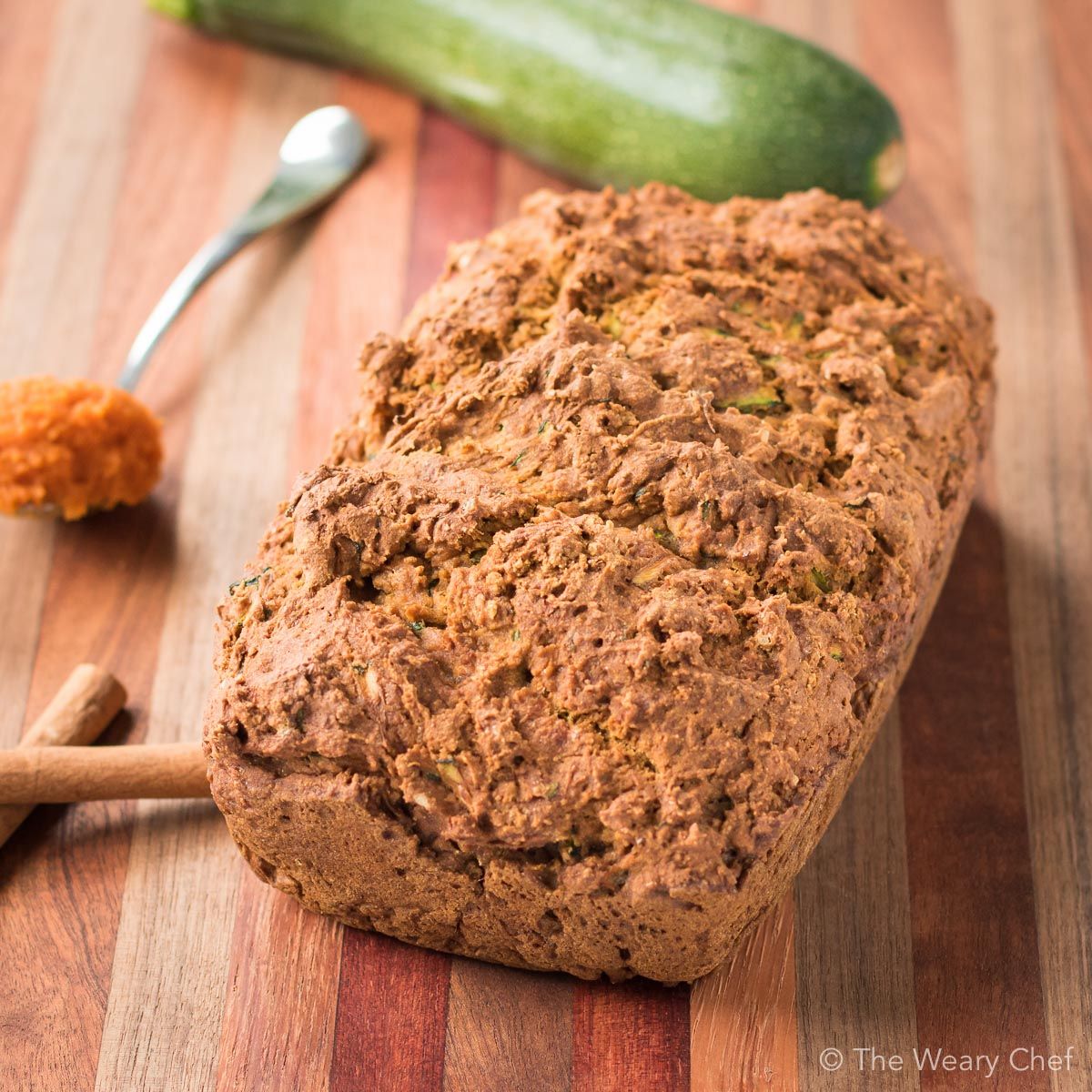 Print
Pumpkin Zucchini Bread
Summer meets fall in this quick bread recipe! You'll want Pumpkin Zucchini Bread all year round!
Instructions
Preheat oven to 350 degrees F. Spray a loaf pan with cooking spray, and set aside.

Add melted butter to a large mixing bowl. (I actually melt my butter in the microwave in the mixing bowl.) Whisk in pumpkin and sugar until smooth.

Add eggs, vanilla, cinnamon, and cloves. Whisk again until smooth. Put away your whisk, and stir in zucchini with a mixing spatula or spoon.

Add flours, baking soda, and salt. Stir just until dry ingredients are incorporated. Do not overmix.

Spread dough evenly into prepared pan. Bake in preheated oven for 50-60 minutes or until toothpick inserted into center of loaf comes out mostly clean. Allow to cool at least 10 minutes before removing from pan and slicing.
Notes
You can use all white or gluten-free flour in this recipe if desired.
Tools for this Recipe (affiliate links):