This shrimp pasta salad with spinach and artichokes is a perfect warm weather dinner or potluck dish! It's quick to make and can be served cold or slightly warm.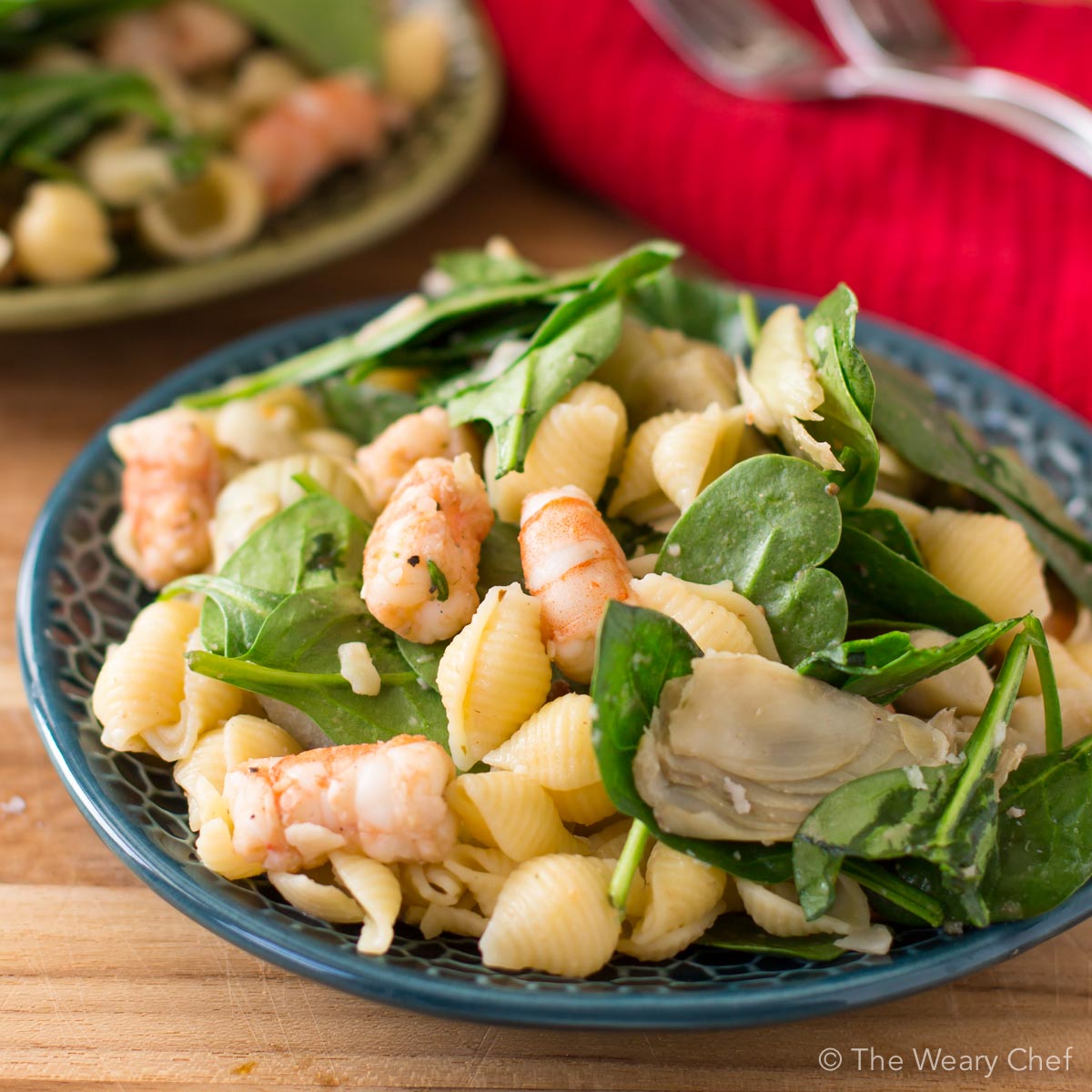 I have been making shrimp alfredo with spinach for YEARS. It is our standard Valentine's Day and wedding anniversary dinner because it's delicious and feels fancy. I have never actually shared the recipe here though, and I don't know why. The closest I got was this sausage alfredo recipe with spaghetti squash. The reason I bring that up is because this pasta salad with shrimp sort of reminds me of a salad version of that favorite dish. It has pasta, shrimp, spinach, and parmesan, so there are a lot of similarities in ingredients.
The good thing is this spinach pasta salad is great at room temperature or cold, so it's a good choice for potlucks or other parties where you can't keep something like alfredo nice and hot. It's also great because it's so quick and easy to make! The only cooking is boiling the pasta and sauteeing the shrimp. Then, you just have to mix it all together. Take a look at how easy it is in this little video:
What makes this shrimp salad a little unique is that you pour the hot pasta and shrimp on top of the raw spinach to partially wilt it. This makes it more tender and easier to eat, but the leaves still hold their shape. As you can see, I made this dish with pasta shells, which seemed like a fun choice. I wouldn't recommend this particular shape though because it makes the salad too hard to eat with a fork! The shells are hard to poke, but the spinach is hard to scoop, so it was a bit of a balancing act to get the pasta into our mouths. I would recommend penne, rotini, or bowties, which are all easier to eat.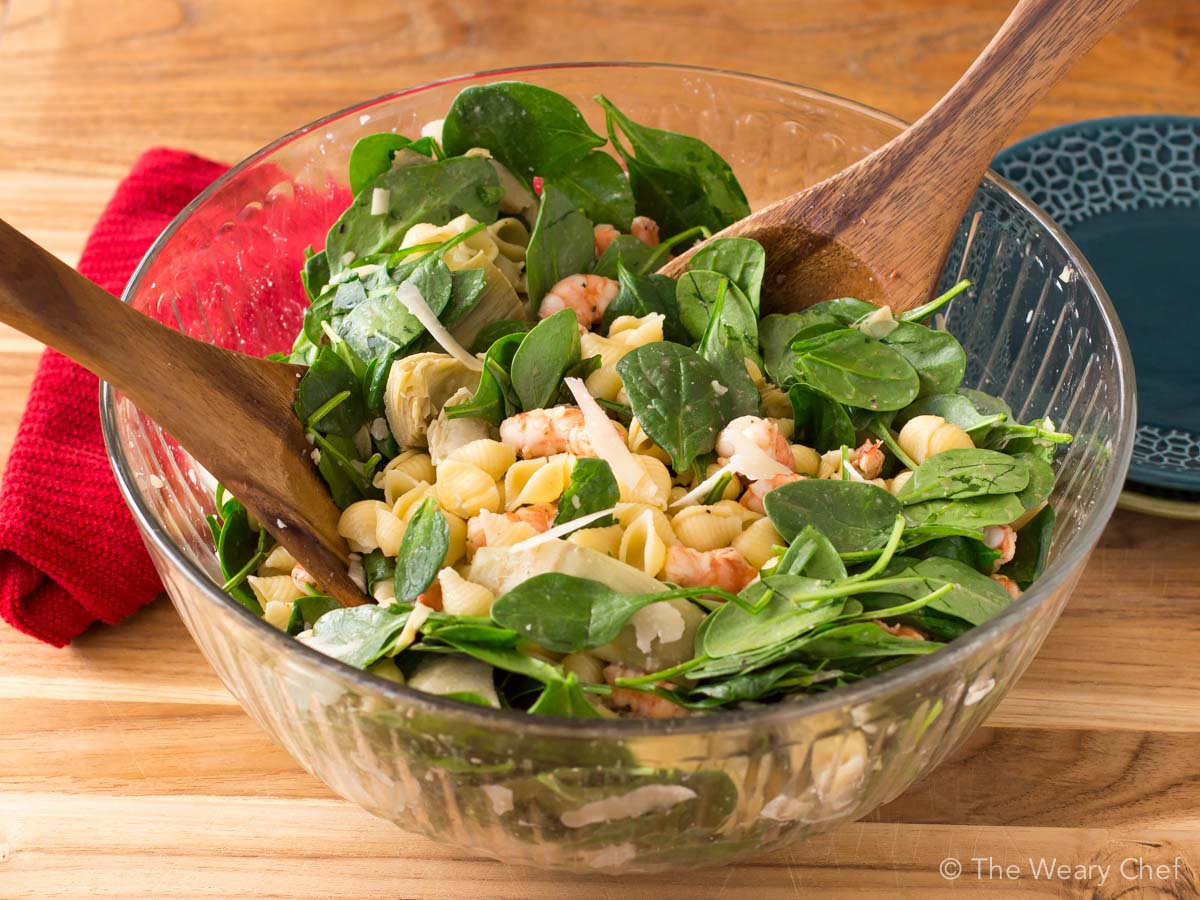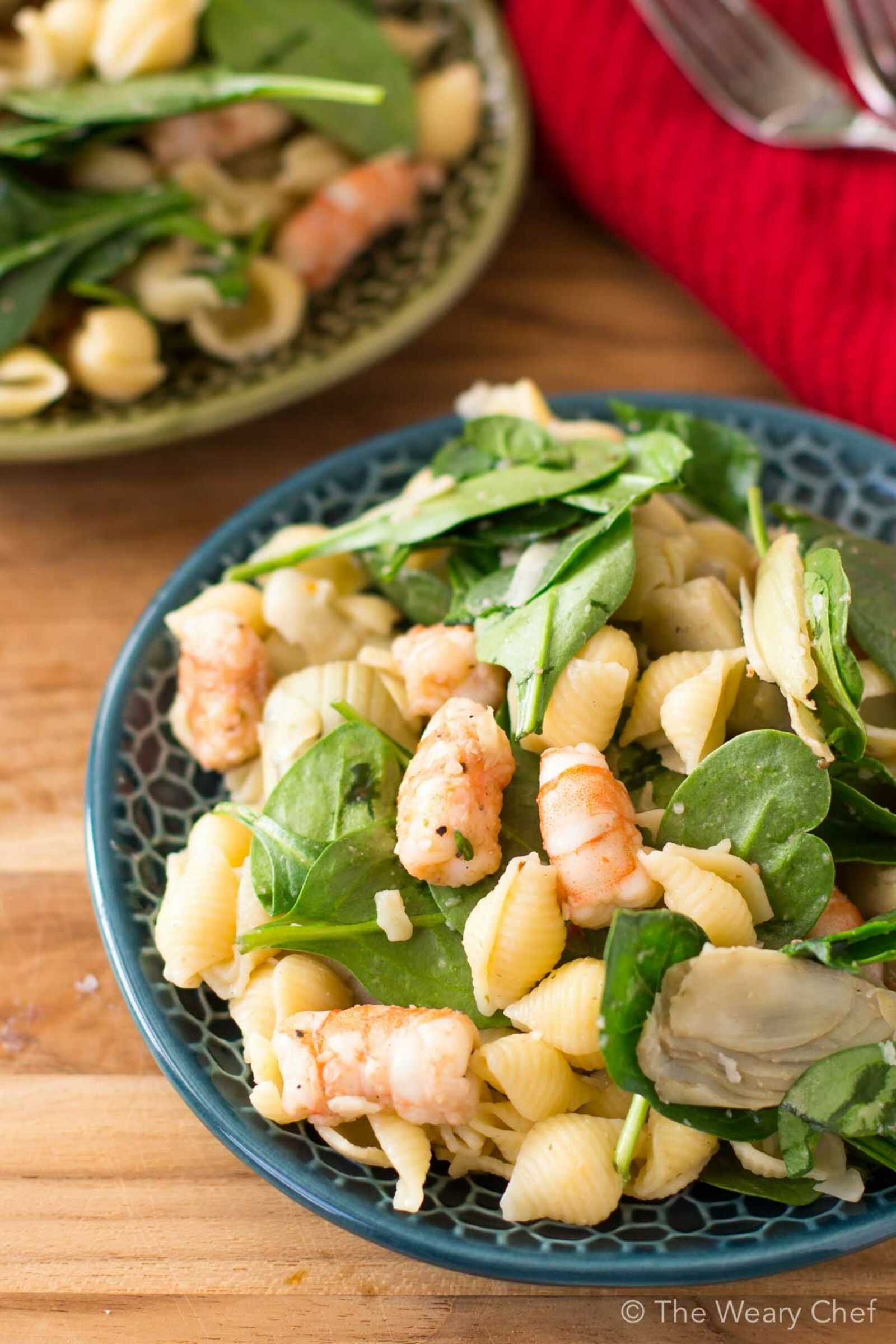 Print
I think you'll also enjoy these recipes!
| | |
| --- | --- |
| | |
Bring a pot of lightly salted water to a boil. Cook pasta according to package directions, and drain.

While pasta cooks, heat olive oil in a skillet over medium-high heat. Add shrimp and seasoning blend, and stir fry until shrimp are opaque. Remove shrimp from heat until ready for the next step.

In a large salad bowl, add 5 ounces baby spinach, artichoke hearts, hot cooked pasta, and cooked shrimp WITH THE COOKING JUICES. Toss salad together. Use a potato peeler to shave parmesan over the salad, and add salt and pepper if desired. Toss again before serving.
If you chill this salad before serving, drizzle a couple teaspoons of olive oil over the salad and toss again. (Sometimes the noodles can dry out a bit in the refrigerator.)
If your baby spinach leaves are very large, you may want to roughly chop them into smaller pieces before using them in this salad.