I wasn't planning to make you a salad today. I was planning to make you a BBQ tater tot nacho creation that I should stop talking about right now in case I still want to make it in the future.
The trouble is, I've been trying to be good and exercise and not eat quite so much man food all the time, so I tried to come up with a way to get the same flavor with a little less fried potatoes and a little more vegetables. Behold the Loaded BBQ Chicken Salad!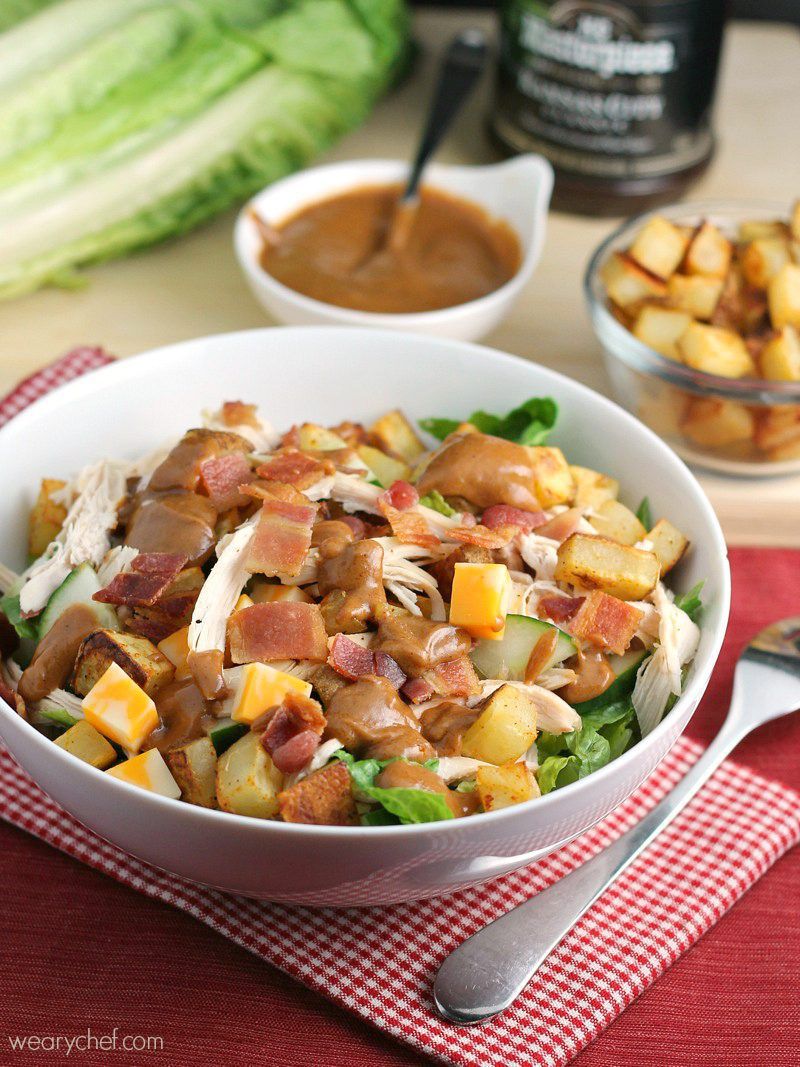 Why I Love Loaded BBQ Chicken Salad?
If I've said it once I've said it a whole bunch of times because I love repeating myself: If I'm going to eat a salad for dinner, I need it to involve meat and stuff. Stuff like bacon and cheese in this case. Oh, and there are potatoes in there too. The BEST part though is the BBQ dressing!
I recently had the privilege of trying out the 35th Anniversary ​KC Masterpiece® in Kansas City Classic BBQ Sauce. Who knew that KC and I are almost the same age? (It doesn't matter who is older, so don't ask.) Folks, this sauce is something to behold. It is so thick, smoky and flavorful, I could eat it with a spoon. In fact, I did eat a spoon of it just for a taste test, which it passed with flying colors.
This BBQ sauce was born to be slathered on chicken on the grill, served with fries for dipping, or mixed with slow-cooked pork and piled on buns. It is made with real sugar and molasses instead of corn syrup, which is surely part of what makes it so good!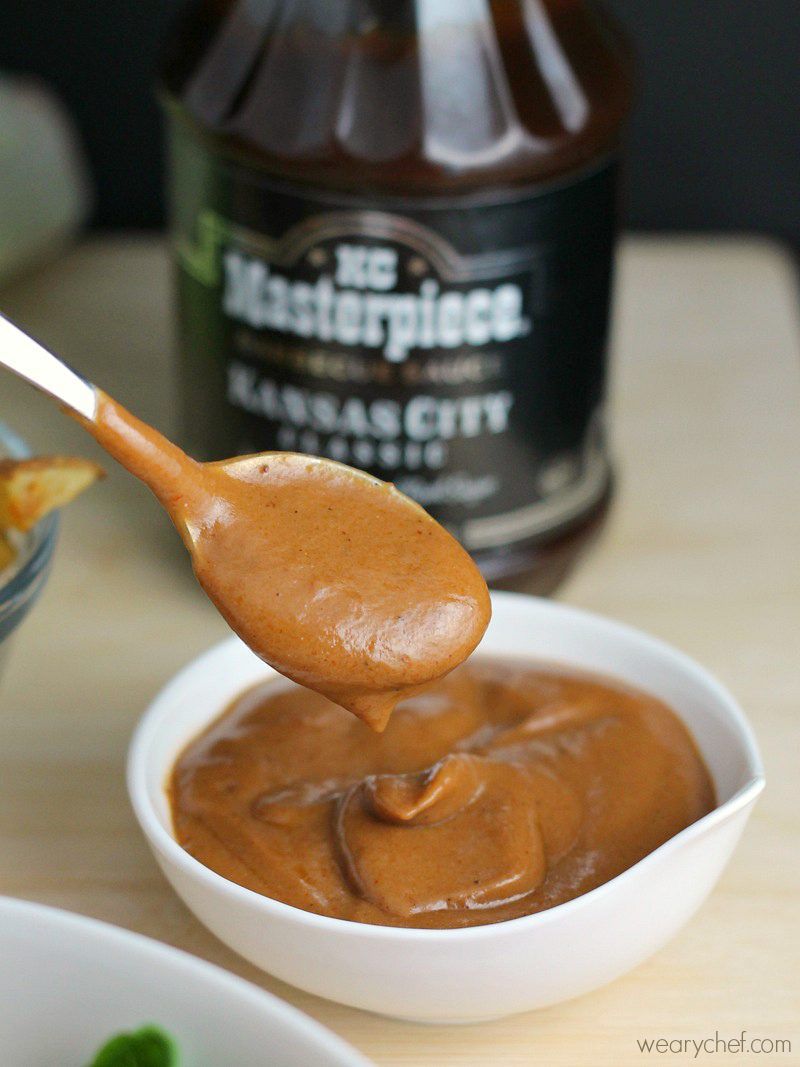 Loaded BBQ Chicken Salad Recipe
Since I decided to make a salad, I needed to transform this thick, flavorful BBQ sauce into a salad dressing. The sweet, smoky sauce is pretty perfect on its own, so it was really just a matter of making it a bit thinner and adding a little tartness. I mixed it up with a little yogurt, olive oil, and white wine vinegar, and this awesome BBQ salad dressing was born! Pour it over crisp lettuce, smoky bacon, roasted potatoes, tender chicken, and cubes of creamy cheese, and this salad is one you won't soon forget!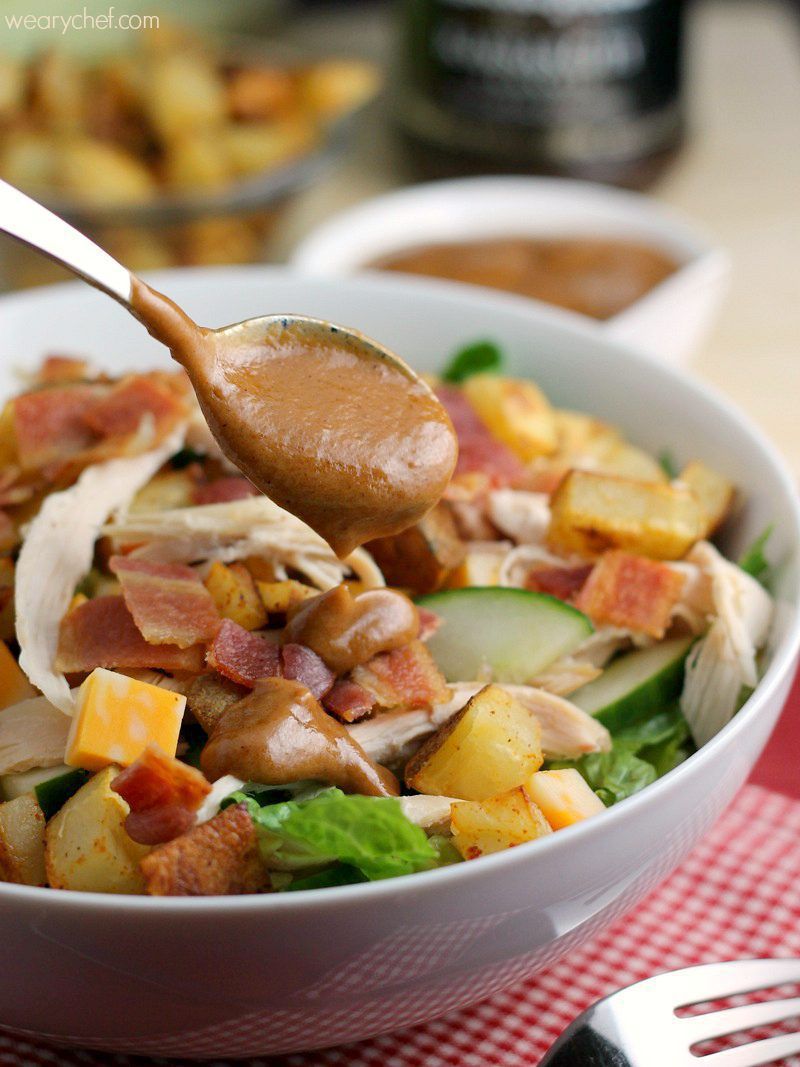 This KC Masterpiece's 35th Anniversary sauce is only available for a limited time, but you can also make the recipe with another flavor of KC Masterpiece® sauce if you can't get your hands on a bottle. You can find lots more tasty BBQ recipes on their website too. Now go get cookin'!
What You Need for Making Loaded BBQ Chicken Salad :
2 medium russet potatoes, diced into 1″ cubes
3 tbsp. olive oil, divided
2 tsp. chili powder
1/2 tsp. kosher salt
4-6 slices of bacon
4 romaine lettuce heads, chopped
3 c. shredded cooked chicken (I used rotisserie chicken)
4 oz. cheddar or Colby jack cheese, diced into 1/2″ cubes
1 cucumber, diced
1/4 c. KC Masterpiece® BBQ sauce (35th Anniversary blend if available)
2 tbsp. plain yogurt
1 tbsp. white wine vinegar
1-2 tbsp. water
How to Make Loaded BBQ Chicken Salad:
Preheat oven to 400 degrees F. Soak diced potatoes in cold water for at least five minutes. Drain and dry on kitchen towels.
Toss potatoes with 2 tbsp. olive oil, chili powder, and salt. Spread in an even layer on a baking sheet lined with a silicone mat or aluminum foil sprayed with cooking spray. Bake in preheated oven for 40 minutes or until golden brown and tender.
Meanwhile, cook bacon using your desired method. (I suggest baking it for 20 minutes or microwaving for easy cleanup.) Crumble or chop cooked bacon into 1/4″ pieces.
Add BBQ sauce, yogurt, 1 tbsp. olive oil, vinegar, and 1 tbsp. water to a container with a tight-fitting lid. Cover and shake very well. Check consistency and add another tablespoon of water if needed to make dressing pourable.
In four individual bowls or one large salad bowl, add chopped lettuce, potatoes, cucumber, chicken, cheese, and bacon. Drizzle BBQ dressing over salad, and toss to combine. Enjoy!
Happy Cooking!
KC Masterpiece® barbecue sauce has been delivering authentic barbecue taste and creating culinary masterpieces for 35 years. For more recipe ideas, tips and tricks visit www.KCMasterpiece.com.