We all have that amazing feeling regarding a barbecue Sunday evening, where some close friends come around, and everything smells delicious. The sizzling chicken on the barbecue looks mouth-watering and everyone seems to have an amazing time. Why can't we also have this wonderful Sunday evening on a rainy day? Well, now, with the stovetop bbq chicken recipe, we can!
So, we don't need a grill, a yard, or a grill master to have a delicious bbq chicken meal. You can always enjoy a perfect festive meal indoors with this quick and easy Stovetop BBQ Chicken recipe! This is also an all-time reader favorite recipe, and I hope you will love it too!
Enjoy a wonderful BBQ meal anytime. This very easy-to-make recipe is exactly what you need. There's nothing better than enjoying a wonderful grilled meal with your family. This is a recipe that you will love for sure. Thus, try it out now and never regret!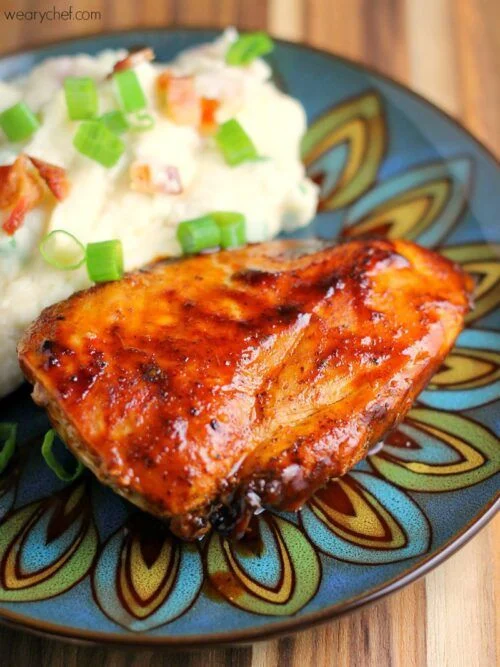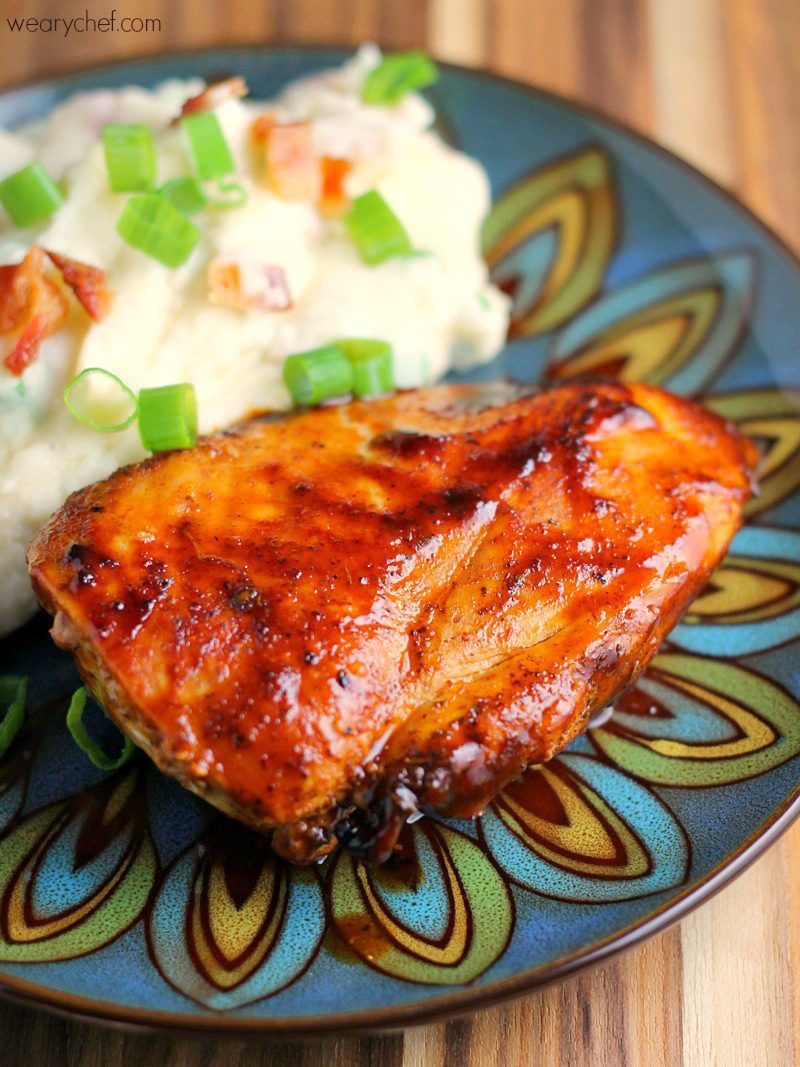 Brief History
Grilling was started in the 17th century in the Arawak tribe of the Caribbean and South America. These people built a flame over a fire with sticks and placed the meat on it. This style of cooking was known as barbacoa. Spanish conquistadors used this concept and developed it till people in south America accepted it in the 18th century. Hours were spent roasting pigs over a fire, and various seasonings and types of wood were employed to give the flesh a variety of flavors.
BBQ Chicken
Chicken that has been grilled, barbecued, or smoked is referred to as BBQ chicken. There are numerous international and regional cooking methods. A spice rub, barbecue sauce, or both are frequently used to season or coat barbecued chicken. You can use chicken breast or boneless, skinless thighs for this recipe. Use the option which is perfect. The chicken is totally covered in the most delicious sweet sauce once the BBQ sauce becomes extremely thick and sticky.
Chicken Thighs
The chicken thighs must be boneless for the recipe. They're fantastic because they cook quickly and have a high BBQ sauce to chicken ratio due to their small size. Additionally, they have a little more fat than chicken breasts, making them even more soft and juicy. it is extremely easy to make and so flavorful. The cooking method for skillet BBQ chicken thighs begins on the stovetop and is then moved to the oven to complete.
These Easy One Pan Barbeque Chicken Thighs are a large family favorite all year round. They're delicious and easy to make, perfect for foodies and people that follow low-carb or keto diets. They only require one pan and overflow with barbeque flavor and crispy chicken thighs.
How to Make Stovetop BBQ Chicken Breast?
Now, let's find out some essential details about the recipe, before getting started.
This recipe is written for two, but it is easy to scale.
Using a lid speeds up the cooking process, which is especially great for busy cooks.
The last time I made it, I used this recipe from Simply Scratch to make my own BBQ sauce. (Although I butchered the recipe to use what I had on hand, and I also reduced the sugar, I'm sure it's great as written, too.)
Print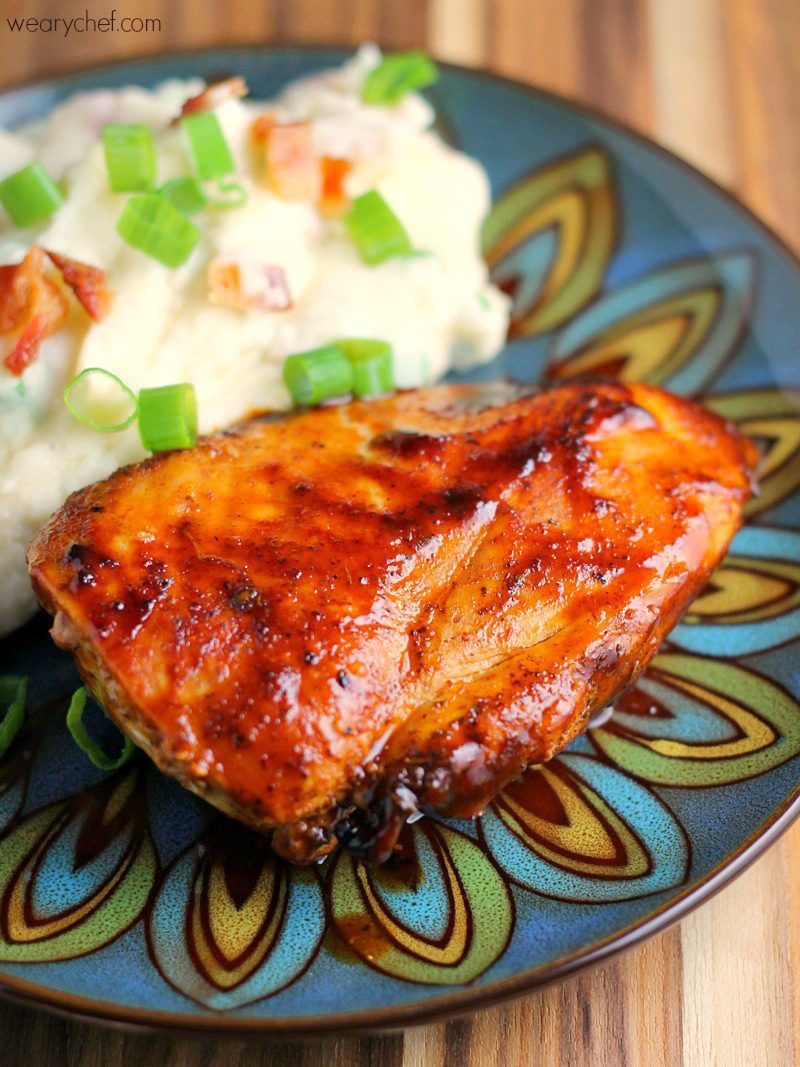 Stovetop BBQ Chicken Recipe
15 minutes is all it takes to make the best juicy barbecue chicken on your stovetop!
2

boneless, skinless chicken breasts

1 tbsp

. olive oil

1 tsp

. chili powder

1/4 tsp

. onion powder

1/4 tsp

. garlic powder

1/4 tsp

. dried oregano

1/2 tsp

. kosher salt
dash of cayenne pepper optional

1/2

c

. barbecue sauce
Instructions
Mix olive oil, chili powder, onion powder, garlic powder, oregano, salt, and cayenne pepper in a medium bowl. Add raw chicken and coat evenly.
Heat medium skillet (preferably iron) over medium-high heat and coat with cooking spray. Place chicken breasts in skillet, cover, and cook 5 minutes.
Turn chicken, replace cover, and cook an additional 5 minutes.
Remove cover and check chicken for doneness with probe thermometer or testing if juices run clear. When cooked completely, pour half of BBQ sauce over chicken.
Turn chicken over, and pour remaining sauce over the other side.
Cook 2-3 minutes more while using a spoon or basting brush to coat chicken with sauce.
Author:

Prep Time:

2

Cook Time:

13

Category:

Main

Cuisine:

Southern
Nutrition Information
Per serving
| | | | |
| --- | --- | --- | --- |
| Calories | 419 kcal | Carbohydrates | 5 g |
| Protein | 44 g | Fat | 24 g |
| Saturated Fat | 5 g | Potassium | 418 mg |
| Iron | 0.4 mg | Sodium | 2011 mg |
| Vitamin A | 35IU | Fiber | 1 g |
| Sugar | 3 g | Vitamin C | 1.3 mg |
| Cholestrol | 231 mg | Calcium | 6 mg |
Is Stovetop Chicken Healthy?
Protein-rich chicken thighs are a wonderful source of protein. It's a healthy, mouthwatering recipe.
The Gluten Free Garlic and Herb Putters just seemed to go well with a Stove Top BBQ Chicken as the main dish. These are tasty, with Yukon Gold potatoes that are sweet and buttery and full of that great garlic flavor.
By the way, this Stove Top BBQ Chicken would be wonderful on a Wholemeal Roll, similar to a burger, if you have a healthy additional Food option available. You could even add some cheddar if you have a little healthy extra left over.
It is flavorful and nutritious. It had a fantastic flavor and was both juicy and tender. This is one delicious barbeque chicken dish.
This boneless barbecue chicken is soft, juicy, and delicious—perfect for the whole family. Additionally, adding your preferred gluten-free barbeque sauce may make this recipe gluten-free.
Reason To Love Chicken
Chicken is a dish that appeals to individuals of all ages.
It is less expensive than other forms of beef, hog, or fowl.
It's one of the easiest protein sources to obtain.
It is crucial for nourishment at all stages of life.
How to Store?
Barbecue leftovers last 3 to 4 days in the refrigerator. You can freeze it in freezer-safe containers or bags for up to 3 months if you don't intend to eat it within 3 to 4 days.
Barbecue that has been vacuum-sealed will be kept in the freezer for two to three months. After this time, eating cooked chicken may cause a foodborne disease since germs can continue to develop even in the refrigerator.
Stovetop BBQ Chicken vs. Grilled BBQ Chicken
Did you grow up eating barbecue chicken? It wasn't a regular dish in our family, but I remember having it at a friend's house when I was a kid almost every weekend. They cooked bone-in BBQ chicken on the grill and eating it was messy. Imagine the scene was so messy that they always prepared a few wet washcloths available at the table.
However, I suppose that I still remember this particular scene because I hated getting messy as a kid just as much as I do now. Having to eat saucy chicken with my hands made a lasting impression. Although, my stovetop barbecue chicken recipe isn't messy to eat at all, and you can make it in a hurry. Not to mention you do not actually need a grill. That's perfect for satisfying your BBQ craving during bad weather!
On the other hand, enjoying a hot meal in the fresh air, surrounded by my neighbor's garden plants, was definitely more enjoyable than eating indoors. Yes, if the weather doesn't allow us to eat outside, the alternative of this stovetop bbq chicken recipe is great. However, if it is sunny, I don't see why we would choose not to spend our evening in the fresh air.
Enjoy Your Stovetop BBQ!
Finally, I am interested in your angle on this issue. What is your favorite way to cook and serve bbq chicken? I recommend you serve this with this baked mac and cheese recipe. Will the stovetop bbq chicken recipe become handy on a rainy day for you too? Tell me all about your barbecue experience and share your advice in the comments section!
Looking for more great recipes that don't need a grill? Try these three all-time favorites!