Think you need a grill to enjoy great kebabs? Think again because you can make this tasty skewered pineapple chicken recipe in the oven!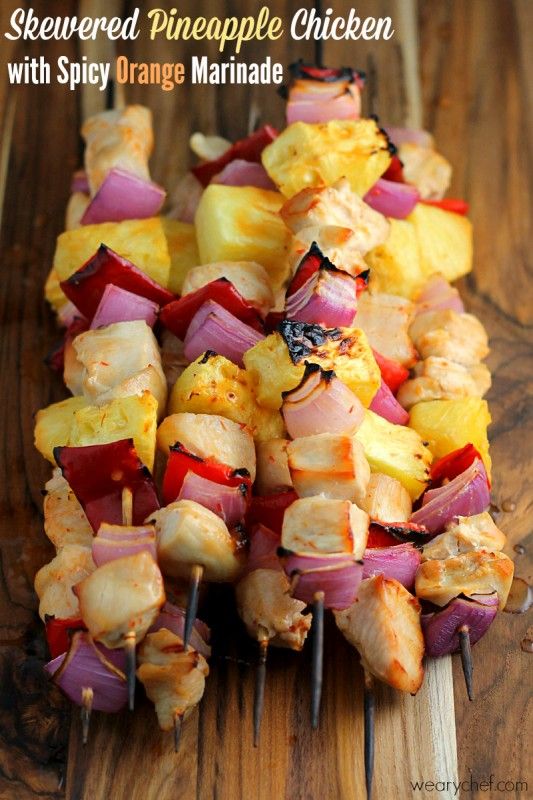 I recently asked you guys what you like to grill, and there were so many tasty responses! Many of you said steak, which is one of my favorites too, but lots of folks suggested chicken and fruits like peaches and pineapple. All those ideas made me hungry for some chicken kebabs, so I whipped up these chicken pineapple skewers for dinner last night.
If you're a regular here, you know that I don't actually have a grill. I do, however, have an oven with a broiler, which works just fine thank you very much! The instructions below tell you how to make these chicken kebabs in the oven, but of course they would be great on the grill instead. However you cook them, I recommend serving them with this very quick and easy avocado lime rice.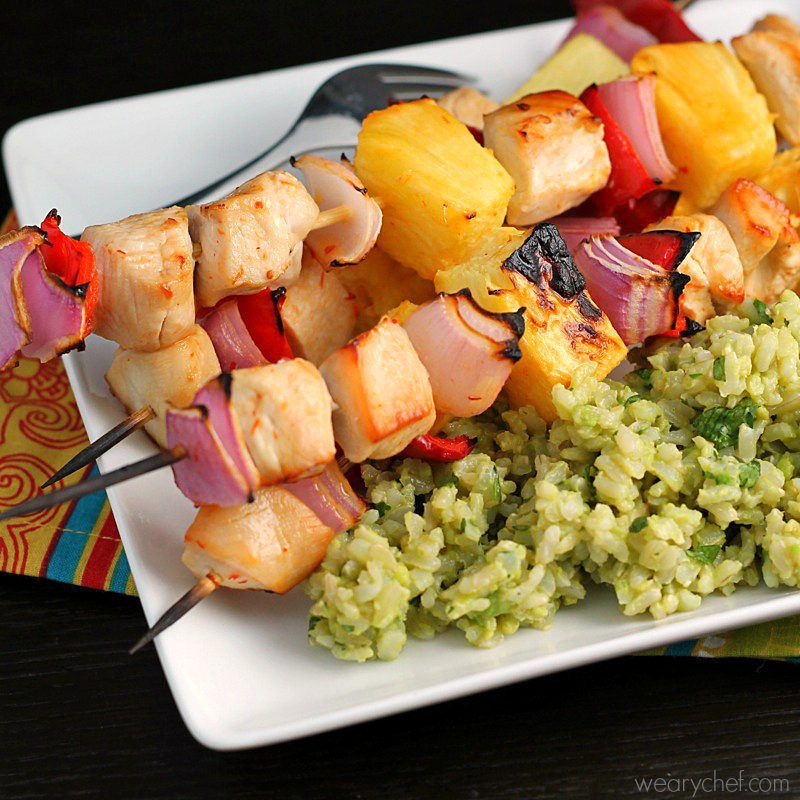 The hot sauce I used in the marinade is not the vinegary kind like Tabasco. I found it in the Hispanic section of the grocery store, and it's made by La Victoria. It contains tomatoes and has a different kind of flavor than Tabasco, so I recommend using something similar for best results. This pineapple chicken recipe is bursting with citrus flavor, a little spicy, and perfect for summer!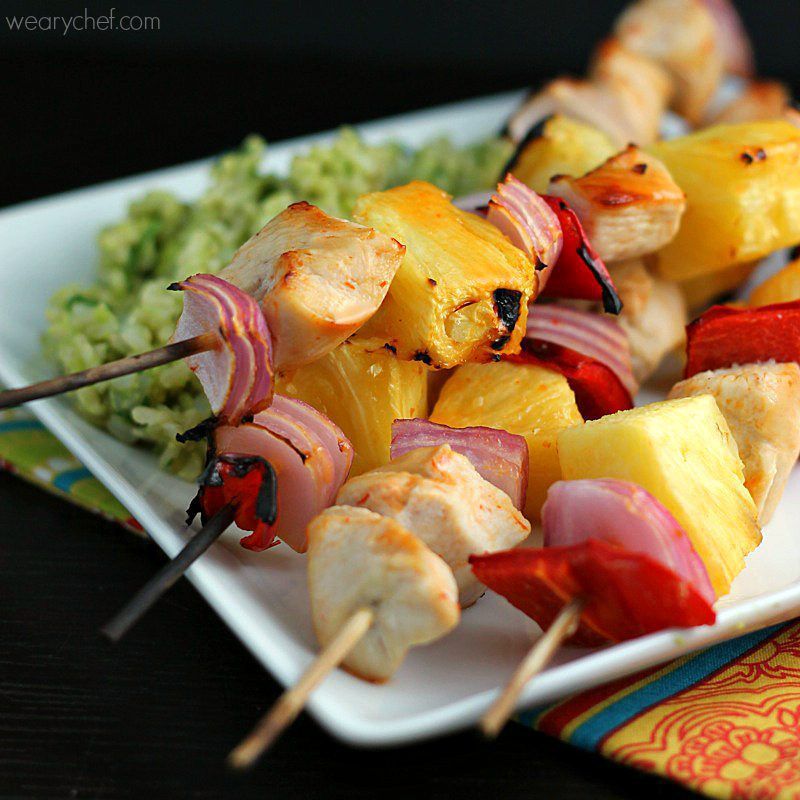 Print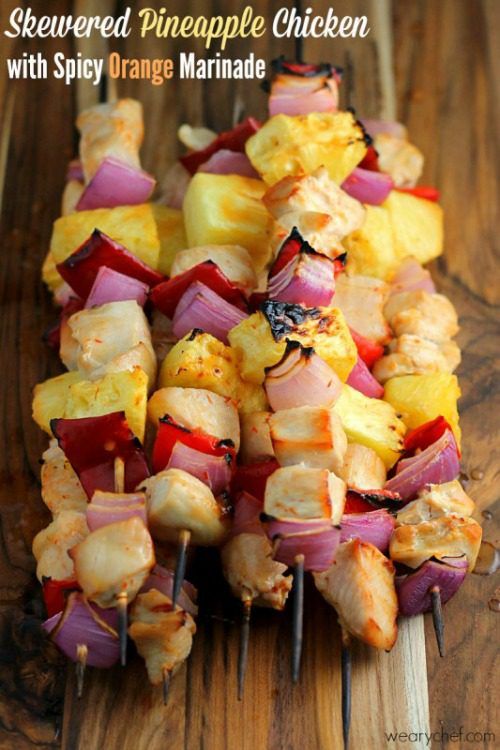 Skewered Pineapple Chicken Recipe with Spicy Orange Marinade
These citrusy chicken kebabs are perfect for summer grilling, or make them any time of year in your oven!
Total Time:

1 hour 10 minutes

Yield:

4

1

x
Instructions
Skewer chicken, onion bell pepper, and pineapple in an alternating pattern. Arrange the kebabs in a large, flat container like a 9 x 13″ baking dish.

Stir together orange juice, hot sauce, and salt. Pour over skewers to evenly coat them. Cover and refrigerate at least 30 minutes or up to 12 hours. (Alternatively, you can marinate all ingredients in a bowl and skewer before cooking. This will add more flavor but will be messier!)

Line a baking sheet with foil, and place a baking rack on top of the foil. Move oven rack to about 8 inches below the top broiler. Place this baking sheet setup in the oven, and preheat to 400 degrees F. When oven is hot, turn oven off and broiler to high. Carefully remove baking sheet, and immediately place pineapple chicken skewers in an even layer on the hot baking rack.

Place baking sheet on the top rack under the broiler, and cook for 8 minutes. Carefully remove baking sheet, flip skewers, and return to oven for 8-10 minutes longer or until chicken is cooked through.

If you are cooking these on a grill instead, skip the previous step and grill as usual!
Notes
In a hurry? Skip the skewering! Mix all ingredients together, marinade for at least 15 minutes, and stir fry over high heat until chicken is cooked through.
Author:

Prep Time:

50

Cook Time:

20
You will definitely want to check out these other savory pineapple recipes!