This quick and easy Sweet Chili Shrimp Sheet Pan Supper recipe was sponsored by Smart & Final, but all content and opinions are my own.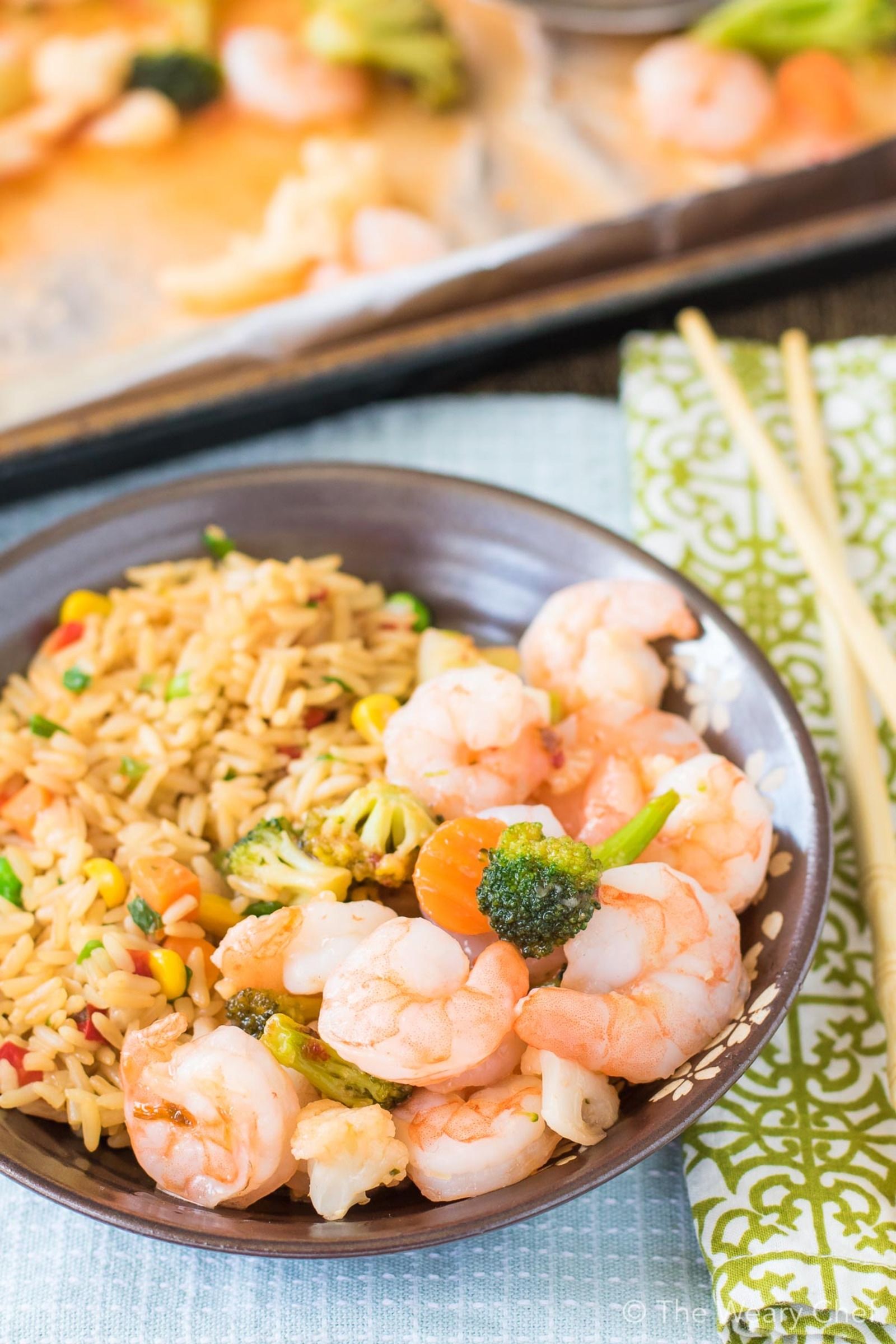 March is Frozen Foods Month, and I've got the perfect way to celebrate: A 3-Ingredient Sheet Pan Supper! In this simple oven recipe, frozen shrimp and vegetables are tossed with sweet chili sauce, then quick baked for an unbelievably easy and delicious dinner. I can't wait for you to try it!
If you opened your freezer right now, what would you find? Mine is always absolutely stuffed with meats, vegetables, and fruits to use in recipes. I also always have a stock of quick meal helpers like frozen rice, chicken tenders, mac and cheese, and that sort of thing. Of course, you can't forget a container of ice cream — that's a must! Plain old ice is lucky to find a spot in my freezer at all! ;)
You know who else is way into frozen foods? Smart & Final! They have an amazing selection of frozen food for family-friendly meals, and they have warehouse prices without a membership! During Frozen Food Month, you can purchase any participating frozen item at Smart & Final and receive a coupon code that allows you to qualify for a chance to win a trip to ALASKA! What better time to stock up your freezer?? (Contest ends 3/28/2017. Click here for all the details.)
Now, let's talk dinner. This has to be one of the easiest recipes I've ever made, but it turned out so good! You literally stir together three things, spread it on a baking sheet, and bake it for not even 20 minutes. Serve it over Smart & Final frozen vegetable fried rice (heated of course!) and you've got an amazing meal on the table faster than Chinese takeout!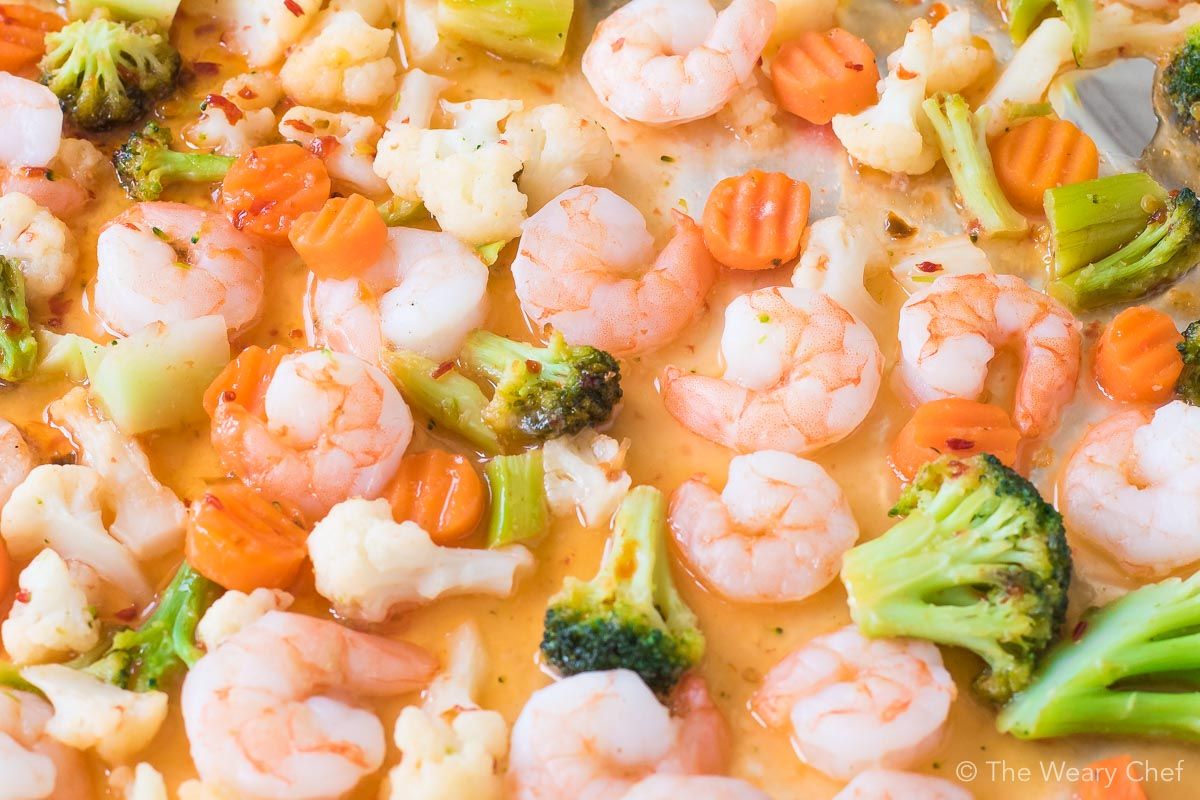 When making a sheet pan meal, you need to think about the timing. Unless you want to add different ingredients at different times during the cooking process, you need to choose ingredients that will all cook in about the same amount of time. I thought about making this recipe with frozen salmon filets or chicken breasts, which you could definitely do, but those cuts of meat would need to cook a lot longer than the vegetables. I love using shrimp in this sheetpan dinner because they cook F-A-S-T!
I chose First Street sweet chili sauce for this easy recipe because it doesn't contain wheat or high fructose corn syrup. It has a great sweet flavor with just a touch of heat from the chilis. It's a flavor the whole family can enjoy! You could also switch it up with teriyaki, honey sesame, or firecracker sauce. Change the sauce flavor, and you've got a whole new kind of meal!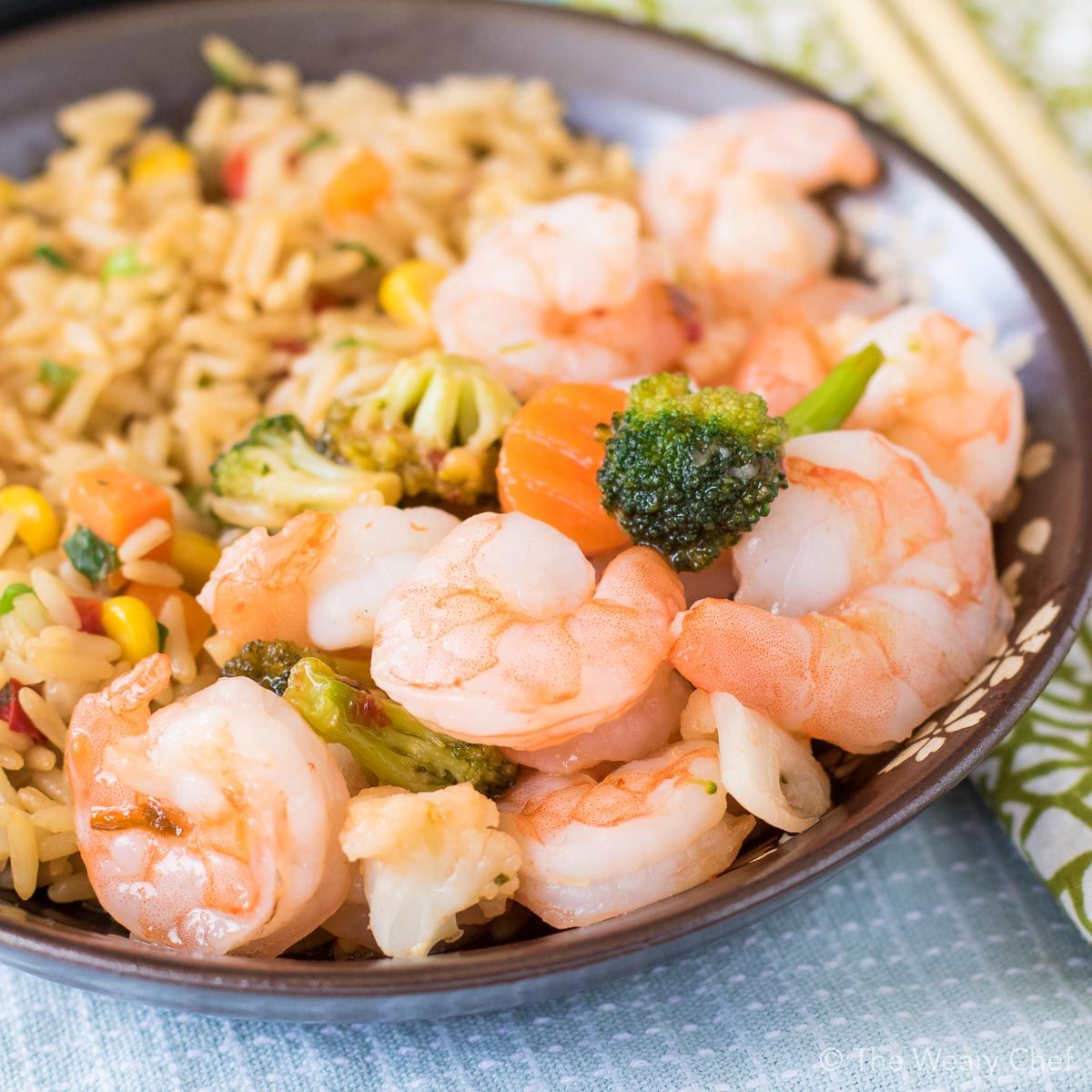 Don't forget to shop for the ingredients at Smart & Final this month while the Alaskan cruise sweepstakes are still going on! If you live in California or Nevada, click here to find a store near you. Enjoy the recipe, and good luck in the contest!!
Print
Sweet Chili Shrimp Sheet Pan Supper
This 3-Ingredient Sweet Chili Shrimp Sheet Pan Supper could not be any easier! Just stir, cover, and bake. No thawing required!!
Total Time:

20 minutes

Yield:

4

1

x
Instructions
Preheat oven to 400 degrees F. Line a baking sheet with aluminum foil.

While oven preheats, stir together shrimp, vegetables, and enough sauce to coat the ingredients. Spread shrimp and veggies on the prepared baking sheet, and cover with another piece of foil.

Bake shrimp covered for 10 minutes in preheated oven. Remove foil, and bake an additional 5-10 minutes until shrimp are fully cooked (see note).

While shrimp cook, heat fried rice as directed on package. (optional)

Serve hot shrimp and vegetables over warm rice.
Notes
Shrimp are cooked when they are completely pink and C-shaped. Be careful not to overcook! Overcooked shrimp are O-shaped and will have a rubbery texture.
Recipe amounts are approximate. You can just eyeball the amounts and make enough for one or a whole family!
Author:

Prep Time:

5

Cook Time:

15
More Sheet Pan Dinners Not To Be Missed
Thank you again to Smart & Final for sponsoring today's recipe!