These Strawberry Cheesecake Blondies are quick and easy to whip up and satisfy any cheesecake craving!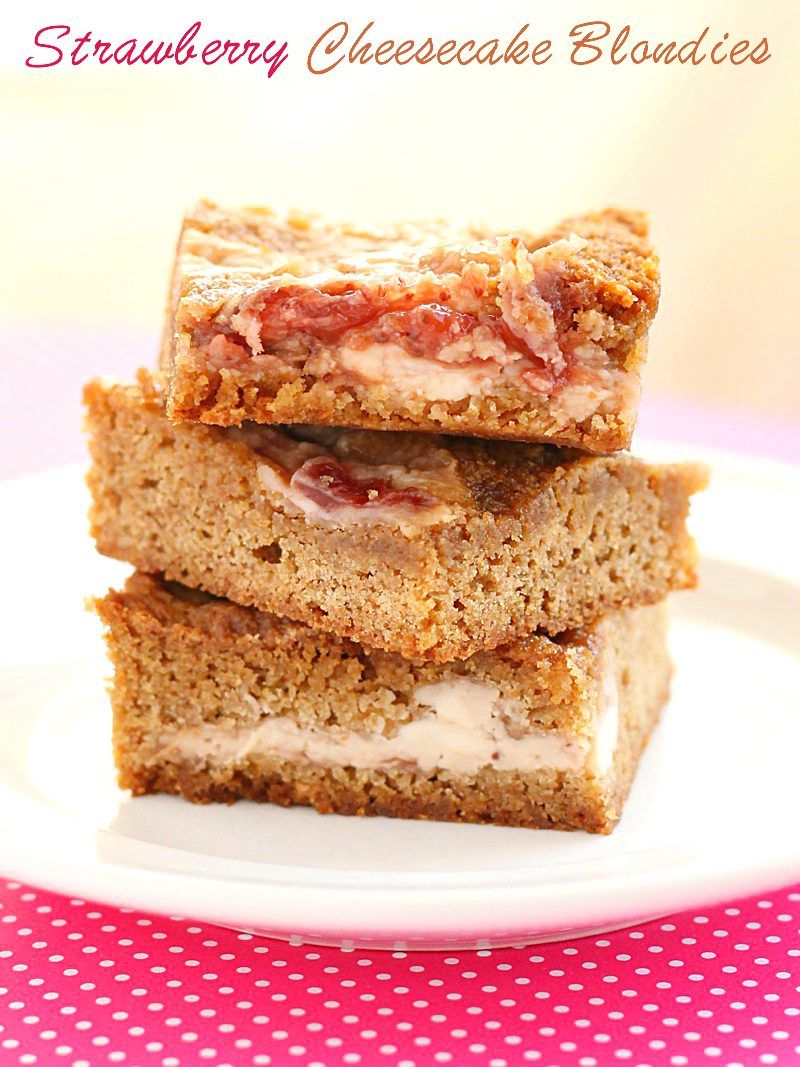 I would love to tell you that our weekend was all rainbows and lollipops. It kinda was, mostly, up until the end. We had almost made it through two days of fun where the worst thing that happened was both boys waking up before 5am on Sunday. Now that seems like no big deal at all. You see, my darling husband just turned 40 last week. To celebrate the occasion, he bought himself a Freebord, which is like a skateboard except even more dangerous. Did I mention he's 40?
Yesterday, on exactly his third time taking this thing out for a spin, he called me to say that he fell on his mouth. He spent all Sunday night getting patched up at the emergency room. He is thankfully going to be OK, but he broke his jaw and a bone in his hand! He's headed for facial surgery later this week, and we won't know more about his hand until next week.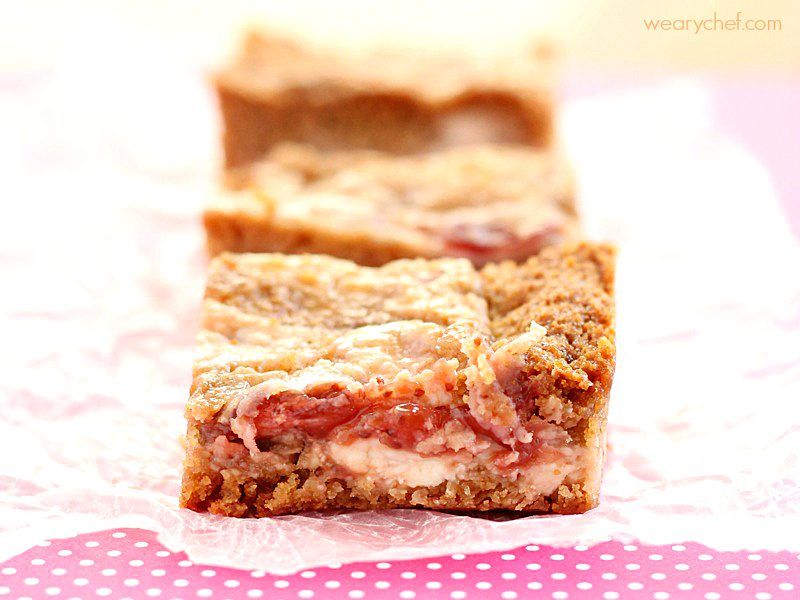 I had to leave him at the ER by himself since I had the boys with me. When I got home and got the kids to bed (remember the ones who woke up way before the crack of dawn?), the only thing I knew to do with myself was to start cooking. I was actually just about to start these cheesecake blondies when I got his call after the fall, so I carried on with the project to try to get busy doing something besides worrying.
These chewy, cheesecake-filled blondies are incredibly easy to make, and they taste rich and delicious. I can't fully enjoy them because even a sweet dessert can't make the worry go away, but I'll be making up a batch soon when my overly adventurous husband can actually chew again. In the meantime, I wanted to share the recipe with you so you can get to enjoying them right away! Stay safe out there, friends :) xo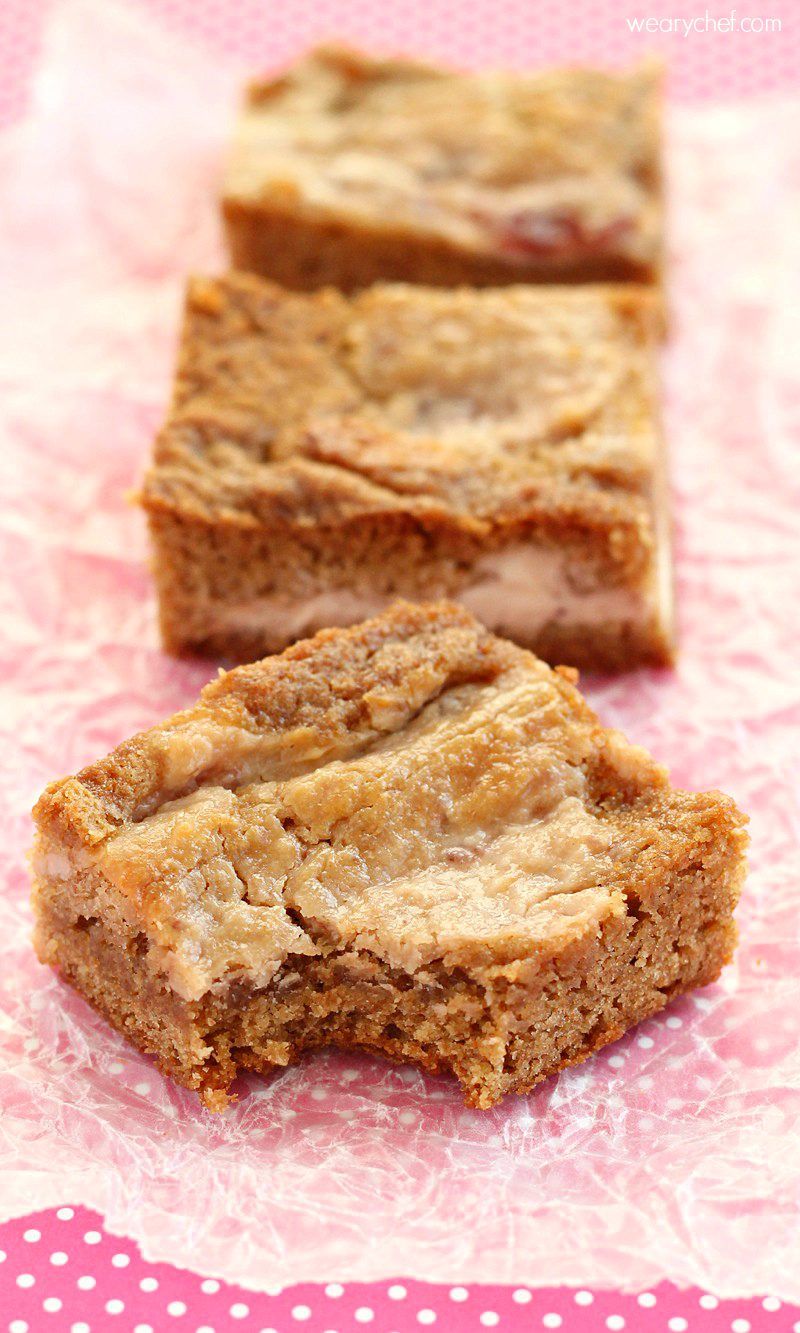 Print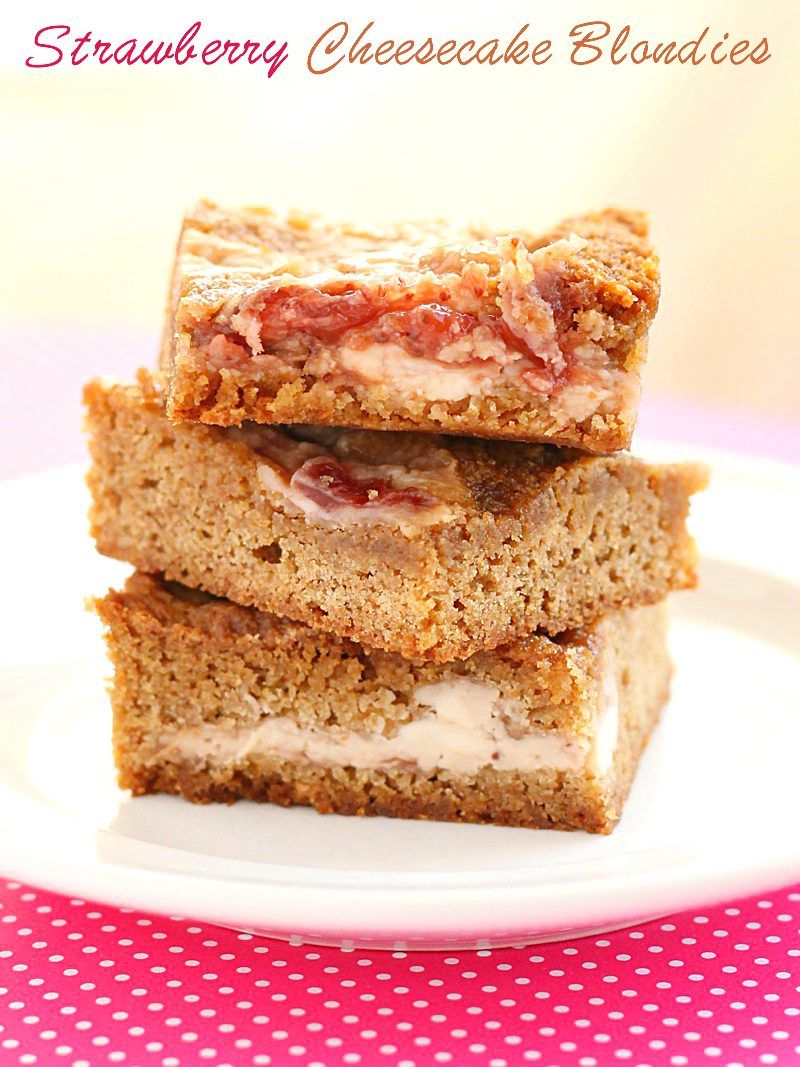 Strawberry Cheesecake Blondies
These easy blondies will satisfy any cheesecake craving!
Total Time:

45 minutes

Yield:

1

2

1

x
Instructions
Preheat oven to 350 degrees F. Spray an 8″ square baking dish with cooking spray.

With an electric mixer, cream together butter and sugar on medium-low speed for about 3 minutes. Mix in egg and vanilla until smooth.

Add flour, baking soda, and salt, and mix on low until combined. Spread mixture into the prepared pan.

Heat cream cheese and jam in a microwave-safe bowl for 20-30 seconds. (You want them softened enough to stir together but not hot.) Stir them well, and spread cream cheese mixture on top of blondie dough. Use a spoon to swirl cheesecake into the blondies.

Bake in preheated oven for 30-35 minutes, until center is set. Allow to cool before cutting.
Author:

Prep Time:

10

Cook Time:

35

Category:

Dessert