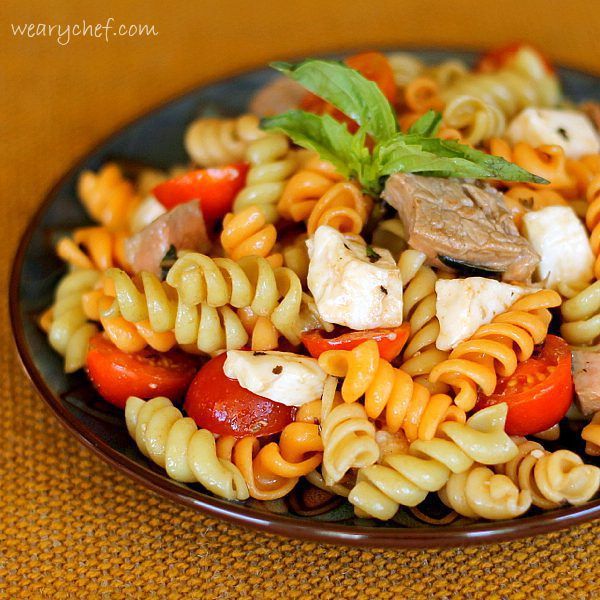 Hello, my friends! I'm glad you are here because you don't want to miss this Steak Caprese Pasta Salad recipe! You know what's better than pasta salad? Pasta salad with some meat in it, and I'm not just talking about any old meat. I'm talking about STEAK. This easy dinner is loaded with steak, tomatoes, fresh mozzarella, and basil. It's very simple to make thanks to balsamic dipping oil that already has all the spices added for you! Just toss a few ingredients together, and dinner is done! It's great to eat right away or to make ahead and pull out of the fridge when you are ready. Before we get to the recipe, I want to talk about ingredients for a few minutes. I used balsamic dipping oil, which I found with the olive oil in the grocery store. I was planning to make my own dressing with oil, balsamic vinegar, and spices, but then I found this dipping oil that had already done the work for me. It is more pure than most salad dressings because it doesn't have corn syrup and whatnot added, just vinegar, oil, and herbs. I also added some extra vinegar for more flavor without added oil. (Please make sure to shake up your dipping oil really well before measuring it or else you will end up with all oil!) For the steak, thin cut ribeyes worked perfectly because they cooked quickly, were easy to dice, and stayed nice and tender. Believe me when I say that I am a fan of rare steak, as seen in these baked steak or oven roast beef recipes. However, in this case, I went for medium because you don't want pink steak juices running all over your pasta salad. You also don't want to get to the point of well done because then your meat will be tough. I would err on the side of undercooked, because you can always add it back to the skillet for a couple minutes, but you can never uncook it once you've gone too far. OK, are you ready to get to it? I hope you enjoy this Steak Caprese Pasta Salad as much as we did!
Print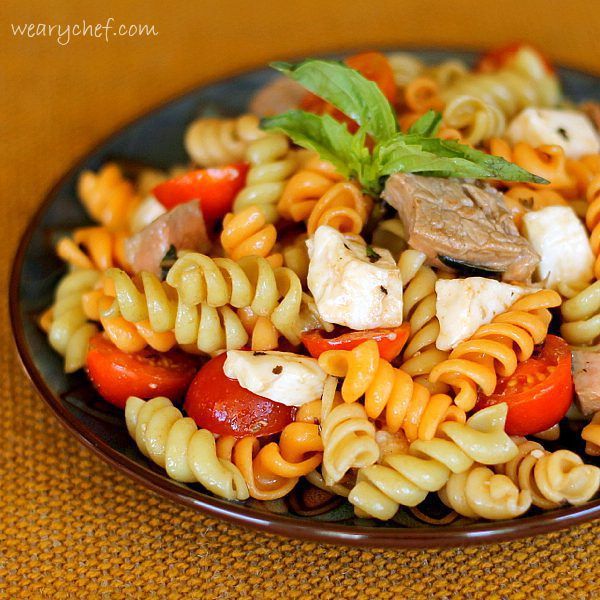 Steak Caprese Pasta Salad
Caprese pasta salad is tossed with diced steak for a very easy and satisfying dinner!
Total Time:

30 minutes

Yield:

4

1

x
Instructions
Bring a large pot of lightly salted water to a boil. Cook pasta according to package directions, drain, and rinse with cold water.

Meanwhile, spray a skillet with cooking spray and heat over high heat (I use my 10″ iron skillet). Season steaks with seasoned salt on both sides, and place in hot skillet. Cook until steaks are cooked to medium done (just barely pink in the middle). Cooking time will vary depending on the size of your steaks, but thin cuts will probably only need 3-4 minutes per side.

When steaks are done, remove to a cutting board to cool for about five minutes before dicing into bite-sized pieces.

In a large salad bowl, gently stir together pasta, cheese, tomatoes, basil, dipping oil, vinegar, and salt. Add in diced steak, and stir to combine. Enjoy immediately, or store in refrigerator for up to 24 hours before serving.
Author:

Prep Time:

15

Cook Time:

15

Category:

Main