This easy, fresh Dill Dip is so perfect that you can skip buying store-bought dips. You might not be able to get your kids to eat their veggies without it!
Hi! This is Amy from Little Dairy on the Prairie. Are you ready for a great veggie dip recipe?
On our farm, my garden is exploding with all kinds of fresh veggies: Carrots, zucchini, cucumbers, tomatoes, peppers, and more!
I think everyone can admit that veggies are better straight from the garden, and I think we can also admit they are better when they are dunked in some kind of dip! Dill Dip is a game changer when it comes to serving all that fresh produce.
My youngest loves to be in the garden with me… Well, maybe he loves to be in the garden without me even more! He wanders in from the farm several times a day and grabs a little snack. He claims carrots taste better with dirt still on them and doesn't even bother washing them off in the hose first. He's pretty healthy so maybe he's onto something!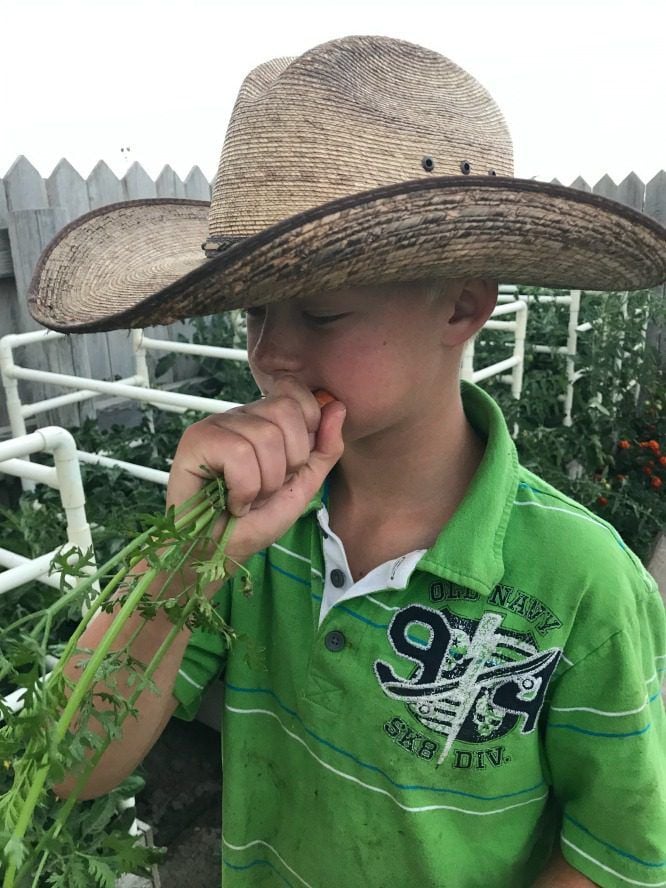 The only thing better than eating fresh vegetables right out of the ground is dipping them in this easy Dill Dip. It's made right in the blender — That's how easy it is! The hardest part of making it is letting it sit in the fridge for a few hours while you wait for all the flavors to marry one another.
Fresh Dill Dip
Dill is one of many herbs that we don't generally eat by the plateful. They enhance the flavor of our food, add spice, or just bring color to a plate that might otherwise look dull. Fresh dill has a flavor that is slightly green, zesty, fresh, and has a touch of anise. Fresh dill is used to make Dill Dip, a creamy homemade dip that is ideal for dipping bread, chips, and all of your favorite vegetables. The base of dill dip is an easy and traditional mixture of sour cream and mayonnaise. The following ingredients include a little fresh or dry parsley, dry grated onion, garlic powder, and a tiny bit of salt.
The dill truly comes out with this flavorful blend of ingredients. Don't skip the garlic powder; dill and garlic combine like old friends and flavor fantastic. The tender, fresh lettuces of spring and early summer are ideal for this light yet creamy ranch-style dressing. when you make this dressing just wait for 20 minutes and place it in a fridge to chill After that, you may pour, spray, or dip. You'll make this again and again once you try it using all of the fresh ingredients.
Salad Dressing
This dressing is also good with thinly sliced cucumber or radish for some extra crunch. Serve the dressing as a dip or include them in a salad. Use this tangy, colorful, homemade recipe anyplace you might use bottled ranch dressing as long as you're using it as a dip. This super yummy dressing may be used in so many different ways that it will end up becoming a staple in your home. Some of your favorite dip recipes don't require baking, but this dill dip is super cold and energizing.
Because it comes together so quickly, it's the ideal dip to have on hand for when you need an emergency appetizer or snack. Delicious Fresh Dill Dip is ideal for gatherings or parties. This sauce tastes wonderful and is easy to make. This dip has a simple flavor base and a creamy combination that makes it delicious. Moreover, this is satisfying. You can heat it in the microwave to pour on or serve it at room temperature with freshly cut veggies.
How to Make Dill Dip
Add cottage cheese (or Greek yogurt if you'd rather) to a blender.
Add sour cream to a blender (I used light), and blend.
Next add seasonings: Parsley, fresh dill weed, seasoned salt, pepper, onion powder, and a little tabasco sauce. I also added a little lemon juice.
Blend everything. Pour dip into a jar or container and let it hang out in the fridge for a couple of hours. The waiting is the hardest part of making this recipe!
Of course, Dill Dip can be served with veggies or on salad, but it's also out of this world served with potato chips! I can't wait for you to try that! It's another one of those little addictions that might not allow you to eat potato chips by themselves again.
This dip is awesome on top of baked potatoes too. I'm sure you'll agree that everything is better with fresh dill dip!
Print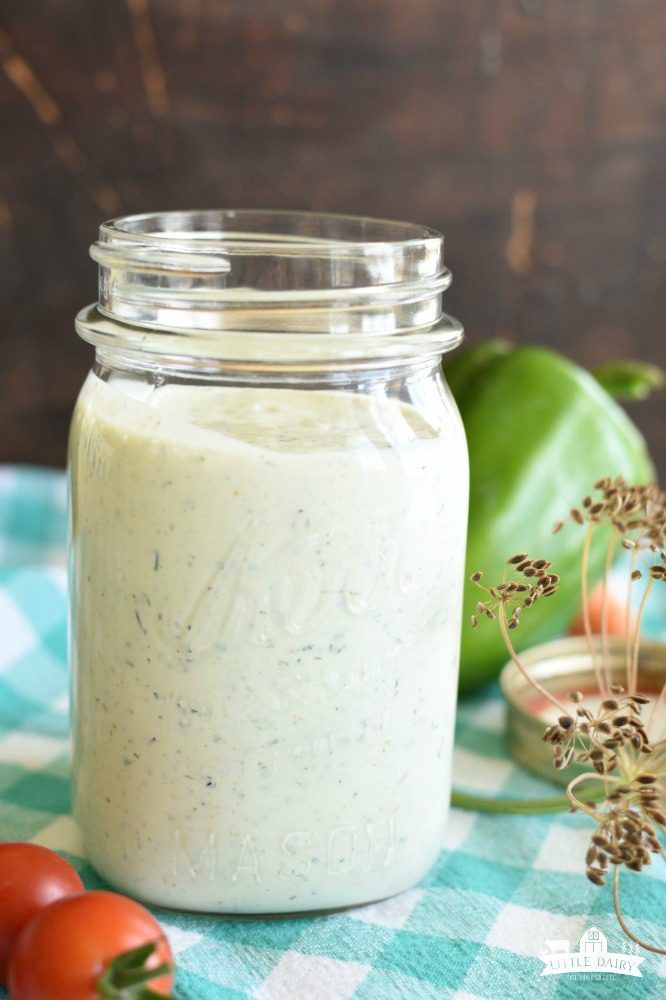 Fresh Dill Dip and Salad Dressing
Dill Dip is amazing served with veggies, potato chips, or on salads and baked potatoes! You might become addicted to this stuff!
Total Time:

2 hours 5 minutes

Yield:

2

1

x
1

cup

cottage cheese (or Greek yogurt)

1

cup

sour cream

1 teaspoon

onion powder

1 teaspoon

seasoned salt

1 tablespoon

dried parsely flakes or

3 tablespoons

fresh

1 1/2 teaspoon

fresh dill weed (stems removed)

1/2 teaspoon

freshly ground black pepper
dash of hot sauce or to taste

1/2 tablespoon

lemon juice
Instructions
Add cottage cheese and sour cream to blender. Blend until smooth.
Add remaining ingredients and blend until combined.
Pour into a jar, or container, and refrigerate for at least 2 hours.
Serve with veggies, potato chips, or over salad or baked potatoes.
Author:

Prep Time:

5

Cook Time:

120
Nutrition Information of Dill Dip
Per serving:
| | | | |
| --- | --- | --- | --- |
| Calories | 650 kcal | Carbohydrates | 14 g |
| Protein | 6 g | Fat | 65 g |
| Saturated Fat | 18 g | Potassium | 481mg |
| Iron | 3 mg | Sodium | 654mg |
| Vitamin A | 3062IU | Fiber | 3 g |
| Sugar | 6 g | Vitamin C | 55 mg |
| Cholesterol | 91 mg | Calcium | 210 mg |
Why Make this Recipe?
Delicious dill dip made with basic ingredients you already have in your kitchen cabinet.

When served with fresh veggies at gatherings or on weeknights, this simple recipe is usually a favorite.

Since it's a handmade dip, you may easily change the flavor by altering the quantity of each herb.

This creamy vegan veggie dip is ideal for serving at a picnic or for enjoying as a simple snack at home.

It is quick and simple to make, free of nuts, dairy, and oil.

This easy dip is packed with flavorful dill.
Health Benefits
Dill Dip is high in a variety of nutrients that may offer several health advantages, including defense against heart disease and particular types of cancer. Dill may also reduce blood sugar levels. Its taste is excellent. It contains plenty of calcium, vitamin C, and antioxidants.
Fortifies Bone Health
As they give shape, structure, and support to the muscles and organs, bones are an essential component of the human body. Dill leaves and other seasonings promote healthy bone cell growth and regeneration, which contributes to the improvement of the structural development of the body.
Prevents Infections
Since ancient times, the antioxidants and vitamin C found in this herb have been utilized to fight bacteria and protect the body from numerous illnesses. Dill leaves are utilized for treating and healing injuries in addition to eliminating bacteria and germs from the body due to their potent anti-microbial capabilities. Moreover, it is quite helpful for treating colds and coughs, lowering general laziness and tiredness, & boosting physical energy.
Remedies Insomnia
Many people in today's society get insomnia. Losing sleep may be very painful and cause fatigue, depression, as well as other physical and emotional disturbances. Dill leaves are a one-stop all-natural solution for insomnia due to their wealth of antioxidants and B-complex vitamins. As a result, it assists in reducing stress and enhancing the quantity and quality of healthy sleep.
Boosts Immunity
Dill leaves, are a rich source of antioxidants and bioactive and are used in many traditional medicines for boosting the immune system, eliminating bacteria, and protecting the body from diseases. Secondly, it highlights the existence of potent antibacterial, antiviral, and antifungal capabilities, which are essential for avoiding viral diseases.
Relieves Pain And Inflammation
The common dill is a potent cure for pain and inflammation in cases of arthritis and joint pain due to its bioactive components' potent analgesic, anti-inflammatory, and pain-relieving effects. It is also used to treat other inflammatory disorders, painful muscle cramps, muscle soreness, & arthritis problems.
Eases Respiratory Issues
Dill is a traditional cure for all types of breathing difficulties and is blessed with potent anti-inflammatory, anti-biotic, and anti-asthmatic qualities. It is essential for the treatment of the common cold, throat infection, cough, and fever. Breathing is made easier while it actively thins and loosens sputum particles in the lungs, chest, and nasal passages. It is also very helpful for giving non-productive coughs, asthma, and other bronchial disorders faster relief.
Storage Tips for Dill Dip
Serve: its taste is great if you served it fresh.
Store: Dill dip can be kept in the fridge for up to 3 or 4 days after it has been prepared if it is kept in a sealed container.
Freeze: this dip contains mayonnaise, freezing it is not recommended. Because mayonnaise is an emulsion, it will entirely dissolve when frozen, giving you a sauce that is unlike (and probably unpleasant) from its original creamy shape. Enjoy this dip fresh or within a week of preparation.
Here are some other irresistible dips not to be missed!