This country style 15 bean soup with ham is a down home favorite dinner that you will love! It is filling, healthy, and delicious!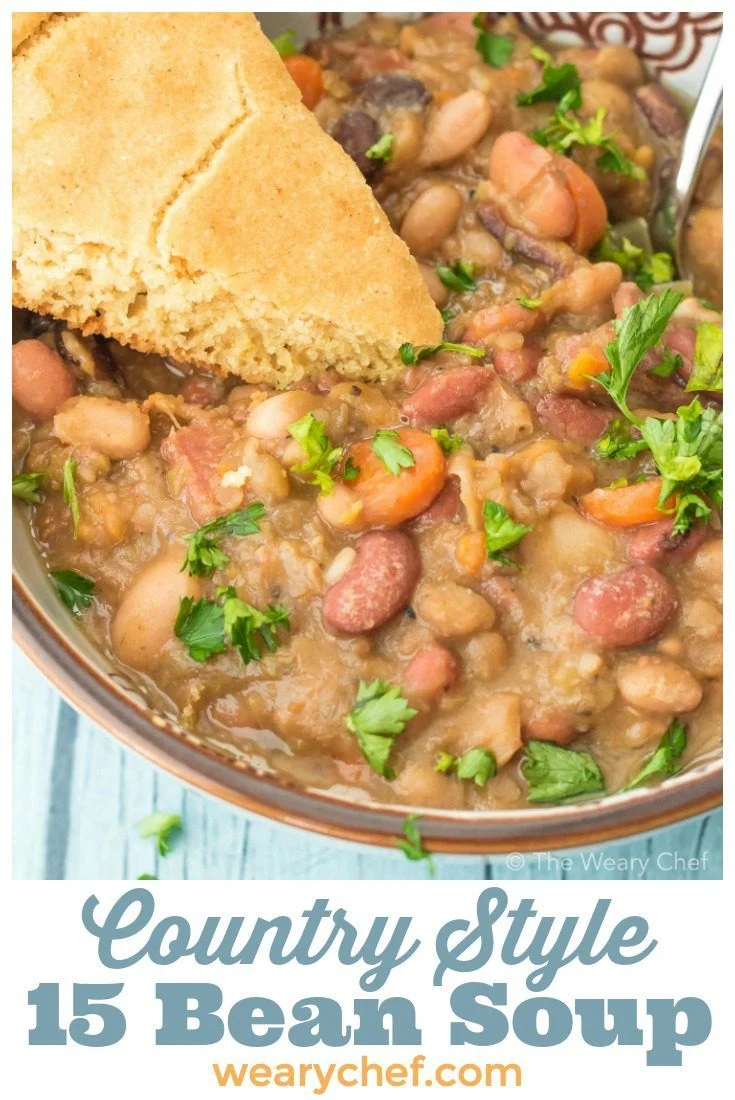 Don't you wonder how 15 bean soup became a thing? I mean, bean soup is good, so that's not a mystery, but why FIFTEEN? And what are all the different beans? Let's figure this out together, and then I'll get to the recipe.
As it turns out, a brand called Hurst Beans created 15 Bean Soup, and they still sell it today. (You can get other brands too, but they were the first.) The beans are always: black beans, small red beans, kidney beans, white kidney beans, navy beans, great northern beans, large and baby lima beans, pinto beans, green and yellow split peas, black-eyed peas, various forms of lentils, cranberry beans, chick peas, small white beans, and pink beans. (source: Wikipedia)
Raise your hand if you have heard of all of those kinds of beans before. If your hand is up, are you being serious? Cranberry beans, really? No one has heard of that! Also, I thought navy beans and great northern beans were pretty much the same thing, but I'm clearly no expert. Either way, that's a dang lot of beans!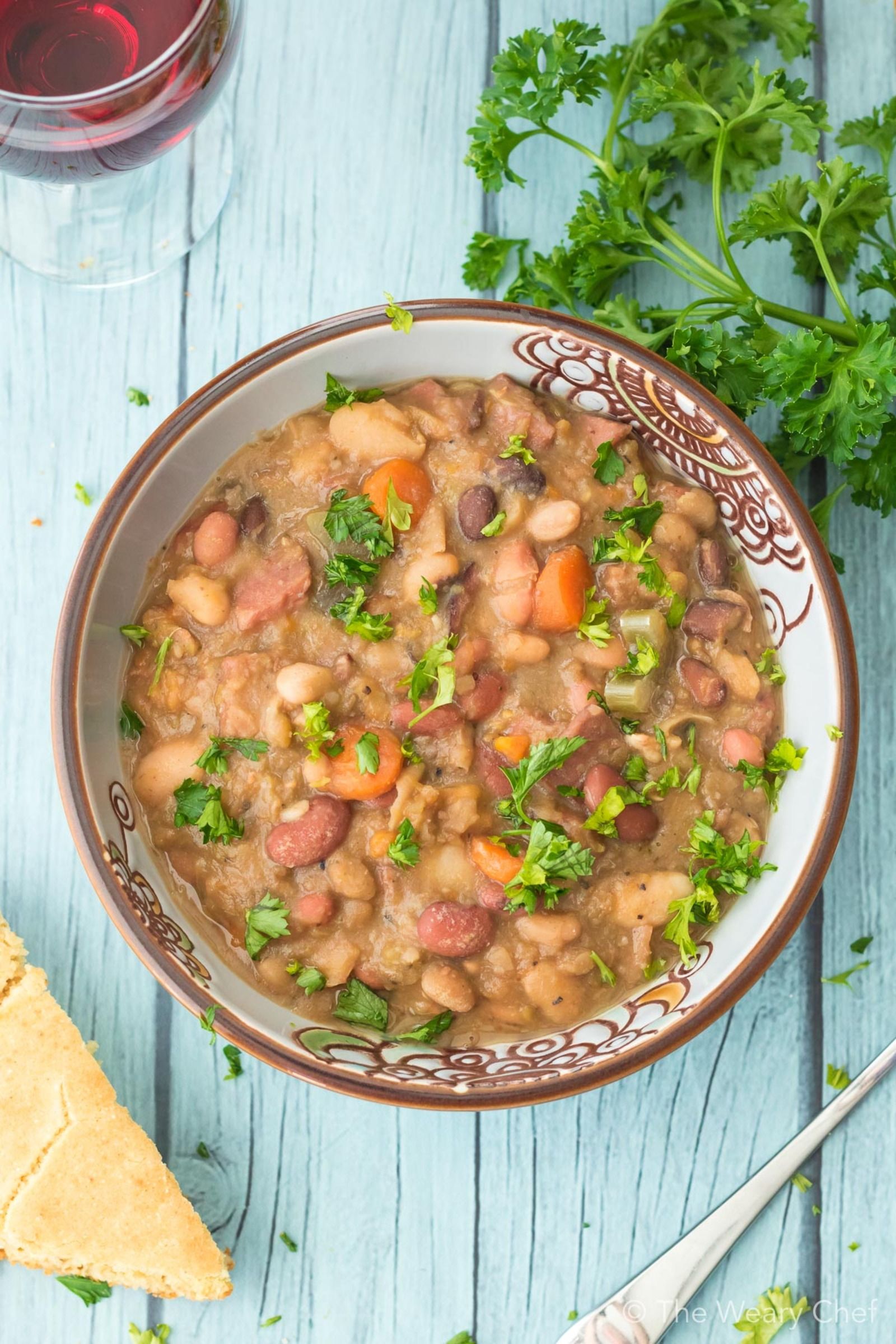 Most dry bean soup mixes include a seasoning packet, and my package was no exception. I found a little packet of white powder with the word "ham" printed on it. I'm not food snob, but I wasn't interested in trying ham powder. I opted to use actual ham in my recipe instead. If you try your ham packet, let me know how it turns out :)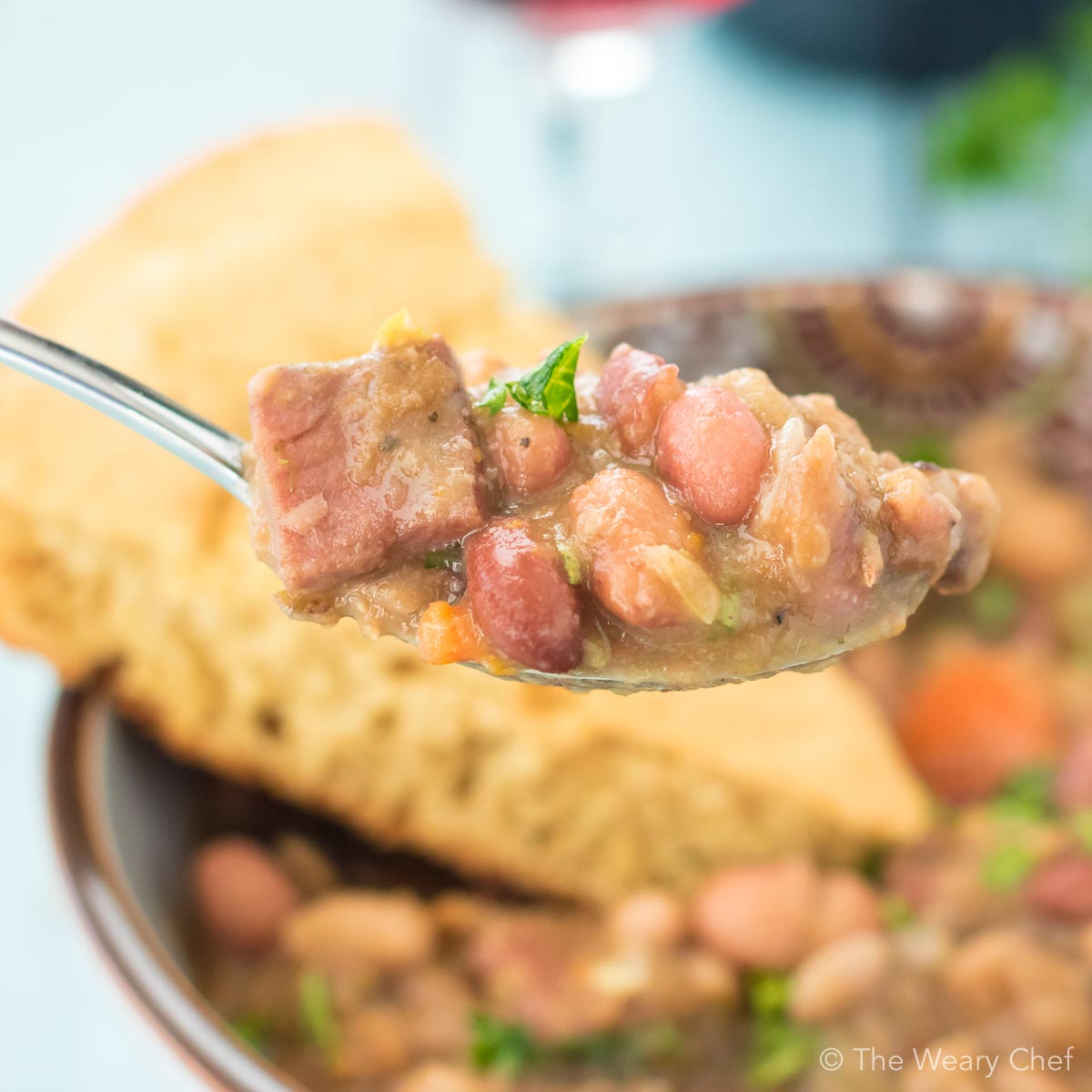 Even with an overnight soak, this bean soup needs to cook a long time. I cooked it almost 12 hours on low in my slow cooker, and the beans were just barely done! If you opt to cook it in your crockpot, I would say 8-10 hours on high or 12-14 on low. Or, just simmer it on your stovetop for a couple hours until the beans are cooked to your liking. I like very soft beans in a creamy soup, but you can make yours in a thinner broth with firmer beans if you like it that way. There's no right or wrong, just personal preference!
You should for sure make Perfect Southern Cornbread to go with this soup. They are so good together! You can skip the parsley garnish of course. I didn't actually serve it with parsley when we enjoyed 15 bean soup for dinner, but I was just trying to spruce it up for the pics. This is not the prettiest soup, but it sure does taste good! Be sure to leave me a comment to let me know how you like it :)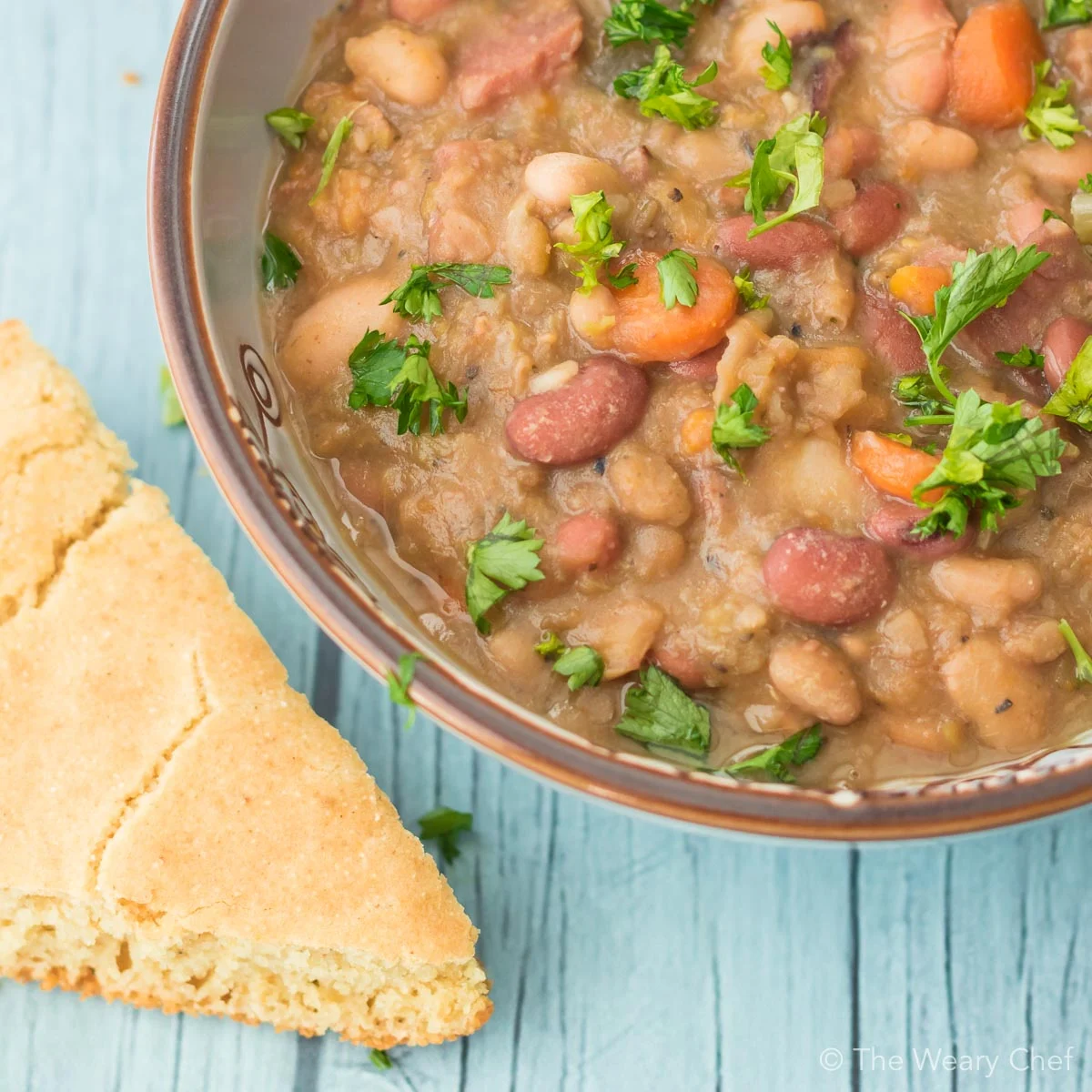 Print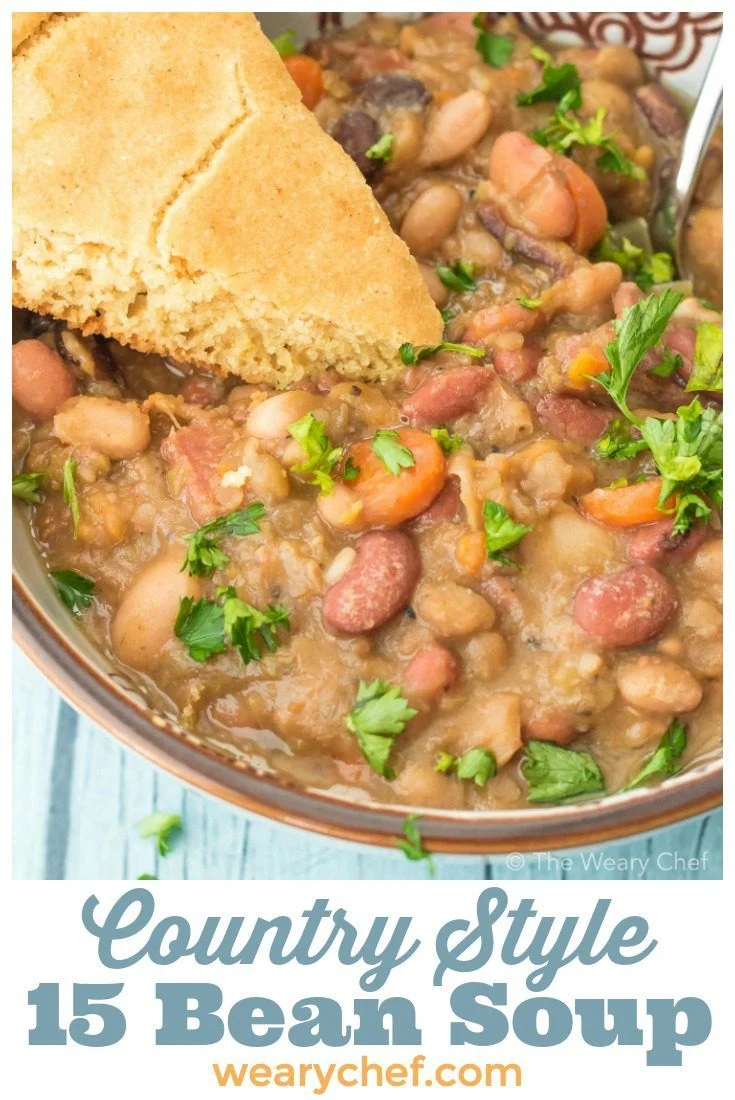 Country Style 15 Bean Soup
This hearty 15 bean soup with ham is a down home favorite dinner that you will love!
Total Time:

11 hours 10 minutes

Yield:

6

1

x
1

pound

15 bean soup blend (dry beans)

1 1/2

cups

sliced carrots

6

ribs celery sliced

6

ounces

ham or canadian bacon diced

4

cups

reduced-sodium chicken broth

4

cloves garlic minced or crushed

2 teaspoons

salt-free seasoning blend (like Mrs. Dash)

2

cups

water

2 teaspoons

kosher salt (adjust to taste)
hot sauce (optional)
Instructions
Soak beans in water OVERNIGHT before preparing soup. (You could also start them very early in the morning to be ready to cook late afternoon.) To soak, place beans in a bowl, and cover with about three inches of water. After an 8+ hour soak, drain the beans, and sort through them looking for any foreign materials (like rocks).
In a large stockpot, add soaked beans, carrots, celery, ham, broth, garlic, and salt-free seasoning. Add additional water (up to 2 cups) to make sure beans are covered by about an inch of water.
Bring pot o' beans to a boil. Boil for a few minutes, and then reduce heat to a fast simmer. Cover, and cook for at least 2 1/2 hours, or until beans are as tender as you'd like.
If desired, use a potato masher or heavy wooden spoon to smash some of the beans. This will make a creamier soup, but it's optional. You can also leave the beans whole in broth if preferred. Simmer about 15 minutes longer after mashing.
Season the soup with salt and hot sauce to taste. Serve with cornbread and hot sauce on the side.
Notes
Allow at least three hours cook time. Soup can be kept warm over low heat until ready to serve. Reheats well too if made ahead!
If you'd like to make this in a slow cooker, add all ingredients as described above, and cook on low at least 12 hours or high at least 6 hours.
Author:

Prep Time:

10

Passive Time:

480

Cook Time:

180
More hearty soup recipes you'll love: