One of my easiest recipes yet, you'll want to make this Blender Black Bean Soup Recipe again and again, especially on busy nights!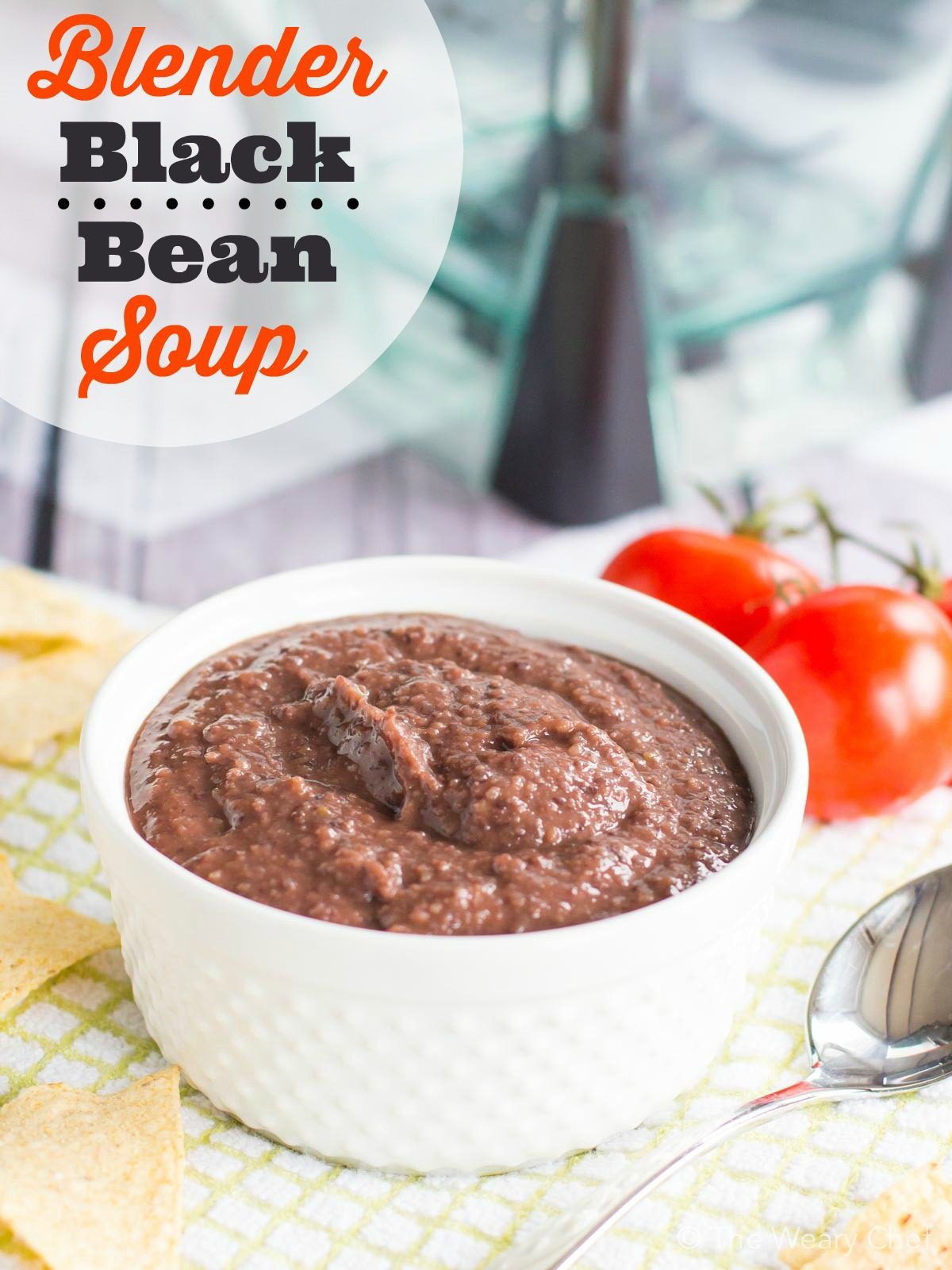 I'm so excited to share this black bean soup with you today! It has to be one of the easiest recipes I've ever written, and you know I'm all about easy! I don't know why I haven't made this blender soup recipe sooner. I literally had the ingredients on my counter for about two weeks before I got around to making it. Now that I tried it, I think it will be my go-to meal for those extra-weary days. Before I get to the recipe, I want to tell you (in a very roundabout way) why I'm a day behind in posting this.
Blogging is such a weird job. For one thing, no one knows what it is really, and they definitely don't consider it a real job. "You can make money doing that?" is the most common response I get when I say it's my business. Since it's not the most respected "profession," I always feel lame saying that I have to work as a reason I can't do things with friends or volunteer at school. I get a little tired of defending myself, explaining that I have actual deadlines and sponsors and readers to answer to. What's even more frustrating about that situation is that it's actually a pretty hard job!
Why is blogging hard?
If you think of it as cooking, taking pictures, and writing, well then it doesn't sound like much. That's only scraping the surface of what a food blogger does though. For me, staying creative and thinking of recipe ideas week after week is a challenge, although that's not true for everyone. There's also all the marketing, graphic design, and technology that go into creating and maintaining a blog, which could each be their own job. I'm so thankful for my assistant to help me with social media, but many bloggers are trying to do everything on their own. Many of us have kids at home, so we only have a few hours during the day to work (if that). Then we have to catch up in the evenings. Who needs sleep when there is work to be done?
I'm not even complaining about my job, more just about the lack of recognition from people who don't get it. Yesterday I spent the better part of the day moving recipes over from one system to the other. It's a tedious job that I started over a year ago, but I just hadn't had/made time to finish it. I'm working with an SEO advisor to help me do better in search engines, and he recommended I get this done ASAP. That was several hours of extra work that I needed to squeeze in somehow.
Meanwhile, either because I was working on all those recipes or because I have no flippin' idea why, I started having database problems that caused my site to crash for a few seconds at a time here and there. I guess I needed to find time to figure that out too. Then, I got an email saying a sponsor needed to postpone the post that I planned to publish, which meant that I suddenly didn't have a recipe to share. Ugh. Then, my work time was suddenly over. I had to drop everything to pick up my kid and take him to swimming!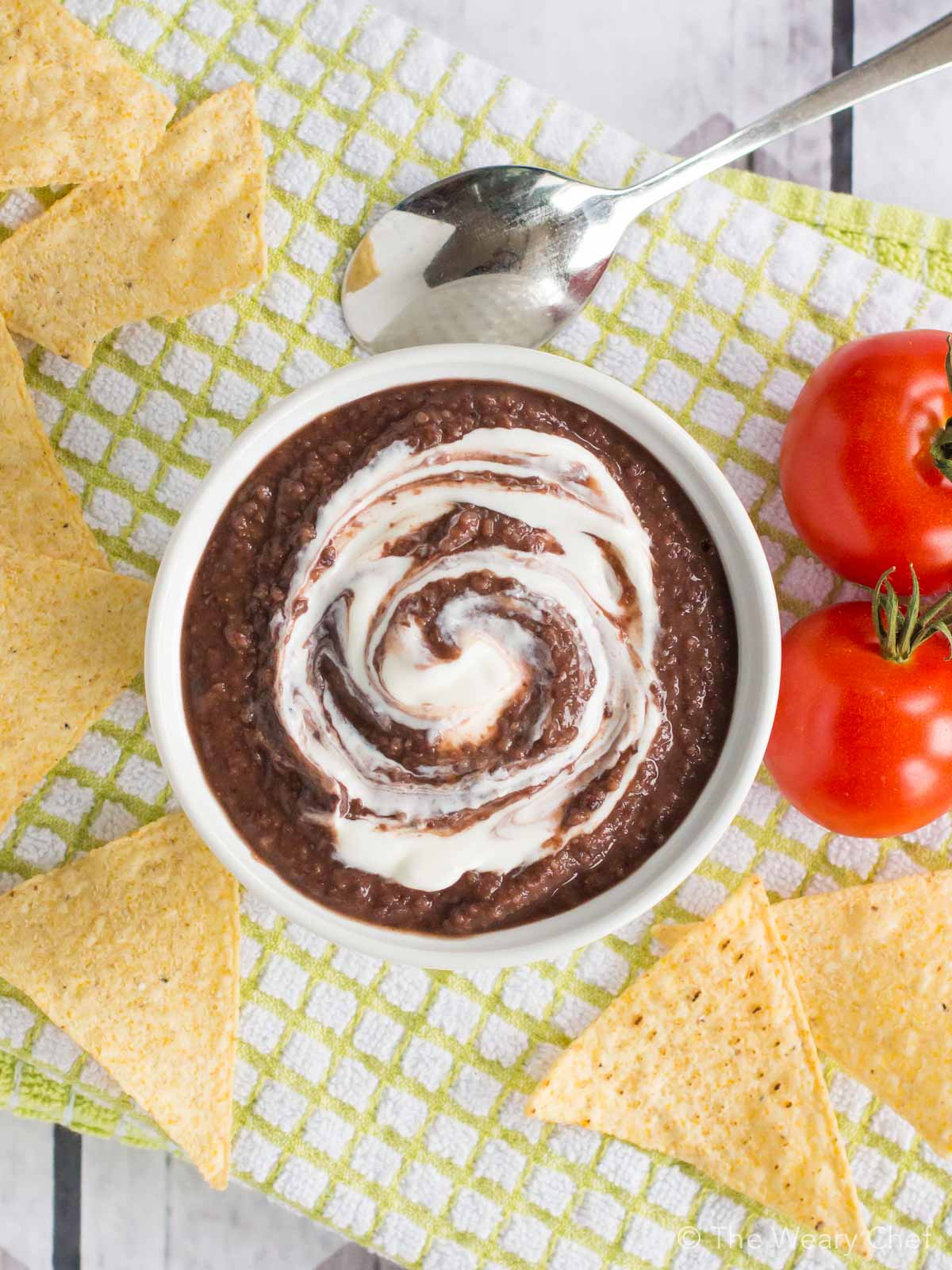 Anyway, that's why I didn't post this black bean soup recipe yesterday. I had to scramble to get it done because my other post was cancelled, all while trying to take care of my boys and keep my blog afloat (which was completely down this morning, making me fall farther behind).
I'm not sure what other person singlehandedly creates content, markets it, and keeps a website up and running except a blogger. The fact that many of us are also moms with young families to take care of makes it all the more challenging. This job is no joke, y'all! So, the next time your favorite blogger seems to be running behind on posts or a real-life blogging friend says he/she can't go to lunch with you because of work, please remember this story. It's not laziness or lack of commitment. There just aren't enough hours in a day to get it all done!
Um, can we talk about this perfect soup recipe?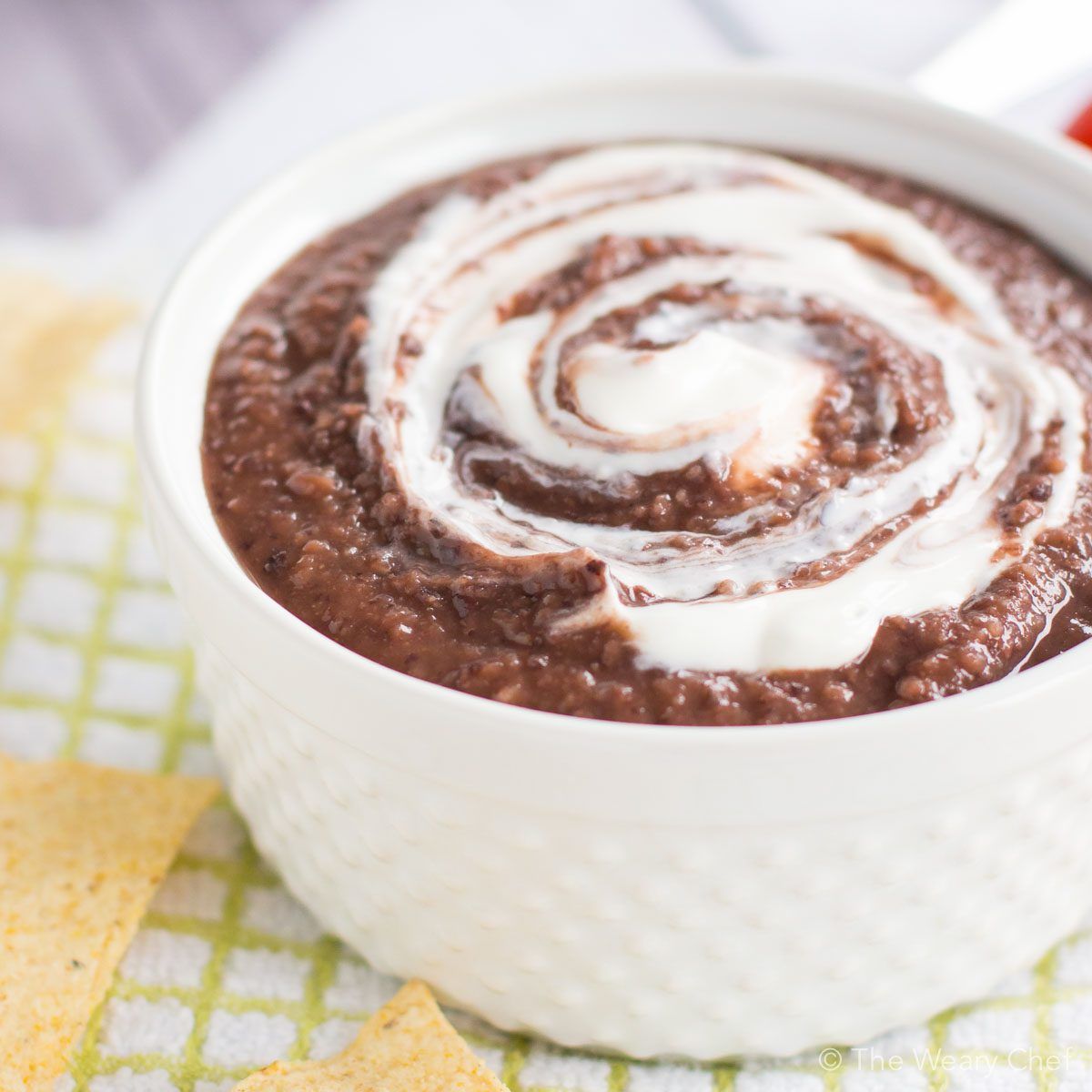 Oh right! I'm telling you about your new favorite soup! Speaking of being low on time, this blender soup is seriously about the best fast dinner I can think of, and it tastes so good! I'm going to start keeping beans, tomatoes, and chicken broth in my pantry at all times (like they aren't already in there). Then I'll never have an excuse for not making dinner. It takes less than five minutes to prep this soup, and then you can heat it as long or as short as you like. Mix it up and pour it into the slow cooker in the morning, or blend and heat for 15 minutes before serving. Either way works!
I like topping mine with sour cream or plain yogurt. Crushed chips are a nice addition too. You really can't go wrong with this soup recipe. If I were you, I'd treat myself to a fresh margarita to go with it too. You'll be glad you did!


Print
Blender Black Bean Soup Recipe
One of my easiest recipes yet, you'll want to make this Blender Black Bean Soup again and again, especially on busy nights!
Total Time:

25 minutes

Yield:

4

1

x
3

cans black beans (

15 oz

. each) drained

10

ounces

Ro-Tel tomatoes undrained

1

cup

chicken broth (use vegetable broth if desired)

1 teaspoon

ground cumin

1/2

teaspon kosher salt or to taste

1/2 teaspoon

garlic powder
Instructions
Add all ingredients to a blender. Cover and blend for approximately 20 seconds or until smooth.
Pour into a soup pot and heat over medium heat, stirring occasionally, until heated through. You could also heat it on the lowest setting in a slow cooker until ready to serve.
Author:

Prep Time:

5

Cook Time:

20
You'll also love these crazy quick dinners: