This pasta salad without mayo is perfect for picnics and potlucks! Since it doesn't have meat or mayonnaise, it's safer from being out at summer parties. Great for lunch boxes too!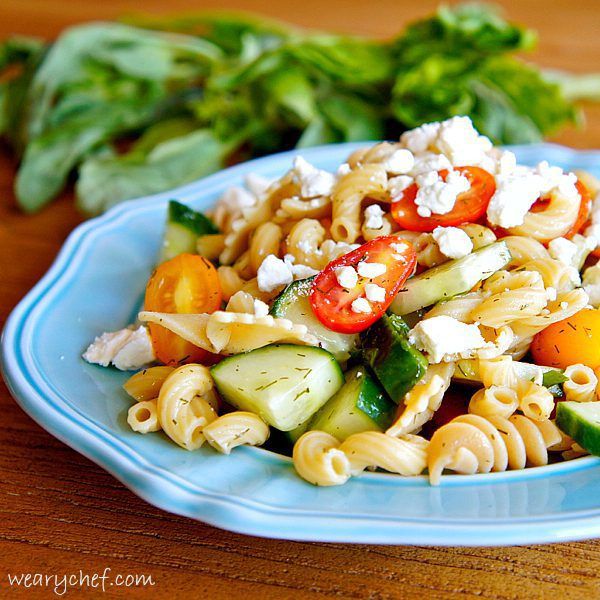 Macaroni Pasta
This macaroni pasta is a popular American cold salad that is from elbow macaroni pasta. In Hawaii, the dish is as mac sal or mac salad and is a component of plate meals in which elbow macaroni cook with vegetables and provided without any further garnish. In addition, it has a side dish with BBQ or fried foods and other picnic fares. There are many other pasta salad recipes, but the classic one usually includes cucumber, basil leaves, tomatoes, and olives. Another common component used to make the cold salad is feta cheese.
This dish is easily available in all salad bars and is very popular in North America. So, it is not specific for spring or summer the salad is for throughout the year. It is commonly produced shell-shaped pasta, referred to as pasta salad in Australia. Avoid overcooking it to maintain the proper texture for your pasta salad. Use gluten-free pasta if you are on a gluten-free diet. It makes a delicious meal for those who are on diet.
To improve the taste and flavor of the macaroni salad, other vegetables and shredded cheese are usually added. Depending on personal preferences, the dressing can range from plain mayonnaise to exotic Asian sauces and sesame oil. The ideal side dish is this simple pasta salad! Even better, it has a mayo-free dressing and is loaded with fresh vegetables, including maize, tomatoes, bell peppers, cucumbers, and feta cheese. The macaroni salad was an accessible and reasonably priced dish. It also functioned as a perfect leftover dish that could be prepared in a matter of minutes.
Kid-Friendly Pasta Salad
I love pasta salad for many reasons:  With enough veggies thrown in, it can serve as a standalone side. Add in some protein, and you've got a one-dish meal. You can make it up to a day ahead of time, which makes dinnertime a breeze. When it looks pretty too, it's just about the perfect dish! This is a pretty side dish because it is so colorful. I like serving it with meat off the grill in the summer. Sometimes I make a separate bowl of kid-friendly pasta salad with veggies they find acceptable.
What's that, you say? Why does it look like there are several different kinds of noodles in there? Even a pantry clean-out can look pretty with this recipe! Throw in whatever kind of bite-sized pasta you have, and it will shine with this colorful mix of vegetables. I love using bowties for pasta salad because they look so fun, but in this case, I used what was left of four different shapes of pasta. If you need to do a pantry clean-out, just pretend your custom pasta blend was intentional. Everyone will be impressed.
This easy pasta salad without mayo can easily be made into a vegan pasta salad with the right pasta and eliminating the feta. It's great for barbecues and potlucks since it doesn't contain mayonnaise, so you don't have to worry about it sitting out for a couple of hours. I also love it leftover for lunch during the week, and again, it's safe to pack in lunch boxes even if it won't be refrigerated for a few hours.
Print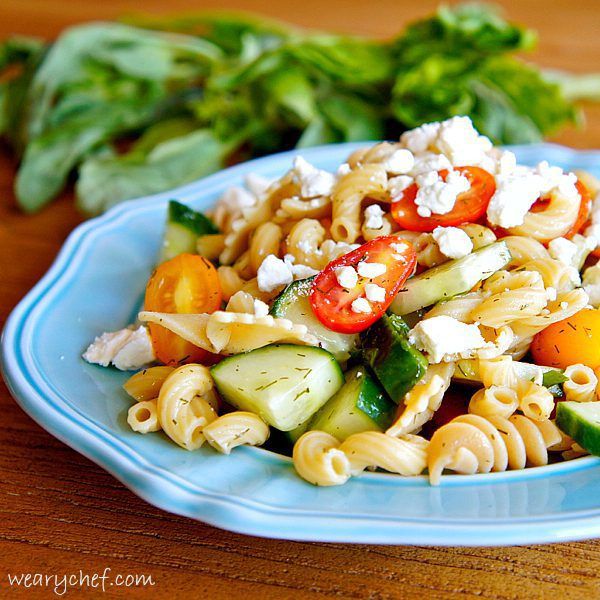 Delicious Pasta Salad without Mayo
This pretty pasta salad uses a short list of ingredients but is full of flavor. It does not contain mayonnaise, so it's great for leaving out at barbecues and potlucks!
Total Time:

30 minutes

Yield:

4

1

x
12

ounces

bite-sized pasta

3 tablespoons

olive oil

1/4

cup

white wine vinegar

1 teaspoon

dried dill

1/2 teaspoon

garlic powder

3/4 teaspoon

kosher salt
freshly ground black pepper to taste

8

large basil leaves minced

2

cups

grape tomatoes halved

1

English cucumber cut in fourths lengthwise and sliced

20

kalamata olives sliced in half

3

ounces

feta cheese crumbled (I use the reduced-fat version)
Instructions
Bring a large pot of salted water to a boil. Cook pasta according to package directions. Drain and rinse with cool water for a few seconds. Set aside.
Meanwhile, in a large serving bowl, stir together olive oil, vinegar, dill, garlic powder, salt, and pepper. Add in basil, tomatoes, cucumber, and pasta, and stir gently to combine. Fold in feta cheese just before serving.
Author:

Prep Time:

15

Cook Time:

15

Category:

Pasta

Cuisine:

Mexican
Nutrition Information
Per serving:
| | | | |
| --- | --- | --- | --- |
| Calories | 529.3 g | Carbohydrates | 72.5 g |
| Protein | 21.8 g | Fat | 17.1 g |
| Saturated Fat | 2.6 g | Potassium | 101.7 mg |
| Iron | 1.73 mg | Sodium | 392.4 mg |
| Vitamin A | 30 mg | Dietary Fiber | 4.0 mg |
| Sugar | 3.6 g | Vitamin C | 1.2 mg |
| Cholesterol | 8.0 mg | Calcium | 23 mg |
Best Pasta Salad
Reason To Love
The best thing about this salad for summer is that you can make it healthful or filling with cheese and meat.
During the hotter seasons, we choose a healthier, lighter lifestyle, and this salad may be the most adaptable recipe you have for a salad.
You can use our delectable light dressing, your own homemade canned or pre-cut bagged vegetables, or just add your own suggestions to this simple summertime bowl of pleasure!
Once more, you can select low-carb pasta or a bright, colorful form and use your creativity to create a dish that is exploding with color and flavor.
Because it doesn't have mayonnaise, it's a great substitute for regular pasta salads.
Utilizing your preferred spaghetti form and vegetables, you may completely customize this pasta salad dish.
You make it dairy free if you use crumbly vegan cheese instead of feat cheese.
It has less fat and a wide variety of vegetables.
It quickly comes together.
This veggie dish is simple to adapt to become dairy-free, vegan, and gluten-free.
Health Benefits
This healthier version of macaroni salad is not only tasty and simple to create, but it also contains components that are high in nutrients. High-Quality and low-natural foods with nutrient density are available. Great for those who are calorie conscious and want to eat healthy and yummy pasta.
Sustained Energy
Glucose, the essential fuel for your brain and muscles, is provided by carbohydrates like pasta. You also avoid the energy spikes caused by simple sugars because pasta is a fantastic source of complex carbs (unlike those of refined and processed kinds, which are gross). Complex carbohydrates release energy at a gradual and consistent level.
Cholesterol-free and Low Sodium
Pasta is ideal for those checking their cholesterol levels because it contains no cholesterol and has a very low salt content. In addition, several important minerals, including iron and B vitamins, are well-represented in enriched pasta variants per cup.
Folic Acid
For women of childbearing age, folic acid, which is supplemented in enriched pasta, is crucial. About 100 micrograms of folic acid, or 25% of the daily required amount, are present in one serving of dry pasta.
Balanced Diet
According to current Australian Government advice, 35 % of our daily caloric intake should come from complex carbs, like pasta. Pasta is a part of a well-balanced diet. For a balanced dinner to help you achieve your dietary objectives, combine pasta with lean protein and vegetables. For a balanced dinner to help you achieve your dietary objectives, combine pasta with lean protein and vegetables.
How to Store Pasta Salad Without Mayo?
Although salads with oil-based dressing maintain their quality longer than those with dairy- or mayo-based dressings, you only gain a few more days. The flavor of your salad will deteriorate even more quickly if it contains any ingredients that lose quality more quickly.
You can store the Pasta salad without mayo in an airtight container in the refrigerator for 3 to 4 days. After that, you should throw it out if you keep it out of the refrigerator for longer than two hours.
Place the pasta salad without mayo in an airtight container for refrigeration, or cover the bowl with foil, plastic wrap, or any other lid you may have on hand. The salad's texture visibly changes when frozen, so freezing is not suggested.
If the pasta salad has a musty smell, mold growth, or has been stored in the refrigerator for more than 4 to 5 days, throw it out.