This pasta salad without mayo is perfect for picnics and potlucks! Since it doesn't have meat or mayonnaise, it's safer for being left out at summer parties. Great for lunch boxes too!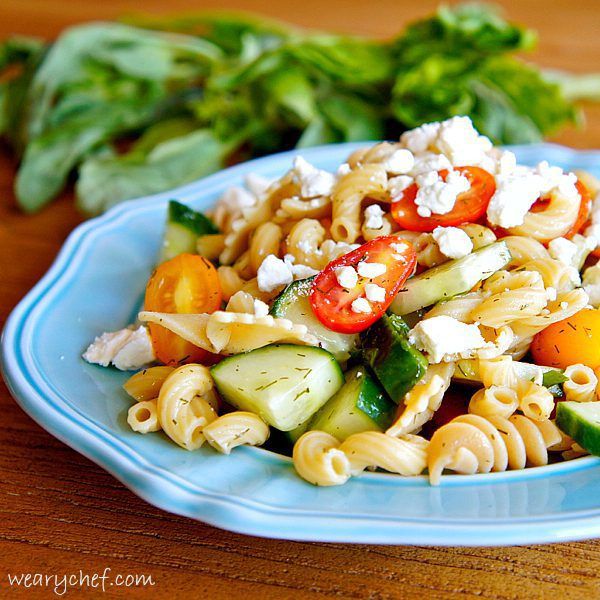 I love pasta salad for many reasons:  With enough veggies thrown in, it can serve as a standalone side.  Add in some protein, and you've got a one-dish meal.  You can make it up to a day ahead of time, which makes dinnertime a breeze.  When it looks pretty too, well, it's just about the perfect dish! I think this is such a pretty side dish because it is so colorful. I like serving it with meat off the grill in the summer. Sometimes I make a separate bowl of kid-friendly pasta salad with veggies they find acceptable.
What's that you say? Why does it look like there are several different kinds of noodles in there? Even a pantry clean out can look pretty with this recipe! Throw in whatever kind of bite-sized pasta you have, and it will shine with this colorful mix of vegetables. I love using bowties for pasta salad because they look so fun, but in this case I used what was left of four different shapes of pasta. If you need to do a pantry cleanout too, just pretend your custom pasta blend was intentional. Everyone will be impressed.
This easy pasta salad without mayo can easily be made into vegan pasta salad with the right pasta and eliminating the feta.  It's great for barbecues and potlucks since it doesn't contain mayonnaise, so you don't have to worry about it sitting out for a couple hours.  I also love it leftover for lunch during the week, and again, it's safe to pack in lunch boxes even if it won't be refrigerated for a few hours.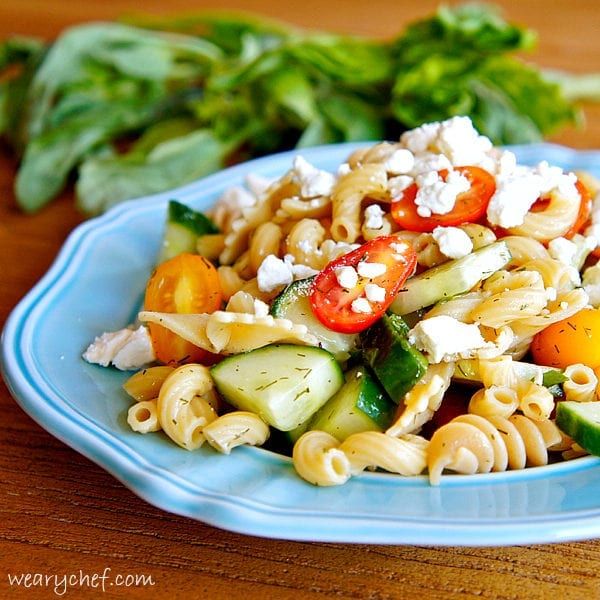 | | |
| --- | --- |
| | |
Bring a large pot of salted water to a boil. Cook pasta according to package directions. Drain and rinse with cool water for a few seconds. Set aside.

Meanwhile, in a large serving bowl, stir together olive oil, vinegar, dill, garlic powder, salt, and pepper. Add in basil, tomatoes, cucumber, and pasta, and stir gently to combine. Fold in feta cheese just before serving.