This healthy and refreshing summer salad recipe is packed with whole grains, lean chicken, fresh vegetables, all tossed with a light vinaigrette. It's an easy and delicious dinner for a hot day!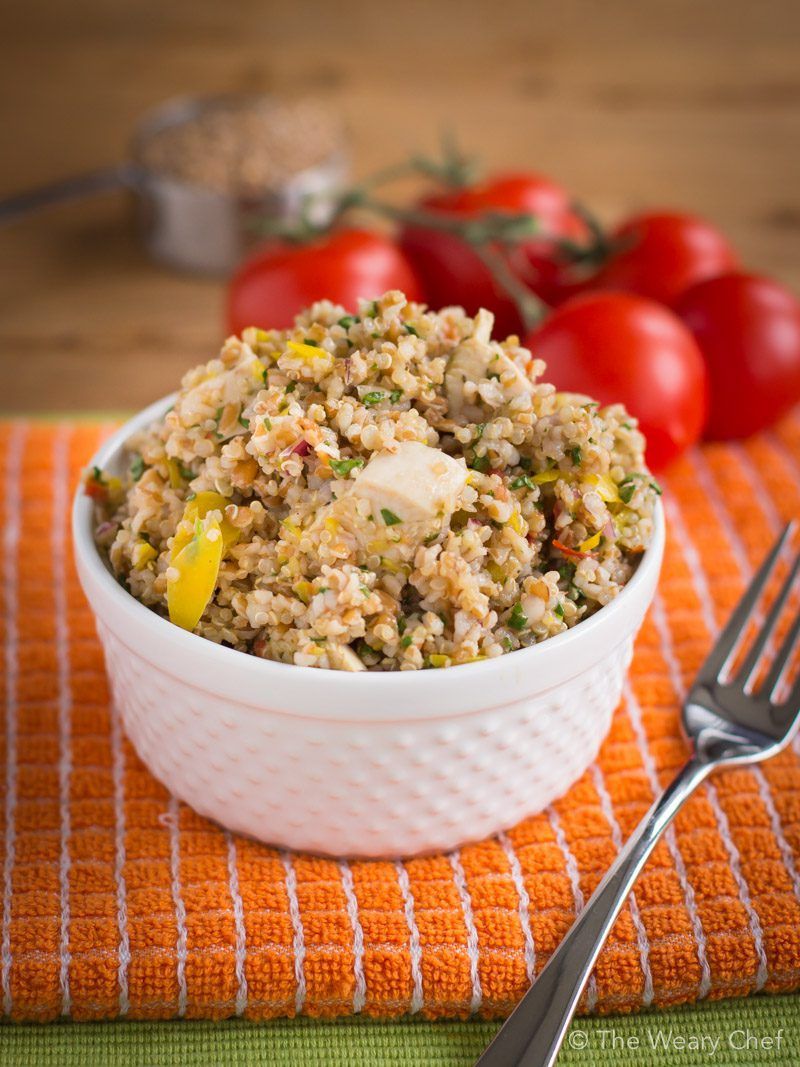 Last week we cleaned out a bunch of toys, particularly large items like a car ramp, play tent, and work bench. I LOVE getting rid of stuff, which is kind of ridiculous because I also love shopping. I'm just as happy to shop for groceries or home essentials as fun stuff though, so it's not like we're always buying "stuff." Toys do have a way of accumulating though, and my boys' rooms were getting pretty nuts.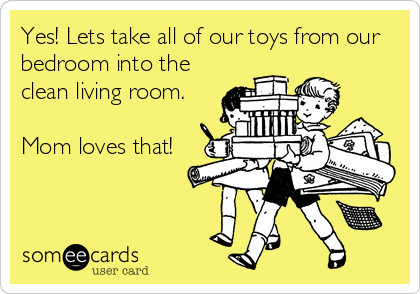 I decided that we all received to be rewarded for cleaning out old stuff, and what better reward than buying new stuff? OK, that doesn't make sense at all really, but I told my boys I would buy them each a small toy to thank them for not complaining about getting rid of so many things. Also, I saw that the Roomba was on sale at Costco earlier this week and decided to splurge on it. (I know. A robot vacuum. What could be any lazier than that?) So, off we went to Costco, the toy store, and to a taqueria to pick up lunch.
After all that shopping and eating, I was exhausted. Plus, it was about 80 degrees. I am such a total wimp about the heat. I HATE IT. If the sun is out and it's over 65 degrees, I'm complaining. Wearing a bulky, hot boot certainly doesn't help. I am not usually a napper, but I sat on the bed after lunch to read my Roomba manual and take a break from the boot, and the next thing I knew I was involuntarily falling asleep. An unknown amount of time passed, and I woke up hot and disoriented, unable to summon the will to get upright strap on my warm, cozy boot.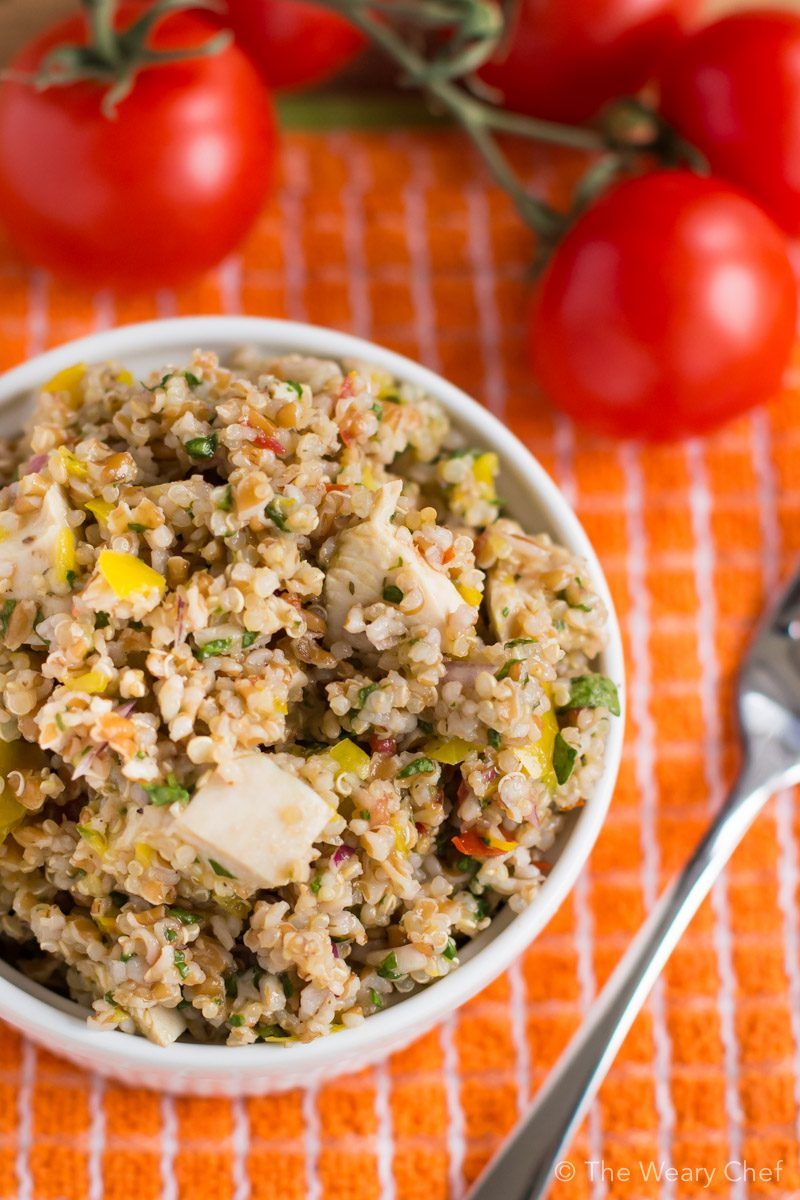 Around that time, my 8-year-old came in saying, "I need to go somewhere! I've got ants in my pants! Where can we go?" I had the opposite of ants in my pants. I felt more like I was stuck in mud, but I did need a few groceries. I dragged myself up, and he and I went to the store. He was like a happy puppy running around the store like he was at an amusement park, and his energy rubbed off on me a bit. I started getting inspired to make dinner, but I knew I didn't want to eat anything hot. I was already hot! That's why I came up with this cool, refreshing summer salad recipe.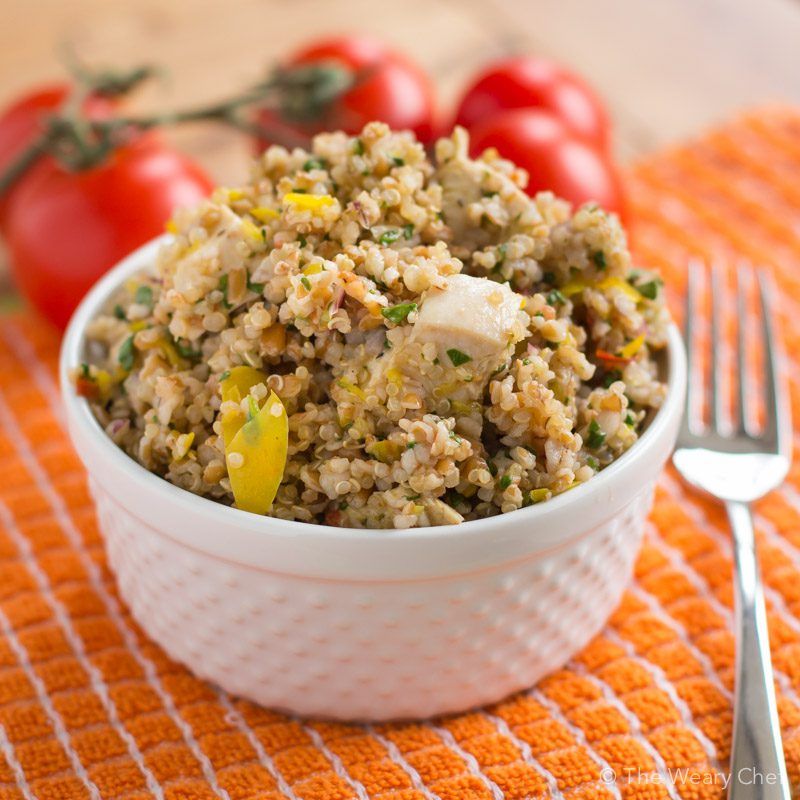 You do actually have to cook to make this whole grain salad, but it's cool when it's ready to eat. I used my food processor to chop the vegetables, which made it all very easy. You can make everything in about 25 minutes, then pop it in the refrigerator until you're ready to eat. This also makes a great dish for potlucks, picnics, lunch boxes, or BBQs. I hope you enjoy it on your next warm day!
Print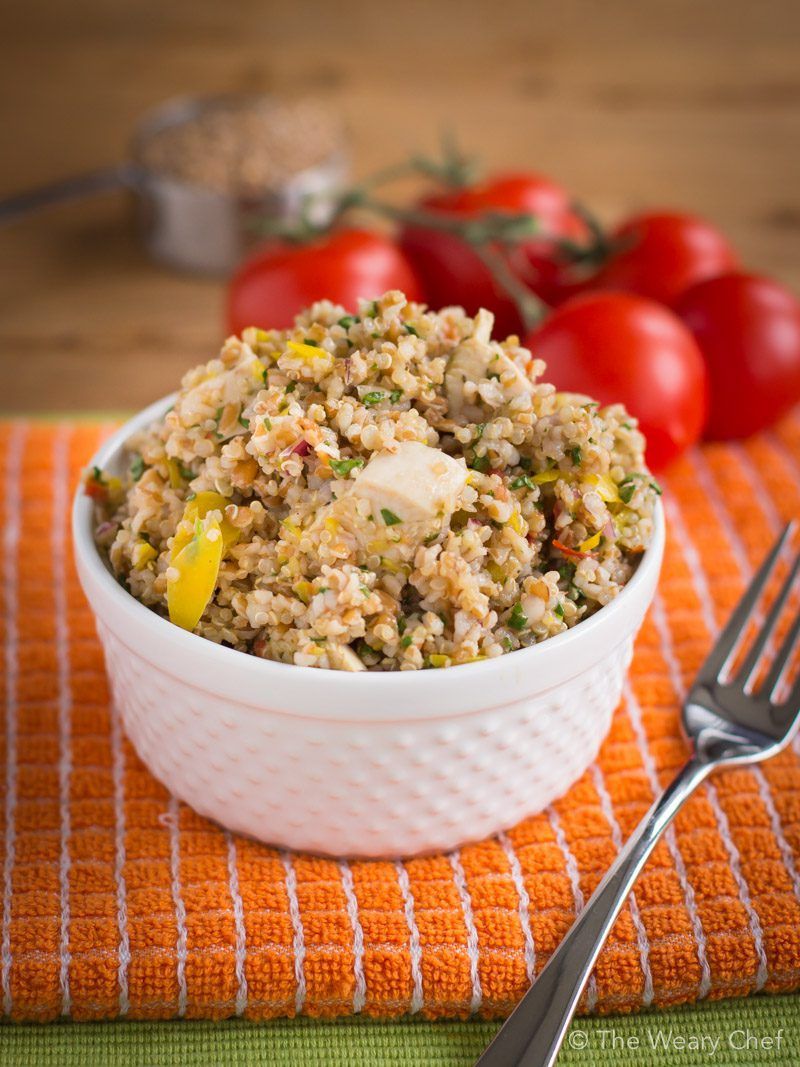 Summer Salad Recipe with Whole Grains and Chicken
This healthy and refreshing summer salad recipe is packed with whole grains, lean chicken, fresh vegetables, all tossed with a light vinaigrette.
Total Time:

45 minutes

Yield:

4

1

x
Instructions
In a small saucepan, bring chicken broth, bulgur, and quinoa/rice to a low boil. Cover and simmer for 20 minutes. Remove lid, fluff with fork, and allow to cool at least 15 minutes.

While the grains cook, drizzle 2 tsp. olive oil over chicken breasts, and sprinkle lightly with seasoned salt. Cook chicken however you like: in a skillet, baked in the oven (or toaster oven), or grilled. I baked mine in the toaster oven at 350 degrees for about 25 minutes. Allow to cool 10-15 minutes, and then dice into bite-sized pieces.

While chicken and grains cook, add vinegar, remaining 3 tbsp. olive oil, Italian seasoning, salt, and pepper to a large bowl.

Add onion, seeded tomatoes, bell pepper, and spinach to food processor. Pulse until all ingredients are well chopped. (If you don't have a food processor, dice the vegetables by hand.) Stir the chopped vegetables into the dressing in the large bowl.

Stir in cooked and cooled grains and chicken. Serve immediately or store in the refrigerator for up to 24 hours before serving.
Notes
You can use any combination of bulgur, white rice, and quinoa to equal one cup total for this recipe.
Author:

Prep Time:

10

Passive Time:

15

Cook Time:

20
I use my Ninja food processor
in this recipe (affiliate link):
Want more warm weather dinner ideas? Try these!