Get ready for an easy and fun dinner with these Tuna Melt Tostadas! You'll love this crunchy, gluten-free twist on a classic sandwich recipe.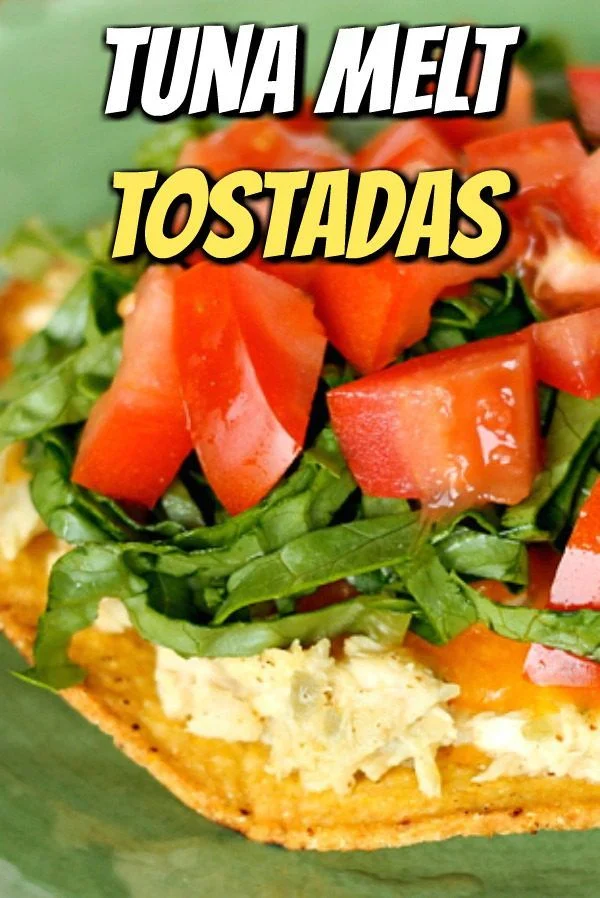 Tuna salad is one of those foods that I am never excited to eat because it seems played out and boring, but then as soon as I taste it, I'm like, "Oh right, I love tuna salad!" These tuna melt tostadas are a fun new way to eat an old favorite. If you are a fan of my chicken tostadas and spicy tuna melts, then I'm sure you'll love this recipe too.
My Tuna Melt Tostadas Experience
My husband is a man of few words. He usually doesn't say much more than, "It's pretty good" when he eats his dinner, so I knew I was onto something great when he couldn't stop talking about this one. Overall, he said, "I like the crunchiness and the toppings and the tuna and everything about it." That's what I call a rave review!
When it comes to tuna salad, I think we all have our own way of making it. If you like to add celery or apple or potted meat (that's how my mom used to make it!) or salad dressing, then by all means use your favorite method. You could even pick up a pint of tuna salad from your grocery store deli and turn this into a REALLY easy dinner! I like my tuna salad pretty plain with just mustard, mayo, and a lot of dill relish. Sometimes I add a boiled egg if it's convenient, but I didn't think that would turn out right in this baked version so I skipped it.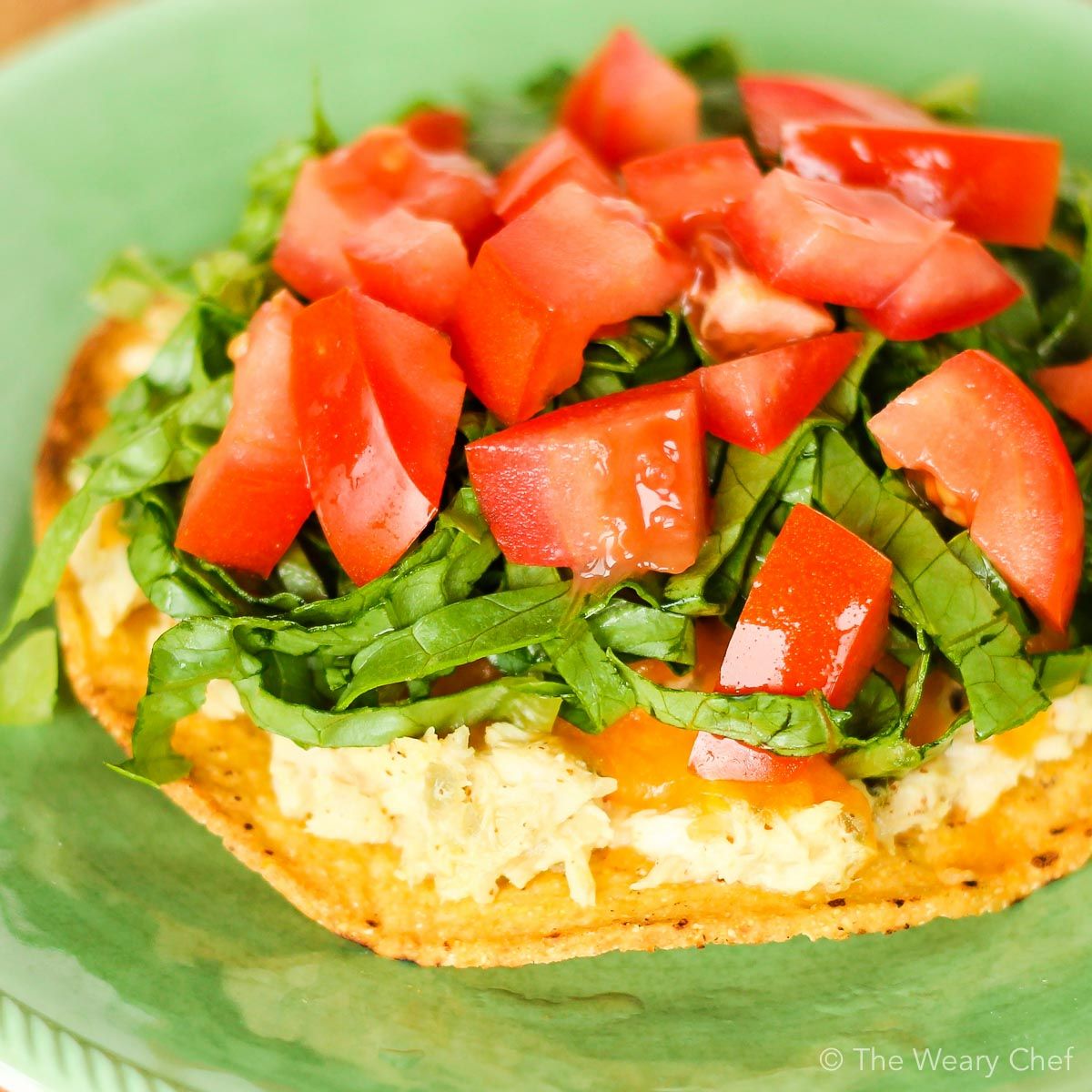 The only challenging part of tuna melt tostadas is keeping the lettuce and tomato on the tostada when you eat it. It's certainly not appropriate food for a first date, but it's great for families who like to giggle while watching each other drop vegetation on their plate throughout the meal. You could even turn this dinner into a contest, letting the person who drops the fewest tomatoes get out of cleanup duty! Have fun!
Yummy Tuna Melt Tostadas
The term "tostada" refers to a variety of dishes from Mexicans and other parts of Latin America that use toasted tortillas as their primary ingredient. The term "tostada" can apply to any dish that uses a flat or bowl-shaped tortilla as a base. It is typically used to describe a deep-fried or toasted tortilla. The flavor of Mexican cuisine and the classic tuna melt are combined in these basic, simple-to-make tostadas. Crispy corn tostadas topped with a heart-healthy serving of avocado, creamy mozzarella cheese, & crispy tuna.
several families, dinnertime is a "crazy time," so cooking a meal can be challenging and stressful. You may be sure that making this simple and fast family-friendly dinner will significantly reduce your stress levels. This easy dinner is perfect to involve your children in the preparation if they enjoy helping in the kitchen. lovers of tuna Here is your perfect sandwich. You might even convince a tuna hater with the right amount of crunch, melty cheddar cheese, and a few good slices of tomato.
The tuna salad is play an essential role in your body. This sandwich is jam-packed with celery, pickles, red onion, and pepper flakes to create a savory salad that tastes great both on its own and in the sandwich. Any type of melty cheese can be used for the "melt" component of this sandwich. American, Monterey Jack, and Swiss cheeses are all excellent options, but we like the sharp taste of cheddar.
Tuna Melt Tostadas Recipe
Print
Tuna Melt Tostada
Add some crunch to a classic sandwich!
Total Time:

18 minutes

Yield:

3

-4

1

x
Instructions
Preheat oven to 375 degrees F.

Stir together tuna, mayonnaise, mustard, and relish.

Spread the tuna salad evenly over each tostada. Sprinkle cheese over the tops.

Bake in preheated oven for 8 minutes, until cheese is melted and tostada edges are just starting to brown.

5.  Top with lettuce, then tomato, and sprinkle tops with salt and/or pepper if desired. Serve, and enjoy the fun of trying to balance your vegetables on top!
Notes
The tuna salad recipe is just a guide. Customize it to your taste, or use pre-made tuna salad for a very quick dinner!
Author:

Prep Time:

10

Cook Time:

8

Category:

Main Dish
Nutrition Information of Tuna Melt Tostadas
Per serving:
| | | | |
| --- | --- | --- | --- |
| Calories | 306 kcal | Carbohydrates | 36 g |
| Calcium | 96 mg | Fat | 14 g |
| Sugar | 3 g | Trans Fat | 1 g |
| Vitamin A | 98IU | Vitamin C | 1 mg |
| Iron | 2 mg | Protein | 8 g |
| Cholesterol | 9 mg | Potassium | 160 mg |
| Fiber | 7 g | Sodium | 737 mg |
Why Will You Love This Recipe?
It is a nutritious food.

It's simple to prepare these tostadas.

Build damaged cells and tissues of the body.

It is very tasty and digestive.

A Wonderful Supplement to Your Favorite Mexican Dishes.

affordable for a big group.
Health Benefits of Tuna Melt Tostadas
The fact that the tortillas are baked rather than fried is the major factor in what makes these tostadas more nutritious than other varieties. They lack the oil and fat of the fried type but are still crispy. An extremely nutrient-dense one-dish dinner is a tuna salad sandwich with vegetables on top. The sandwich contains more than 10% of the recommended daily intake of 11 vitamins and minerals and is packed with protein even without additional toppings. Omega-3 fatty acids can be found in tuna, although white albacore tuna contains more mercury than light tuna.
It helps your heart .
Because tuna meat contains a lot of omega-3 fatty acids, it helps to balance the blood vessels and lowers artery cholesterol. Lower artery cholesterol translates to fewer issues with blood flow and the heart's pump, which improves heart health.
It reduces your blood pressure.
Potassium, a mineral that significantly decreases blood pressure, is high in tuna. The cardiac system benefits from the anti-inflammatory effects of this element when combined with omega-3 fats. This results in lower blood pressure and a decreased chance of heart attacks, strokes, and more difficult issues like blocked arteries.
It improves your immune system.
The antioxidant manganese, zinc, vitamin C, and selenium, which are considered to be important immune system enhancers, are abundant in the meat of this fish. Antioxidants destroy free radicals, which are cellular waste products of metabolism and can lead to several deadly diseases, including cancer.
It boosts your circulation.
This advantage is caused by iron and vitamin B. As a result of poor eating habits, your cardiovascular system becomes blocked and slowed down with fat, and your cells begin to age. High iron and vitamin B intake fortify blood cells. Iron increases blood flow, which enhances the oxidation of body tissues and ensures maximum performance.s
It reduces depression.
Tuna should be consumed 3 to 4 times per week for best results. This outlandish claim is the outcome of a scientific study on three groups of pathetic people: the Placebo group (taking placebo tablets), the Prozac group, and the tuna group (eating tuna several times a week). Surprisingly, the tuna group experienced the greatest stress reduction.
It helps with eye health.
The disorder known as macular degeneration impairs eye vision and gradually causes blindness. The all-powerful Omega-3 fatty acids intervene to avoid this disease.
It strengthens your bones.
The main element that goes into making bones is vitamin D. The advantages of this vitamin are seen in the fight against cancer, strong, healthy bones, and the absence of injuries.
Tuna fights kidney disease.
The kidneys' regular operation and fluid balance are supported by the potassium mineral, which has been stated. One of the most commonly diagnosed diseased is kidney cancer which results from organs not functioning properly.
Storage Tips of Tuna Melt Tostadas
The remaining salad is good in quality for 3 days in the refrigerator. Before serving, thoroughly stir. For up to a week, you can keep leftover tostadas in a sealed container.

They can be kept for up to a week at room temperature by placing them in an airtight container or ziplock bag and setting them on a counter or in a cabinet. They won't stay fresh if you put them in the fridge.
Need more quick and easy tuna recipes? I've got 'em!