Thank you to Silk® Nutchello™ for sponsoring today's post.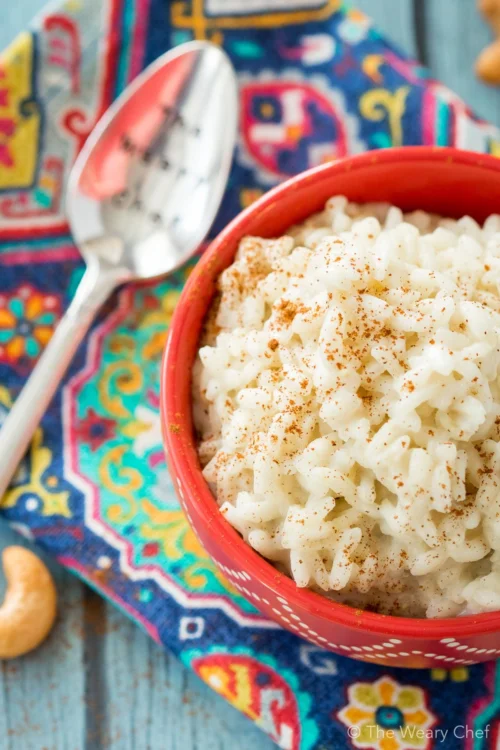 Whether you usually enjoy dairy or not, you'll want to try this Vegan Rice Pudding. The recipe is delicious, crazy easy, and low in sugar too!
OK, look. Before you call me a San Francisco hippie for making a vegan recipe, just hear me out. This rice pudding is first of all delicious and easy. It just happens to also be vegan thanks to this Toasted Coconut Silk® Nutchello™. I hope you've tried one of the flavors of Nutchello™ since I told you about it with the Banana Nut Smoothie last month. If you haven't, here's another reason to pick some up! This rice pudding is really good, y'all.
While I am known to enjoy (more than) my fair share of cheese and meat, I do understand that even cutting back partially on animal products is helpful for our bodies and the environment. I think I will go on a vegan diet approximately never, but I have started subbing soy milk in my coffee, making a vegetarian dinner once or twice a week, and enjoying Nutchello™ for an afternoon treat. This stuff is delicious (especially the chocolate!), and a glass has under 100 calories.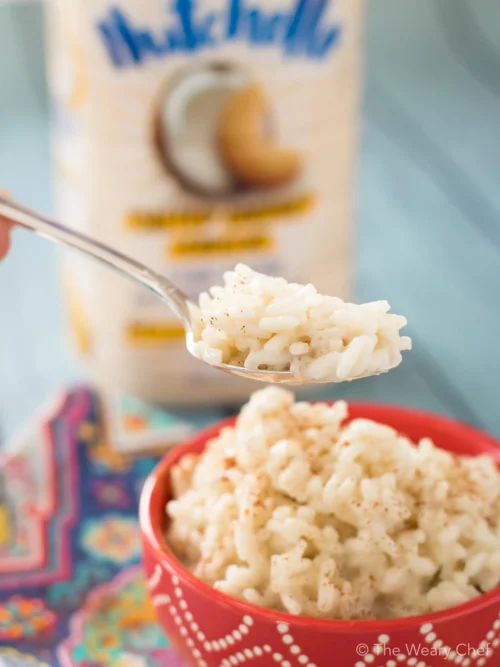 I have made rice pudding exactly zero times before trying this recipe, but now it's my new favorite dessert. I did some research, and rice pudding is nothing more than white rice cooked in sweetened milk (to put it simply). There is no reason that can't translate to nut milk! Silk® Nutchello™ is sweetened, naturally-flavored nut milk that is perfect for drinking on its own or adding to recipes like this one. Don't forget to grab a Silk™ Nutchello™ coupon before you hit the grocery store!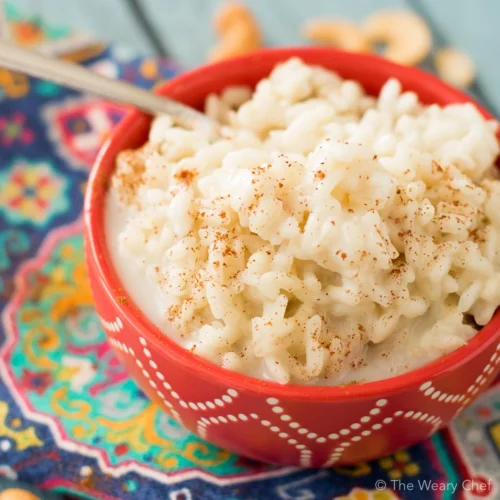 Rice pudding is traditionally made with medium-grain rice, but this time I tried using risotto rice instead. Since this starchy rice creates a creamy finish in risotto, it seemed like a perfect addition to this dessert. You can use medium-grain rice instead if you'd like a more traditional texture in your pudding. You can't go wrong either way.
[recipe]
Thank you again to Silk® Nutchello™ for sponsoring today's recipe through Social Stars.
In a sturdy sauce pan, heat the coconut oil over medium heat. Add rice, and saute in rice until opaque (solid white). This will take about three minutes. Stir it constantly to avoid burning the rice.

Stir in Nutchello about 1/2 cup at a time. Stir and simmer until the liquid is almost completely absorbed before adding more. Repeat this until you have added two cups of Nutchello. This will take about 10 minutes.

Pour the remaining Nutchello over the rice. Stir, reduce heat to very low, and cover the pot. Cook 7-10 minutes longer, stirring every 3-4 minutes. Your rice pudding is done when the rice is tender.

Serve warm. You can sprinkle cinnamon and pour a little more Nutchello over individual servings if desired.