Creamy yogurt parfait for breakfast? Mmmm, yes! Do you make time to eat breakfast every day? I make breakfast for my kids every day, but I tend to forget about myself. My mornings are busy with lunches to make, arguments to referee, emails to answer, dishes to put away, and getting myself dressed at some point in there.
I'm usually lucky to eat a few bites of the boys' leftover cereal with my morning coffee, and then I'm starving by 10 am. Now that I've gone gluten-free, it's even harder for me to grab a quick breakfast since a lot of my go-to items are off the menu.
5-Minute Yogurt Parfait with DOLE Peaches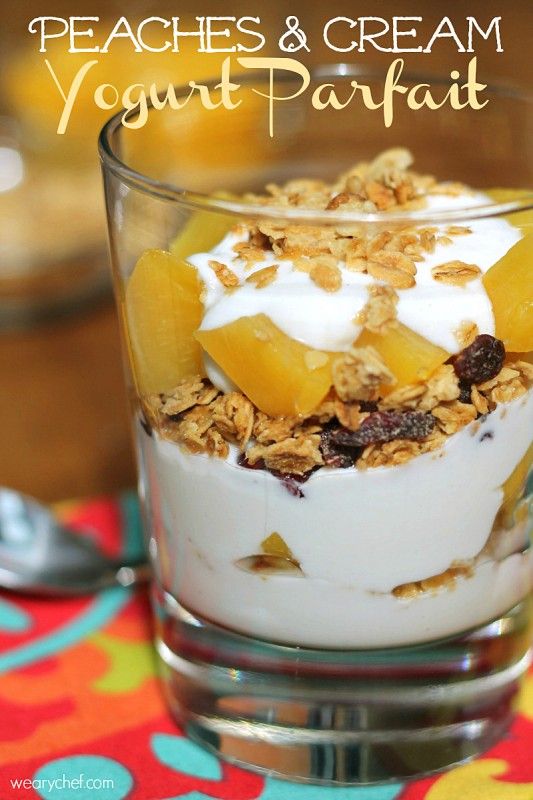 Fortunately, DOLE has me covered with a deliciously healthy breakfast idea I can make in under five minutes. All you need is DOLE Fruit in Jars, Greek yogurt, and granola, and you are on your way to a satisfying morning treat. What? You haven't seen fruit in jars? Well let me tell you, it is convenient.
You can find it in the canned fruit section, but I find it handier to use than canned fruit because you can use what you need, close the jar, and stick the rest in the fridge. The fresh-tasting fruit is packed in 100% juice and is so much easier than peeling and cutting fresh fruit when you are pinched for time. Plus, I LOVE peaches and want to enjoy them all year, not just in the summer!
How to Make the Peaches and Cream Yogurt Parfait
All you need to do for this tasty Peaches and Cream Yogurt Parfait is layer plain Greek yogurt, DOLE peaches, and your favorite granola (gluten-free in my case) in a glass. (You can make it with vanilla Greek yogurt if you prefer, but I found that to be too sweet since the fruit and granola add plenty of sweetness on their own.)
I diced the peaches to make them easier for the kids to eat, but you can also leave the slices whole and break them up with your spoon.
These peaches are also perfect for stirring into oatmeal, pancake batter, or a muffin recipe to keep the peach breakfasts coming! DOLE Fruit in Jars is also available in mandarin orange, pineapple, mixed fruit, or tropical fruit, so you can easily change up your fruit and yogurt pairings. Here are some other combination ideas:
Mandarin Oranges, Plain or Vanilla Greek Yogurt, Chopped Walnuts, and a Drizzle of Agave Nectar;
Tropical Fruit, Coconut Greek Yogurt, and Toasted Coconut;
Mixed Fruit, Plain or Vanilla Greek Yogurt, Crushed Graham Crackers, Drizzle of Honey, and a Sprinkle of Cinnamon.
Happy Cooking!
Making sure to eat breakfast is just one of the ways I'm trying to get healthier this summer. A few other foods and fitness goals are drinking more water, getting my five servings of fruit and veggies every day, exercising at least three times a week, and going to bed earlier.
Each one of these is challenging for me in different ways, but I feel a lot more energetic and happier when I do them! Do you have any health goals you are working on right now? Please share them with me in the comments, and we can cheer each other on!