This week's menu features Sausage Chowder, Avocado Pesto Pasta, Cranberry Chicken Rice Skillet, and lots more easy dinner recipes!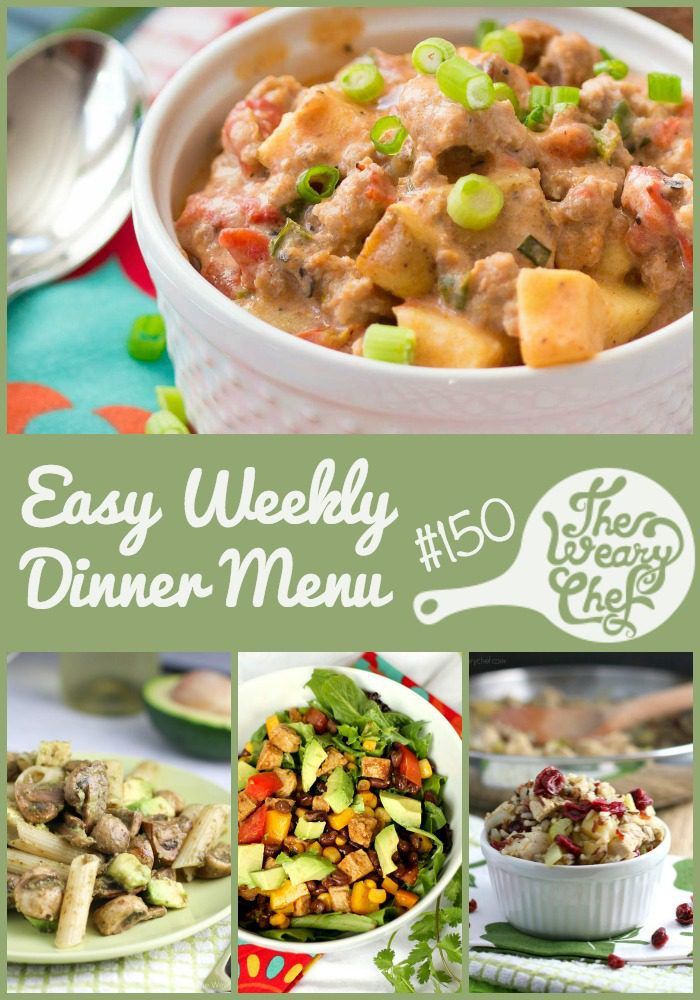 Hi! It's menu #150 today! That doesn't mean anything special really, but it's a nice big, round number that seems worth celebrating. You know how I like to celebrate? Giving you prizes! I happen to have a $100 Ghirardelli gift card with on of YOUR names on it. That's a lot of chocolate. You could either treat yourself or do some serious holiday shopping with that, or maybe a little of both. The giveaway starts at 10am PST on 12/4/2015 and ends at 6am PST on 12/11/2015. See full rules in the entry form below. Good luck!
a Rafflecopter giveaway

I've got some tasty dinner recipes for you to check out today including pasta, chowder, casseroles, and more. I feel like I've been a little light on salad recipes lately, so I'm going to work on making some new ones in the next couple weeks. I seriously need to think about eating more salad for dinner to counteract all the egg nog lattes I've been drinking lately. (LOVE those things!) Anyway, dig into some easy recipes, and leave me a comment letting me know which ones you think you might try! xoxo
Click the recipe names to see the full post!
What's for dessert this week? Try one of these cookie bar recipes!