This week's menu features Cheeseburger Ranch Salad, Cheesy Chicken over Pesto Quinoa, Salmon Nachos, Asian Noodle Soup, and lots more!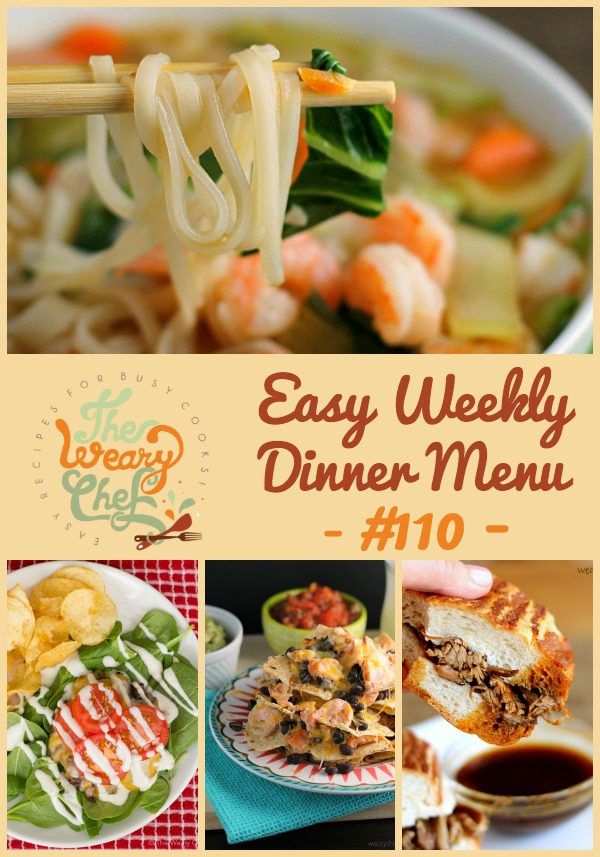 Guys, I have news. Big, big news. It's not that my foot is in a crazy boot because of tendinitis, although that is also news. No, I'm not pregnant. (Imagine the additional weariness that would create!) The news is, you can now create custom grocery lists on The Weary Chef! This is a feature I've wanted to offer since I started this blog, and thanks to new recipe software I can finally actually do it!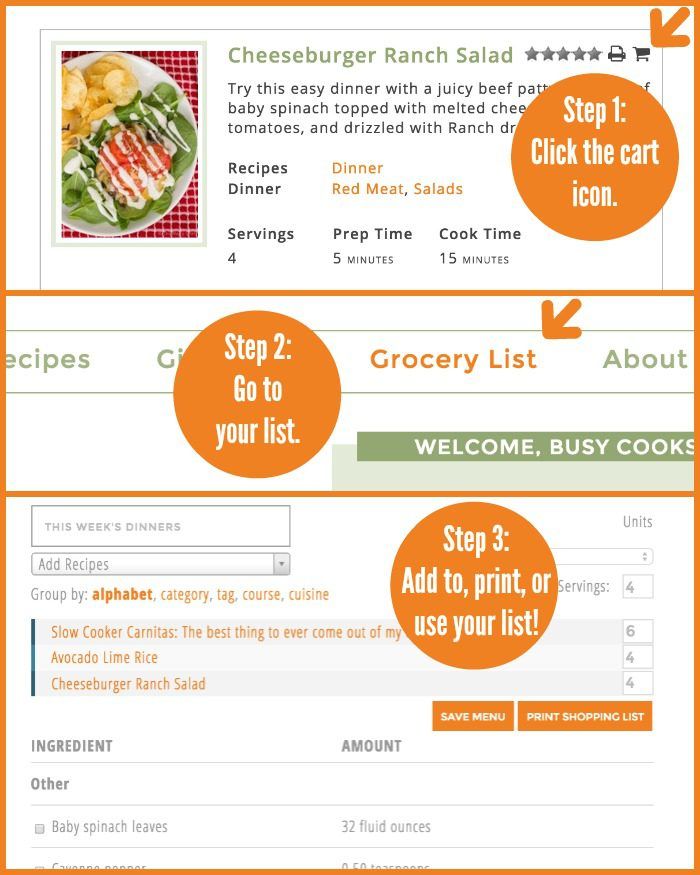 Look for this little shopping cart icon in the top right of my recipes. Click it, and all the ingredients will be added to your list. Click "Grocery List" in my top navigation menu, you'll be taken to your very own custom list. You can add as many recipes as you want and either print your list or view it on your mobile phone in the grocery store, checking off items as you shop!
This announcement is a wee bit premature because all my recipes aren't ready for this feature yet, but the new ones are. I'm working as fast as I can to get every single recipe here switched over to the new system. Not only will you now be able to create shopping lists, but you can also change the number of servings of a recipe and even convert to metric measurements! I hope you are all as excited as I am about these additional features. I hope they will make my site even more useful to you!
Now, let's talk about this week's easy dinners. I have two new recipes for you, both involving melted cheese but still reasonably good for you. I also have some old favorites. Every recipe included today is ready to go with the shopping list feature, so give it a spin and let me know how you like it!
Have a wonderful weekend, and I'll talk to you next week!