This Easy Weekly Dinner Menu features Easy Jambalaya, Franks and Beans, Asian Slow Cooker Beef, Cajun Oven Fries, and lots more!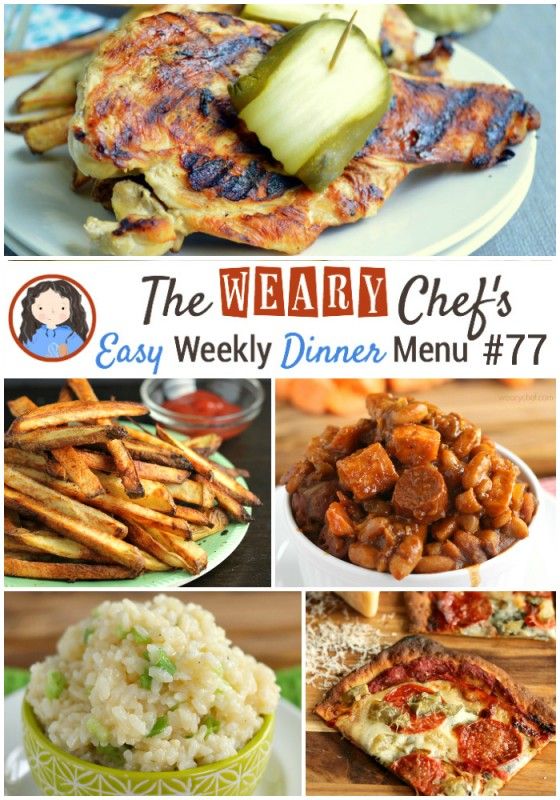 Is it August yet? My little one is out of school this month, and it's hard to keep up with blogging and housework and anything else. I'm used to having about 15 hours/week of kid-free time, and now I have a sidekick with me at all times. I am happy for him to have a break from the school routine and to spend time together, but he is watching more TV than I would like so I can get a little work done! If I am a little slower to respond or miss a post here and there for the next couple weeks, you'll know why.
I DID have time this week to take new photos of a couple old favorites: Cajun Oven Fries and Cajun Jambalaya. Apparently I was in the mood for cayenne pepper! (When am I not in the mood for cayenne?) I'm happy to bring back these recipes and share some new ones as well. I also have a pizza idea at #7 that is exclusive to this menu!
This week's guest recipe is from the funny, talented Heather of Sugar Dish Me. Her personality shows through in all of her creative and delicious recipes like her Pickle Chicken I tried last night. It is super easy and was a major hit at our house! I made my own fries, but I'm sure her garlic fries included in the recipe are fabulous too. Now let's get to your easy weekly dinner menu!
Want even more dinner ideas? Check out these seven dinner recipes that make great lunch leftovers!