These quick and easy, no-bake Chocolate Peanut Butter Rice Treats only need three ingredients and are gluten free!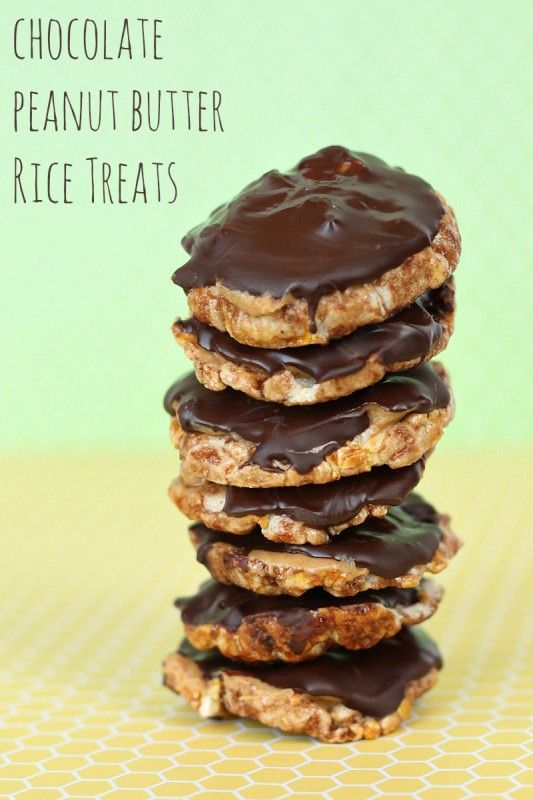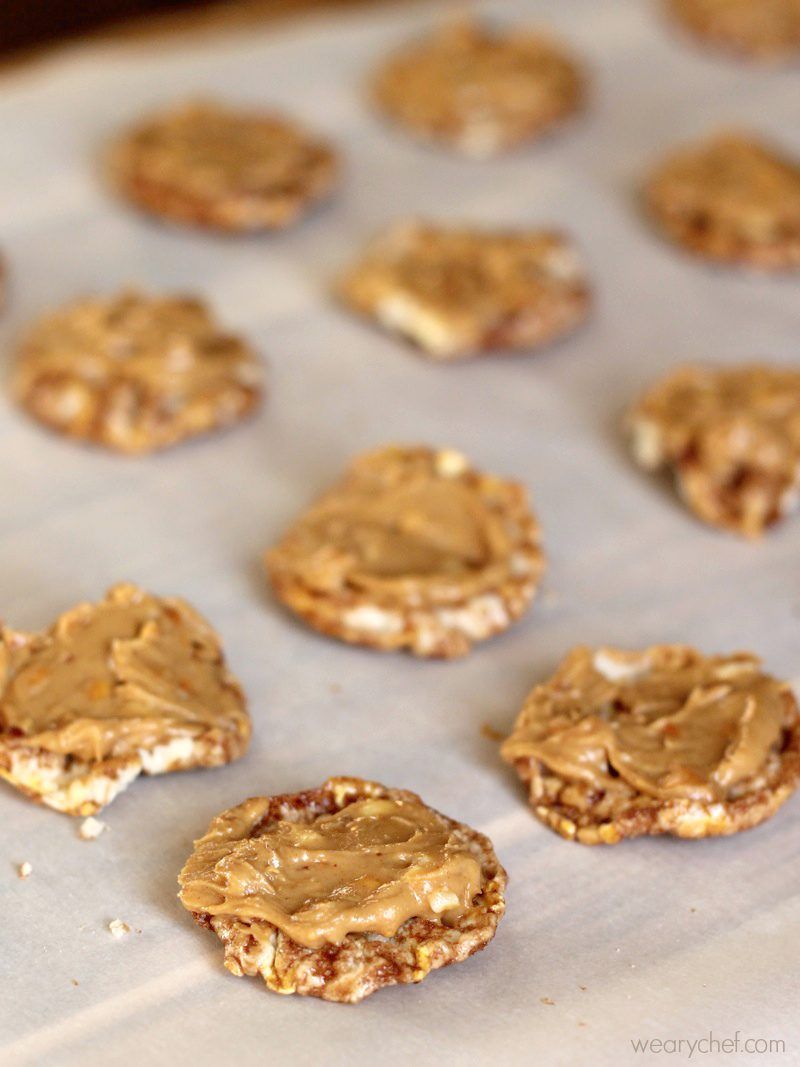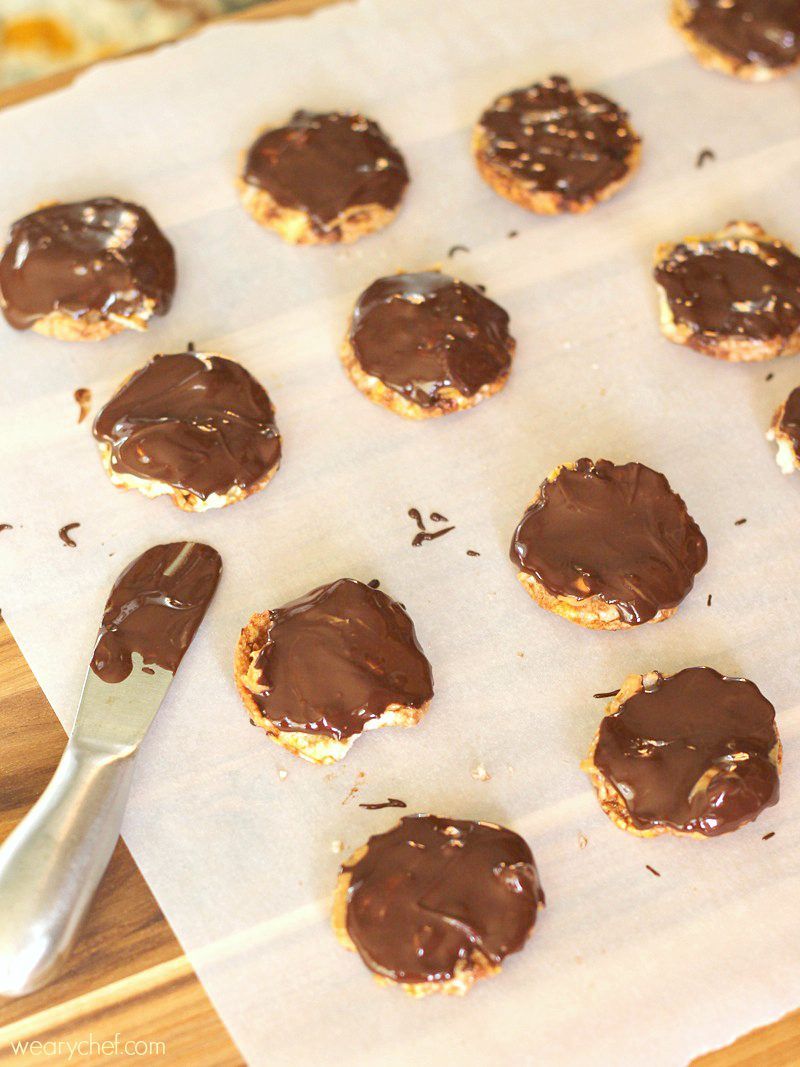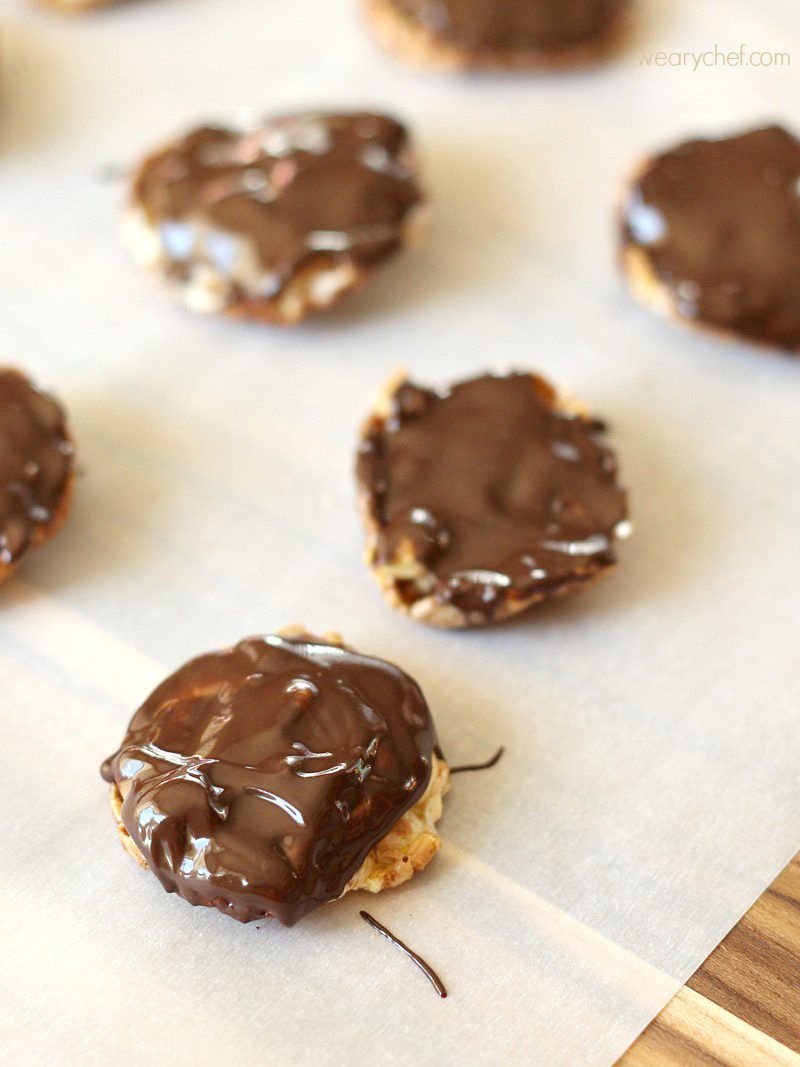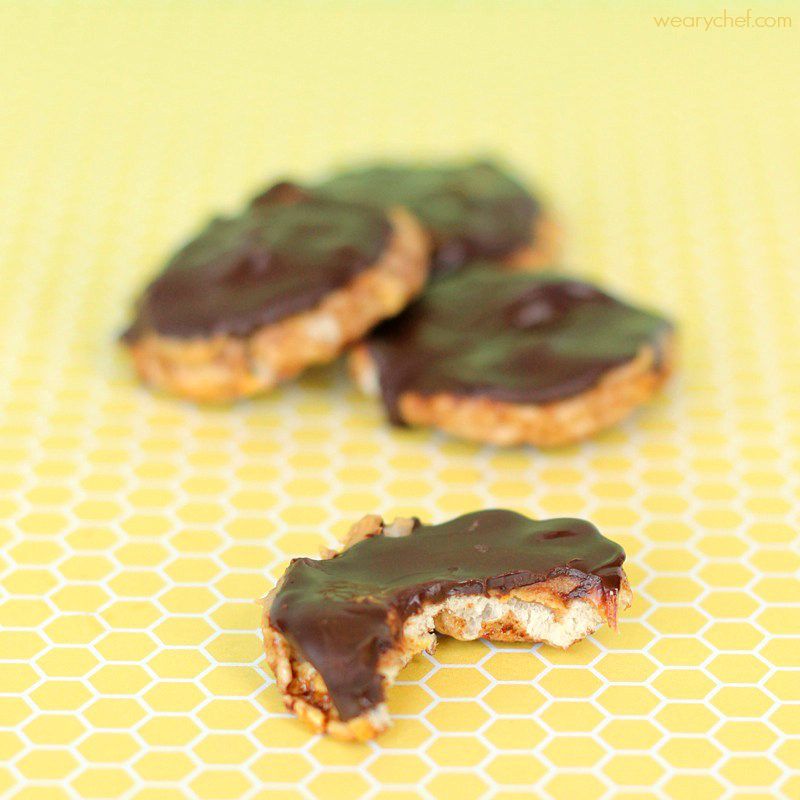 I know you're tired of hearing me tell you about my kids getting up too early and how I'm tired and weary, so I won't even tell you about my little one waking me up at 5:40 this morning as usual. What I haven't told you about yet is that this kitten is a total weirdo and loves to bury his head in my hair while feverishly purring (and unfortunately drooling). I have to fight him off when I'm trying to fall asleep at night, and then he wakes up around 5:00 to "cuddle" AKA freak out on my head. This is exactly what I need. Another being in this house to wake me up at an indecent hour. On tired days like today, super easy, no-bake recipes like this one are just what I need for a treat that takes very little brain power or energy. These cute and crisp chocolate peanut butter bites are packed with flavor and so simple to make. I used mini chocolate rice cakes, but you could also use plain if you wanted them less sweet. Spread about a half teaspoon of peanut butter on each one (I used crunchy peanut butter): Melt your chocolate in the microwave, spoon about a half teaspoon on each one and spread it around to cover the top. Let them cool until the chocolate hardens, and you're done! (You might want to eat a couple with the warm, gooey peanut butter chocolate on top too. So good!) Store these in a cool place so the chocolate doesn't melt, and you should put wax paper or parchment between the layers if you stack them. This is all hypothetical of course because we devoured them immediately with none left to store. Both boys are home this week, and my poor husband will have to wait for the next batch because we couldn't even restrain ourselves to save one for him! Luckily they are quick and easy, so I'll be making more of these chocolate peanut butter rice treats very soon.
Print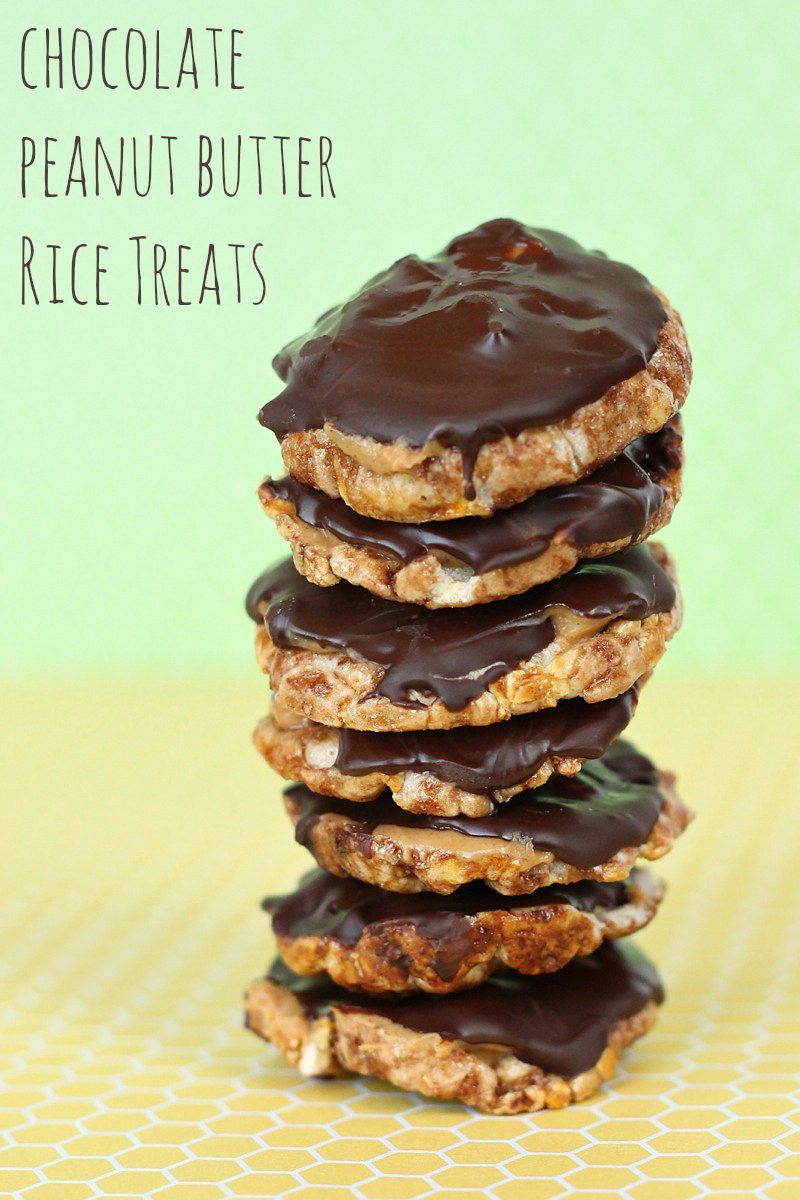 Chocolate Peanut Butter Rice Treats
Three ingredients and no baking bring you a delicious snack or dessert!
Total Time:

15 minutes

Yield:

4

1

x
20

mini chocolate rice cakes you can use plain if you prefer

1/4

c

. chunky peanut butter

3

oz

. semi-sweet baking chocolate I used 56% cacao
Instructions
Arrange rice cakes on a sheet of parchment paper. Spread about 1/2 tsp. of peanut butter on each one.
Break up chocolate into about 1″ squares, and place in a microwave-safe bowl. Heat for 30 seconds, and stir. (Chocolate will still be mostly unmelted, but stir anyway.) Heat 30 seconds more, and stir. Heat an additional 15-30 seconds if needed, and stir until all chocolate is melted, smooth, and shiny.
Drop about 1/2 tsp. of melted chocolate onto each peanut butter covered rice cake. Spread the chocolate evenly to cover the top. (I dropped chocolate on 4-5 at a time, spread the chocolate, and then did a few more.) Allow to cool for 30-60 minutes to let the chocolate harden. Eat!
Author:

Prep Time:

15

Category:

Dessert
Here are a few more fun things you can do with melted chocolate!