I'm calling today's easy dinner recipe Greek Pasta Toss because it has feta and kalamata olives and generally reminds me of Greek food. Please don't scold me in the comments and tell me that this isn't authentically Greek like someone did in my Coconut Chicken Thai Soup. It's just a name, and I'm a nice person. Please be nice back!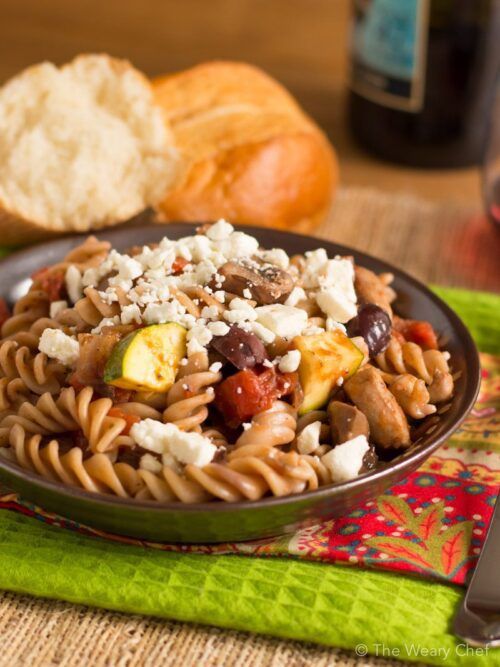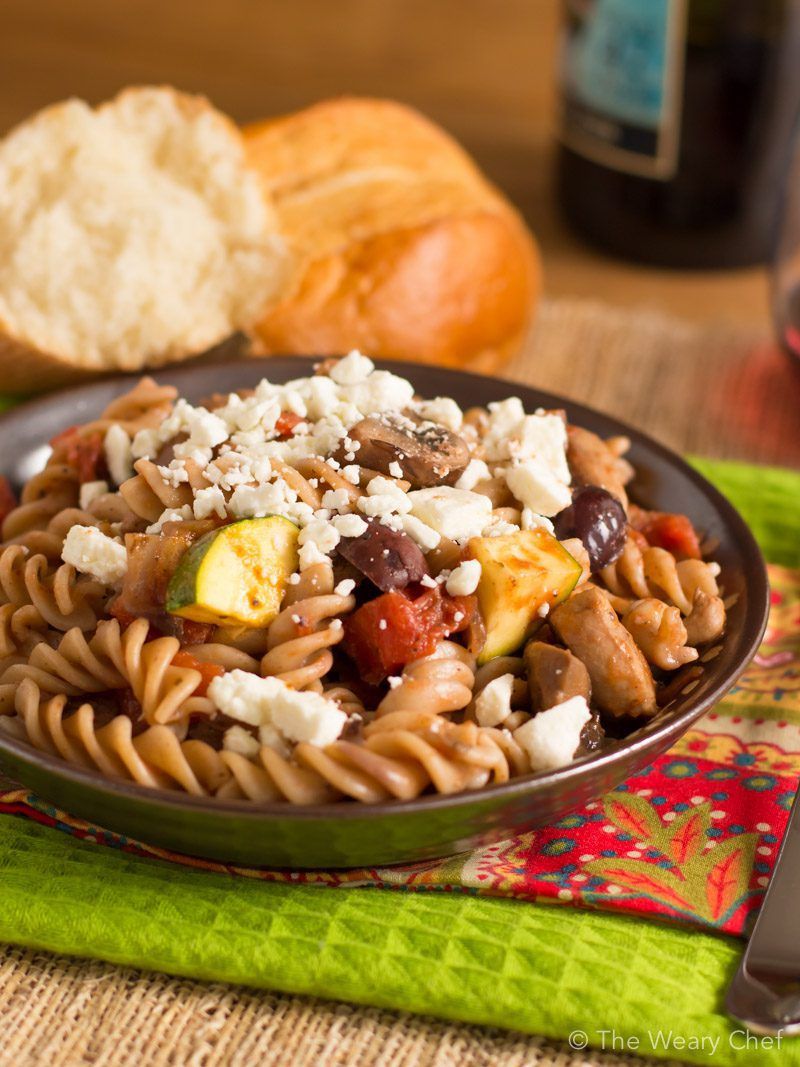 Speaking of authentic (or inauthentic) ingredients, can we talk about food snobbery for a moment? There can be a lot of it in the food blogging world. If you are a food blogger, I'm not talking about you of course. I'm talking about those other bloggers. (Seriously, I'm probably not talking about you because I don't think food snobs hang out at The Weary Chef.) Once I read a discussion amongst bloggers about readers butchering their recipes, and they ridiculed the idea of someone using Italian seasoning in a recipe.
Look. If you're going to use dried herbs anyway, which I am quite fond of doing, what's wrong with having said herbs all mixed up for you already? Is it the fact that they aren't fresh herbs that's bad, or would a "real chef" have their own perfect balance of herbs that couldn't be found in a jar? Whatever it is, I'm not actually a real chef.
I'm a regular person who wants to make my life easier with handy things like seasoning blends and frozen minced garlic cubes and pre-shredded cheese. If you are here looking for a recipe, I bet you feel the same! Or if you don't, you are always 100% free to substitute fresh ingredients where I might suggest dried, frozen, or canned. I would never judge you for doing so, and I hope you won't judge me either! Let's just all cook the way we like and not worry what everyone else is doing, m'kay?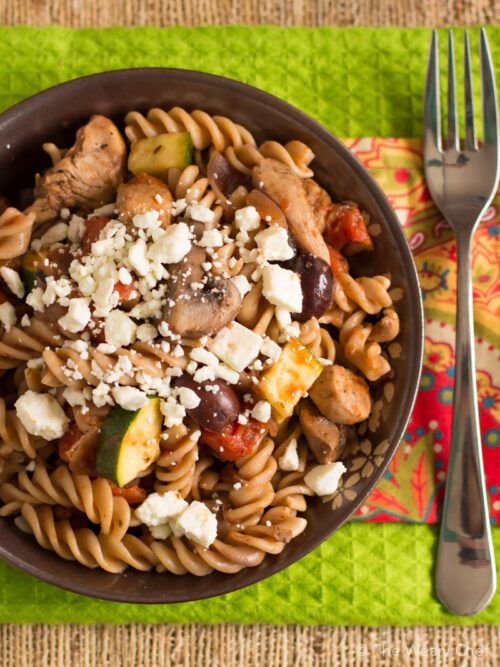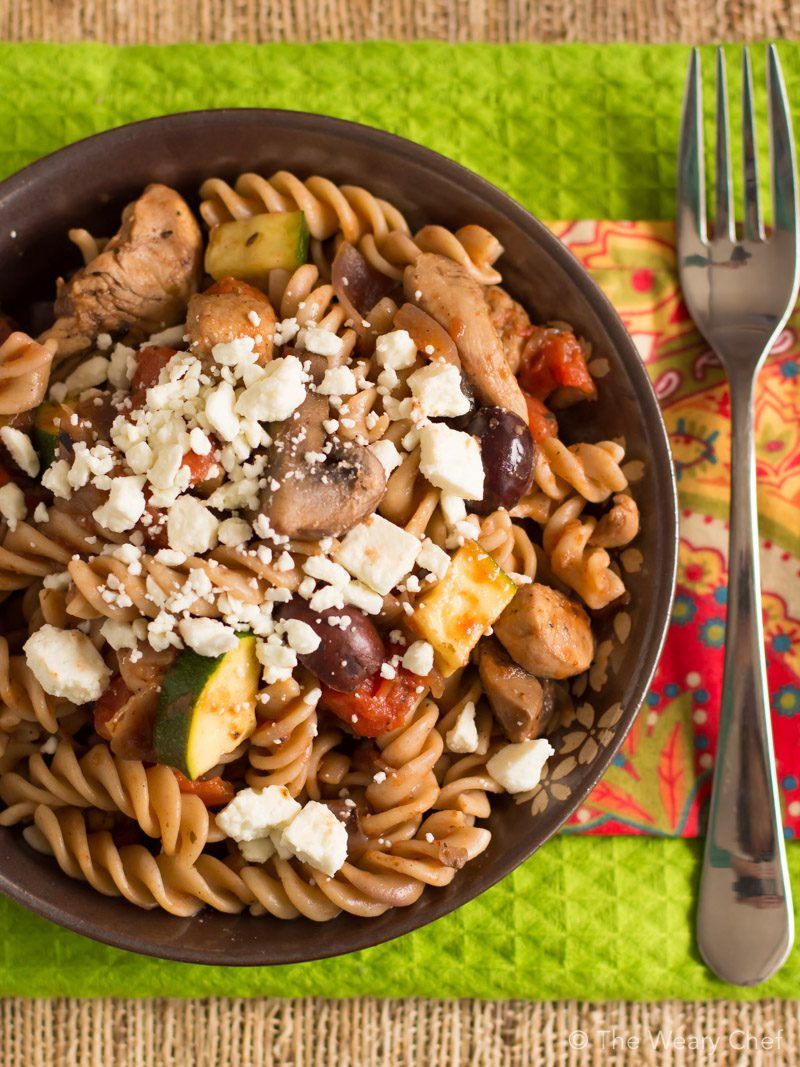 So anyway, back to this Greek pasta. It does use Italian seasoning because that's how I roll. I love, love, loved this pasta. My husband on the other hand said, "Wow this is a lot of vegetables. I can't think of a vegetable that's not in here." That's a bit dramatic, don't you think? I should tell you that he doesn't like zucchini, mushrooms, or olives all that much, all three of which are pretty prominent in this dish. Clearly I was cooking for myself (and all of you) on this one. If you look at the ingredient list and see things you don't like, leave them out or substitute something else! Except don't leave out the pasta really because then you'll have to call it something else. Let me know how you make yours and how it goes over at your house!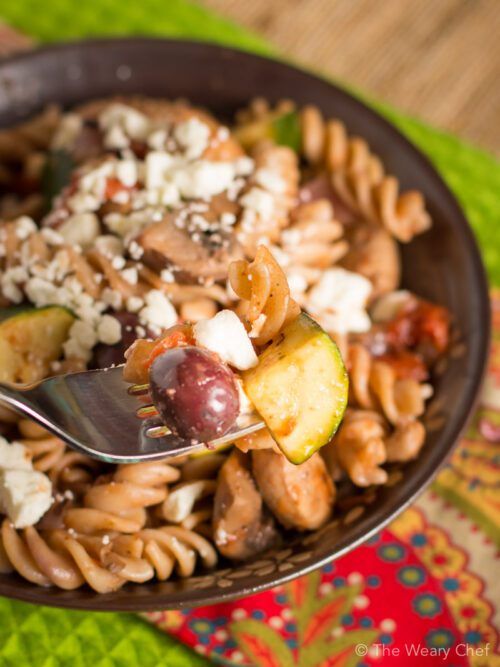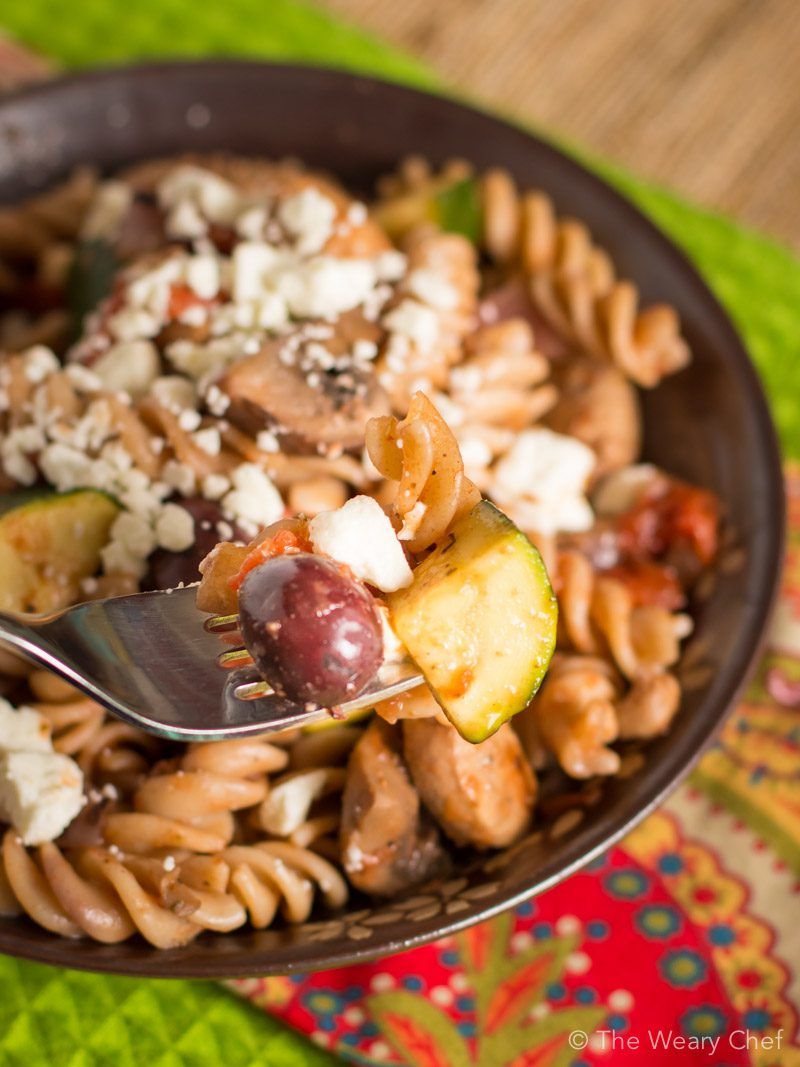 Print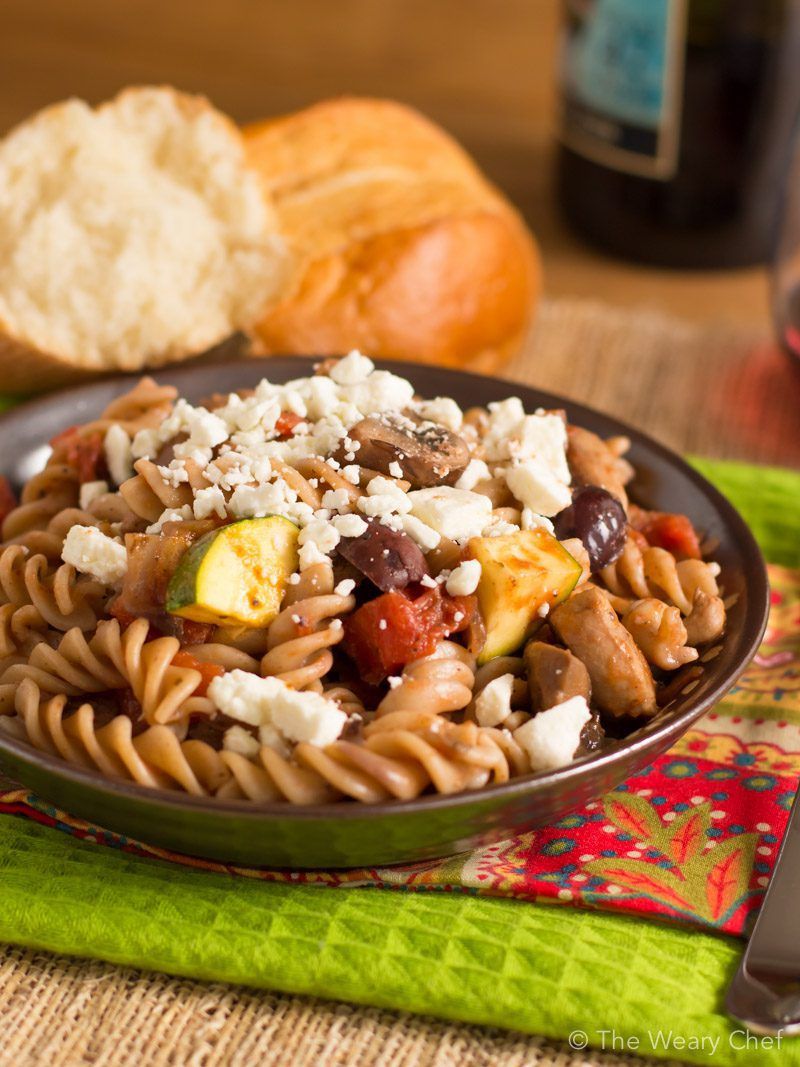 Greek Pasta Toss
You'll love this easy pasta dinner recipe loaded with chicken, vegetables, and olives, all topped with feta cheese!
Total Time:

30 minutes

Yield:

4

1

x
12

ounces

bite-sized pasta

1 tablespoon

olive oil

1/2

red onion roughly chopped

16

ounces

boneless, skinless chicken breasts cut into bite-sized pieces

8

ounces

baby bella mushrooms quartered

1/2 teaspoon

Italian seasoning

1/4 teaspoon

kosher salt

2 tablespoons

red wine (optional)

15

ounces

canned petite diced tomatoes with basil, garlic, and oregano, drained

12

kalamata olives pitted and halved

1

zucchini cut into bite-sized pieces

3.5

ounces

feta cheese (reduced-fat is fine)
Instructions
Bring a large pot of lightly salted water to a boil. (Cover pot to boil faster.) Cook pasta according to package directions and drain.
Meanwhile, add olive oil to a large skillet and heat over medium-high heat.
Add onion, chicken, and mushrooms. Sprinkle with Italian seasoning and salt, and sauté until chicken is mostly cooked through. Stir in wine, and cook another 2-3 minutes.
Stir in tomatoes, olives, and zucchini. Bring to a simmer, reduce heat to medium, and cook approximately 5 minutes until zucchini is tender. Stir in cooked pasta.
Top individual servings with crumbled feta.
Author:

Prep Time:

10

Cook Time:

20