Soup is the all-around perfect meal, especially when it's cold outside, but you can enjoy it any time of year. If you're vegan or you just want to try vegan soup recipes, finding tasty ones might be a challenge. So, we gathered the best vegan soup recipes for you to add to your meal rotation.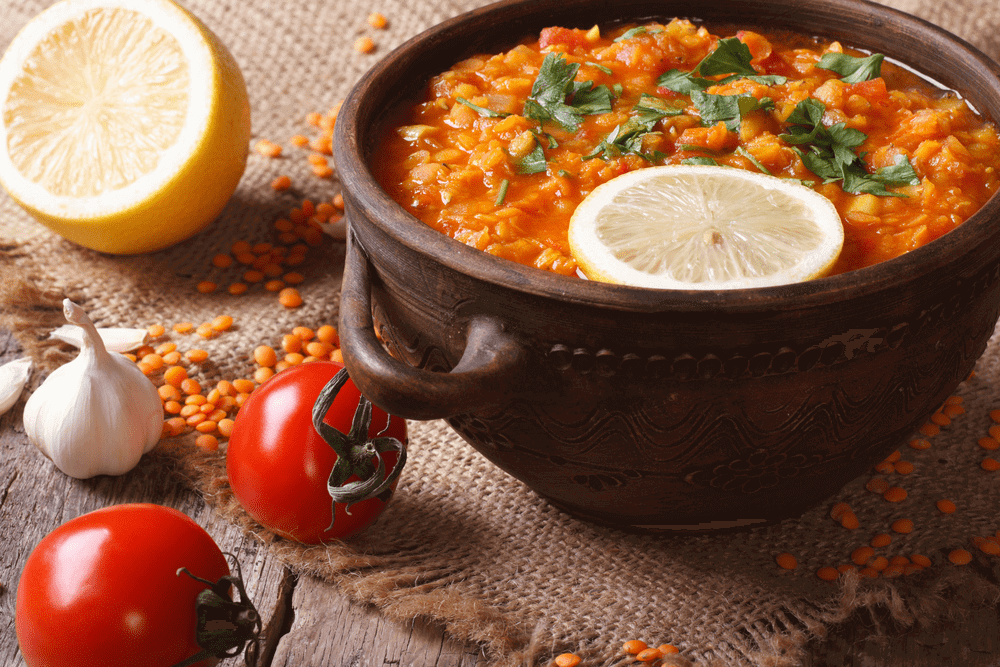 Vegan Soups FAQ
Before we get into the yummy goodness, let's go over some questions you might have about the recipes.
1. What Makes a Soup Vegan?
Just like with other vegan dishes, vegan soup recipes use no animal products. That means no dairy, honey, meat, or animal-source thickening agents. This is slightly more restrictive than vegetarian dishes that simply eschew meat. While delicious vegan soup may seem like a nearly impossible task, people have been doing it successfully for centuries.
2. Can't I Just Make Substitutions in My Regular Recipes?
You may be able to get it by making some basic substitutions in traditional soup recipes and still end up with a good-tasking soup. This is true in the case of substituting things like textured vegetable protein for ground meat or vegan cheeses for their dairy counterparts. However, vegan soup recipes will plan for the special ingredients that can make them stand out as delicious and well-balanced dishes for everyone, regardless of their dietary preferences or restrictions.
3. How Do I Make Cream and Cheese Soups Without Dairy?
There are substitutions that can be used in place of dairy-based milk and cheeses. With the proliferation of various nut milk and soy products, you should be able to find a substitute in your local grocery store. Soymilk has a rich texture that is reminiscent of cream. Full fat coconut milk is a close second and can also lend a soothing flavor and richness to your vegan soup recipes.
4. Do Vegan Soups Provide Enough Protein?
There are many vegan-friendly protein options. Nuts, beans, lentils, seeds, and soy products are common choices. Quinoa is a unique grain in that it is a complete protein on its own, making it a great choice for adding to soups and chilis. Don't forget that vegetables and whole grains are also reliable sources of protein even if they don't pack as much of a punch as their animal-based counterparts.
5. What About Texture?
There are plenty of ways to create the texture of meat in vegan soups. Barley, quinoa, and lentils can all add chewiness to a dish. Mushrooms are also a good choice for vegan dishes.
Bestseller No. 1
Crock-Pot 7 Quart Oval Manual Slow Cooker, Stainless Steel...
Spacious 7 quart manual slow cooker serves 9 plus people or fits a 7 pounds; Roast
Set cooking time to high and get a hot meal in no time or set it on low and tonight's dinner can cook while you're...
Keep food at an ideal serving temperature for as long as you need to with the convenient warm setting
Bestseller No. 2
Ninja MC1001 Foodi PossibleCooker PRO 8.5 Quart Multi-Cooker, with...
REPLACES 14 COOKING TOOLS and APPLIANCES: This cooker replaces the need for a slow cooker, steam oven, food warmer,...
SEAR and SAUTÉ DIRECTLY IN THE POT: Using the bottom heating elements, you are able to sear proteins and sauté...
OVEN SAFE TO 500°F: Removable cooking pot is oven safe up to 500°F, so you can finish your meal in the oven for a...
Bestseller No. 3
Hamilton Beach Portable 6 Quart Set & Forget Digital Programmable Slow...
GREAT FOR FROZEN MEAT — DEFROSTS FIRST, THEN COOKS IT UNTIL PERFECTLY DONE: This slow cooker knows how to defrost and...
ENSURE PERFECT RESULTS WITH TEMPERATURE PROBE: Cook meat to a precise temperature without overcooking it. Set this...
CLIP-TIGHT LID FOR MESS-FREE TRAVEL. Take this portable slow cooker to parties or on the road with worrying about...
Our Top 20 Vegan Soup Recipes to Make at Home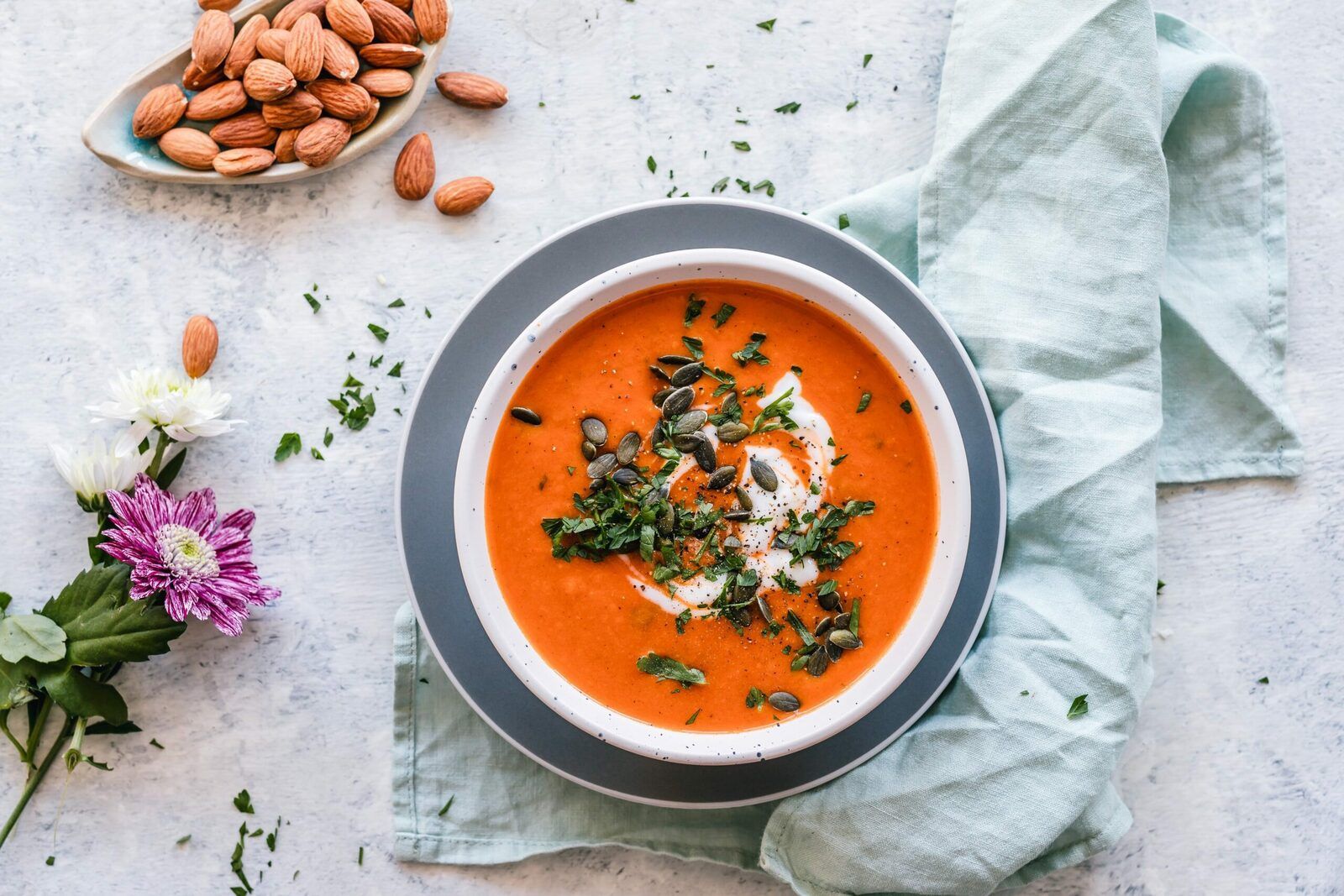 Whether you are simply looking for more environmentally friendly food choices or you adhere to a strict vegan diet, you don't have to sacrifice taste to find a satisfyingly good bowl of soup. So, without further ado, here are our picks for the top 20 vegan soup recipes.
African Peanut Stew With Eggplant and Okra
Before you run screaming from the thought of eggplant and okra in this stew, let us assure you that they really do add an amazing creamy texture without taking anything away from the delicious peanut taste. The vegetables ensure you are getting plenty of vitamins and fiber, while the peanuts and peanut butter provide ample protein for a meal.
Minestrone
The beans in our favorite vegan minestrone soup serve to create a thicker texture and can be swapped out for noodles. The tomatoes and other veggies are the real stars in this vegan take on classic minestrone soup. With 10 grams of protein and 9 grams of fiber, this soup is more than satisfying as a meal. It comes together in less than an hour and uses standard ingredients you probably already have on hand.
Black Bean Soup
A rich and complex one-pot soup that delivers a heart and slightly spicy flavor, this Black Bean Soup will quickly become one of your favorite vegan soup recipes. Try substituting cooked dried beans to help keep the sodium levels down.
Vegan Broccoli Cheese Soup
You'll be amazed that there is actually no cheese at all, not even a little, in this soup. It has just the right amount of bite without any dairy at all. In fact, its texture is largely thanks to pureed vegetables. Although a little more labor-intensive than some of the other vegan soup recipes we picked, this one stands out for its creative use of ingredients to develop a signature taste.
The Yummiest Vegetable Soup
No compilation of vegan soups could possibly get by without including the stand by favorite of vegetable soup. Don't be afraid to substitute whatever vegetable you have on hand, or even add beans or noodles. That is, after all, what a great vegetable soup is all about.
Roasted Cauliflower Soup
Creamy, thick, and delicious, this Roasted Cauliflower Soup uses only seven ingredients. It is a wonderful low-calorie addition to your soup menu that is loaded with fiber and vitamins. Plus, it can go from prep to the table in about 45 minutes, so it is perfect for busy weeknight meals.
Smoky Kale and Butter Bean Soup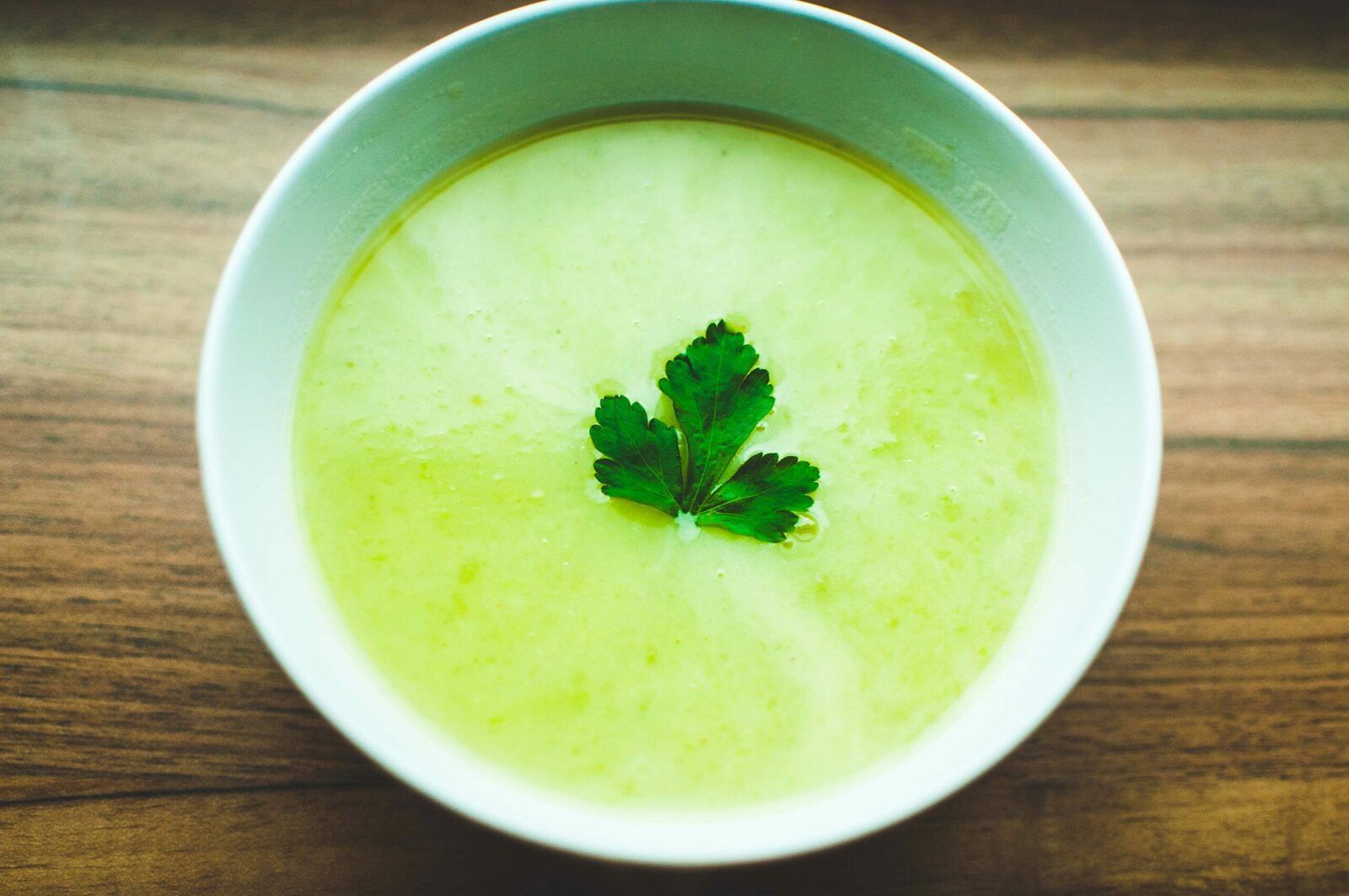 The creaminess of this delicious and bright green soup is provided by red potatoes. It offers a smoky flavor thanks to smoked paprika and hemp seeds for garnish. Lima beans help add to its thickness without overpowering the other flavors.
Creamy Vegan Corn Chowder
Chowders are like thick, creamy goodness for cool days, and this vegan corn chowder is no exception. It only takes about 35 minutes to prepare and serves up lots of protein and fiber. The creaminess is largely due to blending and almond milk, but those looking to go nut-free can substitute oat milk instead."
Smokey Chipotle Black Bean and Quinoa Chili
While not technically a Soup, this Chipotle Black Bean and Quinoa Chili offers a quick and easy hearty vegan meal. Using only 10 simple ingredients you may have on hand already, it is packed with fiber, potassium, and -yes- protein to help you feel satisfied. Top it off with some avocado for an extra dose of hunger-busting healthy fat and protein.
Home-Style Chickpea Noodle Soup
Nothing screams comfort food like a steaming bowl of chicken noodle soup. Unless, of course, you are vegan. Try this animal-free version that uses chickpeas for protein without sacrificing any of the flavors of its traditional inspiration. Nonwheat noodles can be substituted for those who are also eating gluten-free.
Creamy Mushroom and Thyme Soup
For a creamy, earthy, and delicious take on dinner, try this creamy mushroom and thyme soup recipe. It requires minimal prep time and comes together quickly. Cannellini beans add a creamy texture, subtle flavor, and help boost the protein and fiber content of this comforting soup.
Slow Cooker Vegetable Chowder
For really busy nights, it's hard to beat the slow cooker as a model of kitchen convenience. Plus, who doesn't just love to walk in after a long day to smell dinner nearly ready to serve? This easy slow cooker vegetable chowder recipe is vegan and gluten-free, so you don't have to worry about dietary restrictions. Corn starch mixed in when it is nearly finished gives it that characteristically creamy chowder texture.
Vegan Curry Lentil Soup
Curries are an undeniable inspiration for many vegan dishes. They offer rich flavors and spices with soothing, creamy coconut accents. This vegan curry lentil soup is no exception. With commonly available ingredients, many of which may already be in your pantry, it comes together quickly and easily. The recipe includes options for varying levels of spice depending on your personal preference.
Vegan New England Clam Chowder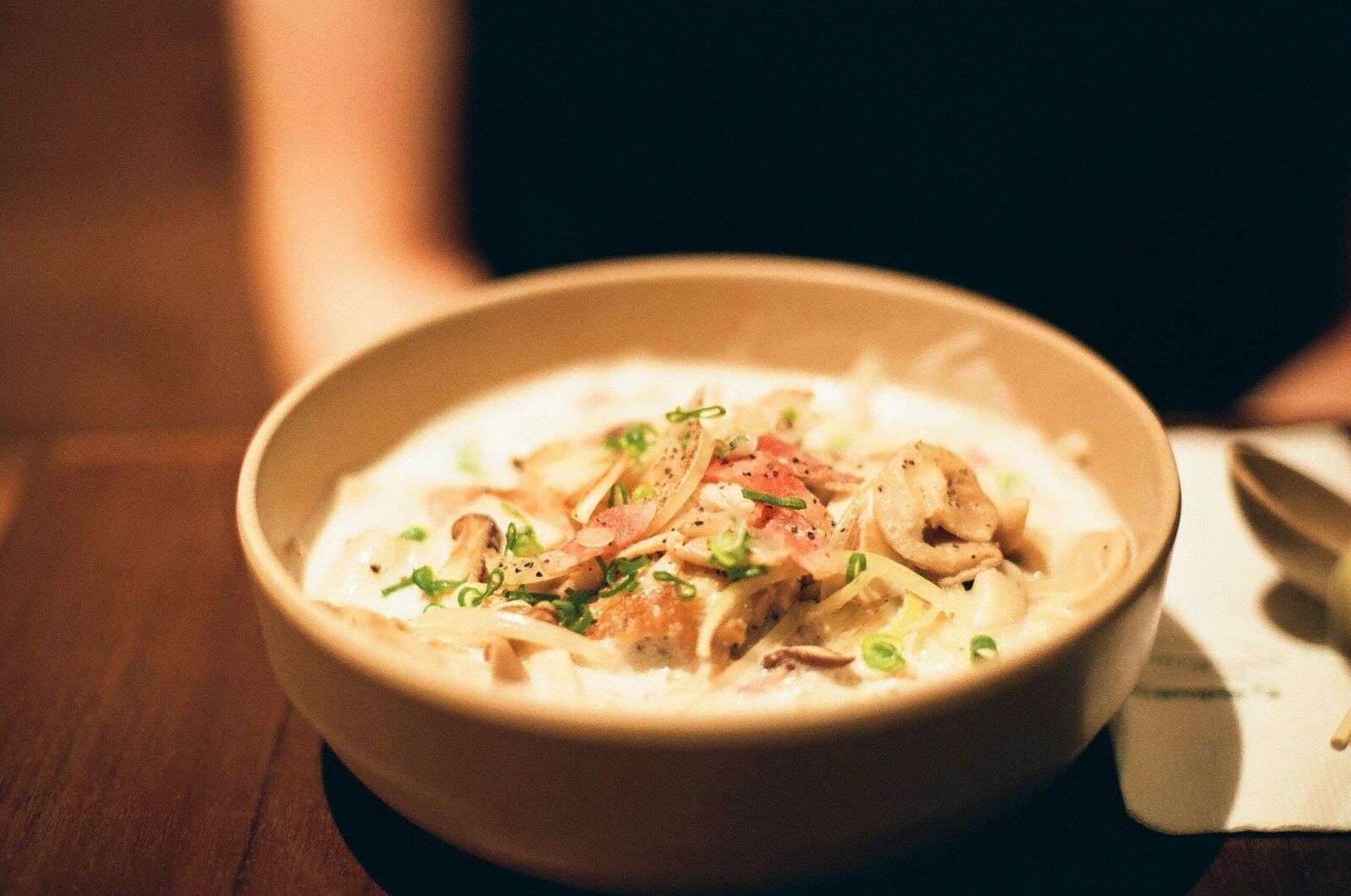 Seriously, you won't even know there are no clams or dairy milk in this satisfying vegan-friendly take on New England Clam Chowder. It uses plant milk and cashews for a creamy base, kelp granules for a touch of seafood flavor, and mushrooms to achieve the perfect texture.
Roasted Garlic Tomato Soup
Nothing sends you back to childhood like a steaming bowl of tomato soup. This classic gets a healthy vegan makeover with roasted garlic. Coconut milk complements the rich tomato flavor and helps this tomato soup achieve its creamy texture.
Glowing Carrot Ginger Soup
Carrots are widely available all year round, so making this creamy carrot ginger soup with fresh ingredients can be a super treat for a cold winter day. The flavor of fresh fruit and vegetables is enhanced by roasting them with a bit of oil before blending them into a vegetable broth and nut milk base. It is packed with good-for-you ingredients that may leave you feeling oddly satisfied yet wanting more.
Miso Udon Noodle Soup
A simple Asian-inspired dish, this miso Udon noodle soup uses only ten ingredients, plus optional hot sauce for those who like some spice. Plus, it comes together in a single pot, so clean up should be a breeze. Tofu adds a punch of protein, while mushrooms add a nice chewy texture to this dish.
Beet Gazpacho
Who says all soup has to be served hot? This different take on gazpacho makes use of the cold-weather favorite, beets. The result is a cold, bright fuchsia soup with a creamy texture and surprising flavor. It is naturally vegan and gluten-free and comes together quickly if the beets are precooked and chilled the day before. So, go ahead and enjoy an extra helping of this easy-to-make soup.
Golden Coconut Lentil Soup
With canned coconut milk, carrots, lentils, ginger, and turmeric, this soup is light and crisp with a burst of bright color. Fairly straightforward to prepare, it can be changed by substituting broth or varying toppings.
Creamy Vegan Persimmon Butternut Squash Soup
Butternut squash is a hearty fall vegetable that is loaded with fiber and nutrients. Combined with the amazing phytonutrient power of persimmons, this creamy persimmon and butternut squash soup is a healthy and satisfying fall or winter meal. Start by pureeing steamed vegetables and persimmons, then dump everything into a pot and simmer. Adjust spices as necessary.
Bestseller No. 1
Bestseller No. 2
Hella Phat Vegan No Chicken Bouillon Powder - Gluten Free, Low Sodium,...
Rich and Delicious Flavor and Low Sodium: Our No-Chick Bouillon tastes just like chicken. Never too salty with only...
Healthy, High Quality and Nutritious Ingredients: Non GMO, No Maltodextrin, Fillers or Preservatives; Kosher, Vegan and...
Multiple Uses without Hassle and Thirty Servings in Each Bottle:   Makes 32 cups of broth. Add flavor to any meals....
Bestseller No. 3
Kinjirushi Umami Veggie Dashi Soup Stock 2.47oz, (7g×10pcs) Vegan,...
UMAMI - Utilizing the umami flavor of Shiitake Mushrooms and Kombu (kelp), this broth is a perfect balance of a variety...
HEALTHY: This broth not only brings out the wonderful flavors of veggies, it also provides the nutrients of each...
VEGAN: No additional flavors or additives, only natural vegetables!
Try these Vegan Soup Recipes!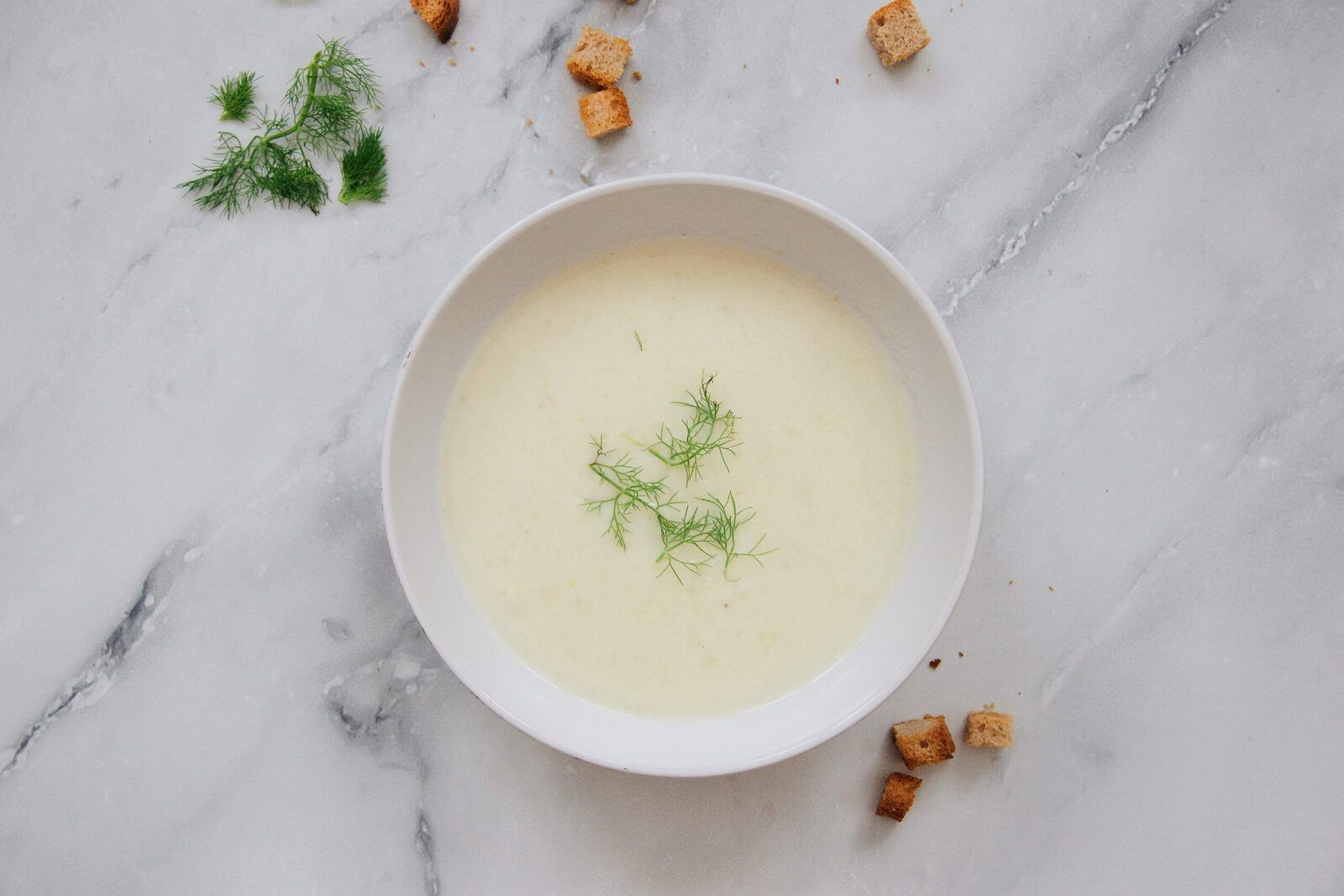 These recipes offer a wide variety of flavors and colors while providing healthy and nutritious meals. Don't be afraid to play around with recipes to make each one perfect for your own tastes. Small tweaks can also help you accommodate the dietary preferences or restrictions of friends and families. So, go ahead and try one of these delicious vegan soup recipes today.
Last update on 2023-05-30 at 13:26 / Affiliate links / Images from Amazon Product Advertising API