If you like the bright, fresh taste of cilantro, you will love this Cilantro Margarita!
I recently asked for cocktail ingredient suggestions on my Facebook Page, and the witty, adorable Lilly Sue of Lilly Sue's Bites and Brews suggested cilantro.  It has taken me a couple weeks to get to it, but I present to you the Cilantro Margarito!  Not quite a mojito or a margarita, this fizzy cocktail stands out with bright cilantro flavor. I realize this isn't a terribly creative cocktail, but I didn't want to add so many flavors that the cilantro was lost or mismatched. Did you know that some people can't eat cilantro because they think it tastes like soap?  I find it fascinating that there is not only an actual genetic difference that affects cilantro tasting (how random), but that "tasting like soap" is a universal sensation.  I don't that that I really know what soap tastes like exactly, but I guess we can all agree that we wouldn't want it in our salsa.  Lucky for me, I'm not on the soap team, so I am free to enjoy the this tasty drink.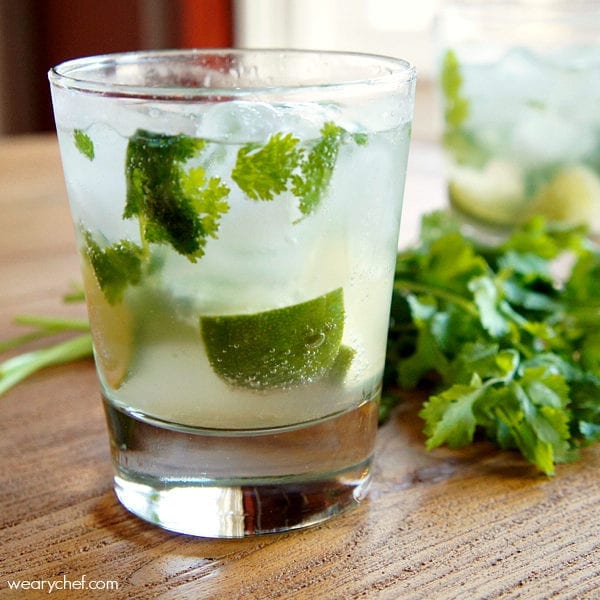 | | |
| --- | --- |
| | |
In a 12 oz. glass, muddle together cilantro leaves, lime quarters, and sugar until lime juice is released and cilantro is bruised. Pour in tequila and gently stir.

Add ice to 3/4 full and top with seltzer. Gently stir once more and serve.
You can use lemon-lime soda in place of the seltzer, just eliminate the sugar from the recipe.
If you don't like cilantro, why not try one of these alternatives?