This week I bring you a fun, sweet Midori cocktail with coconut rum called Caribbean Water. This recipe was inspired by Ocean Water at Fake Ginger. Have you seen her super great blog packed full of delicious recipes? If not, then hurry on over to look around, but come right back. I'll just wait here… Good stuff, right? When I saw her fun, pretty Ocean Water photos, I wanted to make a cocktail version.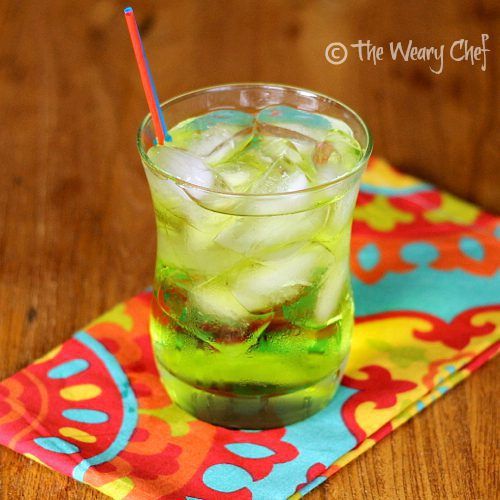 Midori and Coconut Rum Cocktail
Cocktails made with Midori are sweet and have a wonderful melon flavor. A beautiful, vibrant green liqueur with muskmelon flavor, Midori takes its name from the Japanese word for green. Midori is a sweet liqueur that commonly serves as the solution to sour in a variety of mixed beverages. Cocktail fans with a sugar craving appreciate Midori, which is great with a variety of sour juices like lemon, lime, orange, and pineapple. Look no further than this cocktail if you're looking for a cool summer drink. Our Tropical Midori Cocktail is ideal for relaxing by the pool. It's excellent, creamy, and fresh.
Fresh Melon as Midori Cocktails
The fresh melon balls are a colorful and delightful topping for this light cocktail, which is a must during the melon season. You can use your preferred fruit, such as honeydew, watermelon, or cantaloupe. One uses it. Due to its sweetness, Midori is best consumed in a cocktail instead of on its own. Due to its fruitiness, it is ideal for use in summer, as a mixer to give some green color to St. Patrick's Day drinks, or whenever you feel the urge to infuse your life with some tropical taste. As long as you're drinking properly, you might be able to slip in an extra cocktail at the end of the night because many Midori cocktail recipes are lower in alcohol.
Midori Splice Dish
This mouthwatering Midori Splice dish, which blends coconut, pineapple, and melon-flavored liqueur, has a delectably sweet flavor. Midori pairs well with more tart flavors because of its sweetness. This cocktail is great because it combines creamy coconut with sweet pineapple. Such a straightforward blender cocktail recipe is the Midori Cocktail. Put everything in the blender, wait for it to finish, and then enjoy.
You could definitely just substitute coconut rum for the coconut extract in her recipe, but I wanted to change it up a little more. Midori gave it this beautiful green color and added a little melon flavor.
Before I get to the recipe, let me make a little public service announcement: Toddlers are not good assistants during photo shoots. This is particularly the case when the object being photographed is a fun-looking, off-limits drink.
I had a 2-year-old sidekick constantly asking, "Can I have some of that?" When he got tired of the answer being no, he tried to take matters into his own hands, as seen here:

How to Make this Midori Cocktail?
Back to the drink: I had to search a few stores to find a lemon-lime soda that used real sugar instead of high fructose corn syrup, and I eventually found Sierra Mist Natural in 7.5-ounce cans. (This post is not sponsored by Sierra Mist, just passing on that tip.)
I have to say that I am not typically a soda drinker, and this cocktail was too sweet for my taste. The flavor was great, and I am sure that you will like it if you DO like sweet sodas and drinks. I usually use seltzer in my cocktails, not sweetened soda, and I think I would like this Midori cocktail better that way.
What do You love About Midori Cocktails?
Easy to make just in 2 minutes
The sweet and savory flavor
Malibu tastes sweet, with notes of fruity rum and a finish of coconut and salmon
Print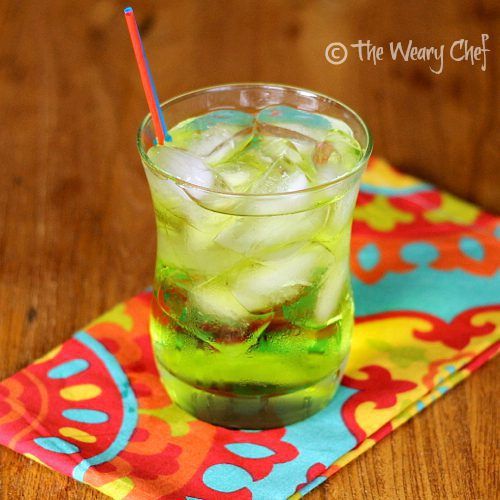 Caribbean Water Recipe: Midori and Coconut Rum Cocktail
This pretty green cocktail is easy to make and satisfies your sweet tooth!
Total Time:

2 minutes

Yield:

1

1

x
4

–

6

ounces

lemon-lime soda natural soda with real sugar if available

1

ounce

Midori melon liqueur

1 1/2

ounces

coconut rum
Instructions
Fill a 12-oz glass full with ice.
Pour Midori and rum over ice, and then top with soda.
Serve with a straw if desired and enjoy!
Author:

Prep Time:

2

Category:

Cocktail
Nutrition Information
| | | | |
| --- | --- | --- | --- |
| Calories | 24.63 kcal | Calories from Fat | 0 kcal |
| Protein | 0.11 g | Fat | 0 g |
| Saturated Fat | – | Cholesterol | – |
| Iron | – | Sodium | 5.05 mg |
| Potassium | 13.25 mg | Dietary Fiber | 0.11 g |
| Sugar | 3.5 | Vitamin A | – |
| Vitamin C | 1 mg | Calcium | 3.5 mg |
Health Benefits of Midori Cocktail
1. Keeps your body warm.
Alcohol keeps you warm. A modest amount of Rum can warm you up from the inside if the weather is chilly. The greatest type of rum to consume in the winter to remain warm is an old one.
2. Fights coughs and colds.
It's common to get colds and coughs throughout the winter. However, if you neglect your health, they could happen at any time of the year. Rum kills microorganisms and alleviates coughs thanks to its antibacterial characteristics. Ask your doctor or someone who uses rum to treat colds if you need help figuring out the dosage.
Rum is a well-known cold remedy, but you shouldn't use it regularly. Always seek medical advice because the covid-19 outbreak calls for extreme caution. Additionally, be careful not to give Rum to anyone under the legal drinking age of 21, as minors are not permitted to consume alcohol.
3. Relieves muscle pain.
Muscle stiffness can be eliminated by consuming Rum in moderation. Periodic claudicating is another name for the pain felt in the muscles. When you mistakenly bend or twist your body a lot, it might cause pain in various body regions. Rum reduces muscle discomfort. A study found that nearly 27% of persons who have muscle discomfort turn to alcohol as a painkiller.
4. Prevention of heart disease.
Your blood will be thinner and your heart will function better to rum. Rum consumption in moderation will protect you from a variety of cardiac conditions.
5. Gives you a long life.
Rum can give you a long, healthy life by increasing it by three to five years. Rum can shield you against both physical and mental illnesses. So, if you frequently consume rum in a small amount, your body will get several health benefits.
6. It prevents Diabetes.
The rum is used to prevent diabetes and lower cholesterol levels in the body. However, it has been discovered that having lower blood sugar levels is beneficial. Imagine that a diabetic consumes a tablespoon or two of Old Monk Rum each day. Rum has therapeutic qualities that help lower the chance of developing diabetes.
7. Effective antiseptic
Rum has antibacterial properties. It can be applied to wounds to disinfect them and stop the spread of bacteria. When consumed or used topically, it can also assist with pain relief.
8. Reduces your risk of mental illness
Rum can aid in the prevention of dementia and Alzheimer's. Excessive drinking can be bad for your health, especially your brain. Therefore, you should only drink little amounts of rum (up to one and a half ounces per day). It will lower your risk.
9. It ensures longevity
This shows that it doesn't include either lipids or carbohydrates. Rum use extends a person's average life span by 3 to 5 years in a fixed amount. This outcome is attained because drinking rum lowers tension. Additionally, it lowers the likelihood that someone may get dementia or Alzheimer's, which will ultimately lengthen their average life duration.
10. Rum can prevent Cancer.
Rum is commonly consumed in moderation, which has health advantages. After a thorough investigation, it was discovered that moderate drinkers had a 38 percent lower chance of developing kidney cancer than non-drinkers. The study also revealed advantages for lymphoma and thyroid cancer prevention.
Storage Tips
Cocktails with an alcohol content of above 25% will keep well for up to three months at room temperature. Unless the product will be consumed or sold immediately, it is advised to keep the goods refrigerated once it has been opened.
Final Thoughts
If you are looking for a cocktail to prepare for your party, then, this is for you. Make sure to prepare a wonderful treat. This will be perfect for any occasion. You can even prepare this on your personal time. A great way to treat yourself without spending much. Check out this recipe and never regret it!
Want to know what to do with the rest of your Midori and coconut rum? Try these fun cocktails from past Fridays!