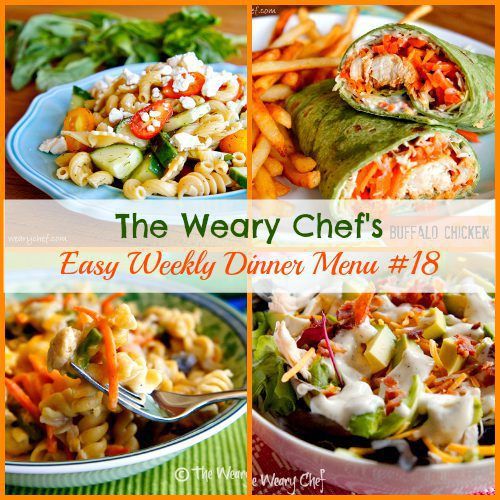 Hi, Fellow Chefs. Summer break is upon us! Does that fill you with joy, anxiety, or a little of both? I guess I would have to say both. Our summer is pretty well booked up with a family trip, day camps, and lots of outings like the beach, museums, zoos, etc. I'm sure I'll be glad for the school routine to return come August! What will you do this summer?
Now, let's talk about my favorite thing: The Food. My weekly dinner menus usually feature a wide variety of dishes that don't repeat many flavors or ingredients. This week I decided to try reusing ingredients to make for a shorter and more economical shopping list. For example, cheddar cheese, cabbage, shredded carrots, and Ranch dressing appear more than once. Let me know in the comments how you feel about this style of meal planning.
Don't miss out on any recipes, photos, or funny tidbits!Follow me on Twitter, Facebook, Pinterest, Google+ or Bloglovin!You can subscribe to posts by email too! Just enter your email address here.I'm looking forward to keeping in touch with you!