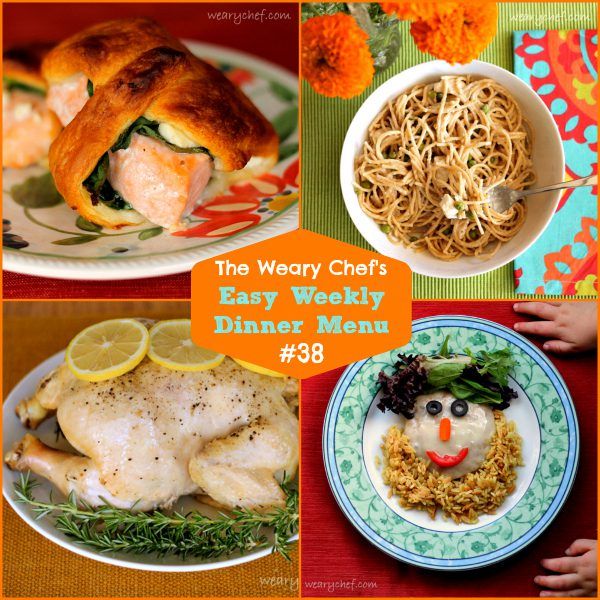 I'm not sure where this week went, but it flew by for me! I want to get your easy weekly dinner menu to you without delay on this fine Saturday morning, so here are your seven easy dinner recipes minus the chit chat. Have a great weekend, and please come back to let me know how you like any of these easy dinner ideas that you try.
Lemon Chicken Pasta – This is one of the first recipes I shared here, and the whole family loves it. I finally got around to making it again and taking new photos. Enjoy!
Speedy Bean and Cheese Enchiladas – Did you know you can make bean and cheese enchiladas in 15 minutes with only a couple ingredients? Recruit the kids to help with this one!
Happy Burgers – This isn't a recipe as much as assembly instructions. On your next burger night, mix it up for the kids with this cute little guy! Melt cheese on a burger patty, and make a face out of olive slices, carrot, and tomato. I had leftover rice that I used for a beard (that really looks more like a lei, but whatever) and salad for the hair. The boys were so excited about this one!
Slow Cooker Roasted Chicken – I couldn't get enough lemon and chicken this week apparently. You will love this easy recipe for roasted chicken! Serve it with rice pilaf and steamed green beans (I get the steam-in-the-bag kind and toss them with butter, salt, and pepper.)
Salmon Crescent Rolls with Spinach and Feta – I initially thought this would be an all-in-one dinner since most of the food groups are covered, but I decided there wasn't enough spinach to count as a full vegetable. I served these up with a simple side salad. Don't have salmon? Try it with chicken instead!
Cheese Tortellini with Sausage in a Creamy Broth – This hearty pasta dish is quick to put together and mighty good!
Chicken and Wild Rice Salad – Have leftover roasted chicken? How about using it in this delicious dinner salad!
Announcements:
Come back to share your favorite recipes tonight for the Saturday Night Fever link party at 6pm PST!
Thanks so much for reading. Whether you are a regular or this is your first ever visit to The Weary Chef, I'm very glad you are here!