Ambrosia fruit salad is a super easy dessert you'll want to make again and again. It's perfect for parties, BBQs, potlucks, and more! Thanks to Raley's and Cans Get you Cooking for sponsoring today's classic recipe!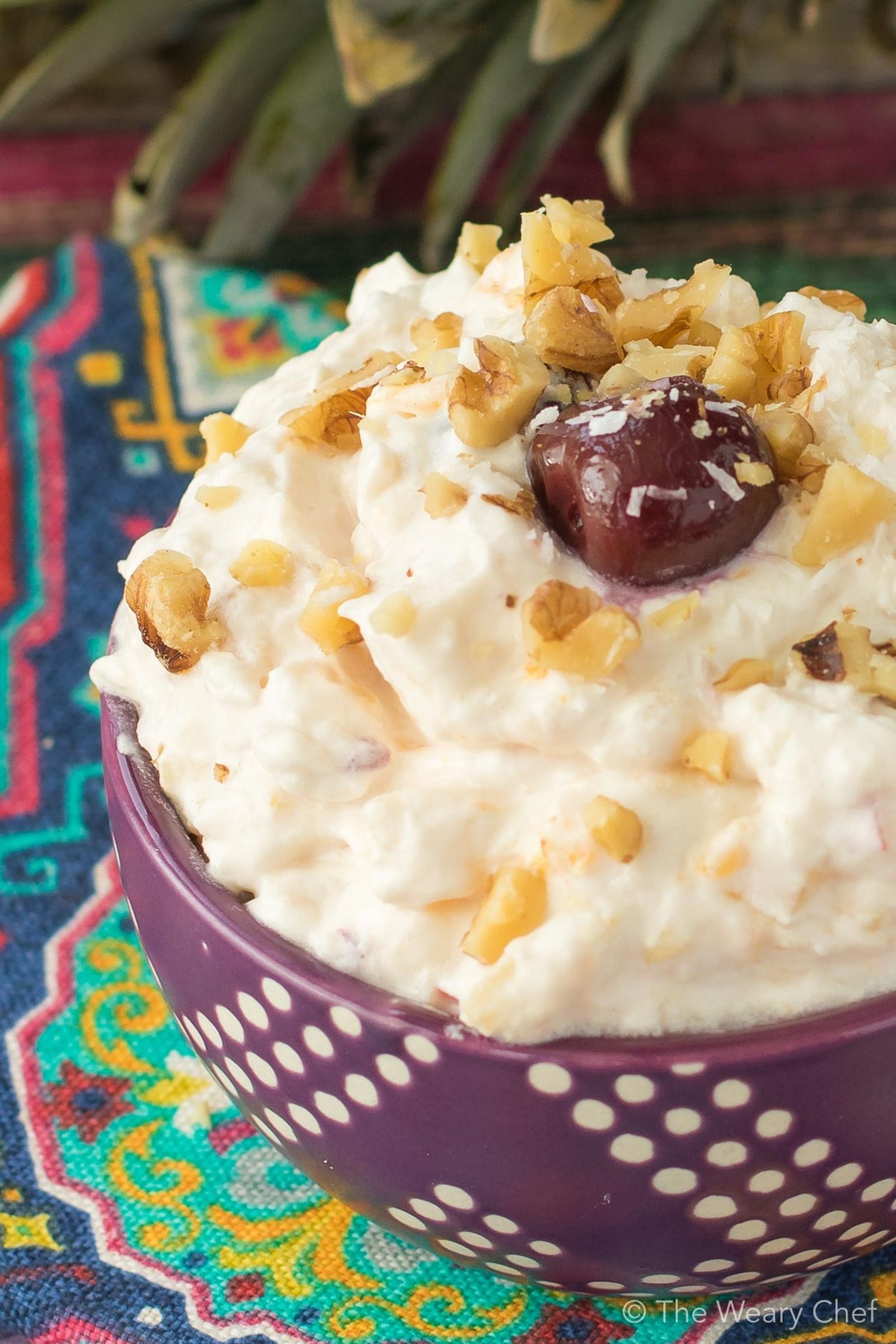 Have you had ambrosia before? If not, I can't wait for you to try it! It's like heaven in a bowl – so light, fluffy, creamy, fruity… Since can use canned fruits, it's easy to make any time of year. What makes it extra special is that it has sour cream in the base. If you are thinking, "Sour cream in dessert? Ew!" Please, don't even worry about it! Even if you don't usually like sour cream, you'll love this recipe! This magic ingredient tones down the sweetness and adds richness, but you would never guess it's in there.
I partnered with Raley's and "Cans Get You Cooking" to bring you this fun and easy ambrosia salad recipe. I don't know about you, but cans definitely get ME cooking all week long. My pantry is always stocked with staples like canned tomatoes, beans, broths, tuna, pie filling, and so much more. Not only do I like that canned foods are preserved at optimal freshness, I LOVE that stainless steel cans are highly sustainable! Just check out these stats…
Not only are canned foods good for the environment, they are good for you too! Canned fruits and vegetables are preserved at peak freshness. You can't usually find fresh peaches, cherries, and mandarin oranges all year round, but you can always find them ready to enjoy in the canned food section! What's even better is that Raley's offers lots of organic and all-natural, Purely Made options in their canned lines, so you don't have to compromise on quality for convenience. You can have both :)
Raley's Purely Made and organic canned goods are priced affordably, which fits with their goal of making healthy food more affordable. That's not the only way canned ingredients save you money in the long run. Let's talk shelf life! How many times have you thrown out fresh fruits and vegetables because they spoiled before you could use them? That never happens with cans! They are ready and waiting in your pantry until you need them, and the sizes are just right for most recipes without any wasted food.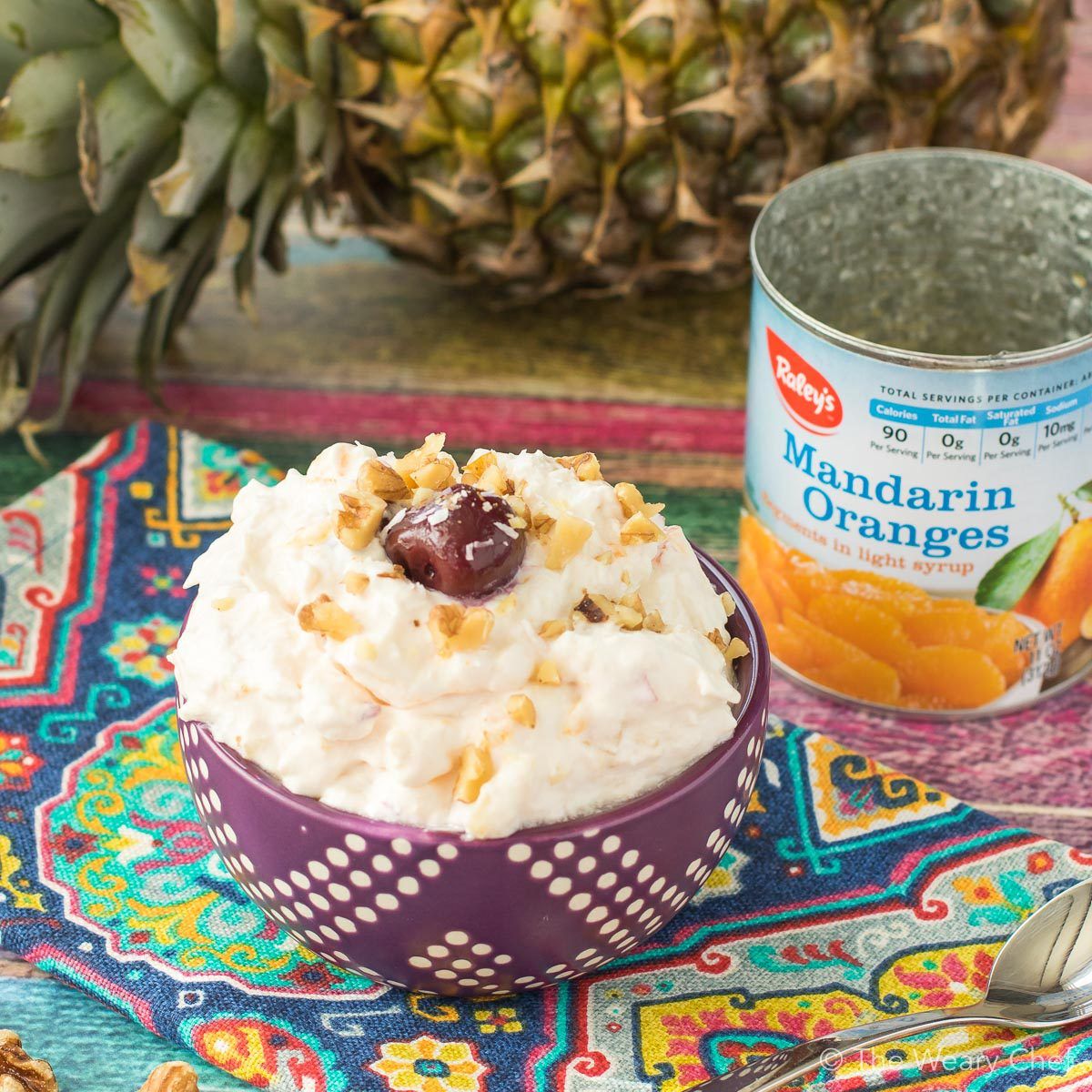 For this ambrosia recipe, you can choose between fresh and canned ingredients depending on your preference and seasonal availability. If you make this recipe in the summer and can get fresh cherries, then go for it! Got a fresh pineapple? Add that in too! If you want to make it the super easy way (like I usually do), choose all canned fruits. You'll definitely want to pick up a nice looking apple from Raley's fresh produce section because it adds a nice crunch to this recipe. Feel free to sprinkle in some chopped walnuts or pecans for another texture too if you like.
Would you believe that you can make this gorgeous, fluffy dessert with (almost) no artificial ingredients or high fructose corn syrup?? It's true! I have switched to using TruWhip instead of the classic frozen whipped topping because it's made with all natural ingredients! You can find it at Raley's in the freezer section. They have a regular and skinny version, and I opted for skinny in this recipe. Either works, so choose your favorite. The only artificial anything in here is artificial flavor in the marshmallow fluff, but I'll let that one slide ;)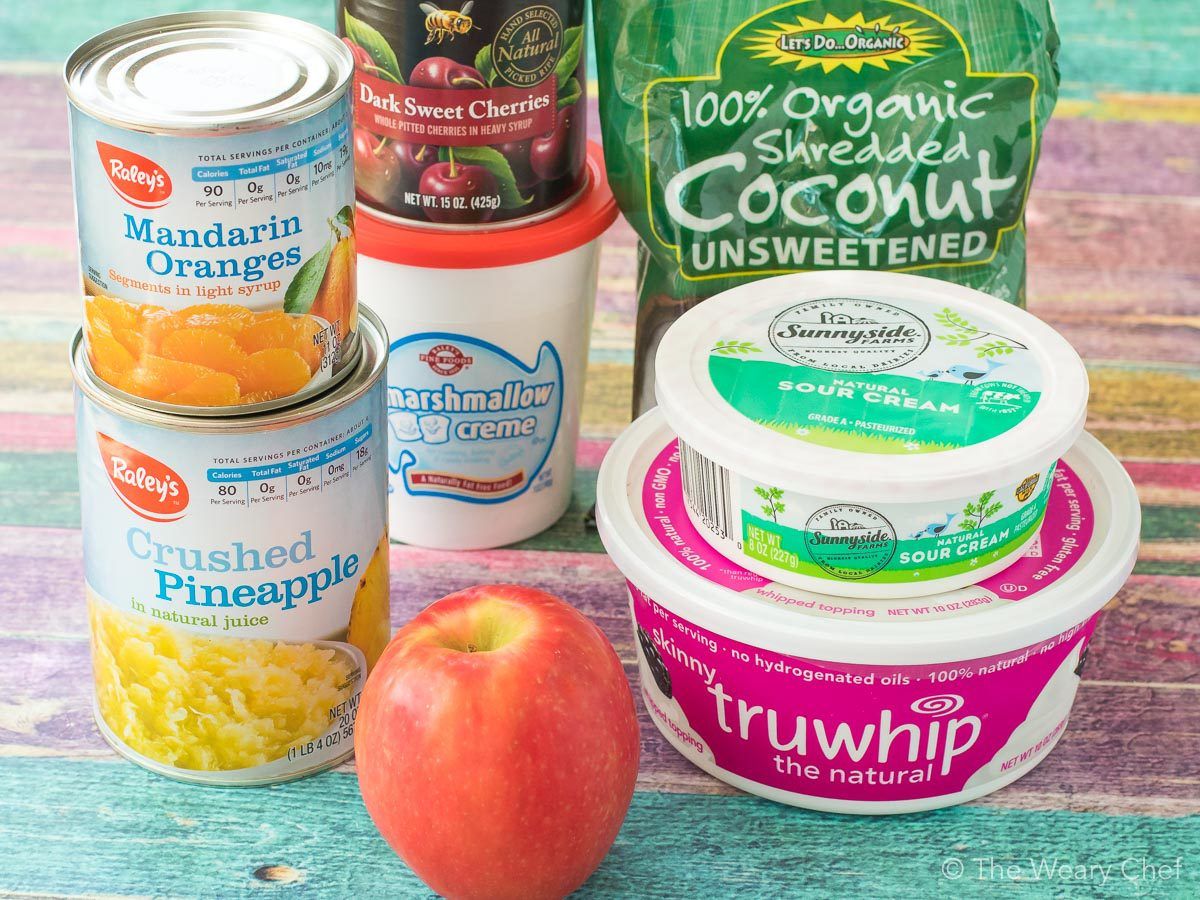 Ambrosia fruit salad traditionally uses maraschino cherries. While you can find all-natural maraschinos without red dye or high fructose corn syrup, this time I opted for canned sweet cherries in syrup. I love the real cherry flavor they add, and if you want your salad to be pink, add a few spoonfuls of the syrup to color the salad!
You can't go wrong with this ambrosia recipe at any potluck, family gathering, cookout, really any occasion! Since all the fruits can be found in Raley's canned food section, you can make this fresh tasting salad all year round! Be sure to leave a comment letting me know how you like it, or upload a photo of your version onto my Facebook page!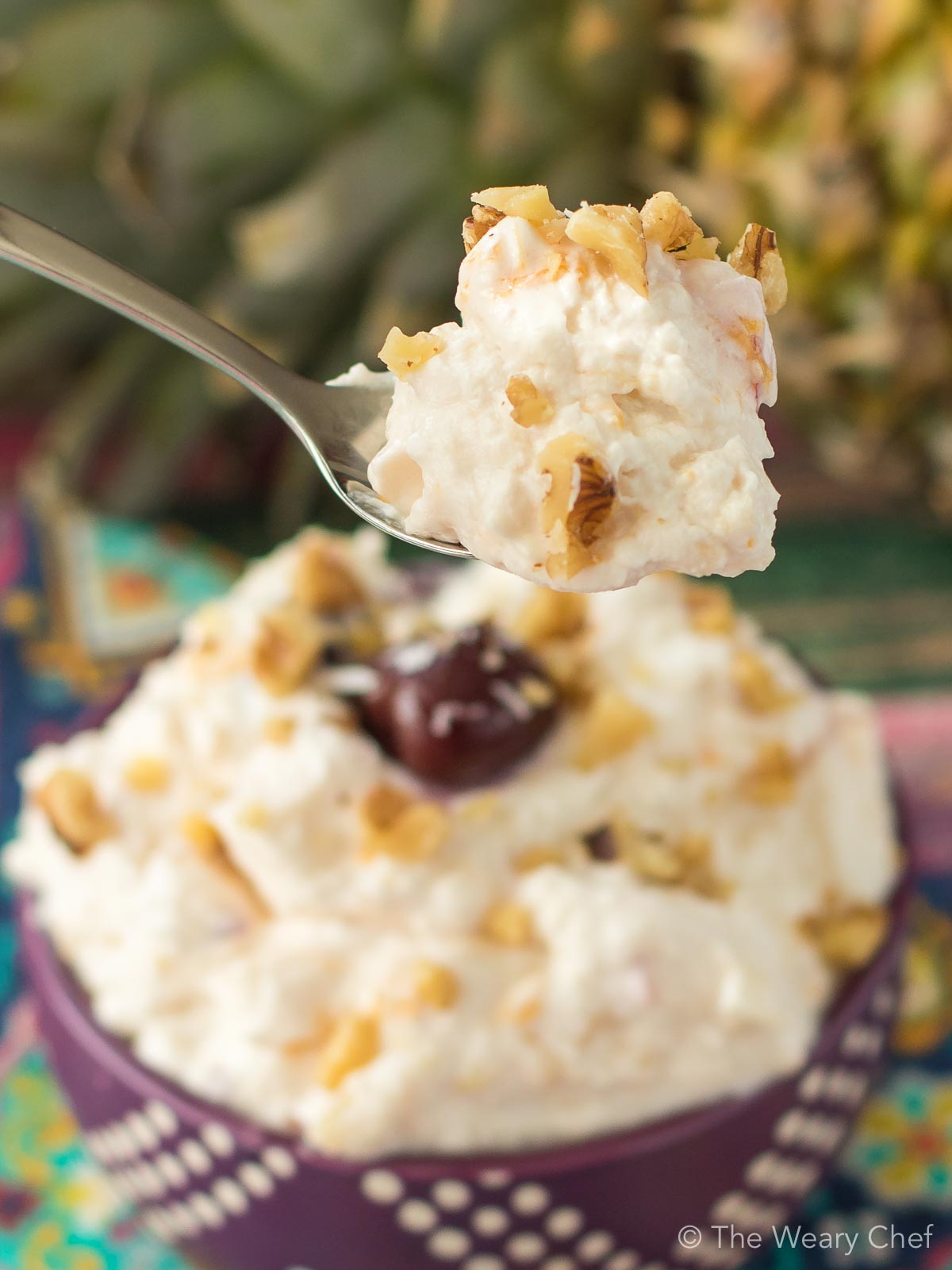 Don't forget to check out the Cans Get You Cooking site for more great recipes using canned goods! If you live in Northern California or Nevada, find a Raley's, Nob Hill Foods, or Bel Air Market near you!
Print
Ambrosia Recipe
Ambrosia salad is a super easy dessert you'll want to make again and again. It's perfect for parties, BBQs, potlucks, and more!
1

cup

marshmallow fluff

8

ounces

sour cream (reduced fat is fine)

20

ounces

canned crushed pineapple drained very well

11

ounces

canned mandarin orange slices (in light syrup) drained very well

1/2

cup

canned sweet cherries halved

1

cup

unsweetened coconut flakes

1

crisp apple diced (Fuji, Gala, or Granny Smith)

10

ounces

thawed whipped topping (like TruWhip or Cool Whip)
chopped walnuts or pecans (optional)
Instructions
In a large bowl, stir or whisk together marshmallow fluff and sour cream.
Add pineapple, orange, cherries, coconut, and apple. Stir well.
Gently stir in whipped topping. You can stir in the nuts, sprinkle them on top, or leave them out completely.
Store in refrigerator until ready to serve. Ambrosia salad will keep in the fridge for approximately two days.
Here are more no-bake dessert recipes you might like to try!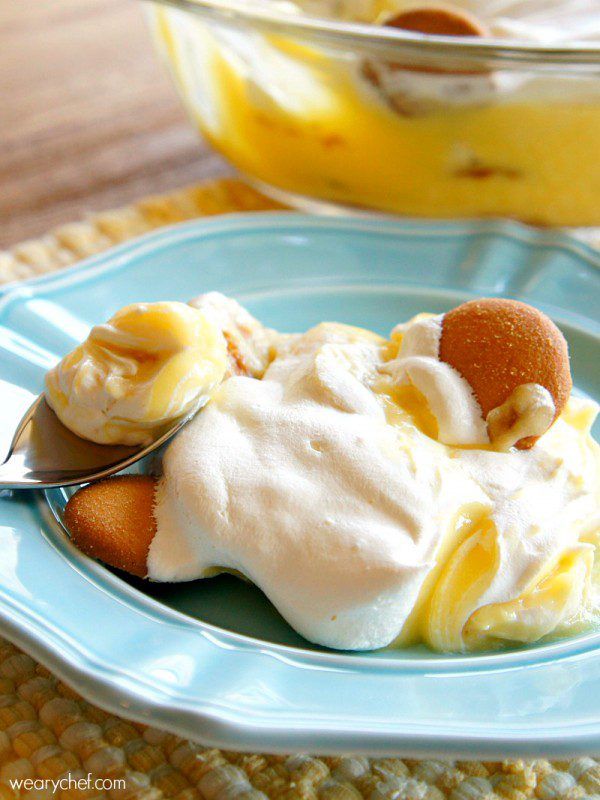 Thanks again to Raley's and Cans Get you Cooking for sponsoring today's classic recipe!