This Easy Weekly Dinner Menu includes Potato Chip Chicken, Easy Hashbrown Casserole, Crockpot Beef Roast, Fish Burritos, and lots more!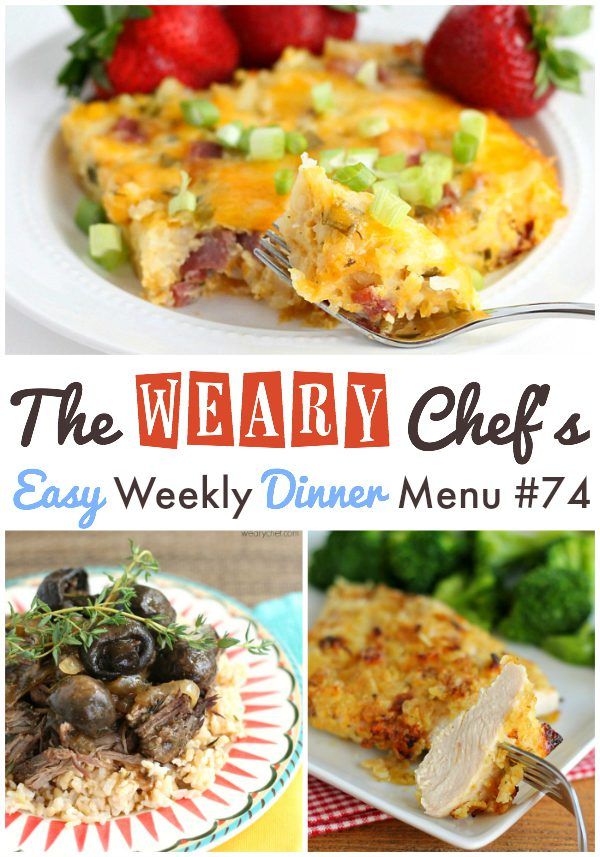 Hi there! Last week I told you that I planned to start including one recipe from another blogger in my weekly menus, and that starts TODAY! I will always make the guest recipe myself first so I can recommend it with confidence. I hope you like this new feature that will bring more variety to my weekly dinner menus.
This week's guest recipe is from Julie's Eats and Treats (where I happen to be a contributor). I decided to try her Taco Stroganoff because it caught my eye on Pinterest. I did lighten it up a little, but I'm sure it's excellent exactly as written too. (You can see my changes below.) I also have two new recipes for you, Potato Chip Chicken and Slow Cooker Beef Roast, plus I took new photos of Breakfast for Dinner Casserole. I'm pretty excited to share all this with you, so let's get to it!
Wondering what else I've been up to this week? Don't miss Chocolate-Covered Edamame or this roundup of 50 Cheese Recipes! Thanks for reading, and I'll see you again soon!