Dig into this lightened up Kale Artichoke Dip for your next girls' night, football game, or holiday party! I can't wait to show you the recipe, but first I really want to tell you a completely unrelated story intermixed with photos of this easy, creamy dip so we remember what we're doing here.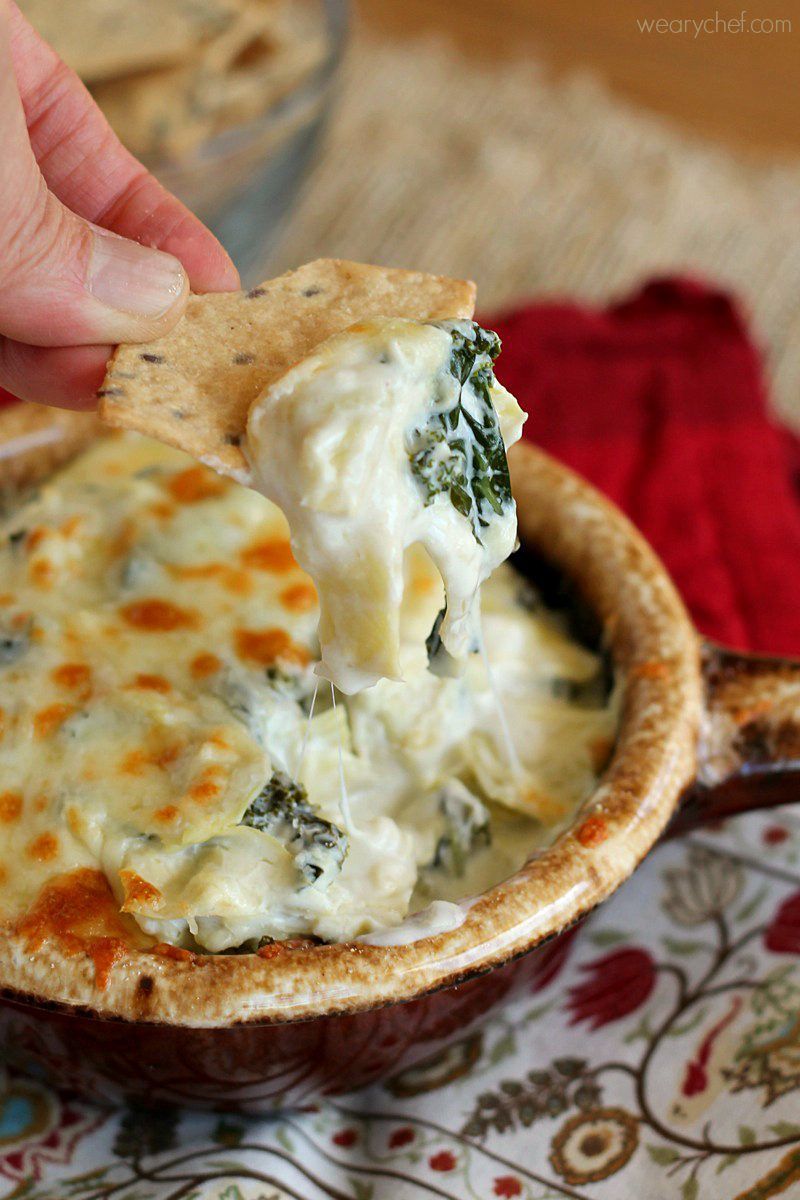 I had my first ever massage yesterday. I have been given massage gift certificates multiple times over the years, and I was always too shy, nervous, or busy to use them. I either regifted them, or they are still in a drawer somewhere. (I'm sorry, gift givers!)
It's hard to carve out an hour plus travel time to go do something so indulgent for myself, plus, don't you have to take your clothes off for those things? And then a stranger is rubbing you with oil? Am I the only one a tad weirded out by that whole thing?
We actually have a massage place four blocks from our house, and I've been eyeing it for a while. I was still as nervous as ever about the idea of a stranger touching me, but carrying around a 40-pound kid, cleaning, and working on a computer all the time are taking their toll on my body. My muscles felt like they needed some TLC, and I felt like I needed a break. So, I walked right in the other day and made an appointment.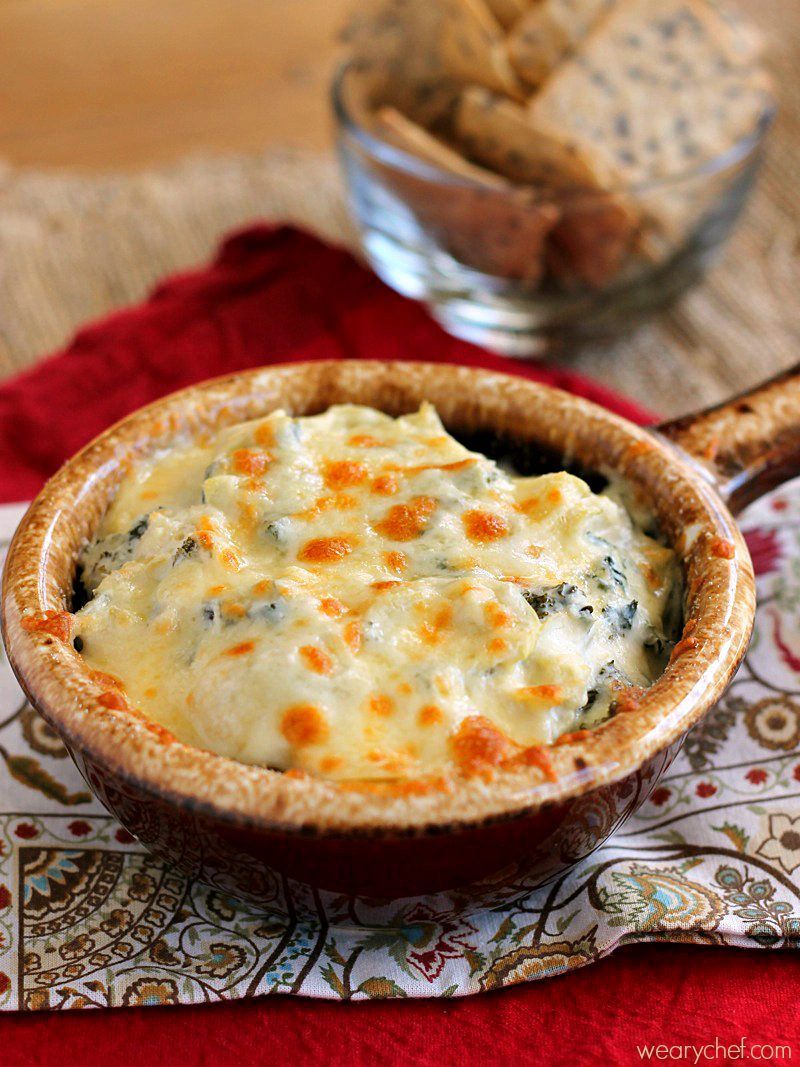 Let me tell you the main thing I learned about massage: It ain't no back rub. I'd say over half the time it was uncomfortable if not painful. I didn't know what I was in for! Who cares about the fact that I'm nearly naked and a lady I don't know is touching me? I couldn't think about being shy while I was wondering how much longer she was going to be jabbing her elbow into my back!
The second thing I learned is that just because you keep your underwear on doesn't mean your behind is going to stay covered. She pulled those suckers right down for the bootie massage that I didn't was included. I guess it is called "full body," but I would have been OK with that part being skipped. By the end, my pride was gone, and I was happy to make it through without whining or asking her to take it easy on me (which I probably should have done).
I was kind of delirious from laying with my face in a doughnut pillow for over an hour listening to weird new age music, but I had to jump up, get dressed, and walk home to relieve my husband, who had been watching the boys. I walked in to the usual chaos, and any relaxed feeling left me immediately. I'm still trying to decide if I would do it again. Do you like massages? I would love to hear about your experiences in the comments!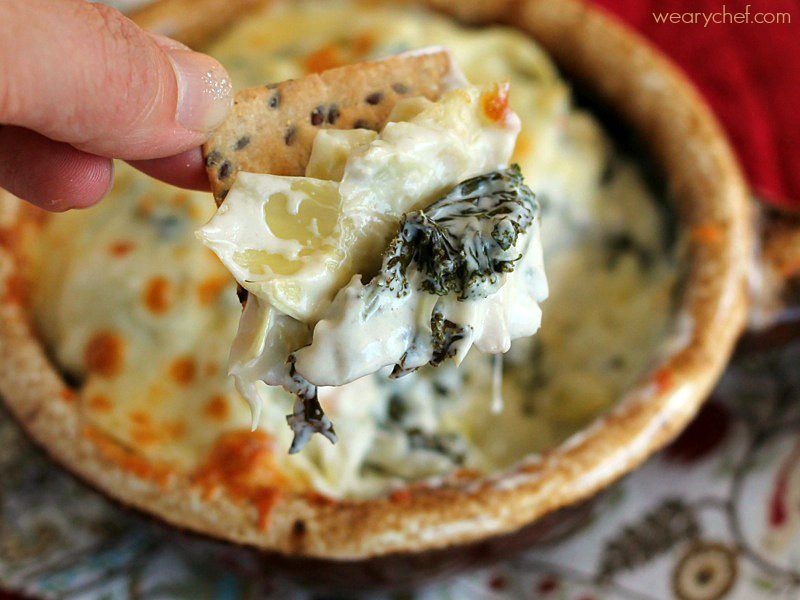 Maybe if I could have a massage and then relax with a glass of wine and bowl of this kale artichoke dip, the experience would be better. This creamy dip is really easy to make and doesn't have mayonnaise, which I'm not a fan of in my dips. It uses reduced-fat ingredients to be slightly better for you than its heavier counterparts, and the kale adds a new twist on the classic spinach artichoke dip. This artichoke dip would be perfect for a girls night, watching football, or holiday parties!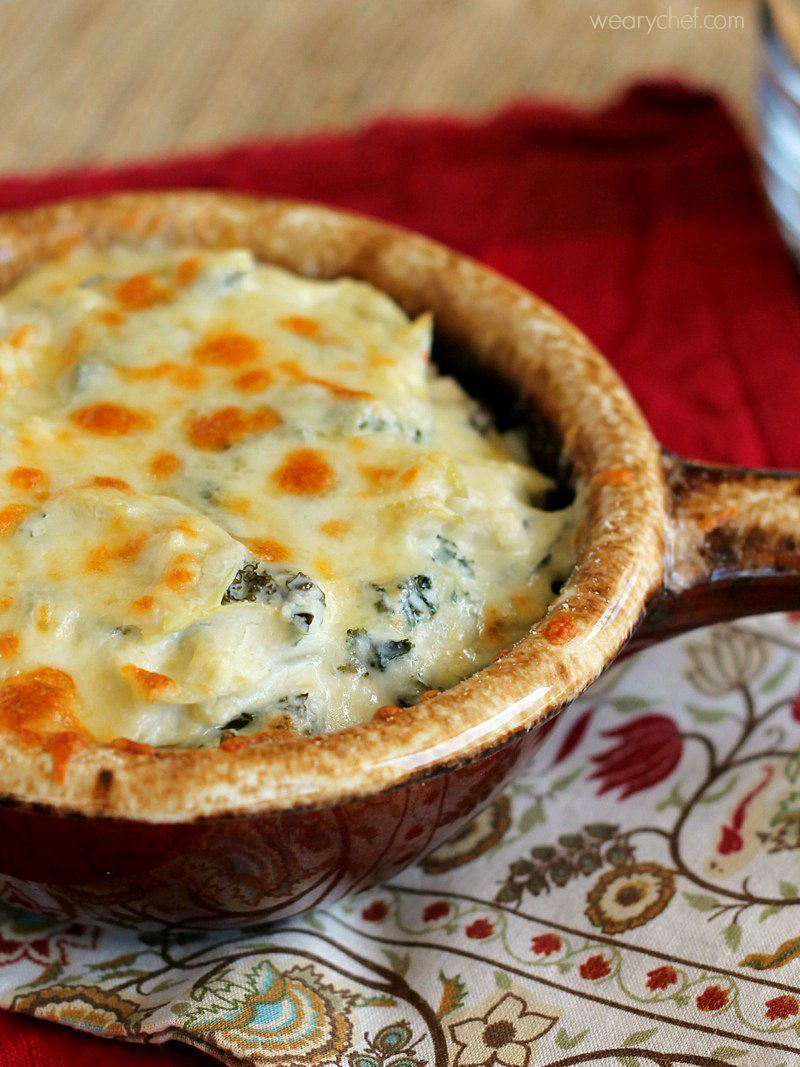 Print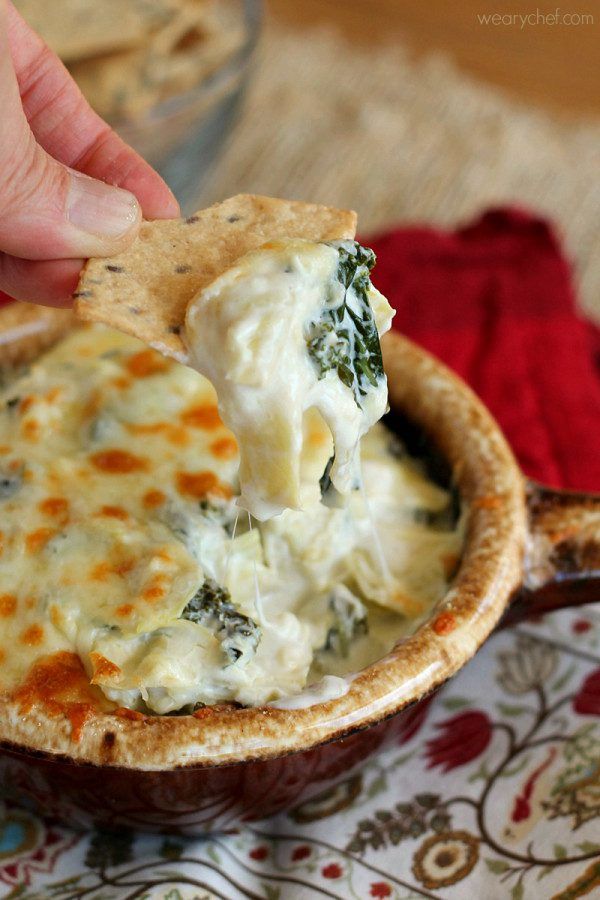 Kale Artichoke Dip
Dig into this lightened up Kale Artichoke Dip for your next girls' night, football game, or holiday party!
Instructions
Heat olive in a large saucepan or deep skillet over medium heat. Add artichoke hearts, garlic, kale, salt, and pepper flakes. Pour wine over kale, and cover pan. Allow to cook 10-15 minutes, stirring often, until kale is tender.

Add cream cheese and parmesan, and stir in cheeses as they melt. You can mash up the artichoke hearts a bit as you stir to make them easier to dip. Stir in sour cream, and continue cooking until hot and bubbly.

You could serve now, or place in a broiler-safe bowl and sprinkle shredded cheese over the top. Place under the broiler for 5-10 minutes until top is melted and starting to brown. Serve with crackers or corn chips.
Here are some other hot dips I think you'll love!