Thinking about dinner? I've done the meal planning for you in this easy weekly dinner menu!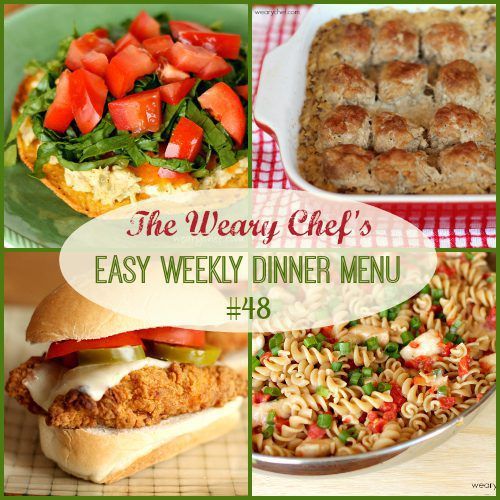 Hello! I am once again wondering where the week has gone, but here it is, Saturday already. I remember a time in my life when weeks went by slowly and I couldn't wait for the weekend. That time was before I was a stay-at-home-mom. Now the weekends are all about two kids wondering "What's next?" and wearing me out. Since it's winter break, the boys and I have 16 days of togetherness ahead of us, not that I'm counting.
What better time to be together than CHRISTMAS time? I'm so, so excited for Christmas morning. I'm starting to feel a bit panicked because I'm sure I forgot lots of gifts for lots of people, and I don't want to set foot in a mall this weekend. I will probably be hitting some local stores for last minute items, which is better anyway.
With all the holiday hustle and bustle, my meal planning has gotten a bit derailed. Instead of planning my menu dinner a week ahead of time, I've been getting "creative" each day, which is a nice way to say scrounging and scrambling. The baked meatballs and Mexican pasta were this week's improvisations, but they sure did turn out to be tasty. Let's get to those and the rest of your easy weekly dinner menu!
Next week is CHRISTMAS! I know everyone will be partying, traveling, eating candy for meals, etc. Instead of my regular menu with three new dishes, I'm going to do a fun holiday-themed menu. Be sure to come back to check it out, and have a wonderful holiday!