These irresistible Dark Chocolate Mint Cookies are loaded with rich chocolate flavor and gooey mint filling.
If you love baking with candy, you need to know about Hershey's® Minis. They are mini versions of your favorite candies like York Peppermint Patties, Kit Kat, Reese's, and Rolo. These adorably small candies are unwrapped, so you can stir them right into recipes (or eat them by the handful, whatever you prefer).
Make Dark Chocolate Mint Cookies with Hershey's® York Minis
Not only has Hershey's® taken all that pesky unwrapping out of your life, but they are also offering a sweet deal on YORK MINIS at CVS right now. Grab two bags of Hershey's® Minis in your favorite flavors, and take $1 off! Of course one of the bags should be York Minis so you can make these dark chocolate mint cookies, but I also happen to have a couple of REESE'S Minis recipes too if you want to try Reese's Popcorn or Reese's Stuffed Cake Pops! Whichever flavor you choose, be prepared to fight off grabby hands as soon as you open the bag as seen here:
Peppermint seems to be popular around the holidays, but if you ask me it's perfect for summer recipes too. That cool sensation when you bite into these dark chocolate cookies loaded with minty goodness is just what you need on a hot day. Bake them in the morning before it gets too hot to turn on your oven, and then enjoy them with a cold glass of milk later in the day.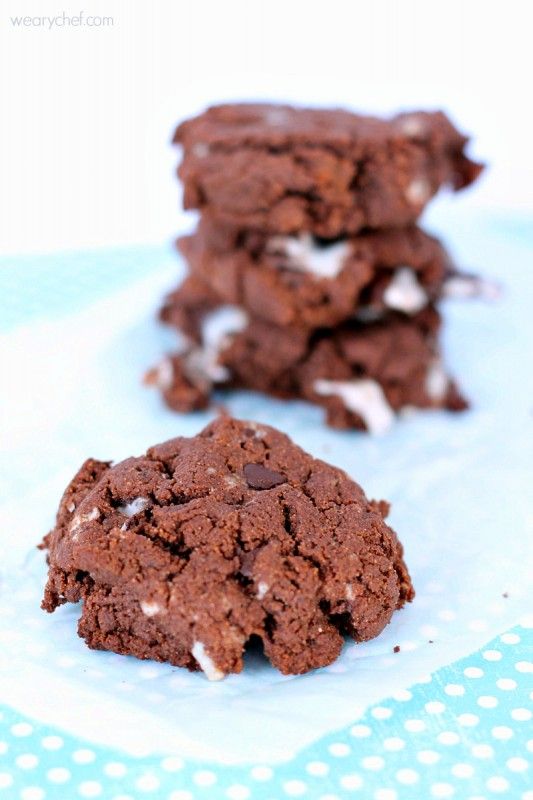 Add Ice Cream to the Dark Chocolate Mint Cookies
Speaking of cool treats, I originally added YORK MINIS to homemade vanilla ice cream. I wasn't happy with my ice cream base, which is why you are getting these tasty cookies instead, but the chocolate mint was a great addition! Definitely try adding them to your favorite vanilla or chocolate homemade ice cream for a minty summer treat. It's kind of a good thing that my ice cream recipe flopped though because you get these ooey-gooey cookies instead. I hope you love them!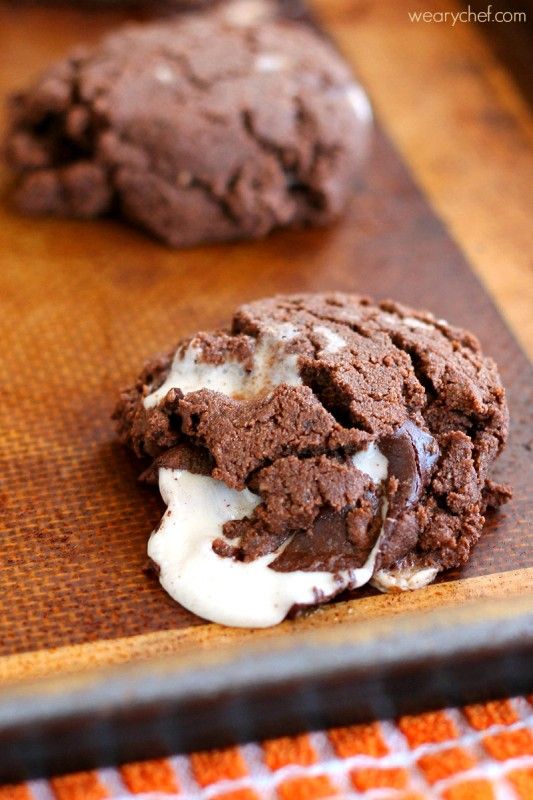 How to Make Dark Chocolate Mint Cookies
Recipe adapted from Hershey's® Kitchens Doubly Chocolate Cookies
Author: Andi GleesonCook Time: 25 minutesYields: 16 cookies
Ingredients:
1/2 c. (1 stick) butter, softened
1/4 c. white sugar
1/2 c. packed brown sugar
1 egg
1 tsp. vanilla extract
1 c. all-purpose flour (substitute 1 c. gluten-free flour and 1/2 tsp. xanthan gum if desired)
1/3 c. unsweetened cocoa powder
1/2 tsp. baking soda
pinch of salt
1 c. YORK MINIS, cut in half
Step-by-Step Recipe of Dark Chocolate Mint Cookies
Preheat the oven to 350°F. Line two baking sheets with parchment paper.
With an electric mixer on medium speed, beat together butter and sugars until smooth and fluffy, about 3-5 minutes. Add egg and vanilla, and mix on low until combined. Add flour, cocoa powder, baking soda, and salt. Stir on low until combined, and then gently stir in candy just until incorporated.
Use a medium disher or tablespoon to drop balls of cookies onto a baking sheet, spacing cookies about two inches apart. (Press the cookies down to 1/2″ thickness if using gluten-free flour.) Bake 10-12 minutes in preheated oven. Cool for a few minutes on the pan, and then transfer to a wire rack to cool completely.