This week's menu focuses on easy back to school dinner ideas like Chicken Tostadas, Slow Cooker BBQ Pizza, Gnocchi in Tomato Cream Sauce, and lots more!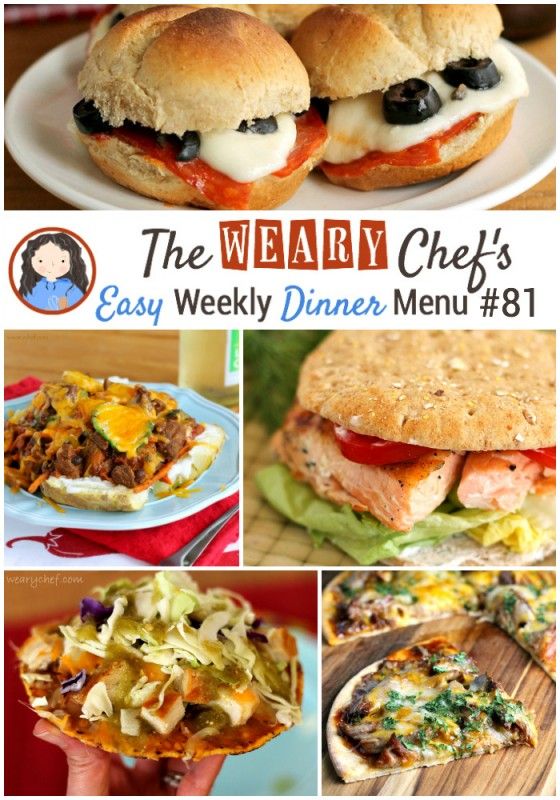 People, there is one more week of summer break in these parts. In my world, that is exciting news, and I'm sorry if that makes me a bad person. I see other moms lamenting the end of having their kids home every day, and I'm not sure what I'm doing wrong. Last night I had to go to a PTA board meeting, and the hostess's kids were still awake during the meeting. They were silent. I'm talking about two children, around 7 and 10 years old, and not a peep was heard. There was no yelling, arguing, crying, running, stomping, banging, crashing, and all the other sounds that mean awake children at our house. It was completely perplexing to me.
Do I need to tell you that those two children are girls? I don't mean to stereotype because I know there are quiet boys and wild girls (I was one of them, which is probably why I'm getting payback now). I have to say though that most young girls I see are much more quiet and calm than the madmen energetic boys in our family. All this is to say that I think we are all happier when my kids are busy and engaged at school while I get some quiet time to work. It's good for us to have time apart so we can be happy to see each other in the afternoon.
Back to school usually means busier evenings when homework, soccer practice, music lessons, and other activities start up again. To help you get dinner on the table during those days, I've got some great weeknight recipes in this week's easy weekly dinner menu. These are all either super quick to make or need very little prep before letting them cook while you do other things. I hope this helps your dinnertime run smoothly!
Here are some breakfast and lunchbox back to school ideas too! Have fun!