Hi! You are back to see a new easy weekly dinner menu? I'm so glad to see you. Really!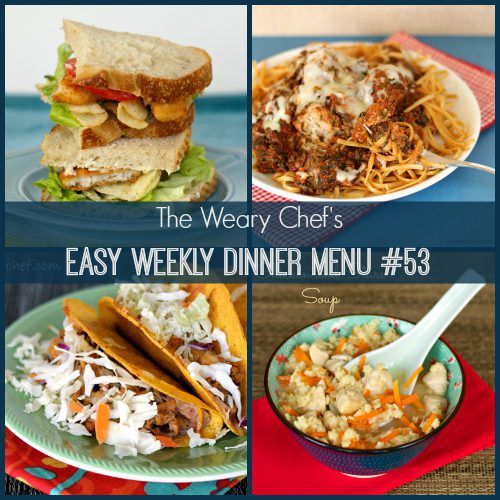 Do you know what is the hardest part of writing my menu every week? It's not thinking of food because I'm ALWAYS thinking of food. It's trying to think of a catchy tagline for the title. I ran out of good ideas about 30 weeks ago. Should I just drop the tagline completely? Or maybe make it the same every week? If you have an opinion, lay it on me! I'm clearly getting desperate if "crunchy and easy" is the best I could do this week.
Oh, but there is crunch! You are going to love the Fish and Chips sandwiches that are new for this week. Also, don't miss the Standup Tacos! My in-laws are in town, and I made those for dinner last night. They were a hit, but it was SO hard to resist pulling a plate aside for photos. I've been wanting to make them again for a while to get better pictures, but I didn't want to reveal at family dinner what a weirdo I have become. I'll have to make another batch soon when I don't have an audience for the photo shoot. Now, let's get to some dinners!