Yellow cake is swirled with luscious mocha filling and topped with espresso whipped cream in this mocha poke cake.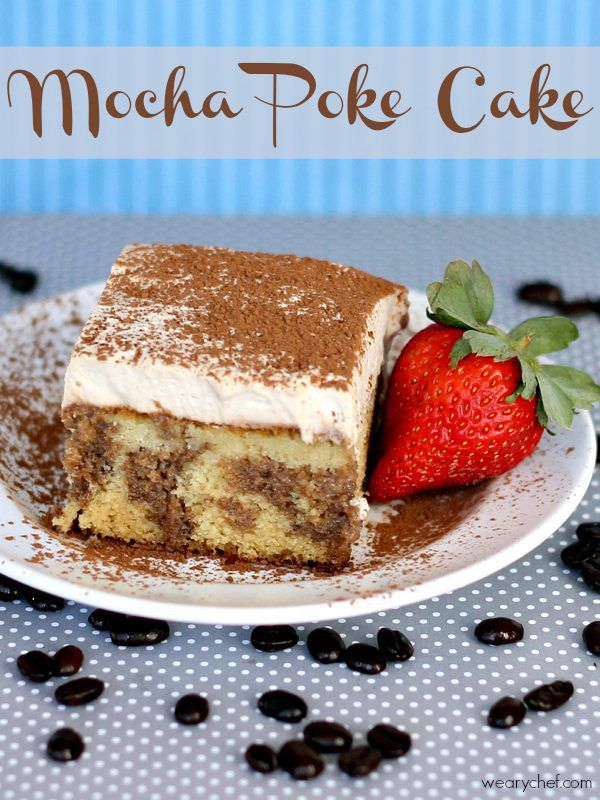 Are you a fellow coffee lover? I start my day with a couple cups of plain old drip coffee with raw sugar and half and half, and I often have an espresso drink in the afternoon too. What is your favorite fancy coffee drink? I sometimes mix it up with a hazelnut latte or eggnog latte around the holidays, but my go-to drink is always a mocha (a small with two shots and no whipped cream to be exact). I love the combination of coffee, chocolate, and milk, so I turned my favorite drink into a dessert!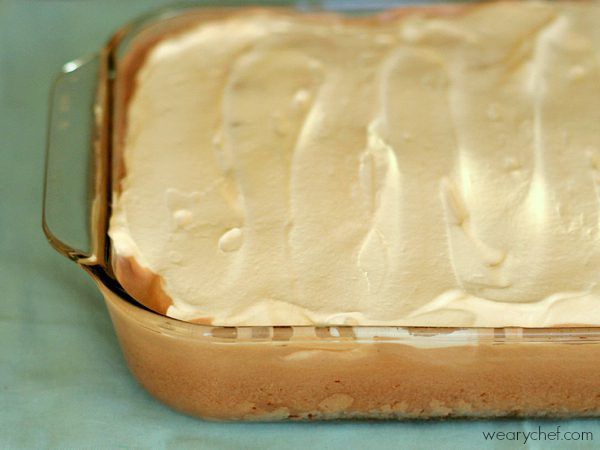 I have only made one cake this way before, the Lime Poke Cake. It was really delicious, but you couldn't tell from looking at it that it was a poke cake since the filling and cake were about the same color. You could certainly tell when you tasted it because it was so moist and full of lime flavor, but this time around I wanted to make something that looked distinctive too. You can't miss the chocolatey filling in this mocha poke cake!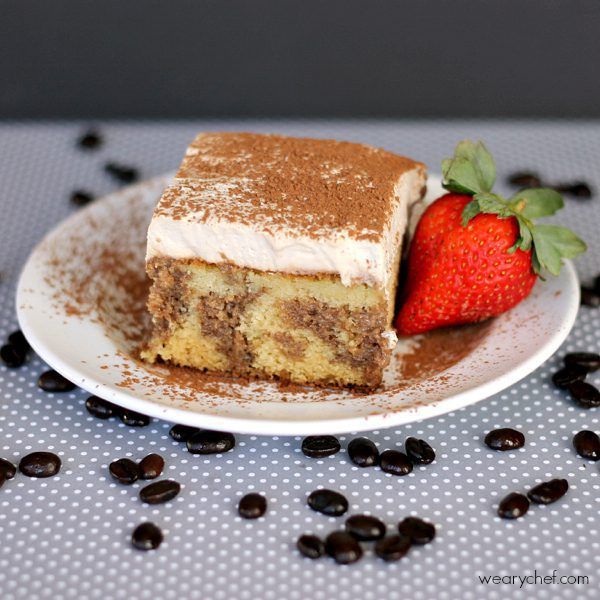 You can use boxed cake mix or your favorite yellow cake mix recipe. When you pour the filling over the cake, you will think it looks too thin. Don't worry! After it's chilled for a couple hours, it will set up into a pudding-like consistency. If a little filling swirls into the whipped cream when you add it, that is definitely not a problem. While we're on the subject, let's just talk about this espresso whipped cream for a moment. It was hard for me not to take a spoon to the bowl after I gave it a taste! Keep that recipe in your back pocket for the next time you want to add some creamy coffee flavor to any dessert (or pancakes or waffles)!
Print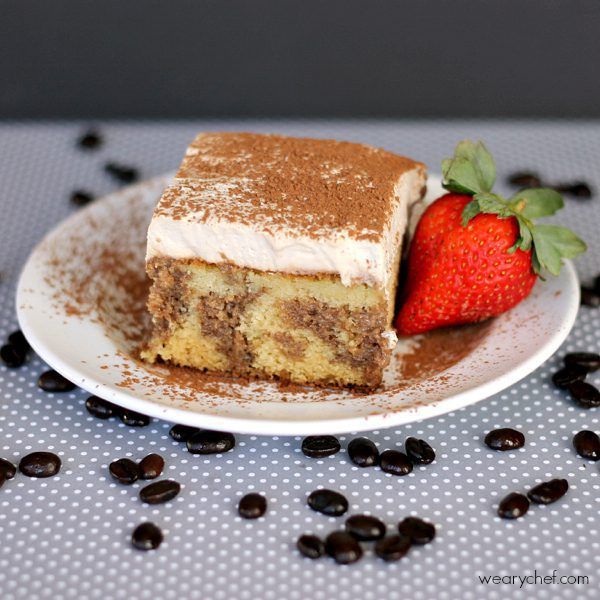 Mocha Poke Cake: Perfect dessert for chocolate and coffee lovers!
Yellow cake is swirled with luscious mocha filling and topped with espresso whipped cream in this delicious mocha poke cake.
Total Time:

4 hours

Yield:

1

2

1

x
Instructions
Use the end of a chopstick or wooden spoon to poke holes almost to the bottom of the cooled cake all over the surface, about 1″ apart. Use a paper towel to wipe the cake off your spoon after every few pokes.

In a medium bowl, whisk together cocoa powder and coffee until cocoa is incorporated, and then whisk in condensed milk. Set aside.

With an electric mixer, mix whipping cream on medium-high speed until it starts to thicken. Add in espresso granules and sugar, and continue mixing until medium peaks form.

Gently fold in about 1 c. of your glorious whipped cream into the coffee mixture, then pour the coffee filling over the top of your cake. Spread it all over the top so it fills the holes, covers the top, and oozes over the sides. It will be pretty thin at this point, but it will set when refrigerated.

Gently spread the remaining whipped cream over the top of the coffee filling. Cover your mocha poke cake with plastic wrap, and refrigerate for at least an hour before serving.
Author:

Prep Time:

120

Cook Time:

120

Category:

Dessert