This sweet and tangy Lime Poke Cake is a perfect cake recipe for key lime pie lovers!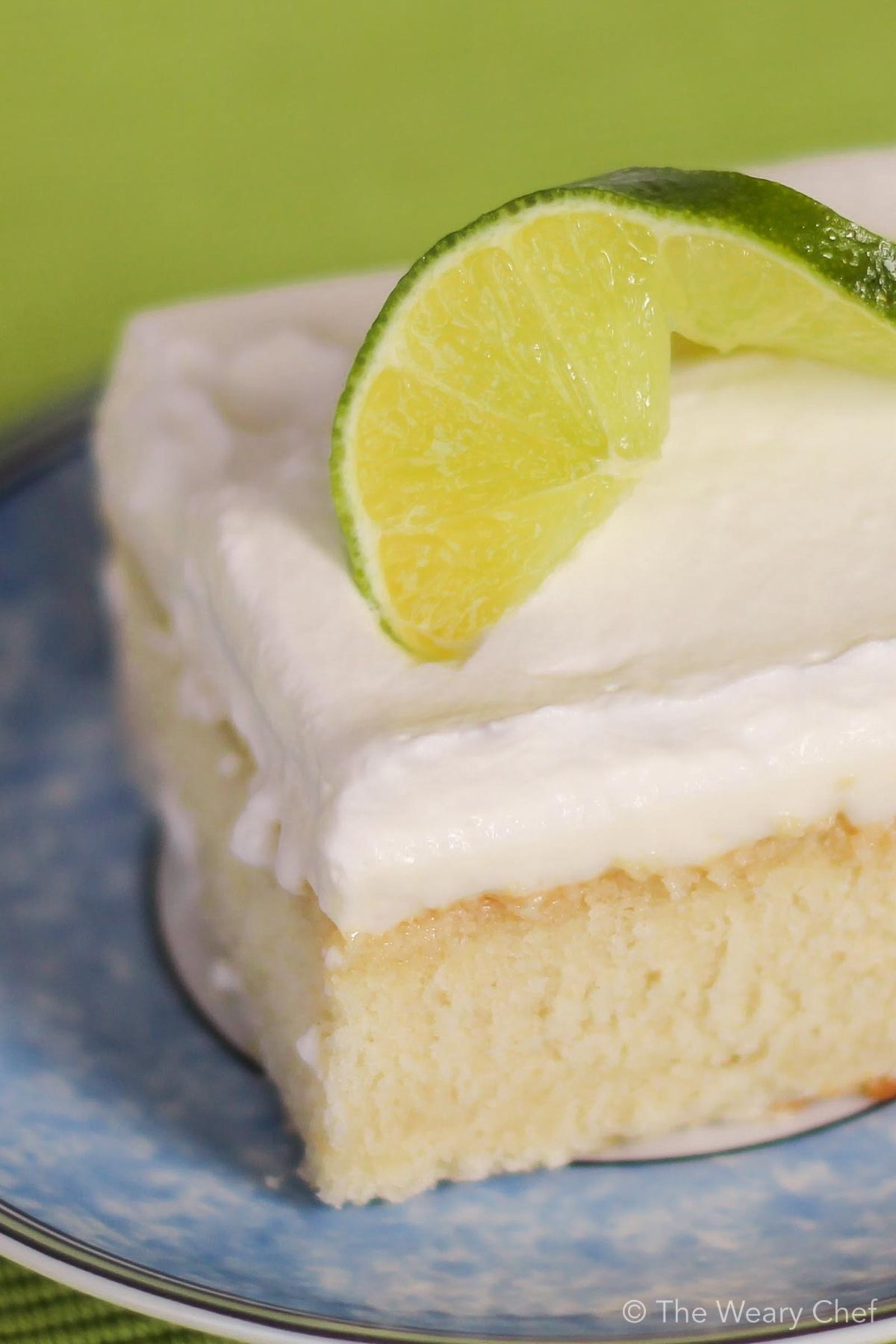 We just celebrated my husband's birthday, and this Lime Poke Cake was a perfect birthday cake for him! This dessert basically combines key lime pie (his favorite) and cake into one moist, tangy, creamy, delicious treat.
This was actually my first attempt at a poke cake even though I see recipes for them all the time. Now I see why they are so popular, and this certainly won't be my last! I made a basic white cake, poked holes all over it, spread key lime filling over the top, and topped the whole thing with real whipped cream. The cake turned out moist and tangy, and my husband loved it (as did the rest of the family).
The rich, creamy lime filling is poured over white cake that has been poked with holes to let it seep in. If you don't want to make your cake from scratch, just use a white cake mix. It will still turn out great.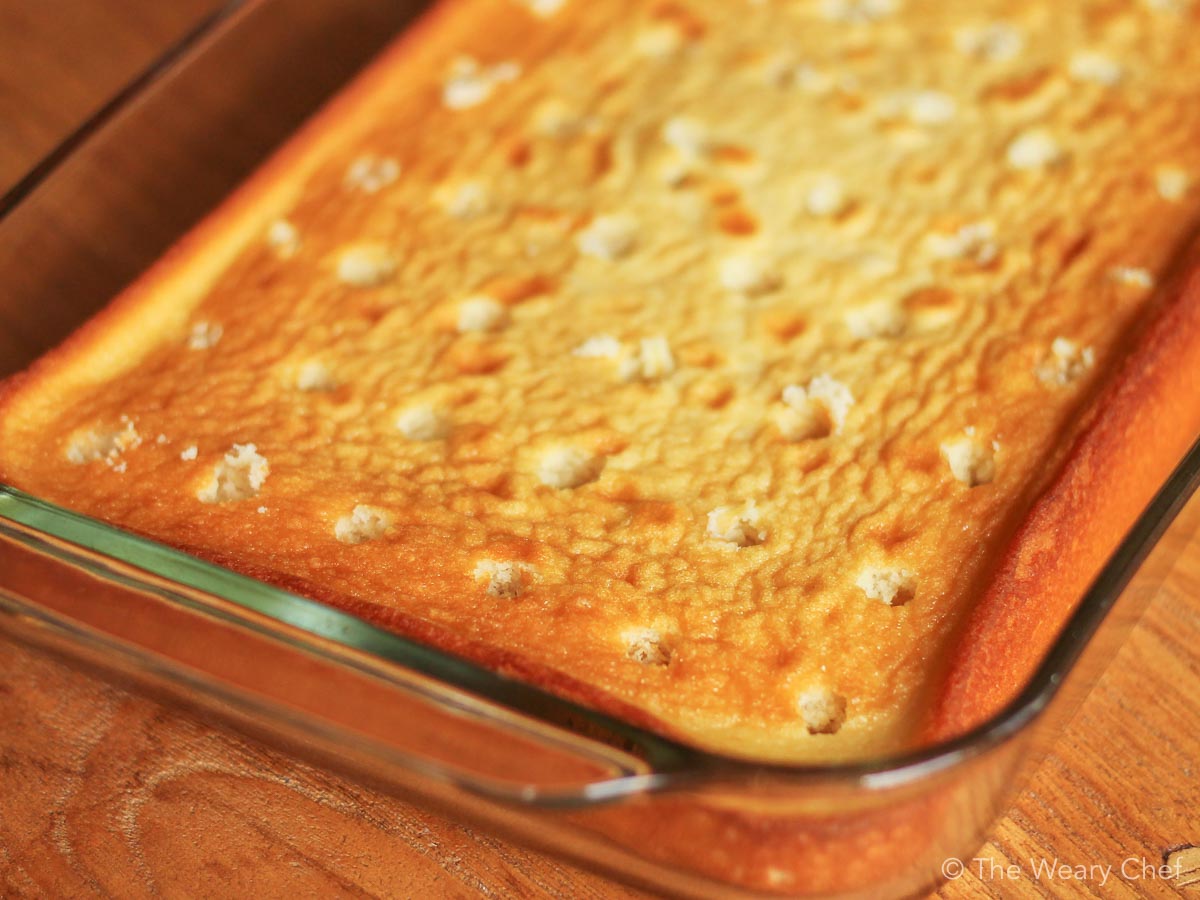 Then the cake is smothered in real whipped cream. (You can use cool whip if you want a shortcut!)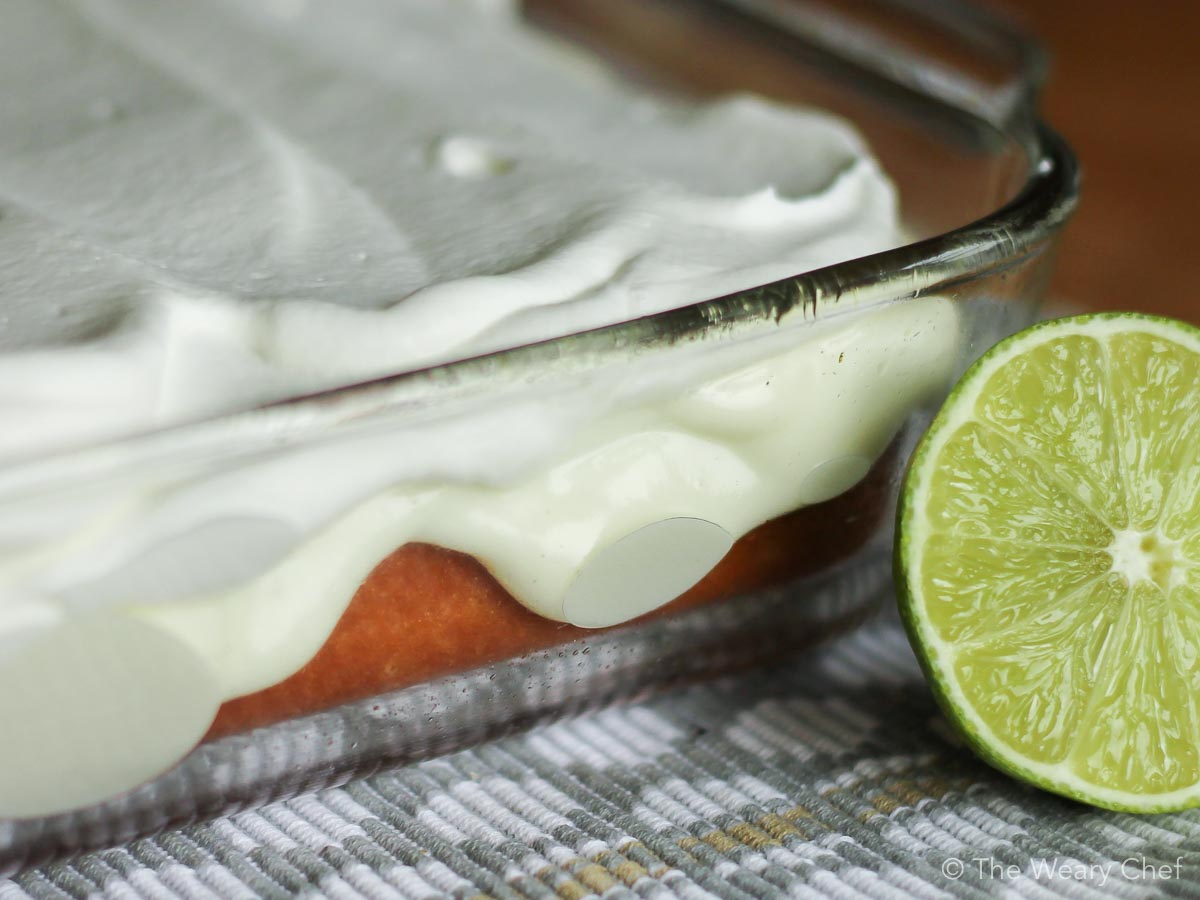 Since the filling soaks into the cake, it's hard to see in the photos. Believe me though, the rich flavor is in every bite, and the cake is SO moist and delicious. It might be your new favorite dessert recipe!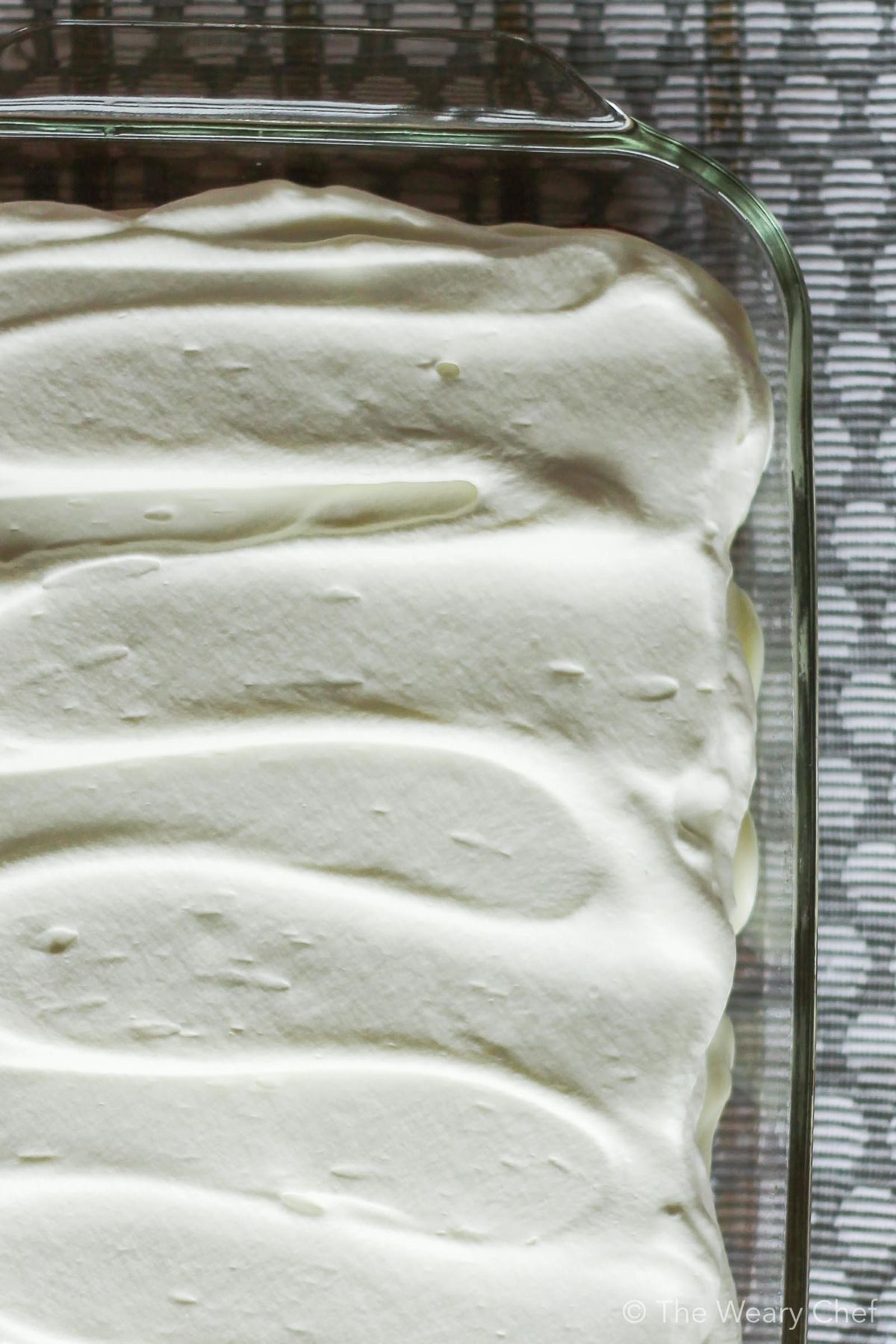 Since the topping is real whipped cream, you want to keep this cake in the fridge. Lime poke cake will stay fresh for a few days as long as you put it right into the refrigerator and only take it out to serve. It's a great make-ahead dessert for get togethers. I hope you love it as much as we did!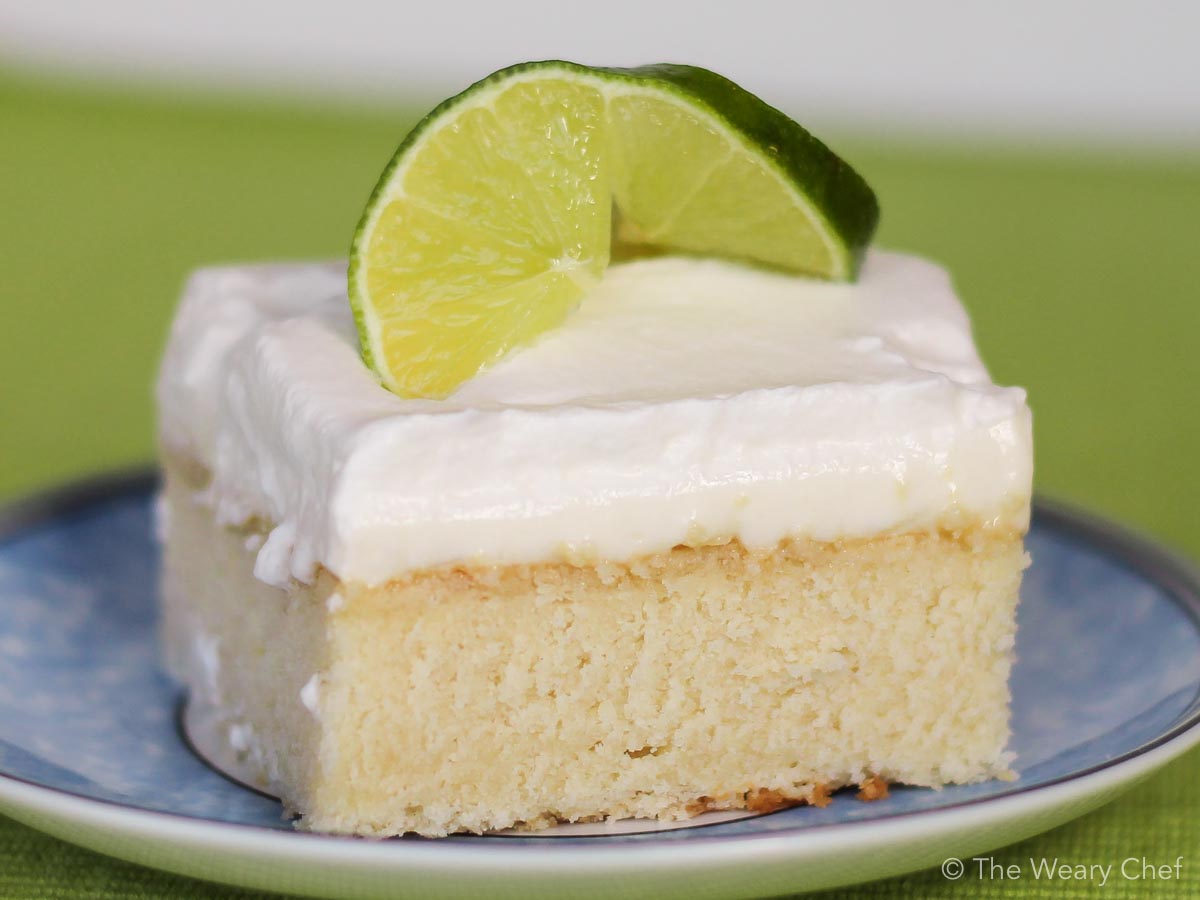 Print
Lime Poke Cake
This lime poke cake is moist, tangy, and creamy. The cake recipe (before the filling) can be used in any recipe calling for a plain white cake!
Total Time:

1 hour

Yield:

1

2

1

x
Instructions
Preheat oven to 350 degrees F. Spray a 9 x 13″ baking dish with cooking spray or grease with butter, and set aside.

Cream together butter and sugar in an electric mixer on medium speed for about 3 minutes.

Add milk, flour, baking powder, salt, and vanilla. Mix on low speed until combined, then medium-high for 2 minutes.

Add egg whites, and mix on medium-high for 2 minutes longer. Spread batter into prepared dish, and bake in preheated oven for 35-40 minutes, or until toothpick inserted into the center comes out clean.

Allow cake to cool completely, then use the end of a chopstick or wooden spoon to poke holes almost to the bottom of the cake all over the surface, about 1″ apart. Use a paper towel to wipe the cake off your spoon after every few pokes.

In a medium bowl, whisk together lime juice and condensed milk. Set aside.

Mix whipping cream on medium-high speed until it starts to thicken. Add in 2 tbsp. sugar, and continue mixing until stiff peaks form.

Gently fold in 1 cup of your glorious whipped cream into the lime mixture, then pour the lime filling over the top of your cake. Spread it all over the top so it fills the holes, covers the top, and oozes over the sides of the cake a bit.

Gently spread the remaining whipped cream over the top of the lime filling. Cover your lime poke cake with plastic wrap, and refrigerate for at least an hour before serving.
Author:

Prep Time:

20

Cook Time:

40

Category:

Dessert
Want more poke cake goodness? Try these!