You are going to love these irresistibly easy Swedish Meatballs smothered in a rich, creamy sauce!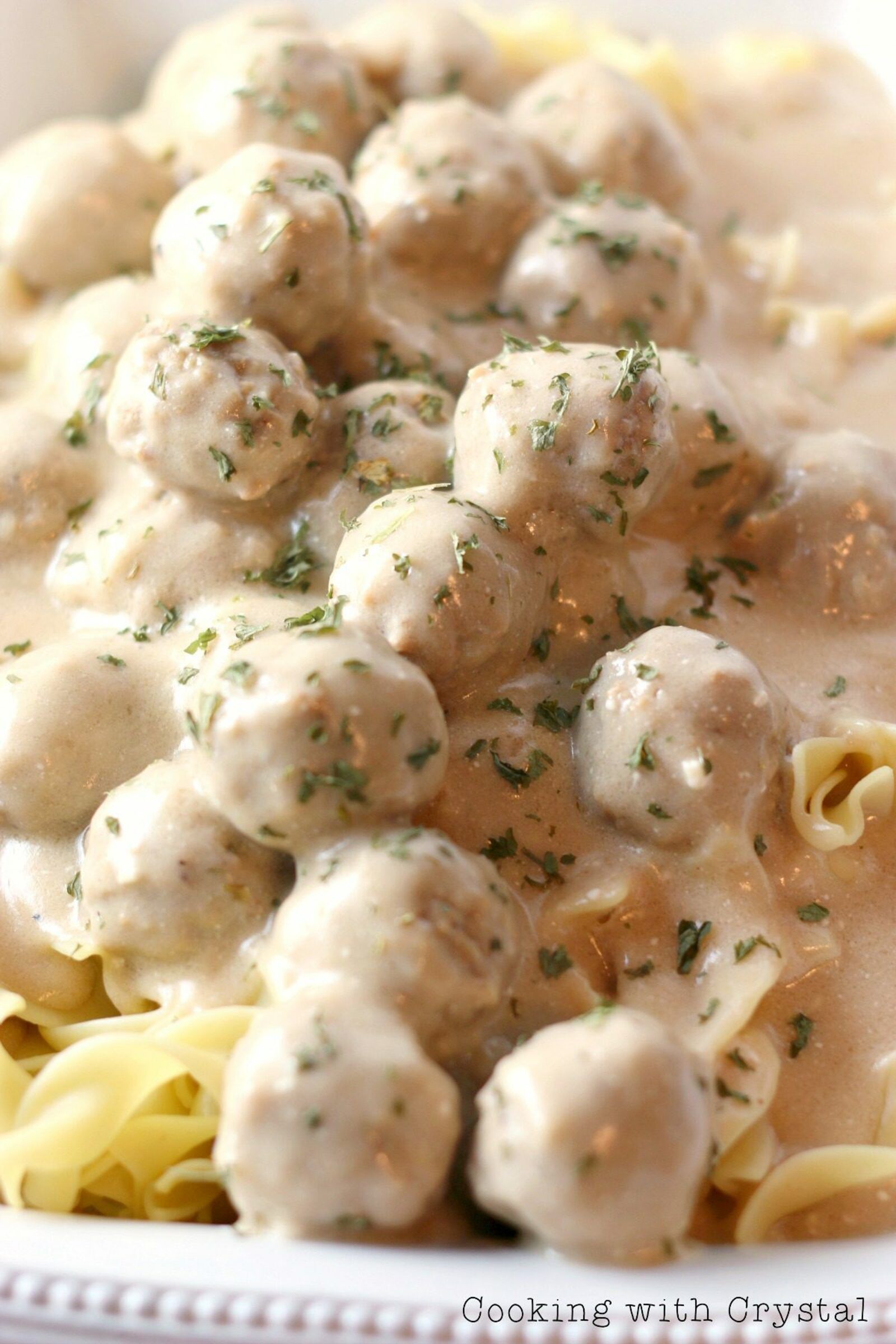 Hi there! It's Crystal from Cooking with Crystal, and today I'm sharing a super quick and delicious recipe for Swedish Meatballs & Pasta! My family used to make this dish all the time when I was growing up and I haven't had it in years! It is one of my Dad's favorite meals. I never understood why when I was younger, but now I totally get it. It has such great flavor and is so hearty.
I decided to re-create this dish, and it turned out perfectly, with a nice beef cream sauce. This recipe for easy Swedish Meatballs and Pasta really takes no time at all. I love to serve it with garlic toast to soak up all the yummy sauce! You can either make your own homemade meatballs, or if you're in a pinch for time (like me), just used frozen ones from your local grocery store.
The addition of egg noodles that I got down in Amish Country made it the perfect dinner! The cool thing about living in the Midwest is that there are multiple Amish Communities only a few hours from my house. I love traveling a few hours to check out their restaurants, shops, and most importantly… grocery stores! I stocked up on homemade pasta when I went, which is what I ended up using for this recipe.
The Amish also make absolutely stunning furniture, so I ended up customizing my dining room table! If you happen to ever be in Amish Country, make it an adventure and stop and check out some of the amazing products that they offer!
Whether you have Amish noodles or egg noodles from the supermarket, you will definitely want to smother them with these Swedish meatballs. Be sure to leave me a comment letting me know how you like the recipe!
Print
Easy Swedish Meatballs in Cream Sauce
You are going to love these easy meatballs smothered in a rich, creamy sauce!
30

meatballs fresh or homemade

6 tablespoons

butter

3/4

cup

sour cream

3

cups

beef broth (plus up to 1/4 cup more if needed)

1/3

cup

flour

1

pound

egg noodles

1 teaspoon

parsley (optional)
salt and pepper
Instructions
Bring a large pot of salted water to a boil and then add in the noodles to cook, about 8-10 minutes. Drain when cooked al dente.
If you decide to use frozen meatballs, then first begin by thawing them a little. Place them on a plate and microwave for 75 seconds, then flip them over and microwave for 75 more seconds. If you use fresh meatballs, then just begin making the sauce.
In a large skillet, melt the butter over medium-high heat. Then, whisk in the flour.
Pour in the beef broth beginning with 3 cups. If you need additional liquid to loosen it up, feel free to add an extra 1/4 cup. While you are adding the broth, make sure to be continuously whisking. Cook for 2-3 minutes over medium-high heat.
Next, add in the sour cream and mix that around until it's incorporated. Add in the meatballs and then reduce the temperature to low. Allow them to simmer, about 5-7 minutes. Add in salt and pepper to taste.
Serve meatballs over a bed of cooked egg noodles and garnish with parsley!
Here are more hearty meals I know you'll love!