This overnight oats recipe with dark chocolate and banana makes for a deliciously satisfying and easy breakfast!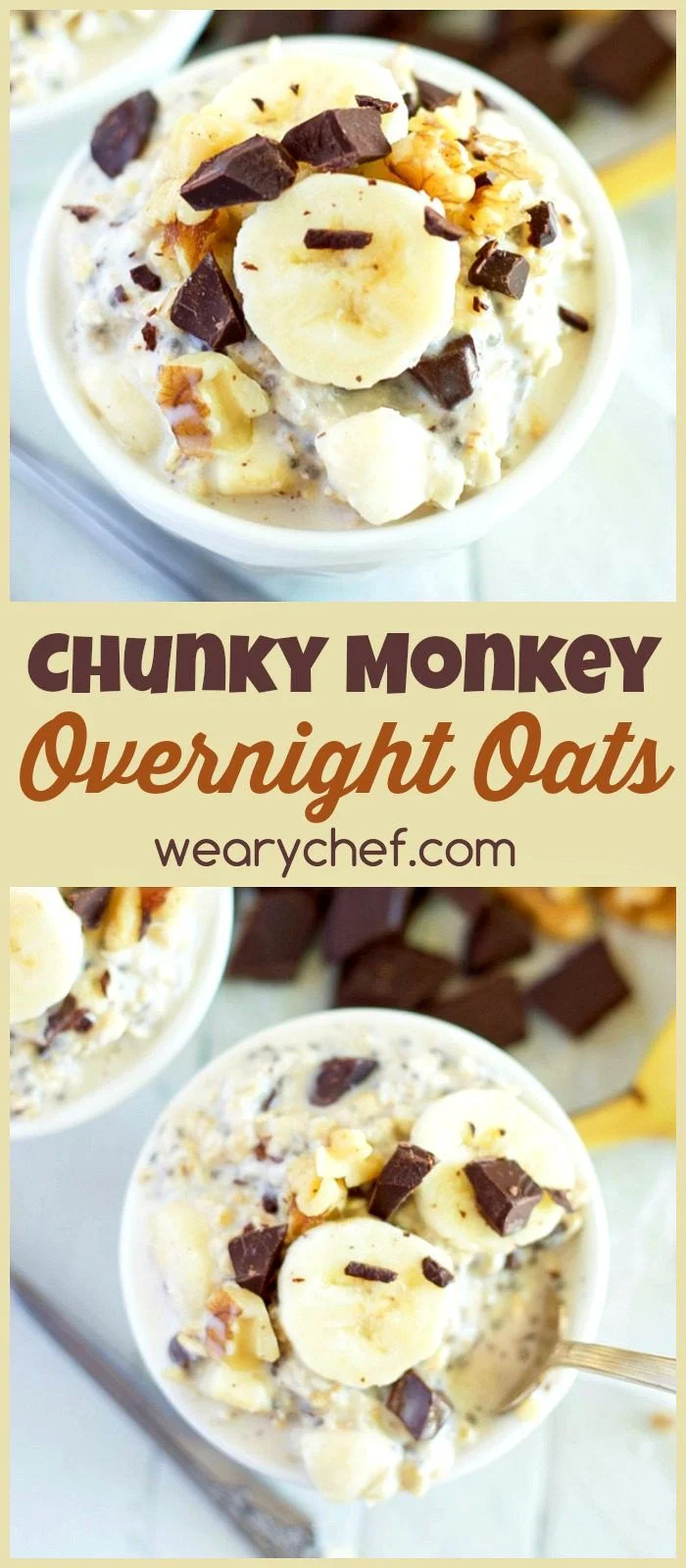 Hello! This is Sharon from What the Fork Food Blog, and I'm happy to share an easy breakfast with you today. I have been meaning to make these chunky monkey overnight oats since my trip to Chicago last December for Quaker Summit where Quaker Oats introduced me and several other gluten free bloggers to their new gluten free oats. When we were there, they served us a gigantic oatmeal bar for breakfast. There was a biiiig old pot of hot oatmeal, and it was accompanied by a buffet table of all kinds of toppings. Dried fruit, fresh fruit, chocolate, nut butters, all different kinds of milk, honey, maple syrup, nuts, and even savory items like Sriracha.
I made myself a bowl topped with bananas, chocolate chips, maple syrup, and walnuts, and somebody made a Chunky Monkey comment since it was like the classic banana chocolate Ben and Jerry's ice cream. When I threw it together, I wasn't even thinking that – I was just making what I thought would be super tasty.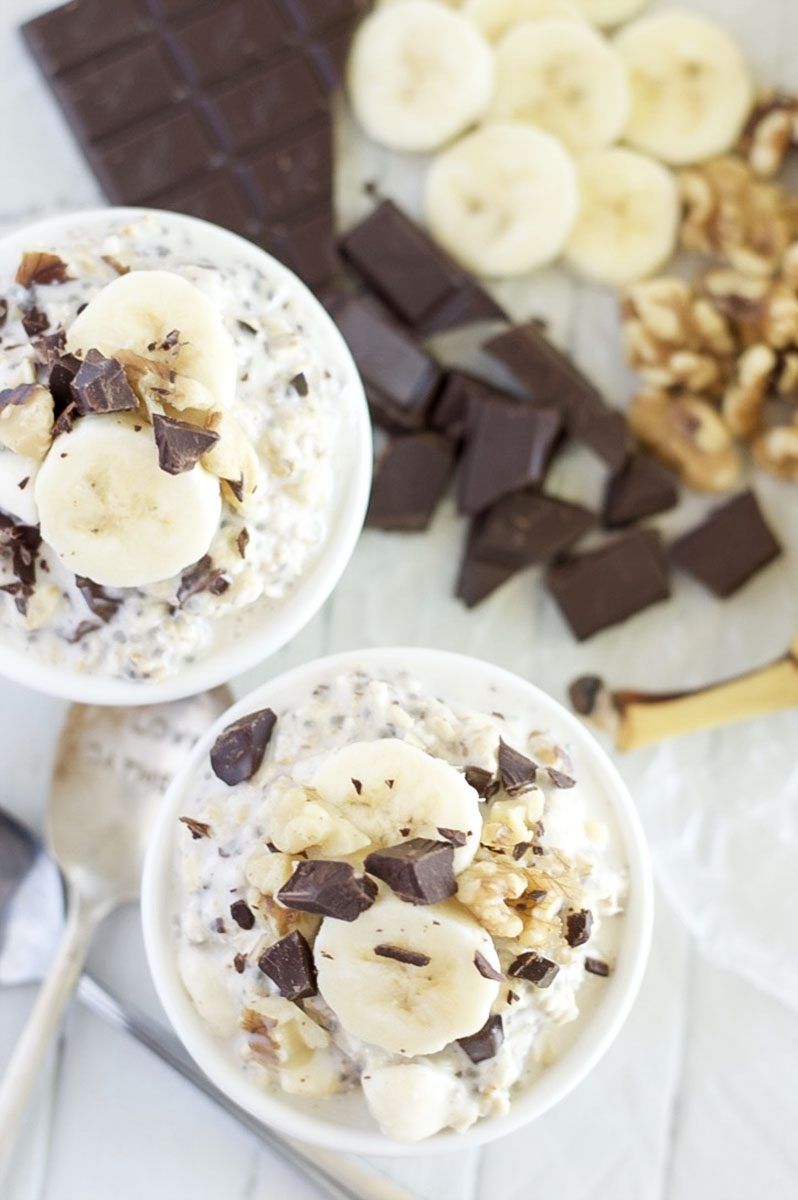 I don't usually eat hot oatmeal, I actually never cared for hot oatmeal as a kid and have always eaten my oatmeal cold. I really enjoyed my hot Chunky Monkey oatmeal, but I like this overnight oat version better. I was a fan of overnight oats before overnight oats were even a thing. Some of my favorites, other than this version which is #1, are my peach pie overnight oats, black forest overnight oats, and Nutella overnight oats.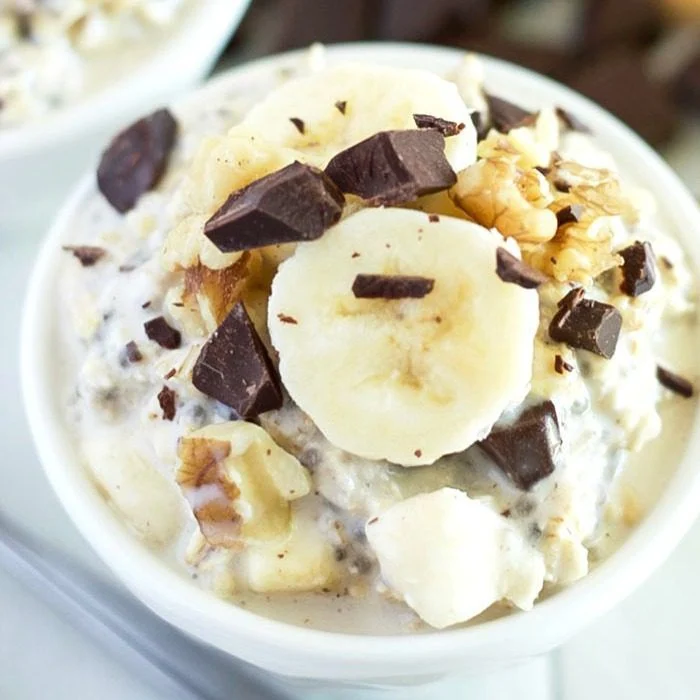 One thing that I really love about overnight oats are the texture. Since they're not cooked, they're not just a pile of mush. There's still texture to them and, IMO, much better to eat. I also like that they're still a little bit liquid-y. That flavored milk is the best part! If you're a Chunky Monkey ice cream fan, this healthy breakfast version will be right up your alley. It's so jam packed with banana, walnuts, and dark chocolate chunks – it's one delicious bite after another.
I like to top my oats with a little extra sliced banana, walnuts, and chocolate but you don't have to. I also like to add an extra little drizzle of honey because honey is one of the best things ever. It's one of my favorite natural sweeteners, and I use it in all of my smoothies and overnight oats recipes. Make these overnight oats tonight and you can have them for breakfast tomorrow. Enjoy!
Print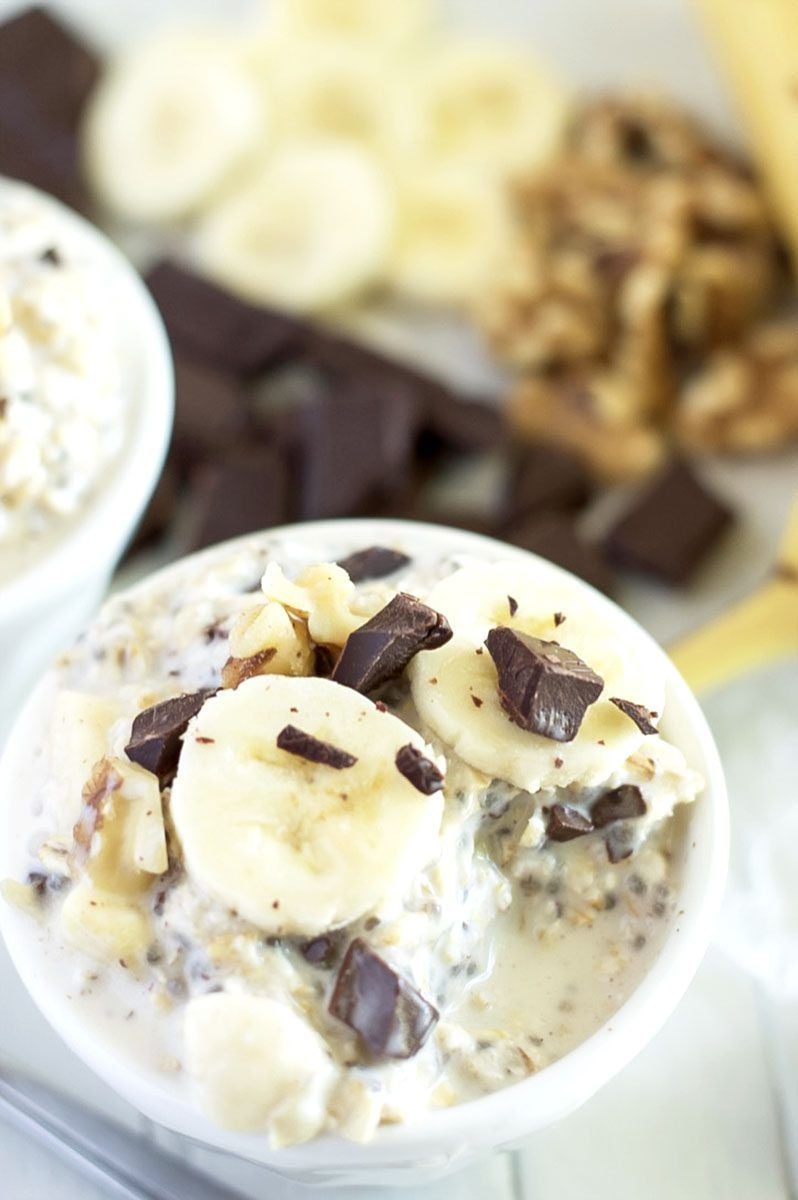 Chunky Monkey Overnight Oats
Enjoy these chocolate banana overnight oats for an easy, delicious breakfast!
1

cup

rolled oats

1

cup

milk

1 teaspoon

vanilla extract

2 tablespoons

honey

2 teaspoons

chia seeds

1/2

cup

walnuts chopped

1/2

cup

dark chocolate chopped (or chocolate chips)

1

banana diced
Instructions
Add the oats, milk, vanilla, honey, and chia seeds to a bowl and mix really well. Refrigerate overnight or at least 4 hours.
When ready to eat, stir in the chopped walnuts, dark chocolate, and banana. Top with additional banana slices, walnuts, and chocolate if desired. The overnight oats can be refrigerated up to 3 days.
Notes
For dairy free, use unsweetened coconut milk and dairy free chocolate.
Author:

Prep Time:

5

Cook Time:

5

Cuisine:

Dessert
Want more easy recipes with oatmeal? Try these!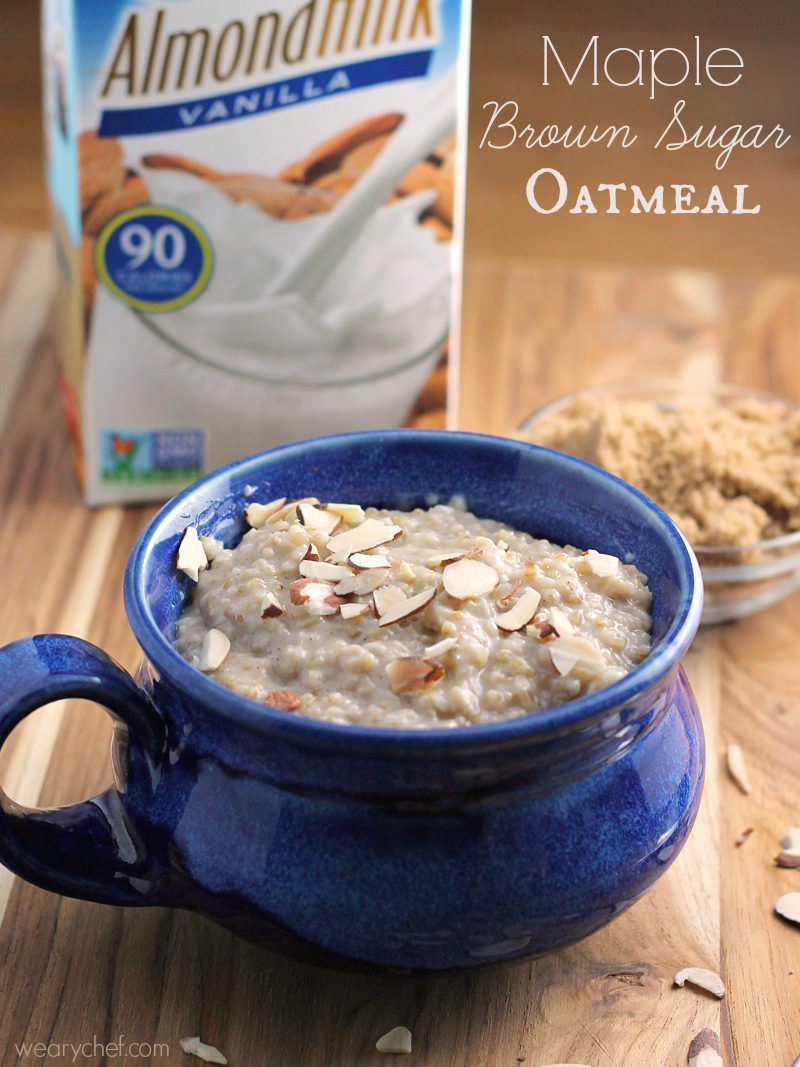 [wpurp-searchable-recipe]Chunky Monkey Overnight Oats – Enjoy these chocolate banana overnight oats for an easy, delicious breakfast! – rolled oats, milk, vanilla extract, honey, chia seeds, walnuts (chopped), dark chocolate (chopped (or chocolate chips)), banana (diced), , Add the oats, milk, vanilla, honey, and chia seeds to a bowl and mix really well. Refrigerate overnight or at least 4 hours.; When ready to eat, stir in the chopped walnuts, dark chocolate, and banana. Top with additional banana slices, walnuts, and chocolate if desired. The overnight oats can be refrigerated up to 3 days.; ; – * For dairy free, use unsweetened coconut milk and dairy free chocolate. – Breakfast – banana – chocolate – oatmeal – Sharon Lachendro – [/wpurp-searchable-recipe]