This chicken satay recipe with peanut sauce is fun and easy to make at home. It has just the right amount of spice to please the whole family!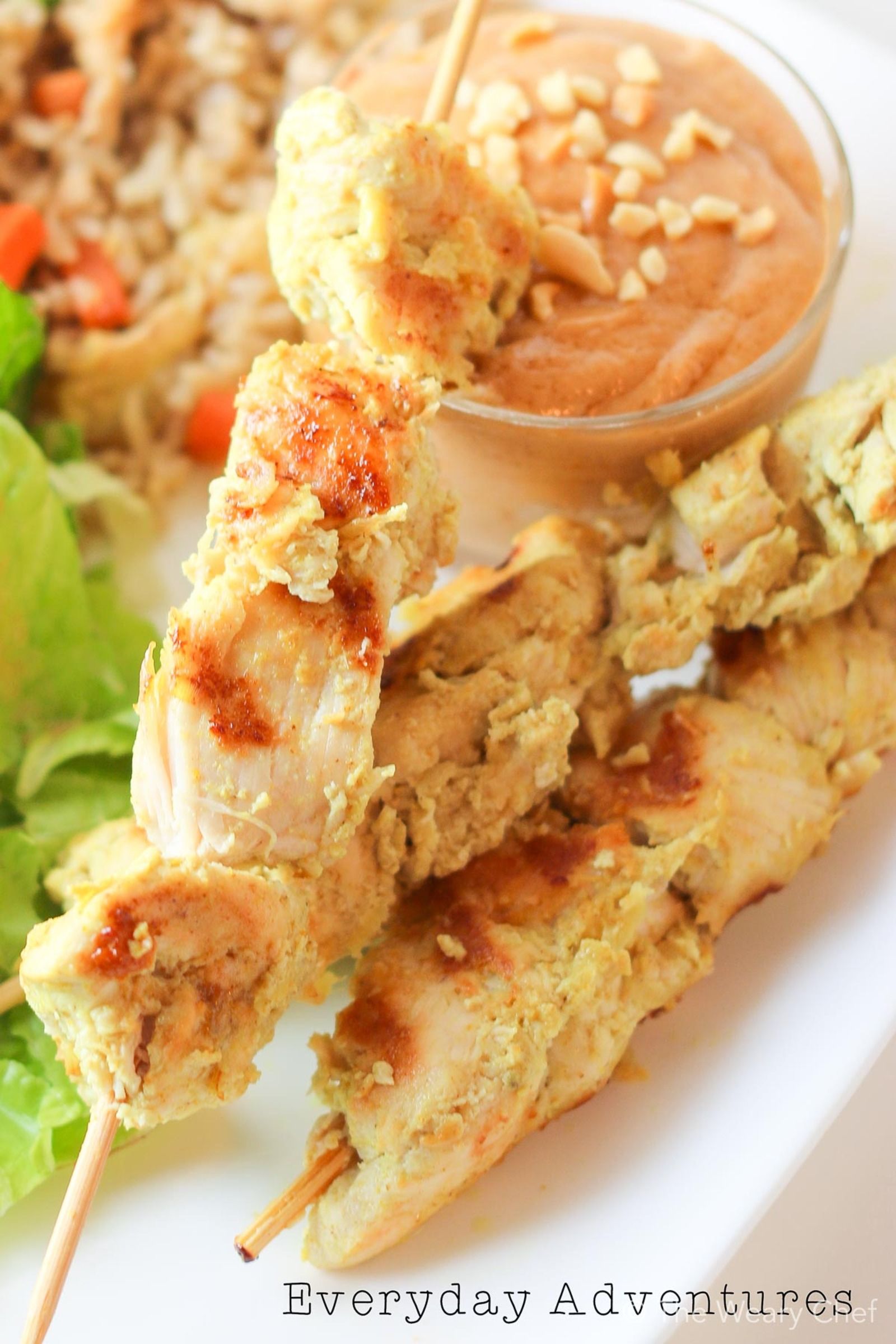 Happy New Year, everyone! This is Crystal from Everyday Adventures, and I'm so excited to kick off 2017 here with you!
While I don't believe in making resolutions, I have decided one thing. This year I am going to try to make recipes that are completely different for me. I LOVE traveling and learning about other cultures. Recently I was watching a travel show featuring Indonesia. I was blown away by something called satay, which is a speciality there. It is a national dish and very popular among the locals.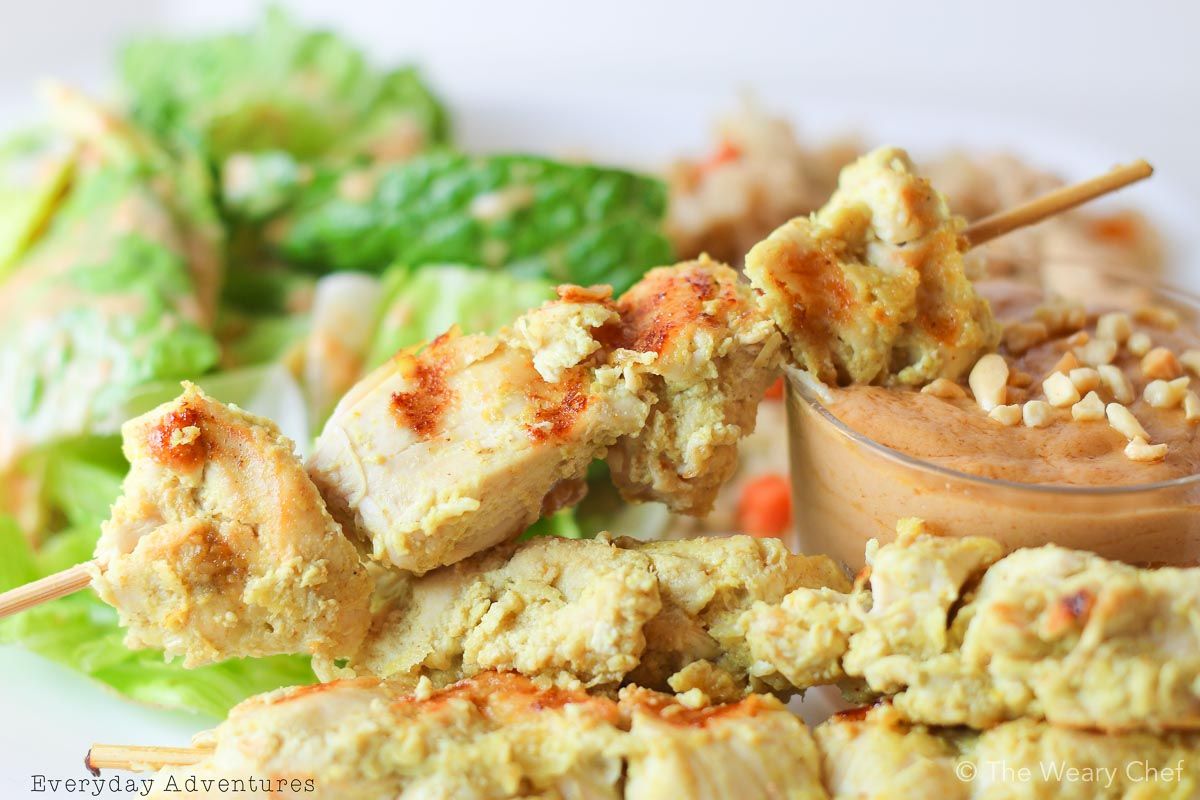 Satay is a dish made of seasoned meat that is skewered. You can use pretty much any type of meat that you prefer (beef, pork, fish, chicken, tofu even!) I decided that I would try to create it using chicken. I went to the store and got some curry powder and played around a few times with getting the right amount of spice.The chicken satay marinade has JUST the right amount of flavor. I do not like spicy things, so when I went to make the peanut sauce, I made sure that it wouldn't be too hot.
Another ingredient I hadn't used before is something called lemongrass. I couldn't find it fresh in my local grocer, so I ended up using a lemongrass herb blend paste that worked beautifully. If you run into the same problem as me and decide to use the paste, go ahead and taste it before you add it. It is a little strong, so that way you can lessen the amount if you'd like to.
There are a few more ingredients in this recipe than I typically use, but this chicken satay marinade makes it worth it. Once you gather all the ingredients, the dish comes together quick. You will want to marinate the chicken for at least an hour. Once you do that, you can then make up the peanut sauce. I absolutely LOVE the peanut sauce and found it to be a delightful addition to the strong satay flavor.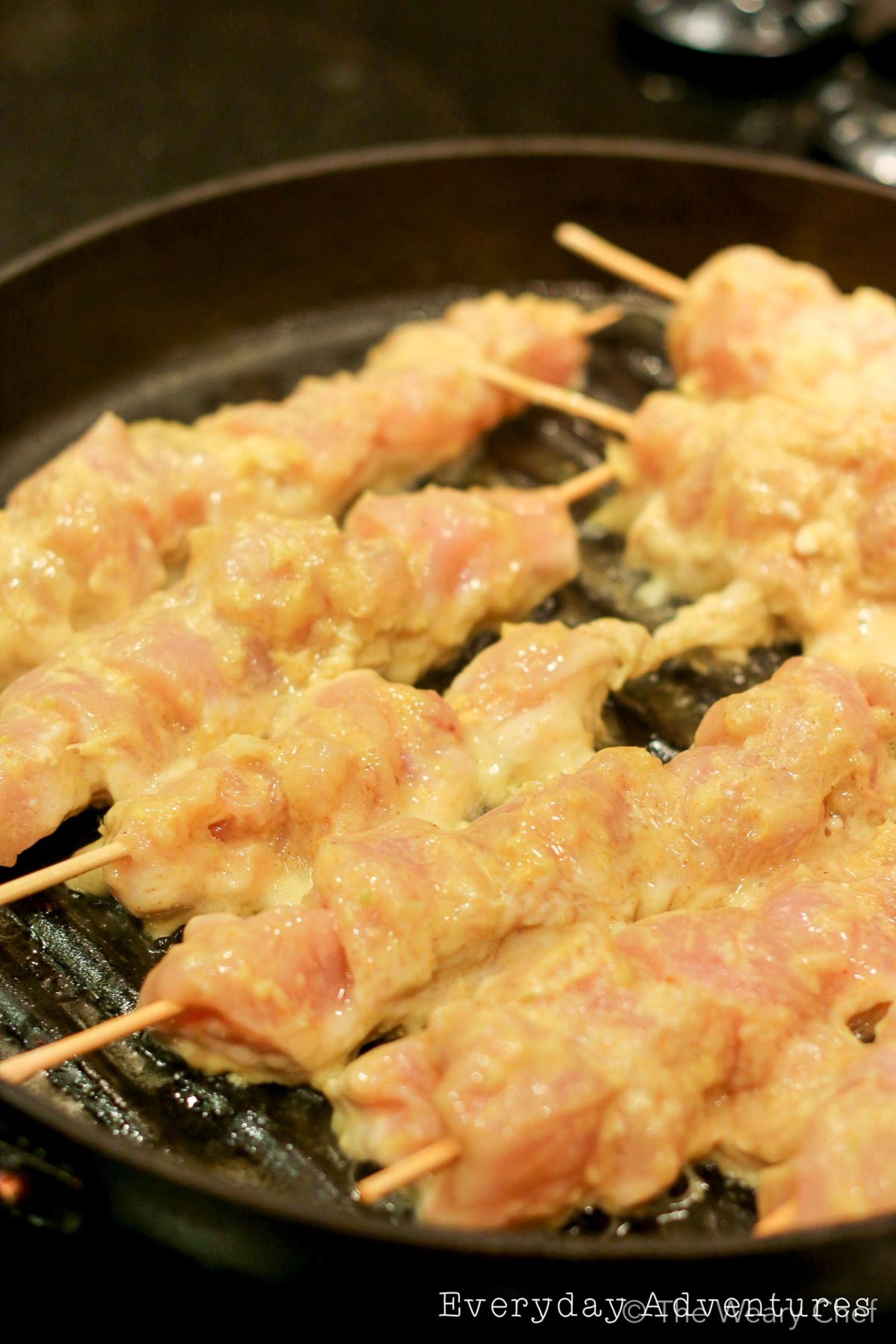 Once the weather is nice you can cook the skewers on the grill, but since it's a mess of snow outside here, I just made them on a grill pan indoors. You can also broil your skewers in the oven like these Pineapple Chicken Kebabs. I served my chicken satay with fried rice and a side salad with asian-ginger dressing, or you could try oil-free Thai dressing!
Print
Chicken Satay with Peanut Dipping Sauce
This chicken satay recipe is fun and easy to make at home. It has just the right amount of spice to please the whole family!
Total Time:

1 hour 35 minutes

Yield:

4

1

x
Chicken Satay Marinade
1 pound any meat you like (I used boneless, skinless chicken tenders)
4 cloves fresh garlic pressed and minced
1 tablespoon fresh ginger grated
1 teaspoon brown sugar
1 teaspoon curry powder
1 teaspoon lemongrass herb blend paste (add more if you like)
1 cup coconut milk
wooden skewers
Peanut Dipping Sauce
1/2 cup creamy peanut butter
1 teaspooon brown sugar
1/2 tablespoon sriracha (add more if you like it spicy)
1 tablespoon hoisin
1 1/2 tablespoon fresh lime juice
Instructions
Chicken Satay Marinade
Begin by making up the marinade. Mix together coconut milk, curry powder, brown sugar, lemon grass, ginger, and garlic. Chop up the chicken into bite size pieces and then add them to the mix. Refrigerate for at least an hour.
Peanut Dipping Sauce
Begin by using a medium size bowl and adding the peanut butter, hoisin, brown sugar, sriracha, lime juice and approx 3-6 tablespoons of water. The mixture will be thick and the water will thin it out and give it a nice consistency. Add as much water as you need to achieve your desired consistency.
Finishing the Chicken
Take the chicken pieces out of the bag and thread them onto the skewers.
Heat grill pan over medium-high heat. Lay skewers onto hot pan and cook for about 4-6 minutes and then flip them over and cook for the same amount on the other side. Chicken will be done when it reaches an internal temperature of 170 degrees F.
Serve with peanut dipping sauce and enjoy!
Notes
Look for the lemongrass paste in your grocery store's produce section. I used Gourmet Garden brand.
Author:

Prep Time:

20

Passive Time:

60

Cook Time:

15
If you're looking for another easy International chicken dish, you'll love this tandoori chicken recipe!