Are you ready for one of the easiest summertime desserts ever? You'll love this fresh strawberry cake!
Hi! It's Crystal from Everyday Adventures :) I don't know about you, but I am a sucker for fresh strawberry anything… jam, donuts, shortcake, you name it!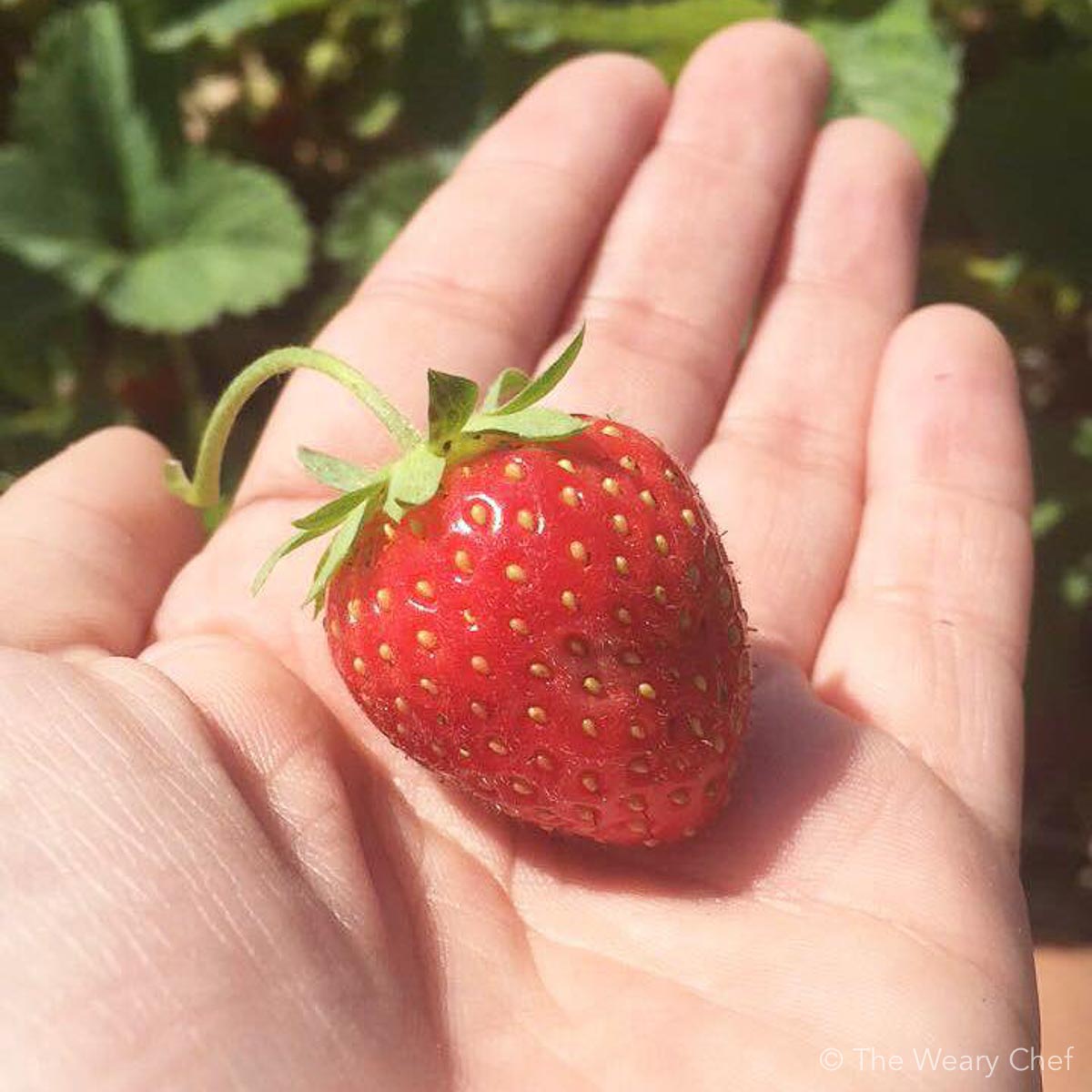 There is nothing like waiting all year for the warm summer weather and then going out and picking berries. I took my kiddos out to pick strawberries, and we had a wonderful time making memories. I'm pretty sure my boys they ate more berries than they actually picked. That's what its all about right?!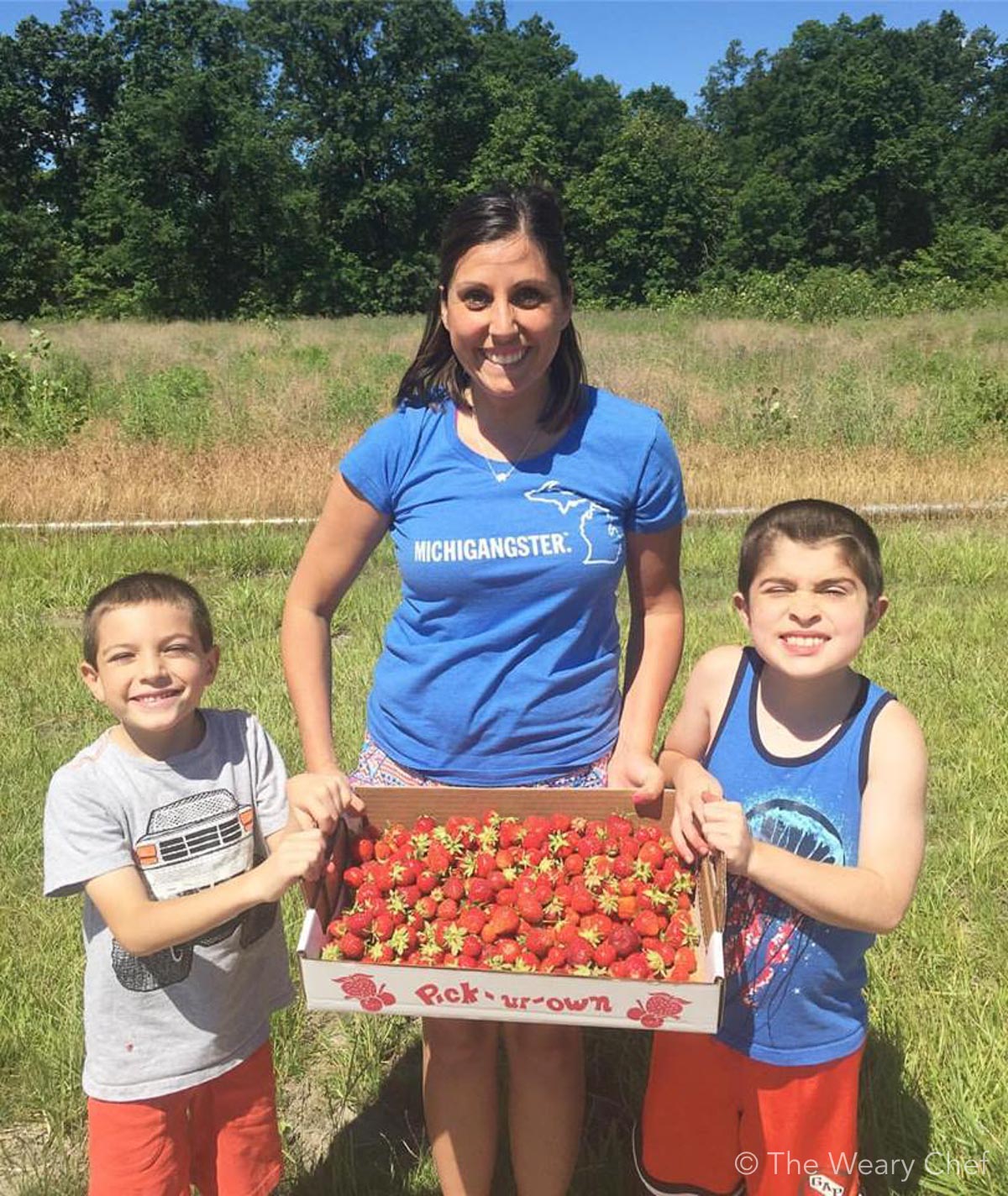 When we got home with all those luscious, red berries, I knew I wanted to bake with some of them. I found the perfect combination of easy and delicious with this fresh strawberry cake recipe. You'll love it!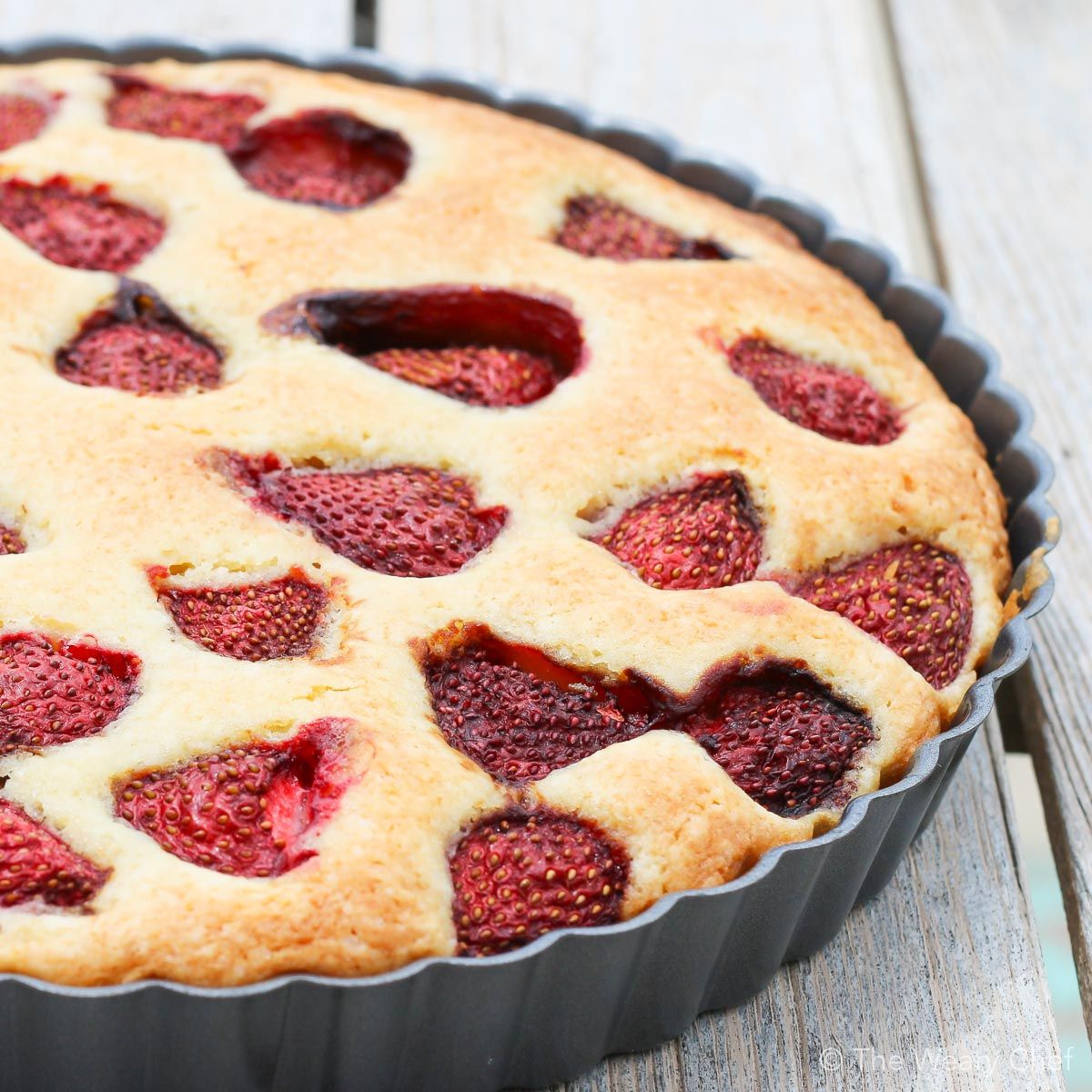 This recipe has a simple ingredient list. Most things you'll have in the pantry except the berries and buttermilk. I have found that adding buttermilk to most of my recipes makes it THAT MUCH BETTER. If you are fresh out of buttermilk, you can always add about a teaspoon of lemon juice to a cup of milk. Let it stand for a few minutes, and the milk will curdle a bit like buttermilk.
I like to use my tart pan for this cake. When its done baking, I can just pop it out, and its beautiful and ready to be sliced. I love the look of the berries after they bake down and in. Yum!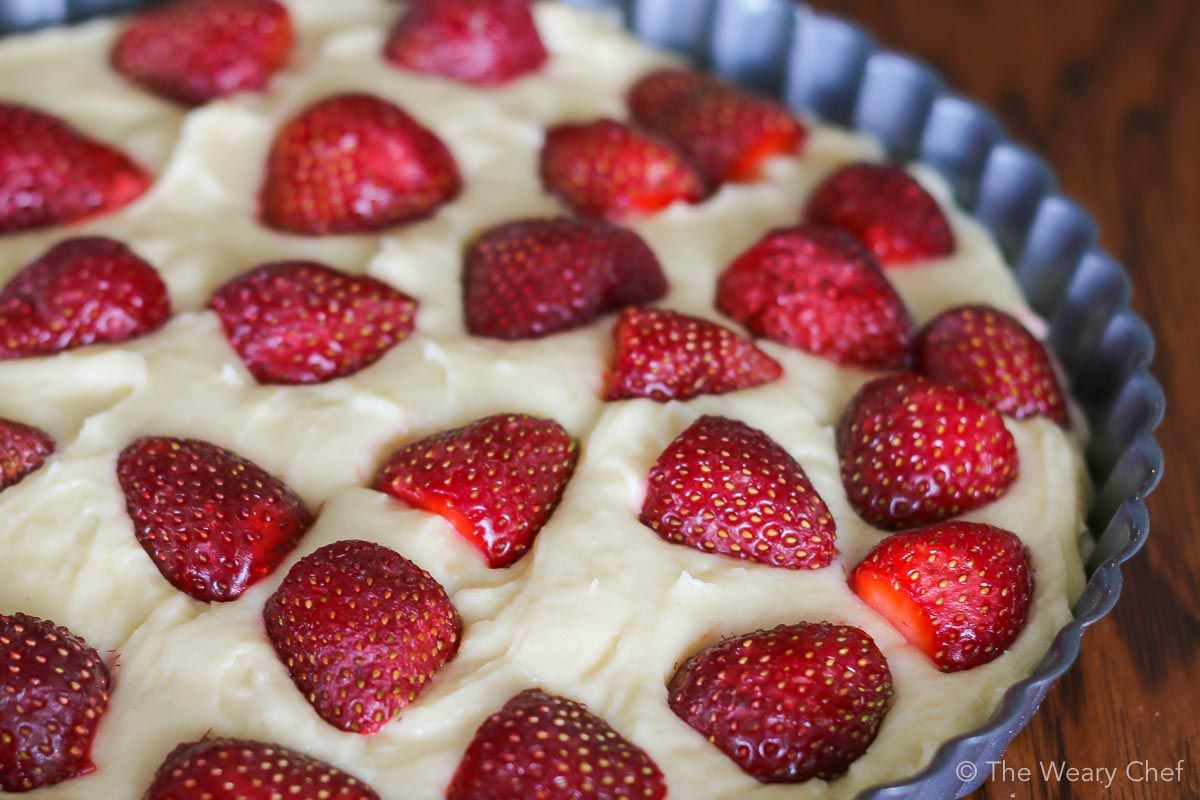 This easy cake will be sure to impress your friends and family. Not only does it look beautiful, but it has a light, fluffy texture and incredible flavor. You can eat it on its own, or you can add vanilla ice cream over top! You could even take it a step further and add a dollop of hot fudge! I personally love chocolate and strawberries together. Don't you?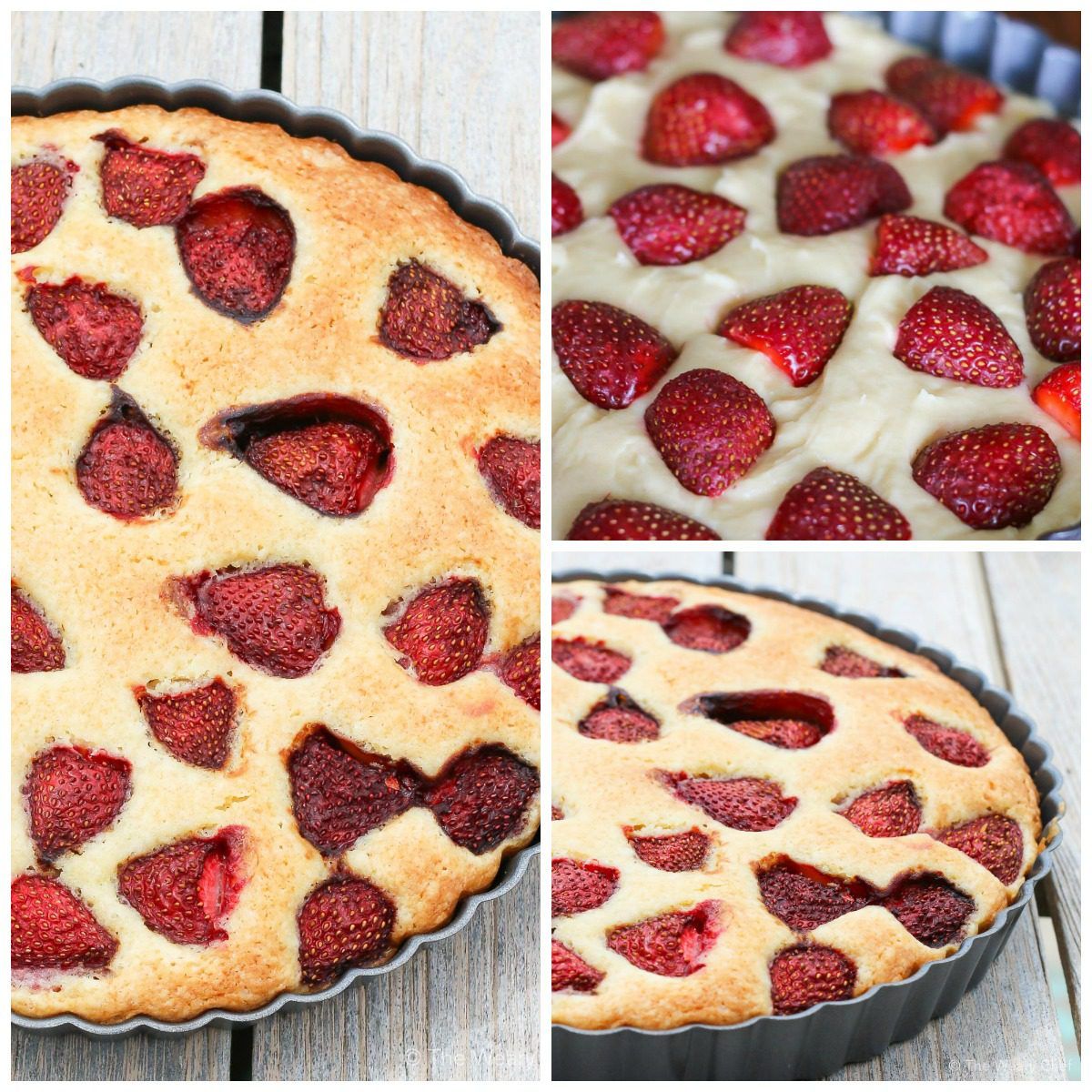 I really hope that you like this recipe and that it is a hit with your friends and family! It is the perfect easy summer cake and tastes as great as it looks!
Print
Easy Fresh Strawberry Cake Recipe
This easy summer dessert uses kitchen staples to make a wow-worthy treat!
1

pound

fresh strawberries hulled and halved

1 1/2

cups

flour

6 tablespoons

butter softened

1/2 teaspoon

salt

1 1/2 teaspoons

baking powder

1

cup

sugar

1

egg

1/2

cup

buttermilk from store or homemade (see note)

1 tsp

vanilla extract
Instructions
Preheat oven to 350 F. Grease a 9-inch cake or tart pan with butter or spray with cooking spray.
Mix together the flour, baking powder, and salt.
In another mixing bowl, cream butter and sugar with an electric mixer on medium speed for 3-4 minutes. Add the egg, vanilla, and buttermilk. Mix for another 45 seconds – 1 minute.
Carefully add the flour mixture to the butter/sugar/egg mixture. Mix well 2-4 minutes, and then pour batter into the prepared pan.
Tap the bottom of the pan pan on the countertop a few times to even it out and get out any extra bubbles. Then, place fresh strawberries on the top of the batter.
Bake for 10 minutes at 350, and then decrease temperature to 325 F and continue baking for 45-55 minutes.
Let cool on a wire rack and enjoy!
Notes
To make buttermilk: Add one tablespoon lemon juice to one cup of milk. Stir and let sit out for 5 minutes to curdle. You can use this substitute in any recipe that calls for buttermilk!
Don't miss these recipes for the rest of your strawberries!